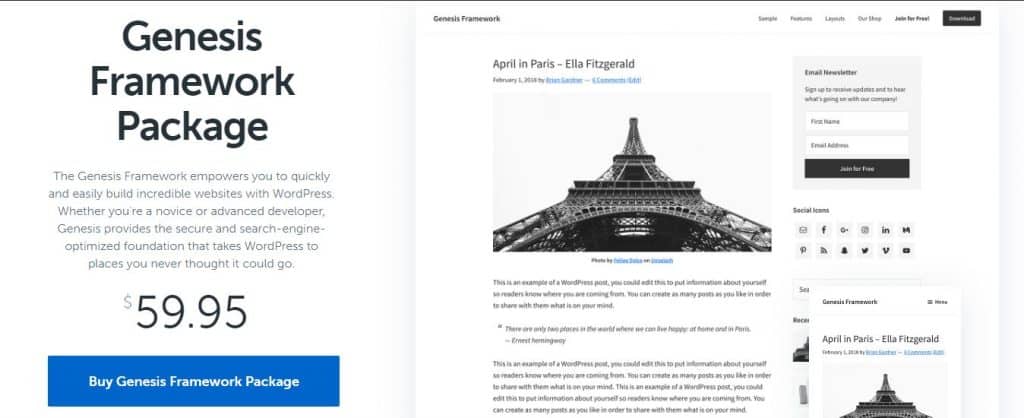 WordPress child themes are in right now, and with major players like Divi and Thesis also participating, it looks like they are the future of WordPress websites.
The Genesis Framework promises a lot of power and speed and has an impressive price considering that it's a full-fledged framework.
But is it really the only thing you need to create a beautiful website?
Also, is it right for use by beginners?
In this Genesis theme review, we'll go over everything Genesis has to offer before coming to a conclusion.
What Is Genesis About?
Genesis is not a theme, it is a framework – there is a subtle difference between the two, but frameworks are superior to themes in a lot of ways.
The main advantage you get with using a framework is that unlike regular themes, there are no risks of your theme breaking with an update.
Genesis was developed by StudioPress, which is a company created by CopyBlogger Media.
Recently, though, StudioPress was acquired by WPEngine, which is a WordPress hosting company.
WPEngine offers StudioPress's premium themes and Genesis for free with their hosting plans, but you don't need to buy hosting to get your hands on Genesis.
You can go to StudioPress's site and get one of their plans to get Genesis.
Genesis is surprisingly versatile, allowing you to integrate child themes or make your own child theme for your portfolio site or travel agency site.
However, with Genesis, the possibilities are limitless – you can make anything from a blog to an online shop with ease.
---
Genesis Theme Review
StudioPress's flagship framework powers half a million websites and has helped over 2,10,000 users get their brands online, which is a huge selling point in and of itself.
Design and Style
Genesis is perfect for users looking for balanced modern website designs – the sites are neither too flashy nor are they too flat.
All of StudioPress's child themes look attractive, and making them your own will enable you to drive clicks, engage audiences, or make sales with ease.
Theme Features
Mobile-Responsive
The Genesis framework and the child themes from StudioPress come optimized for mobile devices right out of the box.
Since a significant portion of internet browsing is done using mobile devices globally, the framework's responsiveness ensures that regardless of what website you own, it will look great on all screens.
Loads of Child Themes
Coupling Genesis with one of the 60+ child themes on the StudioPress website is the way to go if you're looking to make a beautiful site fast.
You could use the Genesis theme on its own, but if you don't have programming knowledge, creating your own theme is not possible.
Builder Support
The Genesis framework supports builders like Gutenberg and Beaver Builder right out of the box, and you can also couple it with StudioPress's plugins such as the Genesis Extender and the Genesis Design Palette Pro to customize your site.
Widget Ready
Adding sidebars, social media sharing buttons, opt-in forms, and much more is made easy using Genesis's widgets.
Comment Functionality
You can enable your visitors to comment on your posts right after install. Since Genesis supports Gravatar and threaded comments are available, Genesis makes for a rich commenting experience and helps enhance engagement and improve loyalty.
Easy Image Management
Featured images are auto-sized, and managing thumbnails is made easy using the integrated WordPress featured image functionality.
Advertising Ready
To enable ads on your Genesis website, all you need to do is insert your advertising code. You can start collecting ad revenue in no time!
One-Click Demo Install
Regardless of if you're building your own theme or planning to repurpose StudioPress's child themes, you can load demo content, plugins, and individual Gutenberg blocks and make your project your own.
Performance
Most child themes from StudioPress that you can couple with Genesis are super lightweight in terms of the code and the number of files that are bundled together.
The small size of the files helps keep page loading times short, and getting a website to load under four seconds should be a breeze.
Even if you customize the CSS or add additional files or scripts to enable features like custom 404-error pages, there will be no significant difference in performance.
SEO Friendliness
Genesis boasts optimized code and has a smart design architecture, which makes it possible to achieve the best rankings on SERPs.
Additionally, Genesis now supports Schema.org's code, which enables you to output microdata in your website's code, enhancing the site's search engine optimization even more.
You can add titles to your documents, add meta descriptions and keywords, make canonical and custom redirect URLs, and set up robots meta settings without any hassles.
If you're familiar with plugins like WordPress SEO by Yoast, you can use those with Genesis to make your website super search engine friendly.
Theme Options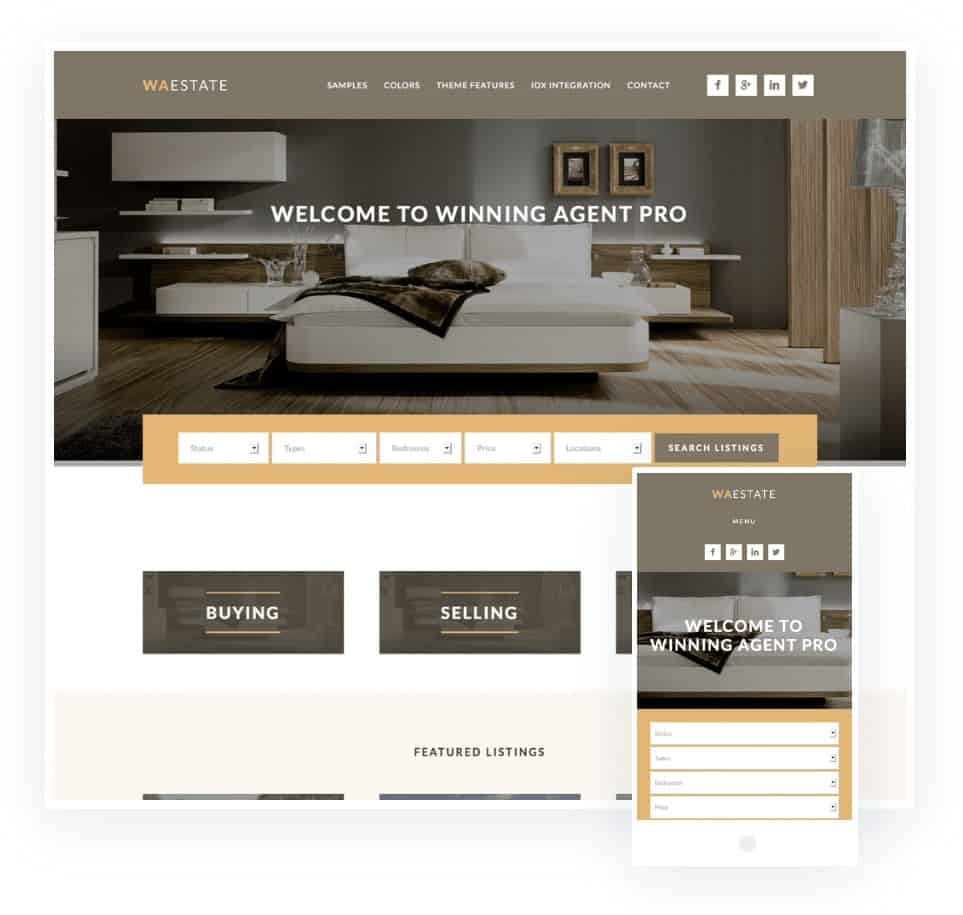 Each child theme comes with unique settings, and making changes to these settings is as simple as checking some boxes and entering some basic information.
The option toggles enable you to make further customization to your site by enabling you to place widgets inside columns and the footer section.
Editing color styles, navigation style, the blog page template, breadcrumbs, and more can be done in just a few clicks.
Additionally, you can change the layout of your site in one click – all you need to do is pick one from the six layout options!
If you know even the basics of CSS, you get a lot more control over the look and feel of your Genesis site.
---
Additional Features of Genesis
Beautiful Widgets
Genesis comes with custom widgets like the User Profile widget, the Featured Posts widget, and the Featured Page widget, enabling you to make your website more attractive and drive more traffic.
Dedicated Plugins Available
You can also pick from a host of plugins from the StudioPress Marketplace and the WordPress repository. Genesis also supports plugins from third-party vendors!
Adding more functionality to Genesis sites is super easy with StudioPress's plugins. They offer over a dozen plugins, but here are brief descriptions of the best ones.
Genesis Simple Edits: Allows you to edit the most commonly modified areas of your site quickly.
Genesis Simple Hooks: Gives you access to 50+ hooks inside your Genesis child theme, enabling you to add a ton of functionality to your site without needing to install multiple plugins.
Genesis Design Palette Pro: Makes styling your child theme super easy – no programming knowledge required!
---
Support and Documentation
Getting your account, technical, and usage questions answered is as easy as going to their Contact Us page. You can also ask a pre-sale question on this page.
They have an active community, and making an account is free. You can ask questions and discuss everything WordPress and Genesis related there.
Their FAQs page and the Documentation page should give you all the information you need to get started with Genesis. Their blog is regularly updated with tips and tricks that help you make the most out of your Genesis website.
---
Genesis Theme Pricing
StudioPress offers Genesis in two plans: The Genesis Framework Package, and the Pro Plus Membership.
The Genesis Framework Package comes in at $59.95, giving you instant access to Genesis, unlimited updates and sites, unlimited support for one year, and unrestricted access to tutorials.
The Pro Plus Membership is perfect for developers and designers looking to sell their work. In addition to what you get with the Genesis Framework Package, you also get access to every theme StudioPress makes. It costs $499.95.
StudioPress has a 30-day refund policy, ensuring that if you're not happy with the framework for any reason, you can get a full refund.
If you do not have hosting for your site, you can get one of the hosting plans from WPEngine. Along with speedy hosting, you get access to Genesis and all of StudioPress's themes!
WPEngine hosts your site for as little as $30 a month, which is impressive considering all you get for the price.
---
Verdict: Is Genesis Worth It?
Let's wrap this Genesis them review. Coupling Genesis with one of the 60+ child themes is the best way to use it – you can add details and edit the structure of the site without needing to fiddle around with any code.
However, if you're not happy with the idea of using a pre-built theme and want to customize how it looks significantly, you will need to edit the code.
If you're a beginner, and aren't familiar with CSS and PHP, and want a fully-customizable theme, you should look at other options.
You could use the Beaver Builder, the Genesis Extender, or the Genesis Design Palette Pro to edit the design, but your results may vary. 
Overall, though, the framework is super easy to use and gives you a decent amount of customization options. It makes fast and SEO friendly websites, all of which look great on every screen.
Genesis is perfect for an advanced user, but you can spend the $60 for Genesis if you're a beginner and are happy with one of their child themes.