In recent years, the WordPress community has seen a rise in "multi-purpose" themes – themes that make any kind of site without compromising on loading speeds or design quality.
Divi is one of these themes. It comes with a drag-and-drop editor that makes creating any design a breeze, and if you're in a hurry and don't want to build a site from scratch, you can edit and build upon hundreds of templates they offer.
Divi Theme Highlights:
Highly-customizable designs
Optimized for speed
SEO Friendly
On paper, Divi seems perfect!
But is it really the ultimate multi-purpose theme? Is it worth the price? To help you find out, in this review, we'll explore Divi's features and rate the user experience – you'll then be able to make an informed decision.
What is the Divi Theme About?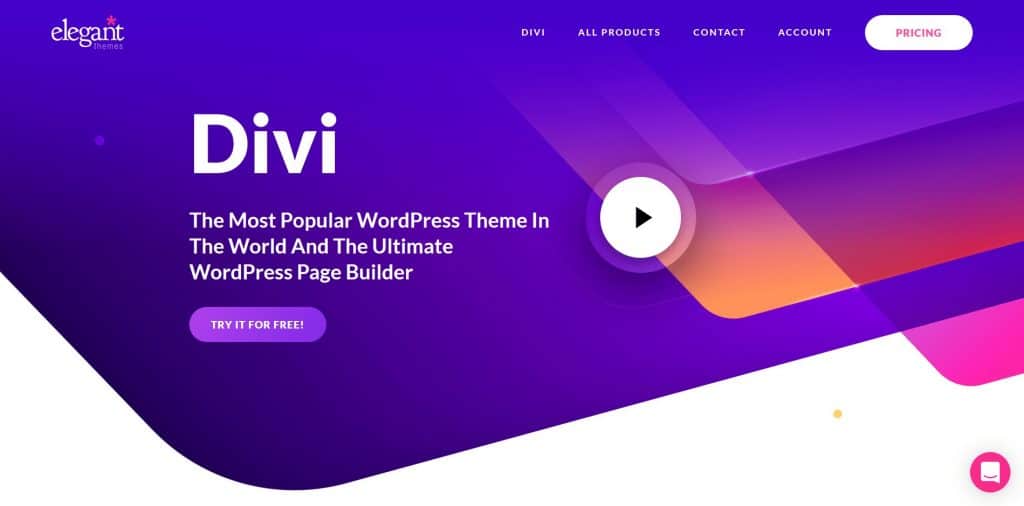 Divi bumps your WordPress setup to the next level with its Visual Builder technology. Since you can make virtually any type of website with it, you can think of it as a platform rather than a theme.
Creating voguish and vivid websites is made easy with its visual editor – you can click around and fine-tune anything and everything you see!
With Divi, you can make a website for brick-and-mortar businesses like restaurants and florists, yoga studios, farmer's markets, and even web and design agencies.
Online businesses can also benefit from Divi since it makes designing sites for eCommerce stores of all sorts quick and simple.
If you're a business consultant, an author, or a freelancer in any industry, Divi can help you get you and your brand online.
Divi is Elegant Theme's flagship theme and was launched in 2013. Over the course of the past few years, the developers have refined and improved the theme and made it the powerful website builder that it is now.
It often takes the top spot on WordPress themes popularity listings around the web and remains to be a competitive option in the multi-purpose WordPress themes category.
Elegant Themes has a lot to offer other than Divi. They have another theme called the Extra Magazine theme that looks perfect for a blog or a publication's website.
They also offer the Divi builder as a stand-alone plugin, enabling you to harness the power of Divi with any WordPress theme of your liking.
The Bloom email opt-in plugin and the Monarch social media plugin are light and snappy. They enable you to build an email list and get more followers on your social media pages with ease.
The company has been around for over 12 years, and they hold elegance in design at their core.
Let's see how their values reflect in their flagship theme.
Divi Review
Before we get into what Divi has to offer as a package, let's look at the things that make it better than other WordPress themes.
Robust editor: The Divi Builder is a drag-and-drop editor loaded with features that will help you create websites without any hassles.
Powerful split testing tool: The Divi Leads feature enables you to optimize conversion rates by testing out different designs and their effectiveness.
Massive template library: You get unrestricted access to a total of 1183 website layouts (and counting), enabling you to make any kind of site quickly.
These features make creating, editing, and testing websites faster than ever. If you're looking to quicken your site's development speed, Divi is right for you.
However, there's a lot more to Divi than just these features.
Design and Style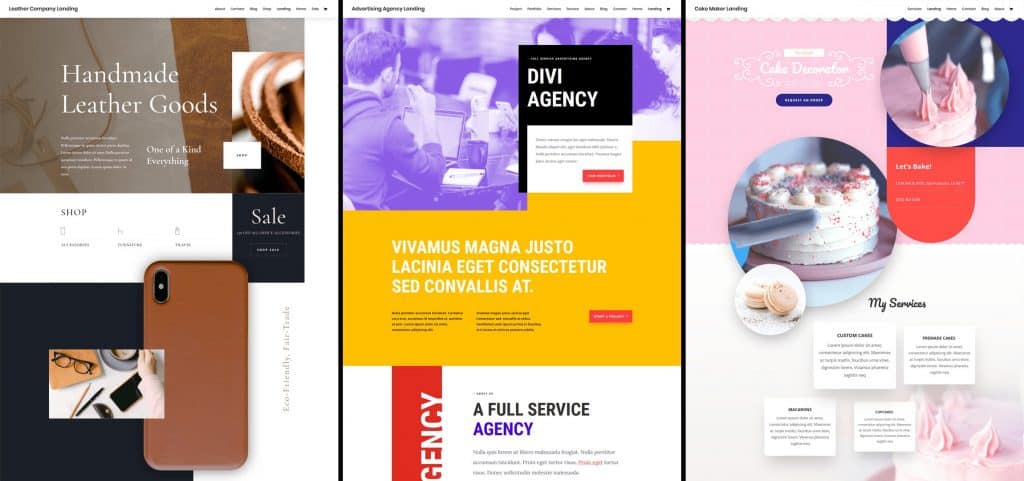 Divi does not just help you make websites quickly – it also ensures that whatever you make looks great.
As you can see, regardless of what it is you're trying to do with your website – be it expanding your advertising agency by hooking in more customers, or selling leather-based products, Divi can help.
Divi is geared to make a beautiful-looking, fast-loading website that fits your requirements perfectly.
Needless to say, their values reflect across their designs in the flagship theme.
Theme Features
The interface is simple, but it isn't limiting.
The intuitive visual controls enable you to see what your site looks like when you edit it in real-time. If you're familiar with CSS, you can also throw in some custom CSS and alter the page's design that way.
The UI is fluid, and Divi understands exactly what you're trying to do when you drag, pull, or move an element away. It is super impressive!
You can control how your site looks on mobile with the responsive editing features, and the inline text editing features make it easy to add and edit text on your page. It's as easy as clicking and typing!
You can also pick from the dozens of page elements Divi offers and undo, redo, and revise your design with ease.
There's a module for everything – call to actions, sliders, forms, blogs, galleries, testimonials – you name it!
You can add pretty much anything you can think of to your website by just dragging and dropping an element where you want it.
An email opt-in module comes built-in, and elements like pricing tables, headers, footers, contact forms, social media buttons, and the extensive split-testing menu enable you to market whatever you're selling optimally.
Divi is also compatible with WooCommerce, enabling you to sell products right on the site at no additional cost.
We've only scratched the surface of what Divi has to offer, but all in all, the incredible customization options and the huge selection of templates make it a power-packed theme that will never let you down.
Performance
Divi performs surprisingly well for a graphics-heavy theme. The load time for Divi pages averages between 1.5 to 2 seconds!
The software is also updated regularly – at least once a week – and there is no history of security vulnerabilities that exposed users or webpages to a hack.
It also comes with performance optimization options like minification built-in, enabling you to reduce loading times further.
SEO Friendliness
The theme's options panel includes an SEO tab that you can use to set up custom SEO for any page that you make.
Options to add custom titles, descriptions, keywords, fields, canonical URLs, and more are laid out in the tab, enabling you to optimize a site in one go.
You can also enable or disable any field you want, which gives you full control over how your site handles SEO.
Theme Options
Animating text and images is made simple with Divi's uncomplicated menus. You can instruct your website to fade in text, introduce a gradient to the page, or flip over an image in just one click.
You also have full control of the style, spacing, sizing, weight, and color of the fonts on your website.
The hover styling options allow you to create striking, interactive hover effects that make your website a lot more alluring.
The shape dividers enable you to add custom shapes and effects to your pages as you see fit, and you can even create dynamic transitions between blocks of content.
These elements give your site a personal touch and ensure that the page's design flows seamlessly as the visitor scrolls down.
You can add borders to any element, round them off, or give them a curve, and you can also add a filter on top of your page and adjust the page's hue, saturation, brightness, contrast, and more in one go.
Adding shadows to elements and text is as simple as clicking on it and adjusting the shadow options.
Unlike other themes, Divi enables you to edit multiple elements at once, making it easier to, for instance, replace one font with another across the page.
The visual editor, coupled with these options makes fine-tuning a template into what you need it to be a breeze.
Additional Features for Divi
You can transfer custom layouts and other assets between different projects, which ensures that you never have to create the same element over and over again for use on different sites.
Divi also saves you time by enabling you to search and filter through design options. You can quickly jump to whatever style option you need and edit away like that.
Another impressive feature that will help you edit your site quicker is the extendable style feature. You can extend a design style across hundreds of elements and update whole webpages instantly, without needing to select and adjust every element.
The keyboard shortcuts allow you to access Divi's best features without needing to dig around.
Support and Documentation
Every feature and asset that Divi uses is mentioned in their documentation. You can also visit the Elegant Themes blog for tips about how you can use Divi to create better websites and improve existing ones.
Elegant Themes also has a forum that you can use to share ideas and communicate with other Divi users. There are also multiple Facebook groups you can join to learn more about Divi.
The help system also has full-length instructional videos that can help you learn to use Divi's features.
However, if you get stuck building a site or need help with some feature, you can open a support ticket using the messenger on the site. They respond instantly, and your issue should be resolved in minutes.
Divi Pricing
Elegant Themes offers Divi in two plans – yearly access and lifetime access.
The yearly access plan comes in at $89 and gives you access to all of Divi's features, templates, and premium support.
If you know that you'll be using Divi for more than two years, it makes financial sense to buy the lifetime access plan that comes in at $249.
If you want to try Divi out before spending any cash, you can avail of their 30-day risk-free plan. If you don't like Divi for any reason, you can ask for a full refund.
Verdict: Is Divi Worth It?
I hope you found this Divi review interesting. Reliable feature-loaded themes are hard to come by. If you're into modern website designs and are looking to boost your brand's or business's engagement, Divi is the right tool to use.
The 30-day trial makes it worth checking out, and since the yearly access plans work out to a little over $7 a month, Divi is worth a lot more than what it is asking for.