Avada is one of the most straightforward themes to use on WordPress. It comes with limited technicalities and several templates, making 'drag and drop' easier. The simplicity in operating Avada has made it quite popular among first-time website creators. But what makes the theme stand out among others?
In this Avada theme review, we will provide you with in-depth information on theme features and what it has to offer.
Highlights of Avada Theme;
Avada Theme is built for WordPress sites
It has a one-time purchase fee and updates whenever an upgrade occurs
Avada comes with over 49 pre-built demo templates providing a variety of customization options
Uses Yoast SEO plug-in to boost SEO
What is the Avada Theme About?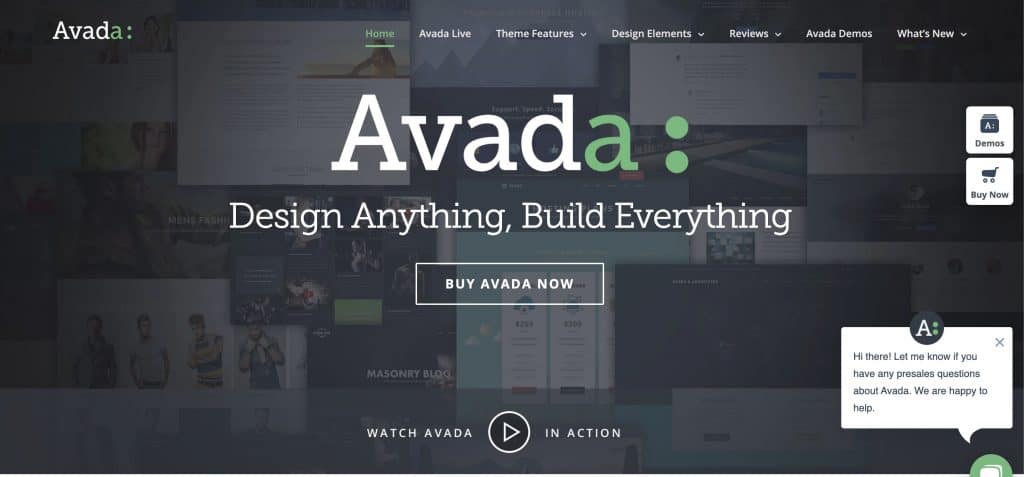 Avada has had over 575,000 sales since it was first introduced back in August 2012. It received an award as 'The Fast Selling Theme of all Time'.
This theme has been professionally designed for accuracy and detailed to give websites a good head start. Avada is flexible with several elements that can be customized.
Avada WordPress has a variety of features that are updated continuously to keep it competitive and accommodating to new designs that erupt every single day in the theme field.
It is multipurpose. This means that the theme is suitable for any type of website, from an e-commerce site to a hair and beauty catalog website.
Avada has several pre-built websites (demos) i.e., Avada classic, Avada law, Avada creative, Avada university, and Avada sports. These demos have pre-built templates that are specifically designed to make work easier. Avada demo includes imports that can be used with external Plug-ins like WooCommerce and bbPress.
Each of these demos has a unique arrangement of page elements, widgets, colors, and other settings.
Avada Theme Review
Avada has a Theme builder, with a range of eight new layout selections. These are author related posts, project details, pagination, featured images, content, comments, and archives.
Avada Theme builder helps in coming up with constructive unique custom layouts from the Avada website. It is used to customize all the aspects of a website, for example, search results, portfolio, single posts, footer, 404 pages, archives, and many more.
Using Avada Theme builder, you can enjoy complete independence in creating layouts. It also has a Fusion Builder that creates footers that are suitable for marketing a website and improving SEO.
Applying custom page title bars is essential in turning titles into attention-grabbing sources of information. Avada 6.2 turns boring and dull 404 pages into something more appealing to increase more SEO.
Design and Style
Avada has pre-designed templates that are easy to fill, thus making website creation a task that doesn't require prior coding knowledge.
The Fusion builder content editor comes with Avada, which is used to create layouts for pages.
Avada's interface is easy to grasp and understand, making it less tiring to edit and build content of Avada as well as creating your design from scratch.
The new Avada theme builder has additional features that weren't present before. These are the footer, custom 404, and search results layouts that add a personal touch to custom single portfolio posts and archive layouts that let you design a website swiftly.
These features are found in the two new pre-built websites; Avada Taxi and Avada restaurant.
Avada has a large section of pre-built websites and page templates. There are over 49 demos that you can choose from.
You can also decide to come up with another unique theme by mixing up aspects of two different demos.
There is also support for popular plug-ins such as WooCommerce, HubSpot, and Gravity Force. The plug-ins, give you more options according to the activity that you are planning to use your website for.
Avada has an option for a video background and inserting a video into your content. Avada's lightbox is known as iLightBox, which is compatible with YouTube, self-hosted videos, and Vimeo.
From your lightbox, you can show videos from columns, button element, lightbox element generator, portfolio posts, and add media to a post or page.
The lightbox elements are compatible with other image element options giving you a full platform to showcase your content and intended design freely.
There are advanced animations features and background image blur, fading, and other visual effects. This is an advanced feature through an element image, which enables you to add pictures freely in your content. It also has a variety of stylish options.
In the Avada image element, there are four styles that you can select according to your preference: Bottom Shadow, No style, Glow and Drop Shadow.
Apart from these, there are hover effects: zoom in, zoom out, and lift up, that you can choose from to give an image a third dimension. You also have full control of border styling and your pictures.
Theme Features
Performance
Avada is a slow, heavy theme. The load time per second is quite minimal. The average load time for Avada pages is 4.6 to 6 seconds.
If you install a caching WordPress plug-in like WP Rocket, the load time is reduced with about 1 to 2 seconds. Therefore, the loading time will range from 2.5 to 5 seconds.
This is still a lot of time when compared to other themes. For example, Divi pages load time is approximated to be an average of 1.5 to 2 seconds.
When looking at performance view and capacity, it is advisable to opt for a lightweight theme.
Avada has regular updates and is risk-free; therefore, your website is protected from external hacks.
In Avada version 6.2, there is an XSS security that wasn't present in the previous versions. The upgrade in security serves as protection against a register contributor role that allows them to edit, create, or delete posts that don't belong to them.
To maintain uptight security, always ensure your theme is continuously updated.
SEO Friendliness
Avada is 100% friendly. The SEO is well set-up and programmed according to the rules put in place.
Avada WordPress facilitates the integration of All in One and Yoast SEO, among others. These plug-ins help you monitor the SEO friendliness of your website.
They also help to improve Avada's SEO by handling keyword densities, meta tags, generating formatting on your leads, and title page length.
Avada also comes with a total cache that plays an essential role in making your website more efficient in relaying faster results, thus increasing performance and SEO.
Additional Features for Avada Theme
Mobile Visibility settings
Fusion Builder Element has mobile visibility settings that give you control over what is displayed on three customizable screen sizes.
The option of choosing the screen sizes is all yours. Therefore, you make the overall decision of selecting up to the exact point an element should be shown or hidden.
You can decide whether a specific element should only be displayed on desktop, tablet, phone, or both the three Documentation.
Custom icons
Get to upload your custom icons. This is a new feature that gives you the capability to design customs icons to use on your website.
GDPR
Avada also has GDPR (General Data Protection Regulation) toolkit features that give users a possibility to comply with set GDPR standards.
These include Google fonts, the third-party embeds, privacy banner, tracking code consent, custom registration message, and contact from permission.
Support and Documentation
Learn and understand all aspects of Avada inside out. Avada Theme building has a library of documentation and videos that help in learning more about the theme.
There are over 500 documents with all the information and questions you can have on Avada. Start reading here.
If you don't love reading, then you can watch it. They currently have a good and growing video library with several HD tutorials.
Avada Pricing
Everything comes with a price tag attached to it. Avada goes for $60 at Theme Forest. One purchase can be used on a single website. This comes with six months of support from the theme creators. The support period can be prolonged to 12 months only if you pay extra.
The best part is that a single purchase gives you lifetime access to theme updates.
Verdict: Is Avada Theme Worth It?
Avada Theme building is excellent and reliable for creating quality websites with amazing features. The availability of over 49 pre-built demos and several customization options allows you to come up with an original, appealing outlook.
Despite having all these fantastic features, mastering Avada can be difficult. Getting to understand all the little tiny bits can be tedious.
If you are willing to go ahead and use Avada, put an extra effort and utilize the documentation put in place for you to have a thorough understanding of the theme.