40% of visitors navigate away from a website if it doesn't load in under three seconds. Finding a host that can get your website to load quickly is critical for your website's success.
WP Engine promises to make running your website effortless. The company powers over 500,000 sites globally, and is the web hosting service of choice of over 120,000 customers across 140 countries.
While WP Engine is focused more on convenience, SiteGround lays more emphasis on performance. SiteGround comes packed with features that ensure super-fast loading speeds globally. It also happens to be one of the three officially recommended web hosting services by WordPress.
But which web host is definitively better?
I'll compare the features of the two web hosting services to help make picking between the two easier.
| SERVICE | FEATURES | VISIT |
| --- | --- | --- |
| | #1 Recommended provider. Fast, easy, and cheap! | |
| | #1 Recommended provider. Fast, easy, and cheap! | |
WP Engine vs SiteGround: Overall Review
Reviewing the two web hosting services, I find that they are inherently different. They are meant for different people.
One web host is a lot more flexible than the other in terms of functionality, and this makes a massive difference in the end user's experience (and also the verdict).
Here are my thoughts and overall opinions:
WP Engine Overall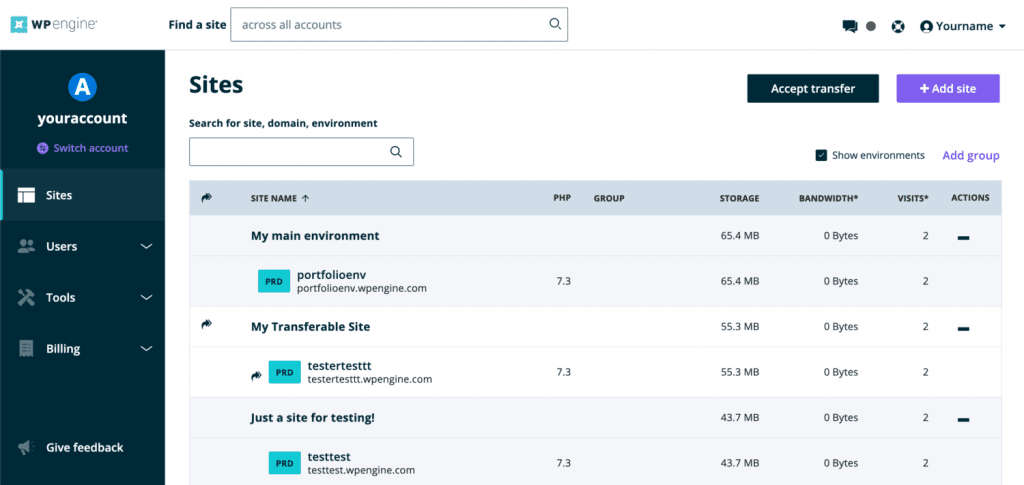 The first distinction that sets WP Engine apart is that it is only offers managed WordPress hosting. Unlike other services, it does not provide any hosting flexibility.
You can only host WordPress websites with it, and there are no plans that enable you to host Linux- or Windows-based websites.
While this can be viewed as a downside, seeing that WordPress powers almost 38% of all websites, most webmasters will appreciate how simple the service makes running a site as much as I do.
But WP Engine has some irrefutable downsides.
You cannot host email with the service. You also cannot register domain names using the service.
Considering that WP Engine is designed to make creating and maintaining a website easy, the lack of these features is surprizing.
Compensating for the lack of these features will require you to avail of services from other companies. WP Engine's plans are priced on the higher end, and factoring in the additional costs makes hosting with WP Engine unaffordable for many.
WP Engine does make launching a website super easy for complete beginners by managing performance, updates, and security for the users.
But the fact that similar services like TMD Hosting provide similar features at, sometimes, a third of the cost makes WP Engine seem very overpriced.
SiteGround Overall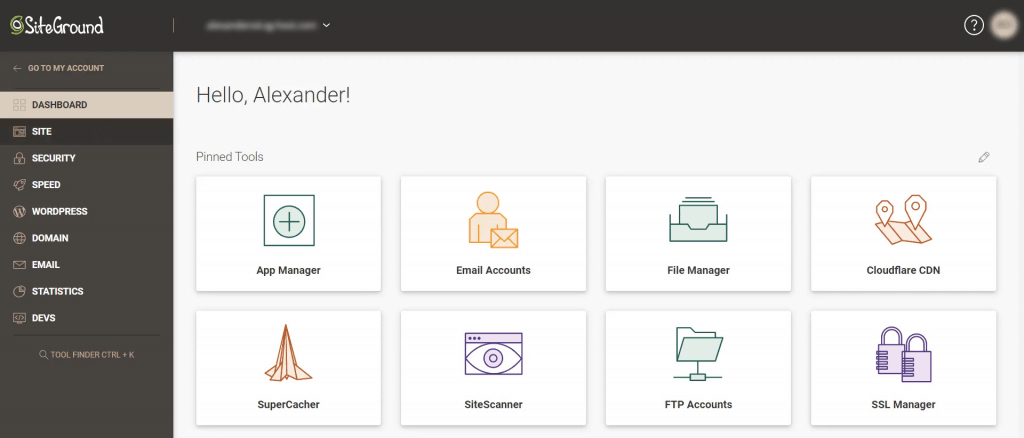 SiteGround offers managed WordPress hosting and also cloud hosting services.
While the low pricing is excellent, the daily backup feature and the free-to-use CDN is what makes SiteGround impressive.
They offer exceptionally low prices to first time users. But after your first term with the company, prices double, and sometimes even triple.
No discounts are offered after the first term, which is disappointing.
But it's not all bad – hosting with SiteGround makes your website both fast and secure. Maintaining your website is also less of a hassle thanks to its new custom interface.
Although the company has replaced cPanel with the new Client Area and Site Tools, features like email hosting, DNS manager, and the file manager are still available for use.
The interface is neater, a lot easier to use, and it adds a host of new features to SiteGround.
SiteGround is best-known for its stellar customer support, and regardless of which plan you pick, you can expect the issues you report to be resolved quickly.
While the prices increase multi-fold in the long run, their plans are more flexible, which, coupled with the excellent features and impressive support, make SiteGround the better option overall.
---
Hosting Plans & Pricing
WP Engine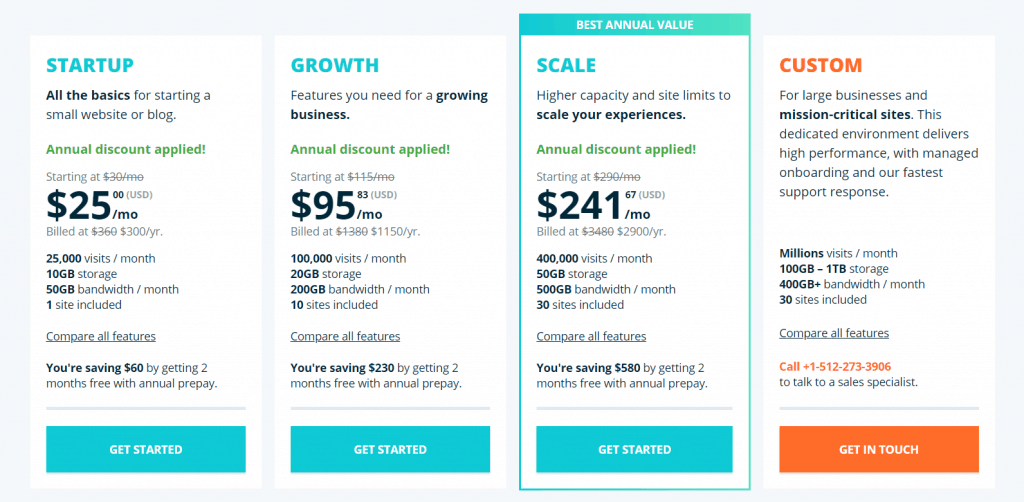 WP Engine does not provide users with a free trial, but it does offer a healthy 60-day money-back guarantee.
The company offers three WordPress hosting plans: Startup, Growth, and Scale. All three plans include automatic daily backups and malware scanning features.
Pricing starts at $30/month and goes up to $290/month, but paying annually will bring pricing down roughly 17%. You will effectively get two months of hosting (out of twelve) free if you pay annually upfront.
The most affordable plan, Startup, allows 25,000 visitors and 50GB of data transfers per month. You only get a scant 10GB of storage.
The Growth plan gets you 20GB of storage and a monthly quota of 200GB of data transfers and 100,000 visitors. It also enables you to run five WordPress installations concurrently.
The Scale plan boasts a 15-installation limit and allows 400GB of data transfers and 400,000 visits per month. Storage is capped at 30GB.
The company also offers a Custom plan that is suitable for websites that attract millions of views per month. While pricing details are not available on their website, you can expect the plan to be expensive.
SiteGround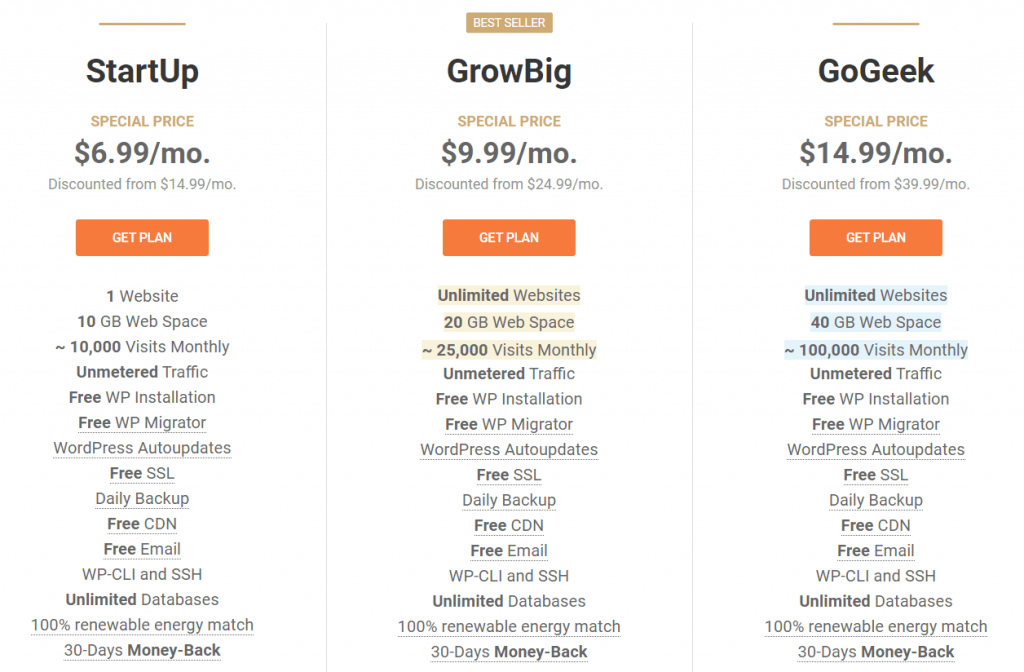 Like WP Engine, SiteGround also does not offer a free trial. While they have a money-back guarantee, the guarantee is only valid for 30 days post signup.
The several plans and pricing tiers are what make their service accessible to webmasters with different budgets.
The company offers a total of four plans, each of which has multiple tiers. The Reliable Web hosting plan is the most affordable plan, with prices ranging between $6.99/month and $14.99/month for the first term.
While you can use this plan to host WordPress sites, the Managed WordPress hosting plan is better suited for it. The two plans have the same tiers and the same pricing.
At face value, the excellent features coupled with the low pricing make SiteGround's plans seem like a great deal. But after the first term, prices of both plans go up from the $6.99/month to $14.99/month range to the $14.99/month to $39.99/month range.
That's almost triple the initial price.
While the decreased pricing can be justified as tactful marketing, the steep increase in price is startling. But when compared to WP Engine's plans, pricing is lower, and no compromises are made in terms of performance or convenience.
In this scenario, SiteGround offers a better deal.
SiteGround also offers high-performance WooCommerce hosting and cloud hosting plans, and while WooCommerce plans have the same price as the other two plans, cloud hosting plans are overpriced, starting at $80/month.
---
Hosting Features
WP Engine
WP Engine is nothing short of impressive on the features front. Regardless of what plan you get, you have access to WP Engine's CDN, which makes for faster page loading times globally. By shortening loading times, the CDN boosts engagement, which in turn increases profits.
WP Engine also offers staging environments that enable you to test the changes you make to your website in a non-public setting. Data transfer is also made easy and can be done using LargeFS, WP Engine's data transfer tool.
The company does not offer any email hosting services, which is something to look out for. Also, the company does not register domains for its users.
But it's not all bad – WordPress comes installed on your server, and you do not need to set anything up. Also, your website will be optimized for performance right out of the box.
There is a downside to the built-in optimization. WP Engine blocks plugins that negatively impact or interfere with its performance tuning.
All other plugins, including email marketing and eCommerce plugins like Drip and Shopify, can be installed without any hitches.
Security-wise, no compromises are made. You get a free SSL certificate, and backups and malware scans are done every day.
Their firewall is also updated daily and blocks all the latest threats from affecting your website. But the best part is that if your site gets hacked, WP Engine will repair the damage for free.
SiteGround
SiteGround offers most of the features that WP Engine offers. They give you a free SSL certificate, and just like WP Engine, backups are made daily.
You can create a backup on demand, and access, copy and restore your backup from the Client Area directly. You will find these options in the Backup section of the Security tab.
SiteGround does not have a CDN service, but it makes up for this downside. SiteGround is partnered with Cloudflare, and you are free to use their CDN service regardless of which plan you get.
SiteGround gets the edge over WP Engine in simple, yet fundamental ways. It offers an email hosting service that makes creating and managing emails very easy. You also get access to the Dev Toolkit, which can prove to be a valuable tool if you're tech-savvy and wish to fine-tune your website.
While your WordPress site is not tuned for better performance out of the box, you can install the SG Optimizer plugin to boost your site's speed. All users get access to staging areas that enable testing for bugs and errors before page changes are officially pushed.
SiteGround makes up for the lack of daily malware scanning by supplying top-notch security features. In addition to the fortified firewall, SiteGround's proprietary anti-bot system works to ensure that your website is always safe from threats.
---
User Interface
WP Engine
WP Engine unveiled its new User Portal in January 2020, mainly relying on customer feedback as the guiding light for the revamp.
The new portal looks a lot more modern than the previous iteration, and also makes site setup and management of websites a lot more intuitive.
It boasts improved account-level visibility, and its search capability is tuned to make management easy.
Learning to use the portal should take you only a few minutes.
SiteGround
SiteGround began to roll out a new portal in September 2019. cPanel was replaced in favor of their custom interface dubbed the "Client Area and Site Tools."
It is a lot faster than the older, clunkier cPanel, but it boasts the same excellent features and even adds new features into the mix.
Users can now add Collaborators to their website. These can be business managers, designers, or developers that help manage your site.
All their activity is logged, and you can revoke access at any time. Shipping sites to clients is also made quicker from the built-in shipping feature.
The interface is mobile-friendly, which means managing your website on the go shouldn't be an issue.
---
Ease of Setup, Speed, and Uptime
WP Engine
If you're planning to create a website from scratch, WP Engine makes it super easy. You get access to StudioPress themes free of charge, and since WordPress comes installed, you can get to designing in minutes.
Migrating a website is also made easy with the automated WordPress migration plugin that the company made with the help of BlogVault.
Customers report that uptime and loading speeds are excellent, thanks to the in-house optimization of the WordPress setups.
SiteGround
Getting a website up and running with SiteGround can take a little longer in comparison, but the process is easy, thanks to the new, intuitive interface.
If you get their GrowBig or GoGeek plan, SiteGround's in-house experts will migrate your website for free. The SiteGround Migrator WordPress plugin is also available for automatic migrations.
The SSD storage works with server-level software solutions like Memcached and HTTP/2 to make your website loads almost instantly.
Uptime is rarely an issue with SiteGround, and reporting it to their support agents should get your site back up in minutes.
---
Support/Documentation
WP Engine
You can report issues and raise complaints at any time with WP Engine's 24/7 live chat service.
Their support page has over a dozen articles to help you get started with hosting a website.
Unfortunately, phone support is not available for Startup plan users, which is a bit stingy considering the price of their services.
SiteGround
The company is well-known for its impressive customer support.
You can use live chat and search through their knowledge base to find solutions to issues quickly.
You can also get in touch with a customer support representative on the phone in under two minutes and get issues resolved.
---
Verdict: Which Is Best?
SiteGround supplies all the features that WP Engine provides at a better price. In my opinion, SiteGround outranks WP Engine by a large margin. Its excellent performance, excellent features, and stellar support combine to make it the overall better web hosting service out of the two.