Using WordPress managed hosting is one of the best ways of building a profitable website. You can focus on creating content and adding products and not worry about maintaining your site!
Kinsta and WP Engine are two of the top managed WordPress hosting providers in the industry, and you've likely considered hosting with at least one of them.
But picking one between them can get confusing because both have almost identical plans and features – at least at first glance.
In this post, I will review and compare the two web hosts to show you how one of them is DEFINITIVELY better than the other.
Kinsta vs WP Engine: Overall Review
Kinsta Overall
Kinsta's flexible pricing structure makes it an enticing option, but when it comes to critical functions like backup, restoration, and staging, it lags.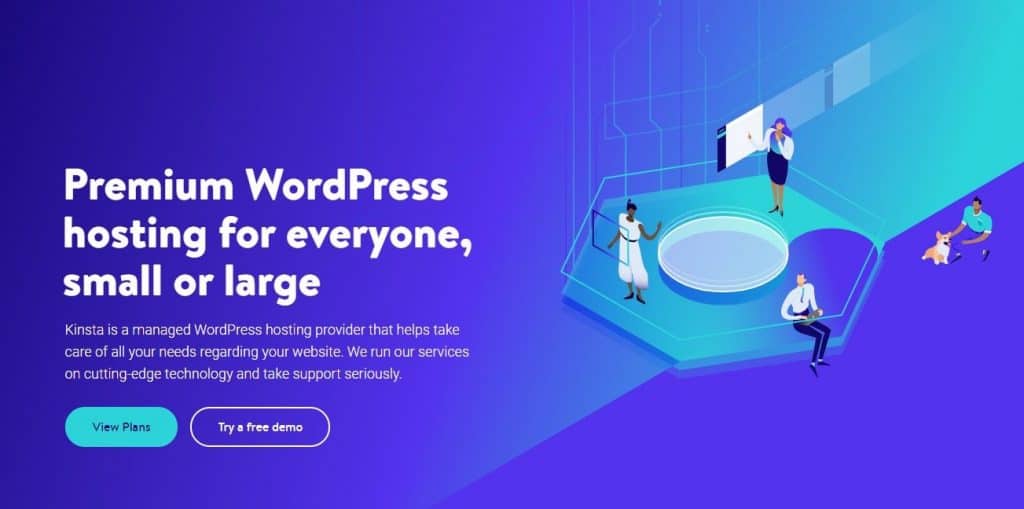 But it's not all bad – the user interface is both serviceable and lively, and shows you vital usage stats right on the dashboard.
Response from the live chat is almost instantaneous, but there is no phone support option whatsoever, which can be difficult to put up with in some cases.
Also, while websites are easy to set up and migrate, overall, it lacks the features I'd expected from a premium cloud hosting service, making it difficult to recommend.
WP Engine Overall
WP Engine doesn't offer an adequate plan for novice users and fast-growing websites, but other than that, the web hosting service is impeccable.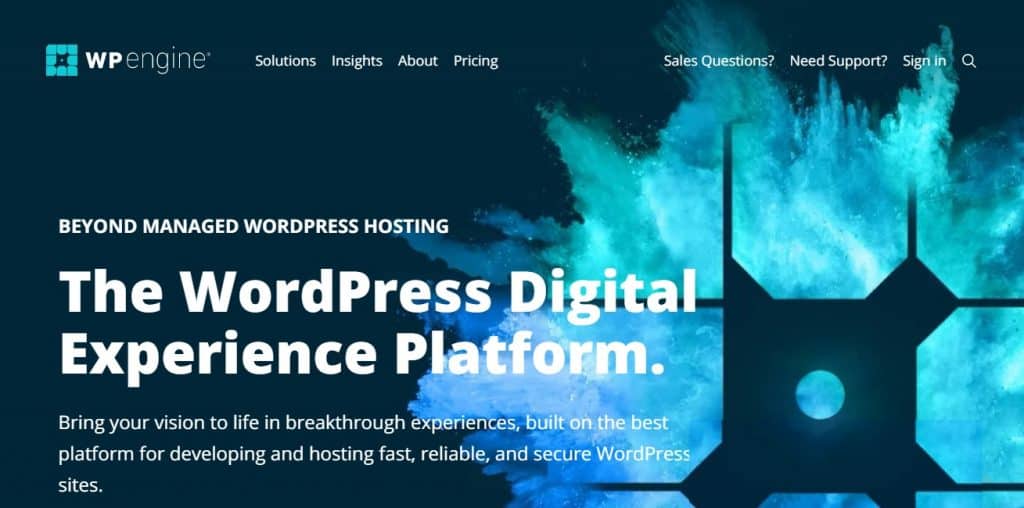 You can backup files for longer periods, make and download partial backups, and use the sophisticated staging feature to push your website changes.
The transferrable sites feature enables you to share website access with clients without compromising your ownership.
The UI is a little dull, but super functional, and the default WordPress install comes loaded with features that make website management easy.
Migration is easy with the free tool supplied, and the phone support option makes it a commendable web hosting service.
---
Hosting Plans & Pricing
Kinsta
Kinsta's pricing structure is a lot more flexible than WP Engine's – they offer plans that cater to webmasters with different budgets and businesses with different traffic needs.
The company offers ten pricing tiers: Starter, Pro, Business 1-4, and Enterprise 1-4. A Custom plan is also available for agencies that drive more than 3 million visits a month. You have the option to pay the annual price upfront and effectively get two months of hosting free.

The Starter plan comes in at $30/month and gives you access to 10GB of disk space, 50GB of monthly CDN bandwidth, and healthy 20,000 visits/month. Only one WordPress installation is allowed.
The Pro plan ($60/month) doubles the number of WordPress installs, visits/month allowance, and CDN bandwidth, and adds 10GB of storage space. The trend continues (roughly) as the pricing tier increases.
There are no server bandwidth limitations for any plan, which makes it apt for hosting graphics-heavy websites. But CDN bandwidth limitations of varying degrees apply to all plans.
The overage charges are simple – for every 1000 extra visitors you drive monthly, Kinsta adds a dollar to your bill, and for every additional GB of CDN bandwidth used, you are charged 10 cents.
SSL certificates are free, but there is an option to use a custom SSL certificate if preferred.
The company offers a 30-day money-back guarantee to all of its customers, and while there is no free trial, you can sign up for a demo account test out all of the platforms' features free of cost.
WP Engine
WP Engine offers a total of four plans: Startup, Growth, Scale, and Custom.
The Startup plan costs $30/month, allowing 25,000 visits/month, allotting 10GB of storage, and giving you a limited bandwidth of 50GB/month for your WordPress website.
Note that WP Engine collectively considers CDN and server use as bandwidth.
Growth is priced at $100/month, competing directly with Kinsta's Business 1 plan, and offering identical 100,000 visitors/month limit and 200GB bandwidth.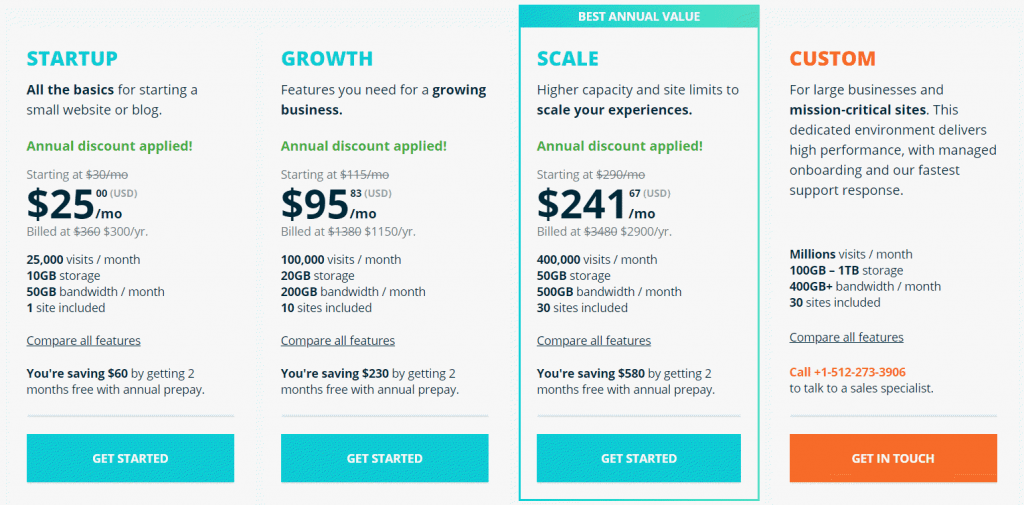 But WP Engine offers less storage at 20GB (compared to Kinsta's 30GB) and allows 10 WordPress installs (compared to Kinsta's 5) – which are essential considerations for a serial entrepreneur.
The $290/month Scale plan competes with the $300 Business 3 plan, and storage, bandwidth, and visits/month are identical at 50GB, 500GB, and 400,000, respectively.
But again, WP Engine allows more WordPress installations (30, to be precise) compared to Kinsta.
Enterprises that drive more than 400,000 visitors monthly can negotiate a custom plan.
The pricing structure is perceptibly more rigid both at the low and high ends. For beginners and newer websites, there is no alternative to Kinsta's Pro plan. For large businesses, there are no Enterprise tiers.
But overages take care of these differences. While there are no bandwidth overage charges (extreme cases are exceptions), the company adds $2 to your bill for every 1,000 visitors you drive.
Does the pricing work out the same as Kinsta's Pro plan for 40,000 visits? Yes.
But you do not get the extra storage or WordPress installation flexibility Kinsta offers.
On the plus side, the company offers an excellent 60-day money-back guarantee that makes your purchase risk-free. But there are no free trials or demo accounts available.
Kinsta's pricing structure certainly makes it a more commendable service.
---
Hosting Features
Kinsta
Kinsta offers cloud hosting via the Google Cloud Platform, which means that if there are any spikes in traffic, the required resources are automatically allotted to your website.
As mentioned earlier, the company also offers a CDN service (KeyCDN) to ensure fast loading speeds and reduced downtime.
Kinsta's automatically creates a backup of your website daily, and stores every backup for two weeks. The backup files are downloadable, but you need to generate a backup file separately whenever you want to download it.
While doing this is not too inconvenient, I do find the limitation of being able to generate backups only one time a week awkward.
Also, when restoring a backup, you can only restore the full backup, and there are no options for restoring only parts (for instance, only the database) of a backup.
Thankfully, the staging function is up to date – you can clone your website in the staging area using a backup, run your tests, and then push the clone to your live site.
But again, the entire site is copied to the clone, and you don't get the option to copy just the site's files and a choice of database tables.
Kinsta works well – but it's somewhat inconvenient, and while beginners won't mind (or even notice) the little compromises made, WordPress experts will gripe about it.
WP Engine
Like Kinsta, WP Engine also hosts in partnership with the Google Cloud Platform, enabling it to handle surges in traffic without downtime.
Additionally, WP Engine allows Custom plan users to host their website on the Amazon Web Services platform. Making the switch to AWS is optional, but businesses benefit from choosing from more data center locations.
Enabling the MaxCDN CDN service is as easy as checking the right box, and another way WP Engine bests Kinsta is by supplying all users with 37 premium StudioPress themes.
The availability of these themes alone makes it more of an enticing option than Kinsta.
The automated daily backups are stored on WP Engine's servers for 40 days – almost thrice as long as Kinsta stores them.
Furthermore, when you want to download the backup, you can choose to download only specific parts of it, such as just the website files.
You also get the flexibility of creating a partial backup, which comes in super handy if you have a large website – excluding the themes and plugins saves a lot of space.
The staging feature is a lot more sophisticated, giving you access to three environments – development, staging, and production – instead of the regular two.
You can work on the site in the development environment, and then move it to the staging environment where clients/coworkers get access to it. Pushing it to the live site is as easy as moving it to the production environment.
WP Engine only copies the required files to the production environment along with your choice of database files. It is faster and more efficient.
Lastly, the "transferable sites" feature is one of the biggest reasons that website designers work with WP Engine. It protects websites with a password that you can share with clients, and you can unlock the site after the clients are ready to move forward.
WP Engine is a lot more feature-rich than Kinsta, making it the superior option for WordPress beginners and pros alike.
---
User Interface
Kinsta
The lively interface is a refreshing replacement for the bland cPanel installation other web hosts supply.
Right after you log in, the dashboard will give you an overview of visits and usage, and also help track overages (if any).
Finding the right settings is easy, and Kinsta also enables you to update the plugins on your WordPress setup right from the dashboard, which is a unique feature.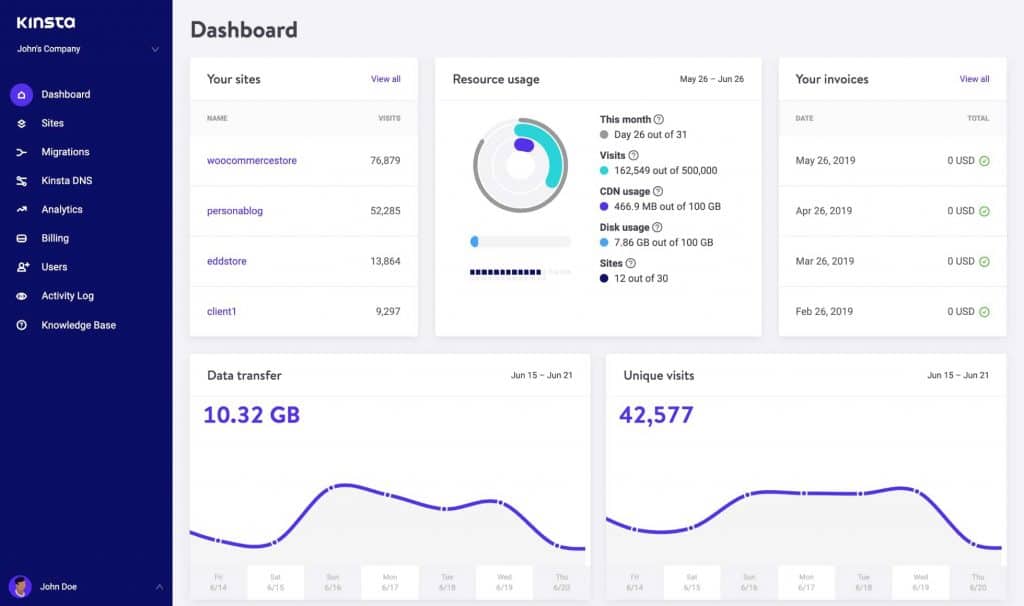 There are no restrictions on accessing your site's database, and you can do it with your tool of choice.
Creating user accounts and assigning user roles is super easy with the well-defined and easy to understand user roles.
Overall, I like Kinsta's interface better.
WP Engine
While WP Engine's custom interface is equally capable, it looks a duller compared to Kinsta's UI.
The dashboard is equally informative, and database access remains unrestricted – you can use any tool you like.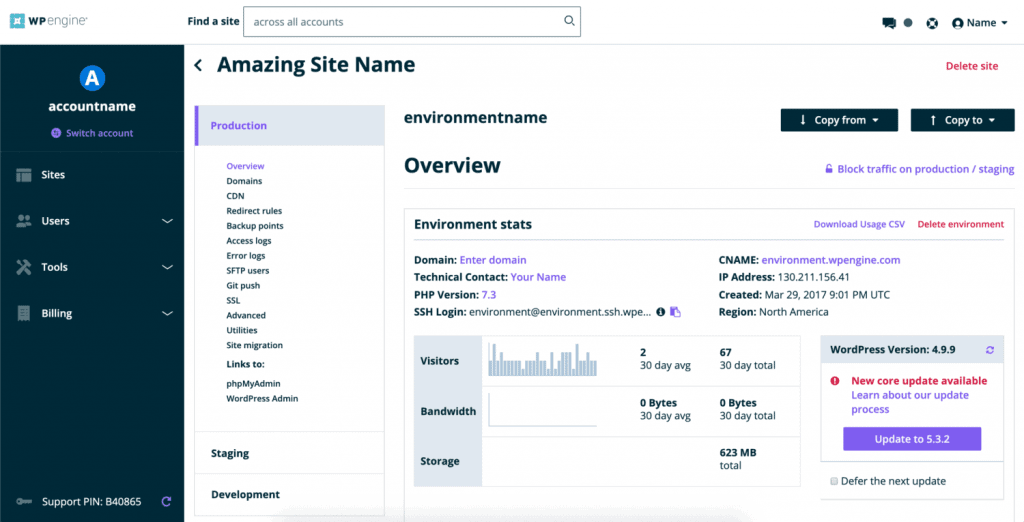 But the best part is that toggles for the CDN, staging area controls and the support/documentation pages come integrated into the WordPress install.
I also like that WP Engine always reminds you to create a restore point when updating WordPress or a theme or plugin.
So, while the UI might look a little bland compared, there is no functional difference between them. Using WP Engine gives you the bonus of easy access to features right from WordPress.
---
Ease of Setup, Speed, Uptime
Kinsta
Hosting a new site with Kinsta is easy – you just log in and enter some details to set up WordPress.
Regardless of which Kinsta plan you get, you can have their in-house experts migrate your sites to their servers.
But if you need to get it done faster, you will need to migrate manually using a free/premium tool of your choice.
You won't have trouble getting a multipurpose theme to load in one second, and the 99.99% uptime guarantee is super reassuring.
WP Engine
Hosting a new site and moving an existing website to a new site is easy with WP Engine's intuitive interface.
But free automatic site migration is limited to the most expensive plans, so you will need to use the free plugin they supply to migrate your website. But since the tool is extremely easy to use, I cannot consider the shortcoming a dealbreaker.
Loading speeds are very similar to Kinsta, because they use the same cloud platform, and a multipurpose theme will load in a second.
WP Engine only provides a 99.95% uptime guarantee, but many customers report that their website never experiences downtime, so there's nothing for you to worry about.
---
Support/Documentation
Kinsta
While Kinsta's ever-growing knowledge base ensures that you get all the guidance you need, the company only supplies a live chat and ticket system for support.
Responses are nearly instant, and while I don't have a problem with the lack of telephone support, a beginner or a business owner may need it.
WP Engine
WP Engine offers live chat to all its customers, but the ticket support system is only available to Custom plan users. Response times are excellent, so I can't complain.
24/7 phone support is available to all users except start-up plan users, which is a massive plus. The top-notch documentation and resource center will help you resolve common issues in minutes.
---
Verdict: Which is Best?
The lack of an apt plan for novice users and growing websites can be a little annoying. But other than that, WP Engine earns my full recommendation as the better web hosting service.
Backups are easier to carry out, are stored for longer, and you have better control over restorations. The staging and transferrable site features are top-notch. The WordPress install makes basic hosting controls available, and the fast support response times make it an all-around better package that's hard NOT to recommend.