Most WordPress themes focus on building a massive toolset so that the user never has to go hunting for plugins or shortcodes.
On one end of the spectrum, themes like Divi ensure that the user gets every feature they would ever need with a theme. 
On the other end, though, there's a theme like OceanWP that offers decent customization power but expands on its capabilities by adding support for existing plugins and page builders.
Although there's nothing wrong with this approach, I find myself wondering if it works just as well (or better)?
Additionally, does the modular approach reduce the theme's overall value?
In this OceanWP Theme review, we'll go over all of OceanWP's features before gauging it's worth.
What Is OceanWP About?
OceanWP was launched back in 2016, and in a relatively short period, has garnered a paying audience of over 300,000!
You can use OceanWP to make virtually any kind of website – from an eCommerce site for selling street food to a polished portfolio.
Since all of the demos are easy to customize, transforming an existing design into an entirely different website shouldn't be tough.
Other than the theme, OceanWP also offers plugins like the Ocean Extra plugin to add more functionality to the theme.
You can also hire an OceanWP team to create the perfect website for you. You can give them a budget and list your requirements and deadline, and they'll have it built to your liking.
---
OceanWP Theme Review
OceanWP is helpful right from install – there's no "figuring it out" with this theme. The sophisticated setup wizard walks you through setting up a basic webpage.
You must first choose a demo and install it (in one click!). The theme then calculates the requirements and asks your permission to install all of them.
All of the required plugins are free, and most of the required plugins are created by the OceanWP team.
Next, you get to customize your site – add a logo, set the title, and pick the colors to go with the demo.
With OceanWP, you get a beautiful-looking website in minutes!
Design and Style
OceanWP's demos have a super vibrant and modern vibe, with every demo comprising of beautiful animations and striking sections.
However, since the theme is customizable, you can mold any demo to look like anything you can think of.
You can also customize each page individually by going to the Pages menu and finding the OceanWP block.
Theme Features
Class-Leading eCommerce Support
The market-leading WooCommerce support makes building an eCommerce site super easy.
OceanWP provides additional eCommerce features, like the Native Cart Popup, which captures the visitor's attention promptly after they add an item to the cart. The popup significantly improves conversion rates on all eCommerce sites.
The theme also enables you to add a floating "Add To Cart" bar on your website without installing any plugins. A visible cart button boosts conversion rates without spoiling the user's experience.
Off-canvas filters and product quick view features further can improve your eCommerce site's look, feel, and effectiveness.
Page Builder Compatibility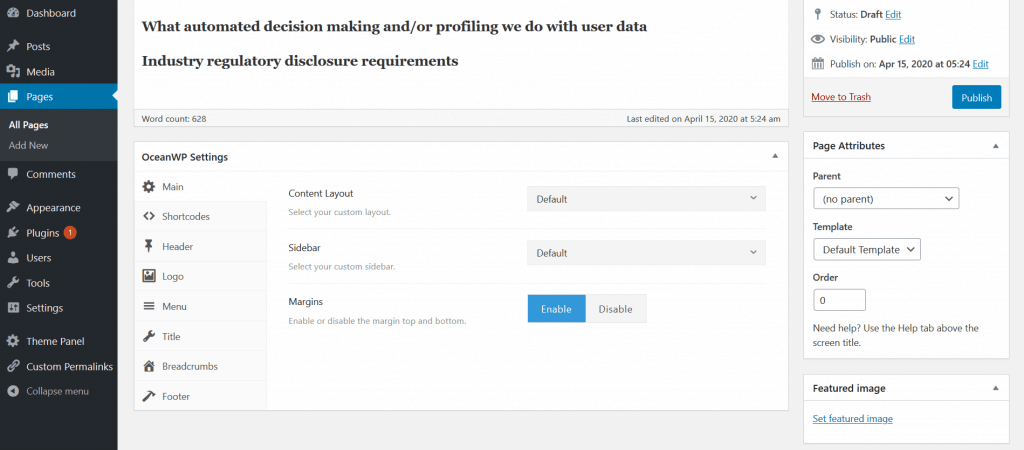 Although the WordPress Customizer gives you more than enough control and creative freedom over your site's design, you can couple OceanWP with any major page builder and design your dream website.
OceanWP is compatible with Elementor, Beaver Builder, Visual Composer, and also the Divi Builder, among many others.
Performance
OceanWP impresses with its top-tier performance features that fortify security and enhance loading speed.
The theme is coded in compliance with WordPress standards and is updated regularly, which ensures that your data and website layout is always secure.
Additionally, OceanWP allows you to disable all the scripts and styles that you don't need on individual pages. This feature brings significant improvements in page loading times.
Getting your OceanWP website to load under two seconds should be a breeze, and most OceanWP theme setups score well on GTmetrix.
SEO Friendliness
OceanWP is pretty search-engine-friendly right out of the box and gives you plenty of options to further improve your website's SEO.
You can enable post name permalinks, get an SSL certificate, connect the site to the Google Search Console, crawl for broken links, configure Google AMP, and use Yoast SEO to get your website up on the top of SERPs.
Designing a mobile-friendly site will ensure that your bounce-back rates are low and that you make the most of every click.
Theme Options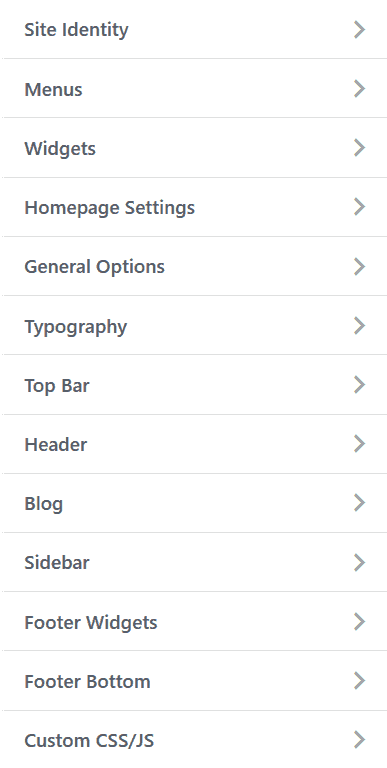 The theme gives you full control over every element on the screen. You can select an icon for your site, create and edit menus, and adjust its style and placement.
Creating forms, setting up a 404-error page, adding a scroll to top button, and switching between layouts is as simple as toggling between pre-existing options.
The theme also gives you a large selection of typography options, giving you control over your text logo, the different headers, and even the text in menus.
Editing the top bar to appear and disappear on specific pages, editing the sidebar layout and its content, and editing the footer's design and widgets can be done in a few clicks.
If you're familiar with JS or CSS, you can even add your own code and fine-tune the site's look to your liking.
---
Additional Features of OceanWP
Translation & RTL Ready
OceanWP is translation ready right out of the box, and since it supports RTL languages, you can use the translate an OceanWP site to any language.
Fully Responsive
The OceanWP theme is fully responsive, ensuring that your website looks great on all screens, regardless of if the visitor uses a phone, a tablet, or a laptop to browse.
Additionally, OceanWP gives you full control over how individual elements look on different screens, enabling you to deliver an optimized experience to every user that visits your website.
Extensions
OceanWP comes with a dozen extensions that enable you to enhance your website's look and functionality.
The Full-Screen extension makes creating a full-screen scrolling site exceedingly simple. The Cookie Notice extension allows you to add a cookie notice to your site, so it complies with GDPR regulations.
The Popup Login extension enables you to add a login/register form wherever you want, and the Instagram extension helps fetch and customize your Instagram feed for display on your website.
Using the Portfolio extension is an excellent way to display your work on your site.
The Sticky Header, Sticky Footer, Side Panel, Ocean Hooks, Elementor Widgets, Woo Popup, and White Label extension give you access to various visual elements that improve the design and functionality of your page.
---
Support and Documentation
OceanWP's paid plans give you access to a year of support and updates – which is pretty standard for any modern WordPress theme.
What's impressive is that they have a dedicated forum for free users that gives them all the help they need to get started and set up their site.
Paid users can use the ticket system to get responses faster. If you're a complete beginner, you can get OceanWP's affordable priority support plan for $29.
Questions and support requests from users signed up for the priority support plan are tended to first, and the customer support team will help you with a lot of the basics, including theme setup, theme/plugin conflict testing, and extensions.
You can also ask a pre-purchase question free of cost on their support page.
OceanWP's documentation isn't as thorough as some of the other themes, but it does touch important bases and ensures that you know how to navigate your way through designing your website.
---
OceanWP Pricing
You can use OceanWP for free and build your site with it, but getting one of their paid plans gives you access to all of their 60 pro demos, 13 premium extensions, and 12 months of updates and support.
The $59 Personal plan is perfect for bloggers, marketers, and freelancers trying to set up a website for their brand.
The Business plan comes in at $79 and enables you to create and manage three sites in total. However, if you're looking to create and sell your website designs, you can get the Agency plan.
Coming in at $129, you should get your money's worth and more selling your OceanWP designs.
If you're looking to use OceanWP with WordPress for more than two years, it makes more financial sense to get the lifetime package for your respective plan.
---
Verdict: Is OceanWP Worth It?
OceanWP comes with a decent amount of fully-customizable demos that you can use to make any website design that comes to mind.
The extensive collection of plugins enables a lot of functionality free of cost, and since the theme is lightweight and search-engine friendly, you should have no trouble driving clicks, making sales, or engaging with audiences.
The free version packs a punch, but getting one of the paid plans further improves your designing experience. The paid plans give you a lot more control over the design, and with more demos and features unlocked, you get a lot more to play with.
All in all, OceanWP strikes the right balance between performance and design, making it worth every cent of the asking price.