Astra Theme is one of the most popular WP themes currently available. Many WordPress experts will swear by the theme, but is it the right choice for you?
The decision on whether or not to choose the Astra Theme will depend on your business needs. In this article, we will take an in-depth look at Astra and how it can help you
What is the Astra Theme About?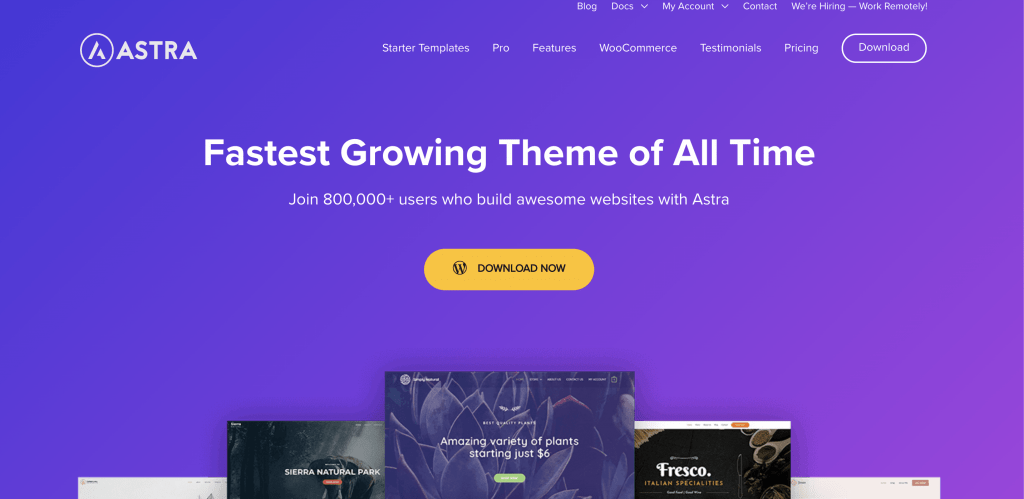 Astra Theme is one of the products of the Brainstorm Force Team. The company, which started in 2009, has built a variety of WordPress products over the years. Some of the most notable projects besides Astra include Schema Pro, Ultimate Addons for Gutenberg, Beaver Builder, and Elementor, Cart Flows, and Convert Pro.
Brainstorm Force created the Astra Theme as a complete package. After building WordPress products for five years, the team realized there was a need to have a theme that offered a variety of customization options, optimum performance, and exemplary quality. Thus, the team came up with the Astra theme, which is a combination of optimized code and is built for speed.
Since its inception in 2017, Astra has grown to power about 1200 new websites daily and a total of over 800,000 installs. This WordPress theme comes with a variety of features to help you build and customize your site regardless of the business type.
Astra Theme Review
The base Astra theme is a free theme on the WP repository that is fast and fully customizable. The theme is built for speed, which makes it suitable for blogs, personal portfolios, and business websites. Besides, it integrates seamlessly with WooCommerce, making it an ideal choice for anyone who is looking to open an eCommerce store.
Let's delve into the details of the theme here below.
Design and Style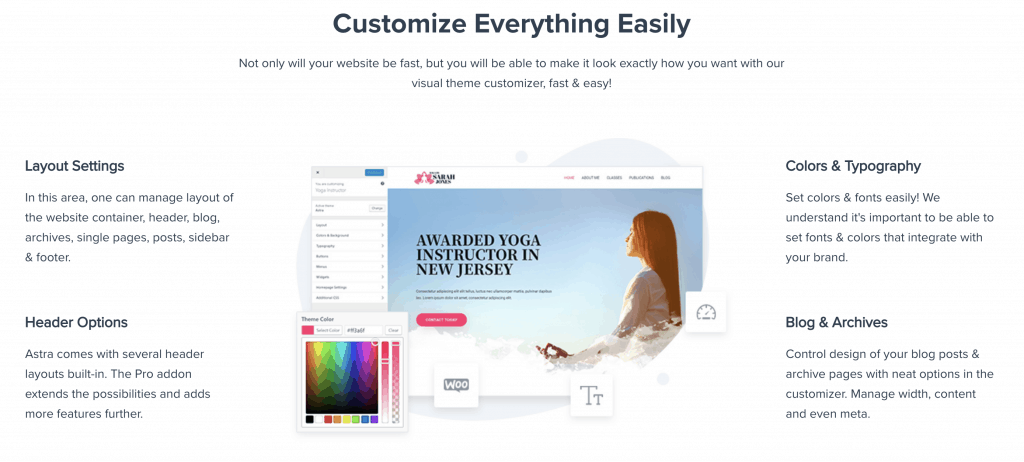 Astra comes with some powerful design options that any website owner is going to love. One fantastic feature of this theme is that it comes with a wide range of customization options. Some of the customization options include the layout, typography, colors, menu, headers and footers, background images, and sidebars.
The header and footer options come inbuilt with Astra. You can also extend the possibilities using the Astra Pro addon. Thanks to this feature, you can customize and adjust headers for mobile devices and set custom page headers for specific pages and posts on your website. You can also choose to either install a sticky header or a transparent header depending on what works best for your business.
The Astra collection of colors and typography that you can use on your website is also quite impressive. You get to choose a set of colors and fonts that complement your website's brand. For the typography, you have a wide variety of over 700 Google fonts. You can also import any custom font that you like, thanks to the custom font plugin. Astra also allows you to set responsive font size and select different font sizes for different devices. As for the layouts, you can customize both the site and blog layouts by choosing from the available variety.
The Astra theme comes with a lot of customization options. Therefore, one of the most useful features is that the customizer on your WordPress site will let you deactivate the addons that you won't be needing. This way, you can quickly declutter your working space.
Theme Features
Performance
Astra is a lightweight theme and requires less than 50 KBS of resources. This is quite impressive as compared to other WP themes that often need KBS in the hundreds for them to load. The Brainstorm Force combined this lightweight nature with optimized performance to build Astra for speed. Therefore, the theme will only take a little under 0.5 seconds to load.
One of the factors that interfere with performance optimization is render-blocking jQuery. Astra, therefore, uses Vanilla javascript to counter this issue. The theme also uses default WordPress data to ensure that all the codes on the platform are optimized.
SEO Friendliness
The codebase architecture for Astra follows the best practices to ensure that the theme adheres to the modern SEO standards. For starters, Astra's page speed is super fast, which is an important ranking factor for SEO.
Additionally, Astra comes with the Schema.org markup. Astra uses the markup by default on every one of your webpages. The Schema markup helps with the SEO on Google and other search engines by displaying rich snippets of your web pages. If you would like to access advanced Schema functionalities, you can install the Schema Pro plugin.
Additional Features for Astra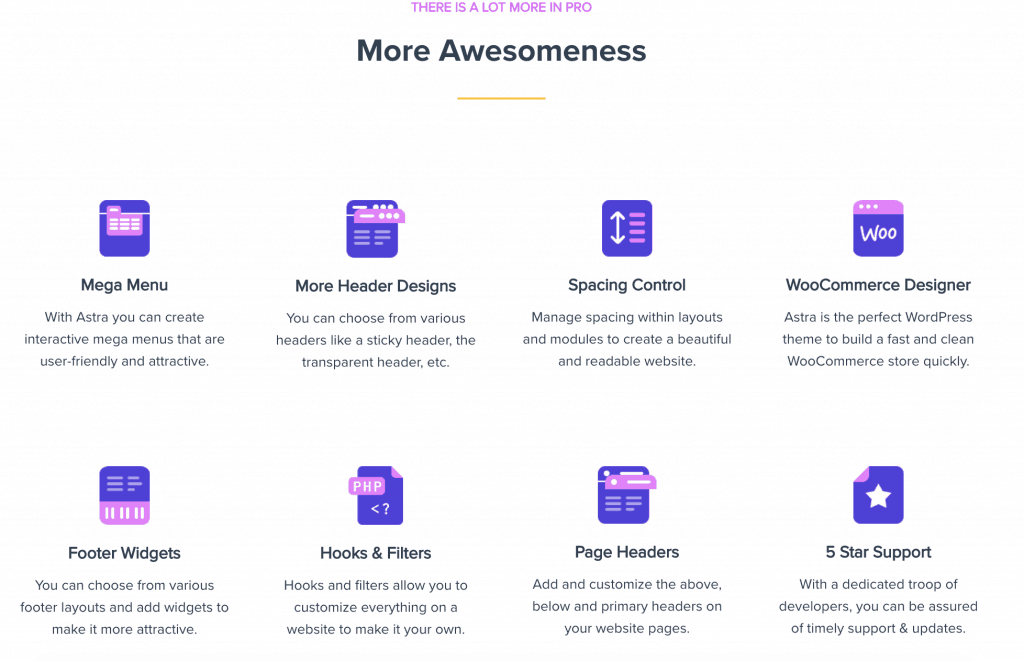 Pre-built Websites
Unless you want to design your website from scratch, all you need to do is install the Astra sites free plugin to access the pre-built websites. The plugin gives you entire sites, rather than just web pages. What's more is that the websites are entirely professional and categorized into industry niches such as restaurants, jewelry/eCommerce, fitness, photography, among others. Therefore, you will have an easy time when trying to identify a niche starter site that will work for your business.
WooCommerce Integration
Thanks to this integration, you get to design your eCommerce store to your liking. Some of the customization options that you have include using the grid settings to display your products using a grid layout. You can also add a drop-down cart and infinite scrolling to load more of your products whenever users scroll down the page. The quick view option and the off-canvas sidebar will ensure your site visitors have a seamless user experience that will have them coming back for more.
LifterLMS and LearnDash Integrations
Thanks to the LifterLMS and LearnDash integrations, you can create attractive online course websites that are user-friendly and distraction-free.
Astra lets you provide an upscale learning experience by providing you with design freedom. You also get to include a conversion checkout page that is free from distractions. Your students can, therefore, complete their orders without having too many popups that would skyrocket the cart abandonment rates. Both integrations aim to help you bring in more students, which is quite useful for business.
Support and Documentation
Astra has an impressive collection of useful documents that you can easily access on the site. Astra has done a splendid job of categorizing the documents so that you can easily find an article whenever you need to. For example, one of the categories is Troubleshooting, which contains eight pieces. These articles provide quick help should you run into any trouble while on the platform.
If you would prefer a video demonstration, Astra has got you covered with their YouTube channel. Here, they post video tutorials and demos that you may find particularly useful. A bonus advantage of using the YouTube channel is that it contains videos on how to use the WP platform generally. You also get tutorials for using the other products by Brainstorm Force.
The support available for the Astra platform is quite impressive as well. When you access the support page, Astra will try to direct you to any of their documents by asking you to use the search bar. If you don't find the documents helpful, you can submit a support ticket.
Astra Pricing
The Astra theme is entirely free, and you can quickly download it from WordPress. With the free version of Astra, you will get access to all the features you would need to build and customize your website. However, if you would want to unlock some advanced features, you might want to go with Astra Pro. Some of the features that are available for the Pro version but not the free one include header and footer options for the design, the global design options, and custom layouts. With the free version, users are limited to using the default container layout for their sites and the blog content width for their blogs.
Besides, the LifterLMS and LearnDash integrations are limited, as are the colors and typography options for the free version. The WooCommerce integration also doesn't include the checkout options.
The paid version of the Astro theme is available in three packages; Astro Pro, the Mini Agency bundle, and the Agency bundle. For all three packages, you get to choose whether to pay annually or get the lifetime value deal. All three options will give you access to all the Astro Pro features, one-to-one support, extensive training, and unlimited website usage.
The Mini Agency bundle will allow you to choose a page builder addon between the ultimate addons for Elementor and those for Beaver Builder. The Agency bundle gives you both options as well as the Convert Pro and Schema Pro plugins.
With the Astro Agency Bundle, users also get access to the SkillJet Academy. The Academy contains a library of online training courses. All the courses are from renowned industry leaders and are designed to help web entrepreneurs and web-design professionals to scale their online businesses.
Verdict: Is Astra Theme Worth It?
So, is Astra worth your money?
Absolutely. If you are looking to create a stunning website that is fully customizable, then you should go for Astra. This theme lets you add your touch of creativity and design to come up with something that matches your brand. Besides, it integrates with a variety of other marketing tools. A combination of all these useful tools will help you manage your site and scale your business.
Unfortunately, there is no free trial available for the theme. You can instead choose to try out the free Astra version before committing to the Pro ones. Besides, Astra is quite affordable as compared to other themes, so if you are on a shoe-string budget, it could be the ideal choice for you.