Although WordPress is the perfect website creation tool for those without technical expertise, there's always the struggle to find a light theme that is also pretty.
GeneratePress claims to be the perfect lightweight theme for your next project – regardless of what kind of site you plan to make.
But can it strike the right balance between looks and performance?
More importantly, is it as easy to use as it portrays itself to be?
In this GeneratePress review, we'll go over everything GeneratePress has to offer before coming to a conclusion.
What Is GeneratePress About?
GeneratePress is an ultra-light theme with an install size of under 30KB!
It is as feature-packed as it is light – allowing multiple means of website creation, and giving you a host of customization options within WordPress itself.
You can use the Site Library to get your hands on fully-customizable pre-built web designs. These templates make creating your website as easy as entering the right information!
There are no bounds to what you can make with GeneratePress – you can use it to build a site for a brick-and-mortar store, make a portfolio or an eCommerce store, or build a website to show off your photography skills.
In the 5+ years since launch, GeneratePress has proven itself to be one of the most stable and best-supported themes available for WordPress.
GeneratePress Review
GeneratePress is the go-to lightweight WordPress theme for many. Here's why:
Design And Style
GeneratePress's templates have a modern vibe – but you can very well make a minimal, a flat, or a bubbly website with it.
It's as simple as using the right fonts and coupling them with the right images – the extensive customization options enable you to put your own spin on any and every template.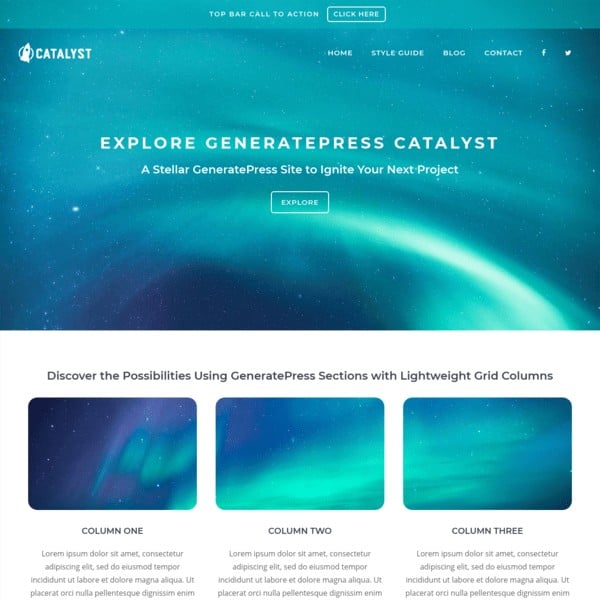 Basic Theme Features
Colors & Typography
You can adjust the colors and the typography of your site right from the customizer – you have styling options for every visible element!
Layout Control
You can control padding, margins, sidebar layouts, and a lot more for the desktop and mobile versions of your site individually.
Page Builder Friendly
GeneratePress works perfectly with all of the major page builders, including Gutenberg, Beaver Builder, and Elementor!
Plugin Compatibility
The developers of GeneratePress coded the theme to meet WordPress's standards, which ensures that the theme plays well with every WordPress plugin out there.
Performance
One striking feature of GeneratePress is that it has zero dependencies – no jQuery either!
You won't have any render-blocking issues, and the theme's tiny footprint and its clean code ensure that your site is as fast as it can get.
The average loading time of a GeneratePress site is a short 1.45 seconds!
SEO Friendliness
GeneratePress boasts validated HTML and has schema.org structured data built-in, making for extraordinary search engine optimization right out of the box.
You can further optimize your SEO using on-page optimization techniques for the best results!
Theme Options
You don't need to purchase a page builder if you have GeneratePress. The WordPress Customizer gives you a lot of control over how your page looks.
The Site Identity menu is pretty standard – you get to set the title and the tagline of your site here. You can also upload your site's logo here for it appear in browser tabs.
Layouts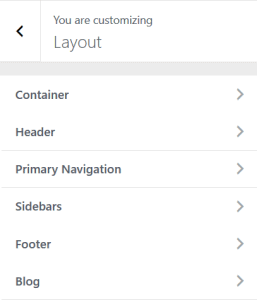 GeneratePress gives you a lot of control over the layout of your page. You can set the container width and even customize container alignment and content layout.
You can also pick from six different header presets, edit the header's width and inner width, and customize the header's alignment.
The navigation bar is another element you have full control over, and aside from the width and the alignment, you can also set up drop-down animations and toggle the navigation search bar on or off as you see fit.
GeneratePress also allows you to add a second navigation bar with all the same options as the primary nav bar!
The ability to customize the sidebar is a huge plus if you're looking to make a blog using GeneratePress. The theme offers six different sidebar layouts and allows you to have different layouts on different pages.
Footer widths are adjustable, and you can also control how many widgets you want on your footer. The Footer menu also gives you the option to toggle the "back to top" button on or off.
The blog module gives you complete control over your blog archives and single posts. You can set featured image sizes, choose the elements you want to hide, and even control content type!
Colors & Typography
Setting background and text color, and picking the font-weight, style, size, and spacing is done in these menus.
They make giving your site a personal touch exceedingly easy.
Menus
You can add and remove menus from your site, and customize their look, feel, location, and type from using the Menus option.
Widgets
GeneratePress's widget options are a lot more pronounced than other themes in the market. You can integrate widgets into the header, the sidebar, and even the top bar, enabling you to make your site as flashy or minimal as you like.
In addition to all this, you can also add your own CSS code into the editing area and make a template your own.
Controlling your homepage's look is as easy as selecting between the two homepage display options – you can either display a static page that you've set up or have your homepage automatically serve up your latest posts to visitors.
Boosting your site's performance a little more is as easy as toggling caching dynamic CSS on.
You can also customize your icon type, and choose to combine the website's CSS to reduce the number of file requests – making your site lighter and faster.
---
Additional Features Of GeneratePress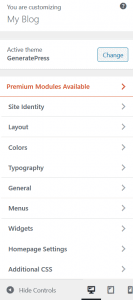 Site Library
The Site Library gives you access to importable demo sites that you can customize freely.
Better Customization
The premium version of GeneratePress gives you 60 color options, 70 typography options, dynamic page heroes, custom theme layouts, sticky navigation features, mobile headers, off-canvas navigation features, spacing options, and an advanced hook system.
You also unlock image controls, columns, masonry, infinite scroll, and a lot more.
Disable Elements
You can turn off various theme elements on specific pages of your site to improve loading speeds without altering the look and feel of your website.
Copyright
After purchasing the premium version, you can replace the copyright message on the bottom of your site without any hassles.
Templates
The Site Library has over two dozen ready-to-edit templates that you can customize and make your own for any of your projects.
All of the themes are compatible with Gutenburg, and some of theme are compatible with Elementor and Beaver Builder, giving you the flexibility to work with what you feel most comfortable with.
Hooks And Filters
If you how to code, you can extend anything and everything using GeneratePress's extensive list of filters and hooks.
Translation and RTL
The theme comes translated into over 20 languages right out the box. It is also RTL-ready, enabling you to cater to your website to any audience around the world.
---
Support And Documentation
All of GeneratePress's features are extensively documented, and the documentation covers everything from installation to debugging – you should never have problems finding a solution to your issue.
If you have a pre-sale question, or there is an issue with your account, you can visit their support page and ask your question quickly. The GeneratePress team tends to respond quickly, and your issue should be resolved in a few minutes.
If you're having a technical issue, or get stuck building your site, you can ask your question in the support forum.
---
GeneratePress Pricing
There is a free version of GeneratePress available, but it has limited customization options. You also don't get access to the Site Library in the free version.
The premium version is modestly priced, coming in at only $49.95!
You get access to all of the premium modules and full access to the Site Library. You can create an unlimited number of sites with the premium version, and you also get one year of updates and support at no additional cost.
Furthermore, the 40% renewal discount makes it steal if you're looking to stick to a theme for more than one year.
If you don't like GeneratePress for any reason, you can ask for a refund in the first 30 days of using it. This makes it a risk-free purchase!
---
Editor's Notes: This Site Is Using GeneratePress!
Take a peek around. WPSymposium, the site you are on right now, is using GeneratePress. We love using this theme for the many aspects mentioned above: speed, easy-of-use, easy to customize, lightweight, EXCELLENT support, and more.
It is by far one of the best themes we honestly have ever used (period).
---
Verdict: Is GeneratePress Worth It?
We hope you found this GeneratePress review worthwhile. GeneratePress goes easy on the wallet, but no compromises are made – you get unrestricted access to beautiful templates that you can edit and make your own, and since the theme is lightweight, you should have no performance issues.
It's both page builder and plugin friendly, ensuring that you don't have to look for alternatives for your favorite website editor or plugin.
The top-tier speeds, lack of dependencies, and excellent SEO make it a must-have for anyone looking for a solid multipurpose WordPress theme.