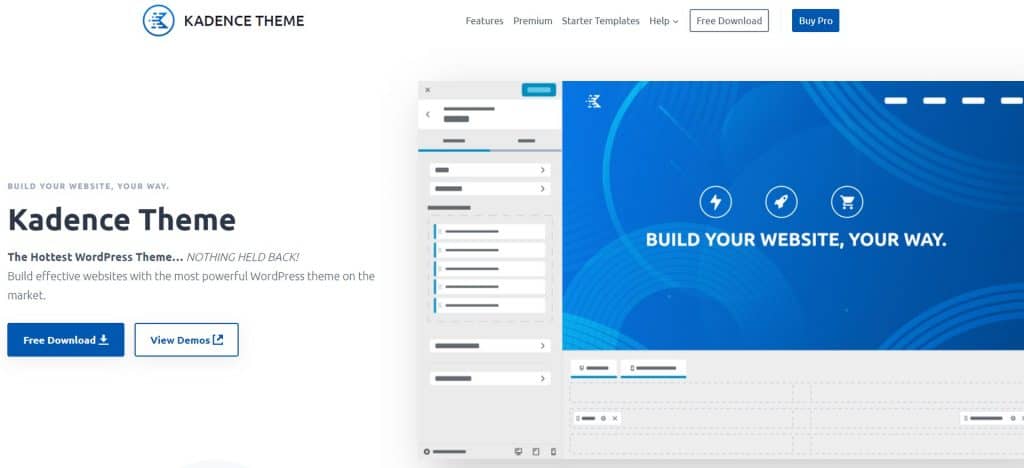 Kadence is a relatively new theme that claims to offer some very easy to use features that will make creating an effective website super easy.
However, themes like Astra and GeneratePress currently dominate the industry with excellent pricing and a host of powerful features.
This leads a lot of us to ask:
Where does Kadence WP stand? Is it worth the $59 yearly price?
I will answer these questions and more in this Kadence theme review.
What is the Kadence Theme About?
One of the key selling points of the Kadence WordPress theme is that it's made in the USA. 
In the beautiful city of Missoula, Montana, to be precise.
The details of the creator(s) of the theme are not revealed on the website. However, it's easy to see where they get their inspiration from just looking at the site.
The bright colors used and the welcoming visual features of the theme are inspired by the landscape of the mountains and rivers in Montana.
You'd think that this would make Kadence look somewhat generic, but that is far from the truth (more on this later).
You could use the theme to make everything from a blog to a shopping site, and even an online course portal. Full points for flexibility!
The company Kadence Themes sells four themes – Kadence, Ascend, Pinnacle, and Virtue. Virtue Bold is also available, but it is a child theme.
However, since Kadence is their most premium theme, it's plausible to expect better support and faster update cycles.
Kadence Theme Review
In this section, I will review how the theme looks, performs, and operates, to better understand where it truly stands against competitors like Astra and GeneratePress.
Design and Style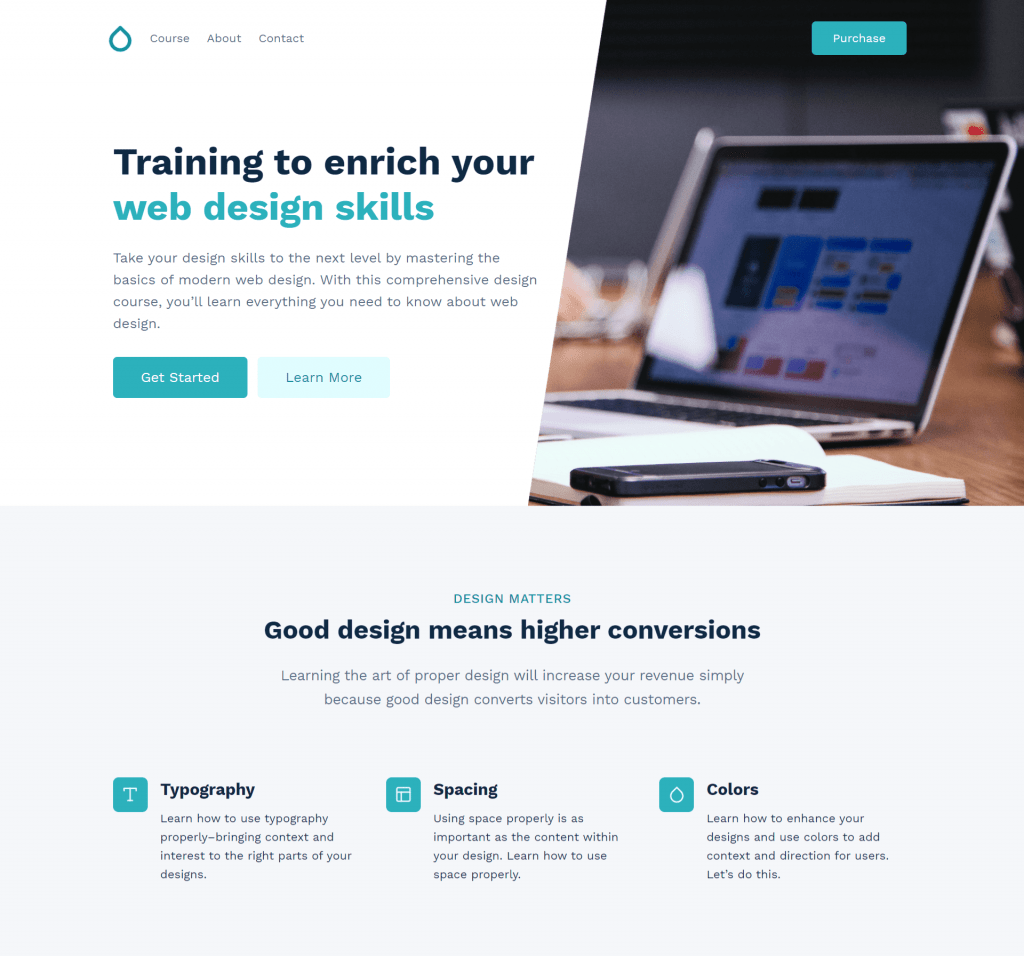 As I mentioned before, nature-inspired elements are prevalent in Kadence. However, the style of the theme is far from generic.
A glimpse at one of the several starter templates reveals that Kandence boasts an urban look.
I'd describe the style as "business casual," since it looks both professional and welcoming. It also gives you the flexibility of customizing the theme to look as professional or as casual as you like quickly.
Add the flexibility and style to the fact that you can make any kind of website with it, and you have a theme that rivals Astra and GeneratePress.
Speed
While the theme will make your website look beautiful, it is also lightweight, ensuring that your website loads fast.
Several Kadence users report that their website loads in approximately one second, which puts the theme on par with the loading times of Astra.
Even if you plan to make a graphics-heavy website, you won't have to worry about the loading speed of your site.
The inline SVG icons, component stylesheets, and lack of heavy JavaScript files give your site the edge it needs to be faster than the competition.
You also have the option to preload CSS in your site's header, and then call that code whenever needed. It gives your site a slight performance boost.
But there's a catch with using Kadence:
If you're an advanced user/developer and like to use hooks and filters, this theme is not for you.
Another development-oriented theme like GeneratePress will be the better option for you.
SEO Friendliness
The Kadence theme impresses with its clean, up-to-standard coding that will help you get on the top of SERPs.
However, the theme has a lot more to offer for SEO other than just good coding. The theme supports all SEO plugins, including Yoast SEO, which will help you further optimize your pages.
Additionally, Kadence supports schema markup, which is another significant advantage. Permalink options are also available.
If you're looking for an SEO friendly theme, you cannot go wrong with Kadence.
Features like compliance with WCAG 2.0 standards, Keyboard navigation, and focus control, ensure that anyone can use your website with ease.
Theme Options

I was impressed by the Theme Options section of the Kadence for many reasons. The options are intuitively nested and excellently sectioned. 
But that's not all. The settings sections that come incorporated into the Theme Options are custom-made.
The custom design makes, for example, picking colors and creating color palettes easier.
But the design of the sections is consistent throughout the Theme Options, making customizing your site to look how you want it to easier. You will see the same design language across sections like Typography and Layouts.
If you're a complete WordPress beginner, the easy to use and potent Theme Options alone makes it worth switching to Kadence.
It's not convoluted or difficult to get acquainted with at all, and you'll be building beautiful, professional-looking websites with it in no time.
The sheer volume of options is another benefit.
If you don't get the membership or buy the Kadence Blocks plugin, you'll still be able to customize your website to your liking with relative ease owing to the rich Theme Options section.
Additional Features for Kadence Theme
Kadence comes with a ton of additional features. It's these features that give the theme its charm!
Drag and Drop Header & Footer Builder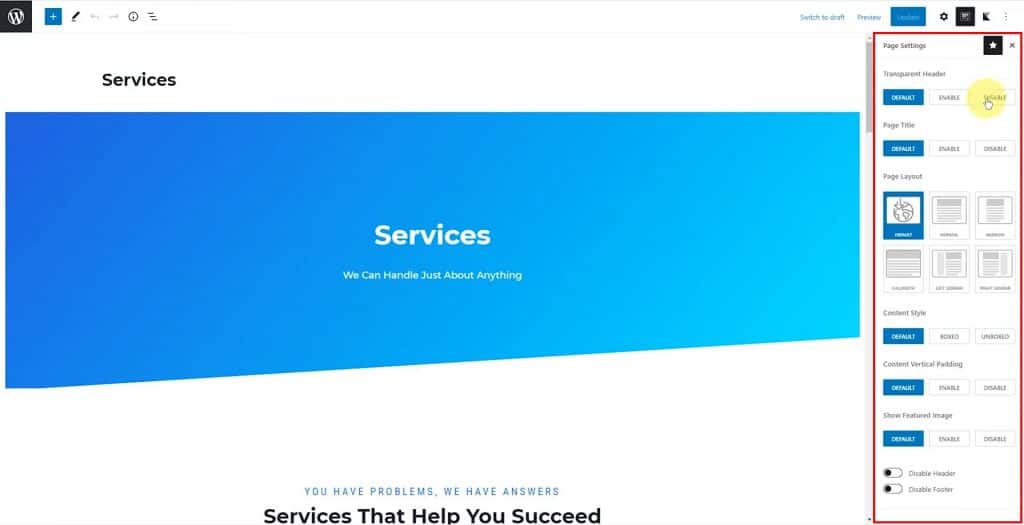 Many themes either severely limit your customization options when it comes to headers and footers, or complicate it unnecessarily.
The drag and drop builder strikes the right balance between ease of use and customizability.
You can choose from over ten different elements to add to your header and footer. Whether you're trying to make a customer navigation bar or a minimal header for your blog, you will be able to do it in minutes and not hours.
The drag and drop builder displays the changes live, so there will be no guesswork.
The builder also offers several design layout options, including transparent and sticky header options, giving you full control over how your website looks.
But what I like the most is that pre-built templates are also available, making creating a beautiful header faster and easier.
Kadence AMP
The good news is, you can enable Accelerated Mobile Pages on your website if you use the Kadence theme.
Google now gives AMP-enabled websites a ranking boost, which can make a huge difference to your site's traffic and sales.
However, what I do find a little disappointing is that you need to pay extra to unlock this feature.
It supports ads and comes translation ready, so it'll be worth your money if you're well on your way to dominating SERPs already.
Kadence Blocks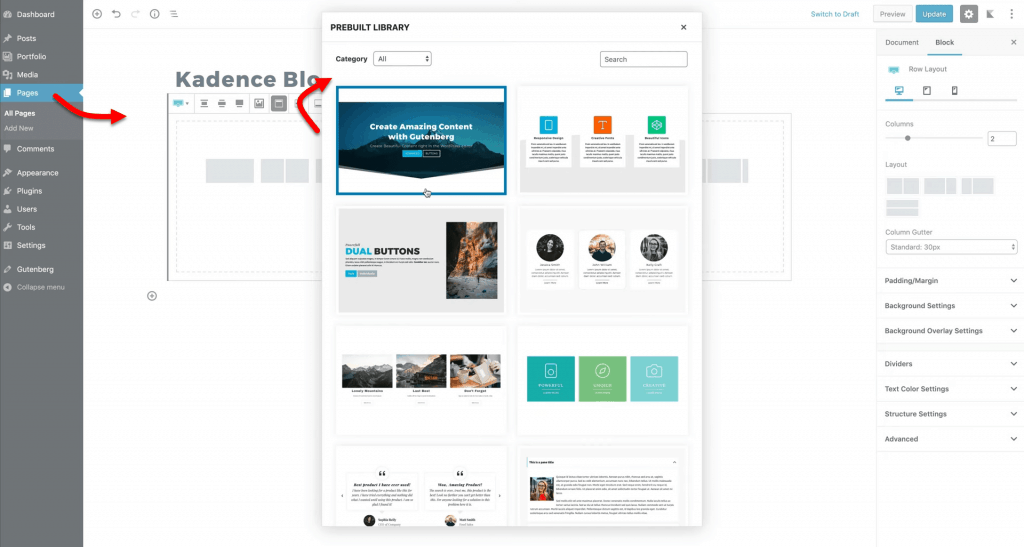 The Kadence Blocks plugin is free to download from WordPress.org and makes building a custom layout for your page a lot easier.
You can add accordions, tabs, info boxes, icon blocks, spacers/dividers, and even an advanced heading block to your site.
You can also choose pre-built blocks from the library.
However, to unlock features like on-scroll animation, image overlay block, carousel block, video popup block, and more, you will need to buy the premium version of the plugin.
Kadence Woo Extras

If you want to create an eCommerce site with Kadence, getting the Woo Extras plugin can be very advantageous.
It gives you the ability to make product galleries, add a "hover to zoom" feature to product images, add cart notices, variation swatches, and a lot more.
You can also add size charts if you're selling clothes and other merchandise, and use the variation price control feature to price the products accordingly.
The checkout manager enables you to design your checkout page as you see fit, and also allows you to control which fields are included in WooCommerce emails.
Support and Documentation
A support forum and premium ticket system are available for paying users. However, if you're using the free version and have any queries, you can go to the company's contact page and send them your query from there.
The knowledge base is filled with over a dozen articles that will teach you all the basics of the theme. A video tutorial playlist is also accessible right from the website.
Kadence Theme Pricing
A free version of Kadence is available; however, it doesn't come with features like the header addons, the hooked elements, and the WooCommerce addon.
You can get access to Kadence Pro for $59/year. However, if you plan to use the theme for more than two years, it makes financial sense to buy the lifetime version at $129.
If you want all the premium plugins along with the theme for cheaper, you can get the Kadence Membership for $139/year. You could also purchase a lifetime membership for $389.
All plans come with a 30-day satisfaction guarantee, which is excellent.
Verdict: Is Kadence Worth It?
When it comes to style, ease of use, and speed, Kadence impresses on all three counts. The pre-built starter sites and blocks make building a custom website easier than it's ever been.
The support and documentation are on par with 2020 standards, and since the multipurpose theme is priced aggressively, not recommending it to you would be almost insulting.
If you're looking for a pocket-friendly theme that gives you top-notch site-building convenience, you cannot go wrong with Kadence.