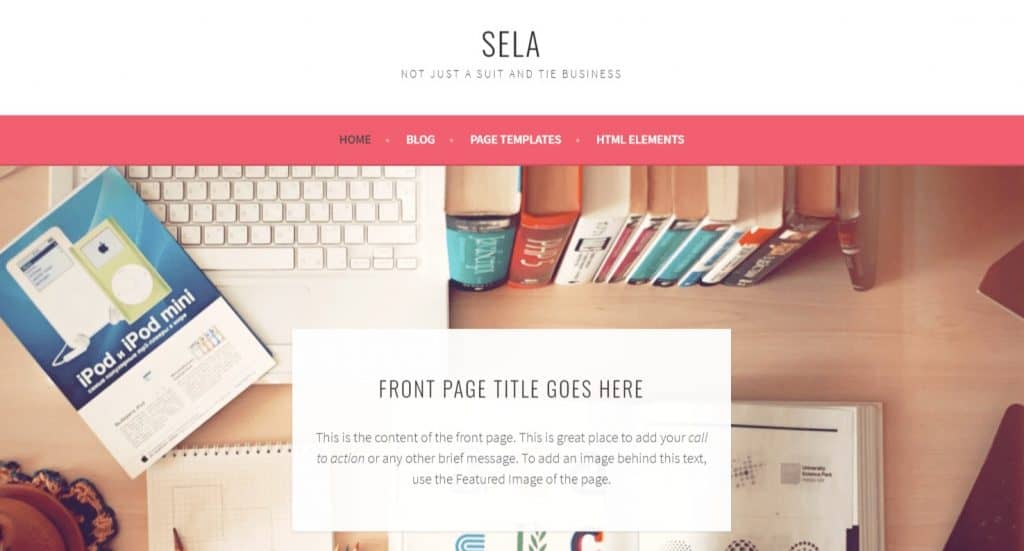 There's no shortage of beautiful and feature-packed free themes on the WordPress market.
Sela is a clean and vibrant business theme that you can use to give your website an attractive look – for free!
But how well does Sela fare against other free themes like OceanWP? Does it pack enough features and customizability to even compete?
Additionally, does it offer support and have an active community that can help you in case you get stuck designing your website?
In this Sela Theme Review, we will go over all of Sela's features to help you understand if it's worth your time.
What Is Sela About?
Sela has been downloaded over 10,000 times, making it the go-to business theme for many!
Since this is a business theme, and it's customizable, you can use it to build a site for any kind of business.
However, if you're looking to use what they give you right out of the box, the pink accents, coupled with the grey tint, make it perfect for use for a clothing store website or a hairdresser's website.
The style is fresh and friendly-looking, also making it perfect for a mom and pop store website.
The theme was created by Automattic, the same company behind popular tools like WooCommerce, Gravatar, Jetpack, and Akismet!
They have dozens of free themes available on WordPress, and ever since the company was founded in 2005, most of their work has been focused on catering to the open-source community.
What's most impressive about the company is that the team is distributed across 75 countries – their goals and their work ethic is very next-gen, just like most of their themes!
---
Sela WordPress Theme Review
Sela looks beautiful, and its design encourages you to use attractive images and couple them with colors that match. 
Its simplistic approach to beauty is what gives it a unique charm.
Design and Style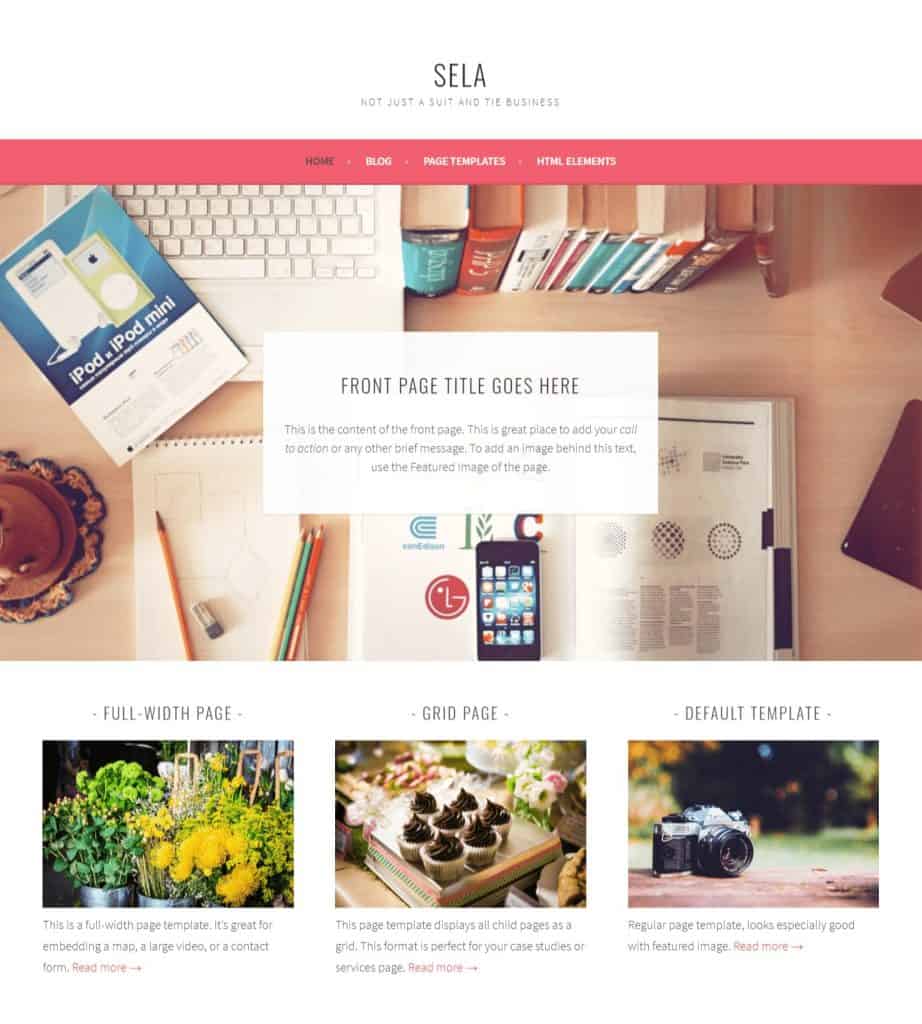 Sela's design makes use of white space really well, making your website vivid and welcoming. The use of delicate elements and light colors further polishes its style.
Theme Features
Elementor Support
The theme plays well with Elementor, enabling you to add all kinds of elements to your website.
Adding, customizing, and animating text, images, testimonials, pricing tables, and sidebars is super easy.
You can also add social icons, integrate SoundCloud to your page, make menu anchors, toggles, accordions, tabs, counters, rating boxes, galleries, and even carousels.
If you're familiar with HTML, you can add your own HTML using Elementor and give your theme a personal touch.
Getting the Pro version of Elementor will enable you to use their templates, and also give you a lot more elements to work with.
Adding a parallax effect to Sela is a great idea – you can make good use of the vividness of the theme with a parallax. 
Excellent Plugin Support
Sela was coded with WordPress standards in mind, ensuring that the theme plays well with almost every WordPress plugin.
You will never have to find alternatives to your favorite WordPress plugin!
Performance
Sela is super lightweight, and since it is neither graphic- nor image-heavy, you will have no problems getting your site to load under two seconds!
With the right hosting, the theme will load in under one second!
SEO Friendliness
Although the code is bloat-free, the theme gives you no internal options for SEO.
It does play well with Yoast, which will give you better control over how your site looks to search engines.
Although the lack of internal SEO options is not ideal, support for SEO plugins makes up for it.
Theme Options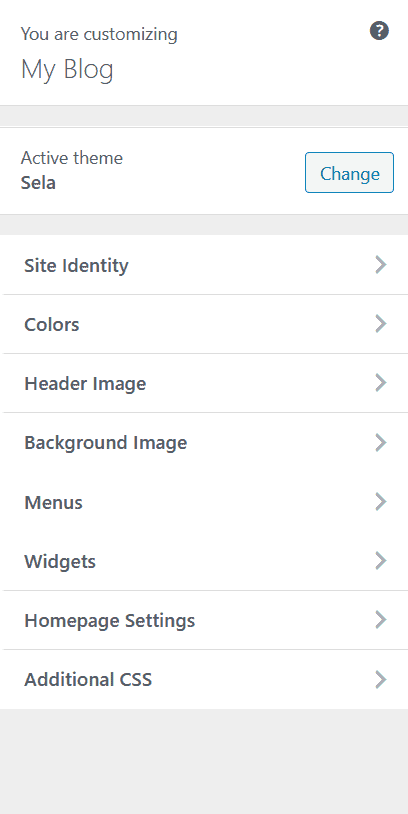 The theme gives you full control over the look and layout of your website; however since it's not a premium multipurpose theme, it is not fully customizable, and you have to work within the conformities of the theme.
Site Identity Options
Under this tab, you will be able to change the title of your site and also set a tagline for it!
If you don't want to display a title and tagline, you can simply uncheck the "Display Site and Tagline" box.
The tab also enables you to set a site icon. The site icon appears next to the title in browser tabs, in bookmark bars, and within the WordPress mobile apps.
Using even a text logo is a great idea because icons add to the overall appeal of your site.
Colors
The Colors tab only gives you control over the background color and the header text color.
You can select pre-defined colors, or fine-tune your color choice using the color picker grid.
You can also enter the hex value of the color and set colors that way.
Header Image
Setting the header image of your site is super simple. You just click on the "Add new image" option in this tab, and you can crop it to fit right from the interface.
The theme works best with an 1180×160 image; however, you can experiment with bigger images to make the site look good on retina displays.
Setting the background image of your website is just as easy, and you can set it from the "Background Image" tab.
Menus
Creating menus and adding content to them is made easy with the Menus tab.
Although you can create as many menus as you like, the theme can only display the menus in two locations.
The theme also supports adding menus in widget areas, but it is likely that this feature won't come in handy.
Widgets

The widgets come pre-configured for the primary sidebar. The search bar, recent posts, and comments, archives, categories, and meta content widgets are present right from install, and you won't need to go out of your way to enable those.
Other than the main sidebar, the footer has three widget areas where you can add any widget of your choosing.
Adding an archive of your blog's most recent posts, an audio player, a calendar, a categories menu, and a gallery is super easy.
You can also add images, login sections, RSS, and WordPress.org links!
The widgets menu enables you to add a list of your site's pages, recent comments or posts, a tag cloud, a text box, and also any video into any widget area.
If you're familiar with HTML, you can create and use your own shortcodes and enable additional functionality!
Homepage Settings
You can use the Homepage Settings tab to choose what is displayed on your site's homepage. If it's a blog, you can have posts displayed in the reverse chronological order. You can also pick a static homepage to display.
In addition to all of these features, you can also throw in additional CSS code to further customize your website's layout and appearance.
You can access the console by going to the Theme Options, then scrolling down to the bottom, and clicking on the "Additional CSS" button.
The Customizer makes viewing changes live easier by giving you access to keyboard shortcuts.
As you edit, hitting the Tab key will enter a Tab character.
However, if you want to move away from this area scroll around the site, you can hit the Escape key, followed by the Tab key.
This should bring you to the main page and allow you to see the changes your code makes!
---
Additional Features of Sela
Responsiveness
The theme is fully responsive, meaning the elements morph to fit the screen of the device visiting it.
Your site will look great on all screens – regardless of if the visitor is on mobile or using a laptop!
Translation Ready
The theme works perfectly with the WPML plugin, and since it has RTL language support, you will have no problems translating your site to any language!
---
Support and Documentation
Although Sela is a free theme, it still has a reasonably active forum on WordPress.com.
If you have any questions, the forum is the right place to ask them. You can also access their development log on WordPress!
---
Sela Theme Pricing
Sela is 100% free to use, and you can install it on your WordPress by clicking on "Appearance," then clicking on "Themes" and finding and selecting the "Add New" option.
You can either search for it with the search bar and install it from the list, or you can download the .zip file from the WordPress website and upload it to your WordPress using the "Upload Theme" option.
---
Verdict: Is The Sela Theme Worth It?
Using Sela to practice customizing webpages is a great idea, but since customization options are limited, and the theme is fairly basic, using it to build a business site is not practical.
Elementor support does make it a lot more flexible, but overall, the design feels very plain and ordinary. Unless your niche calls for a website with a plain design, I doubt you will use this theme as your primary theme.
Besides, with themes like Astra, OceanWP, and Twenty Twenty offering better features, documentation, and support, the value that Sela offers feels downright underwhelming. 
Although I'd like to recommend it, for most business websites, Sela is simply too plain and dull to use.