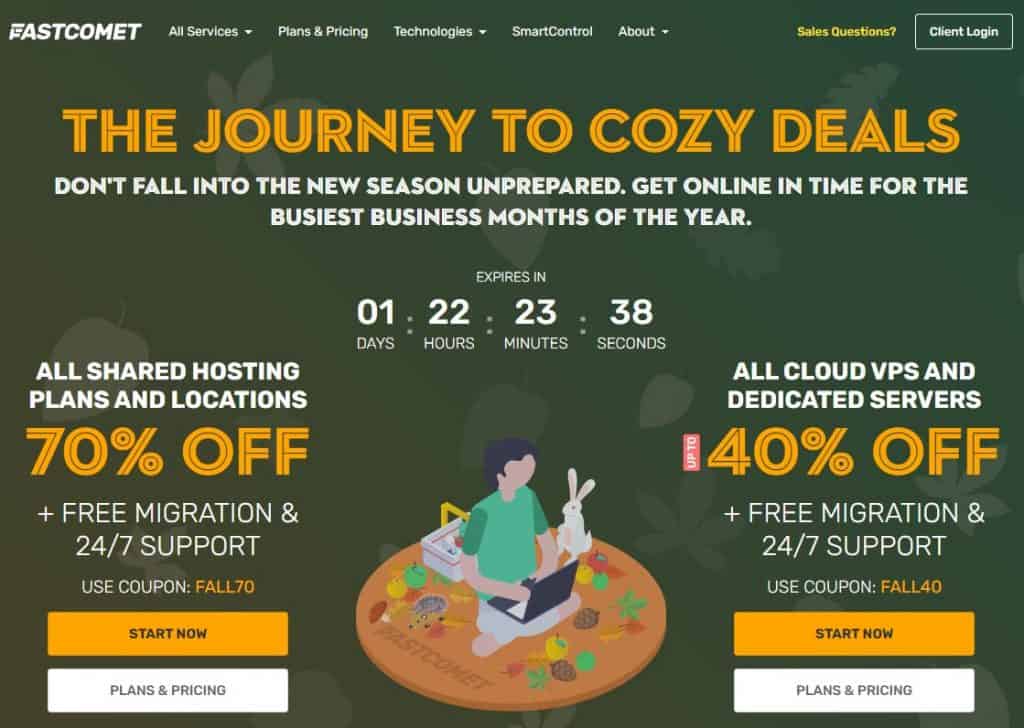 Picking the right company to host your WordPress site has become just as complicated as choosing the right cereal is.
There are a TON of options, and ALL of them look great!
FastComet was founded in 2013 and has since garnered a respectable userbase of over 50,000 customers.
The company began 2020 by adding a new datacenter to its arsenal and upgrading its servers to the latest and greatest AMD EPYC CPUs.
At first blush, the company's pricing and features look great, too!
But does it offer enough value to be worth your time and money?
I will do an in-depth FastComet review to find out.
FastComet Review: Hosting Plans & Pricing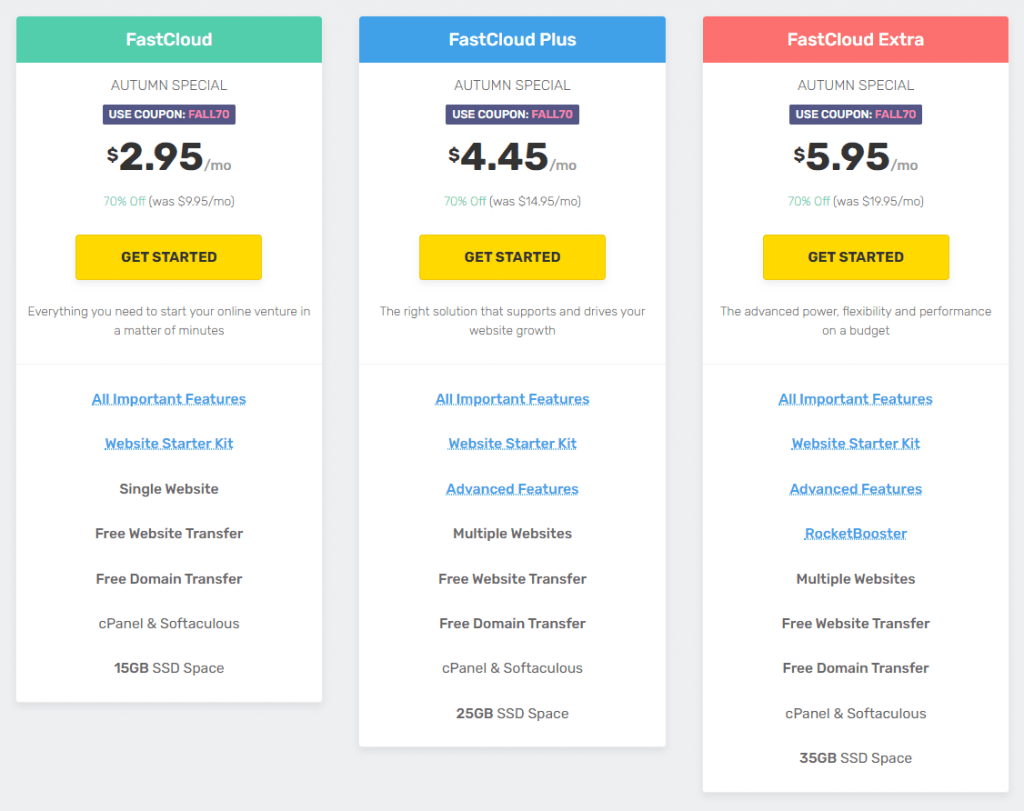 The Three Plans
There are no dedicated WordPress plans, but the company allows you to get the Shared Cloud SSD hosting plans and install WordPress on them.
There are three shared hosting plans: FastCloud, FastCloud Plus, and FastCloud Extra.
The FastCloud plan comes in at $2.95/month, giving you access to 15GB of SSD space and allows roughly 25,000 unique page visits per month.
There's a lot more incentive to getting the slightly more expensive FastCloud Plus plan at $4.45/month.
In addition to allowing you to host multiple websites, the FastCloud Plus plan also enables you to get up to three websites transfers for free.
Users get double the CPU and RAM, a free private DNS, unlimited addon domains, and much more.
The visitor quota is doubled, and the storage supplied is also increased to 25GB.
The third and most expensive plan, the FastCloud Extra plan, doubles the visitor quota to 100,000 visitors and increases the storage supplied to 35GB.
You get six CPU cores and 6GB of RAM, and since there are only a third of the clients per server for this plan, your website's performance won't be affected much if a neighbor site sees an increase in traffic.
Many caching features are also suppled, making it the perfect plan for growing eCommerce sites and blogs.
Common Benefits
There are some common benefits all FastComet shared hosting users get.
Domain transfers are free for all customers, and DNS management and domain redirects are also free.
However, you can add more domains and use the free private DNS in the Plus and the Extra plans only.
All customers get the same level of support, and there is no priority system at play, which is excellent.
You can create as many FTP accounts as you need, and get as many Let's Encrypt and Cloudflare SSL certificates you require.
Shared hosting users get a 45-day money-back guarantee, which is not the industry-best, but significantly longer than what most other companies provide.
FastComet Hosting Features Review
Migration
Fast, painless site migration is too much of an ask for most hosting companies. However, FastComet will migrate every customer's website free of charge.
How many of these websites you can transfer for free depends on the plan you get. But you won't have to deal with tools or messy automation first hand.
The experts over at FastComet will do it for you. The company ensures no downtime, which I find impressive because most companies ask you to prepare for downtime.
The company also offers free domain renewal for one year after transferring your website to their servers, which is an excellent benefit.
FastComet will also compensate you for unused time!
Site Builder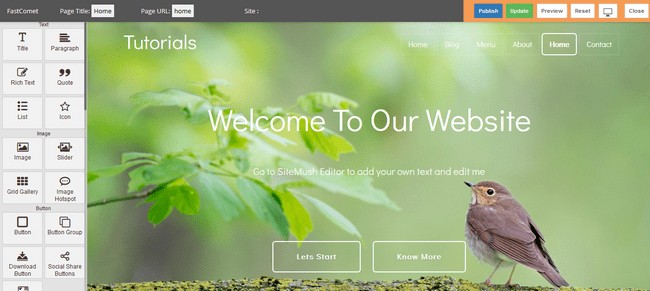 WordPress is an excellent tool that makes building a blog or an eCommerce site super easy.
However, let's say you need just one static page – maybe a portfolio page or a working model of a business you're proposing to partners.
Using the free site builder that comes with FastComet can make getting a site online faster and easier.
You get access to over 240 unique themes and over three dozen widgets, using which you can make an attractive, fast-loading website.
The niches that the themes cover is vast – you can find themes in the food & beverage niche and even the photography niche.
While you can trust that the website will load fast, you won't have any back-end access. It means you won't be able to fine-tune security and SEO settings like you would in WordPress.
However, the site builder can come in handy if you're looking to make a one-page site that you need to go live as quickly as possible.
Security
The company takes your website's security very seriously. In addition to a network and web app firewall, the company also protects your site from brute-force cracking and other exploits.
Websites are monitored continuously for malware and other threats. You can also manually run malware scans and check the reports to see if there are any issues.
The hotlinks and password protection keep your website securely sectioned off from the others.
All the servers are equipped with BitNinja Server Security, which protects every customer from XSS, DDoS, malware, script injection, enumeration, and other attacks.
Additionally, the company employs an IP Reputation botnet attack filter, protecting your website from being controlled by hackers for malicious purposes.
I find the security features super impressive because the company manages to offer top-of-the-line protection to your website while keeping the prices affordable.
CDN
FastComet gives you access to Cloudflare CDN Caching for free. The CDN will replicate your website on servers worldwide, ensuring that the site loads fast regardless of where it is accessed from.
Backups
A backup of your website is made daily regardless of which plan you get. However, how long the company stores a backup depends on the plan you purchase.
I find this impressive because most cloud hosting companies don't offer this feature at all. FastComet, on the other hand, gives you access to this feature even on the cheapest plans.
Free Domain
When you sign up with FastComet, you will get a free domain. While many other companies offer this benefit, FastComet goes the extra mile – giving you access to the domain for free for life.
Other companies either give you a discount on your domain or provide it to you for free for your first year.
However, you will not need to pay for your primary domain ever regardless of which FastComet plan you get. It saves you a lot of money in the long run.
Email
You can create an unlimited number of email accounts regardless of what hosting plan you buy. However, the size of your mailbox will vary from 500MB to 2GB, depending on which plan you get.
While this restricts your use, especially if you get one of the cheaper plans, the company integrates some excellent features to make up for this slight downside.
You can create email aliases, set up email forwarders, auto-responders, and even set up catch-all emails.
You can check your email when you're on the move from your mobile phone or tablet. But that's not even the best part.
The Spam Experts feature keeps your inbox clear of spam, which can be a lifesaver regardless of if you run a blog or a business.
The company's virus scanner ensures that the emails in your inbox are free from viruses – keeping both your website and personal devices safe.
Developer Features
Git comes pre-installed, and in addition to supporting MySQL, Node.js is also supported. You can access the WP-CLI with ease, and SSH comes enabled in all plans.
In addition to all of these features, FastComet boasts Google Apps Integration and gives you free access to the Attracta SEO suite, giving you the edge you need to beat competitors on SERPs.
FastComet User Interface Review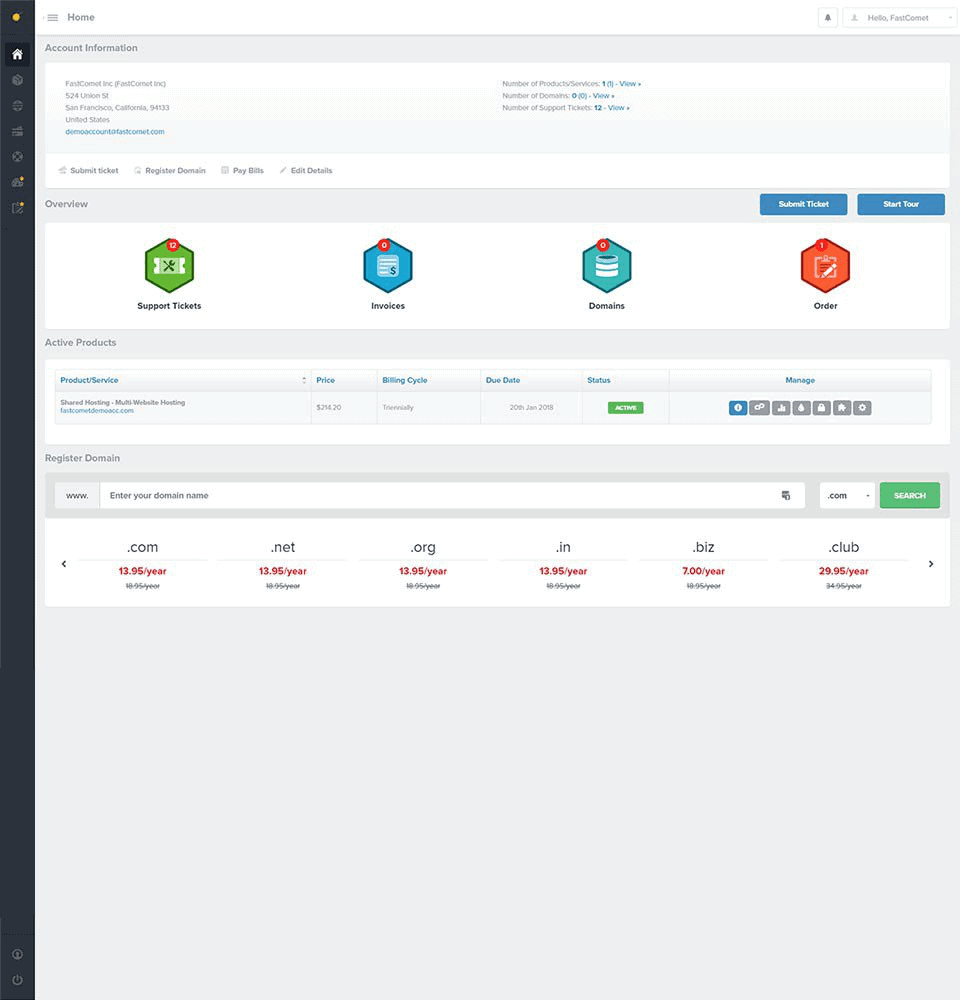 The FastComet client area is super easy to navigate and simplifies making adjustments, paying bills, and adding domains to your account.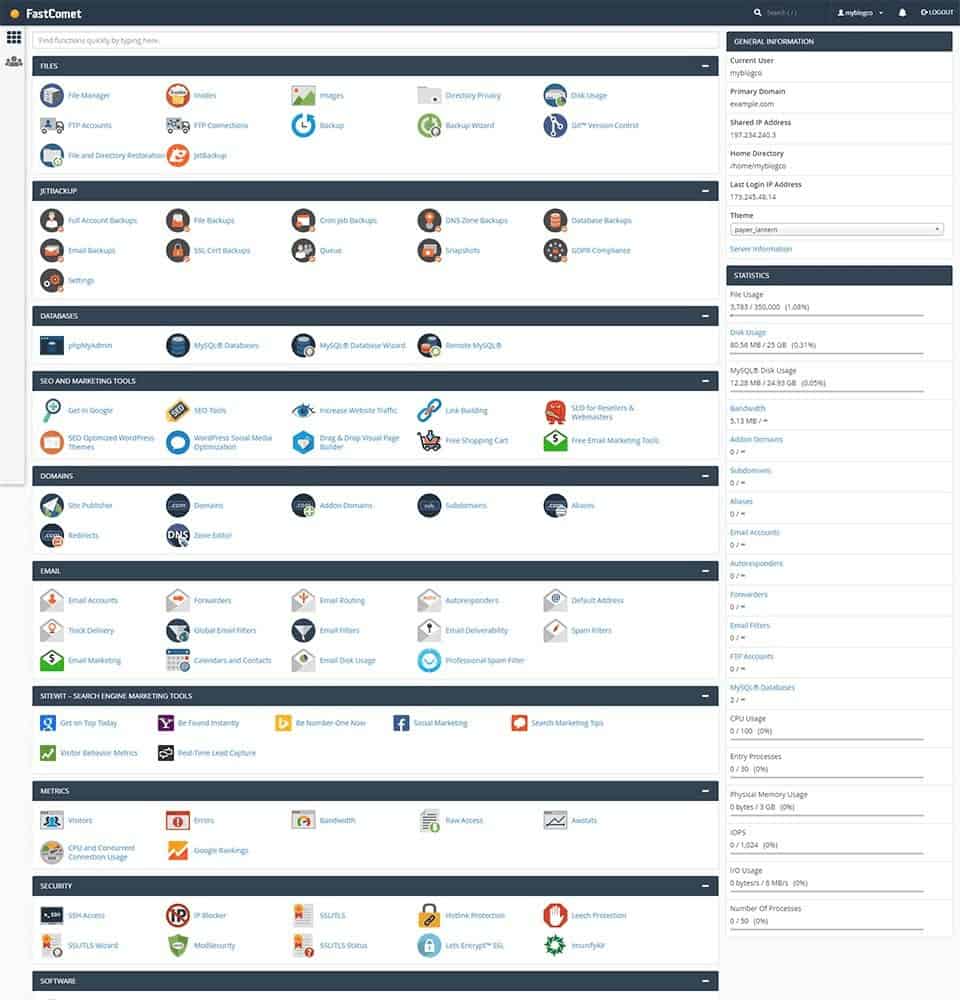 However, the primary way you will make changes to your website is via a regular install of cPanel.
I would've liked it if they gave it a skin and made it look a little more attractive, but access to regular old cPanel is not a dealbreaker by any means.
Speed and Uptime
Your WordPress site will come optimized for speed right out of the box, and if you opt to get RocketBooster at a discounted rate, you will be able to further tweak the website's performance.
The fact that your website is hosted on an SSD-only cloud is assuring enough. If tuned right, you will be able to get your website to load in a second.
FastComet offers a 99.9% uptime commitment and promises to apply a 10% credit for every hour that your website is down. 
Support/Documentation
You can call, live chat, or email the support team to get an issue resolved. The company has an average response time of 15 minutes when a ticket is opened, which is super impressive.
The knowledge base has over a hundred articles, and they have a separate tutorials section that will teach you everything from the basics to the host's most complex features.
Verdict: Worth it?
Great pricing, better features, fast speeds, and excellent support make FastComet a superb option for WordPress hosting.
Whether you're a complete beginner or an expert WordPress user, FastComet will never disappoint you.