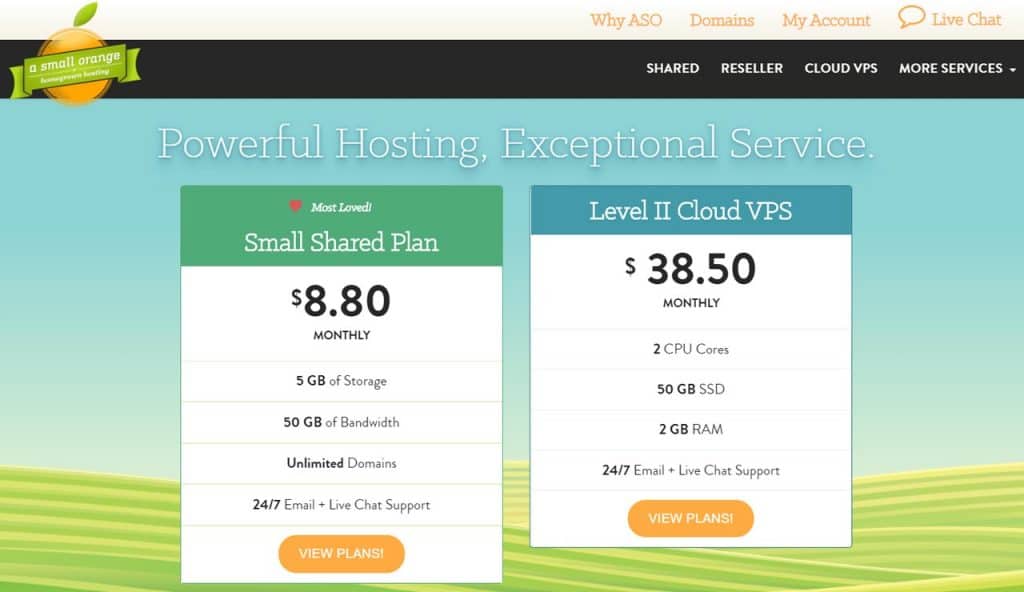 Finding an affordable website hosting company that offers respectable uptimes and a decent set of features can be very challenging.
Especially now that the market is flooded with seemingly impeccable options.
A Small Orange has one of the most unique names in the website hosting industry, but that doesn't make it any less of a good host.
It's known to offer some of the cheapest plans, and the company has been doing it since 2003.
But does it offer enough value for money to trust your WordPress website with?
In this A Small Orange review, I will talk about the company's plans, features, and support quality to find out.
Hosting Plans & Pricing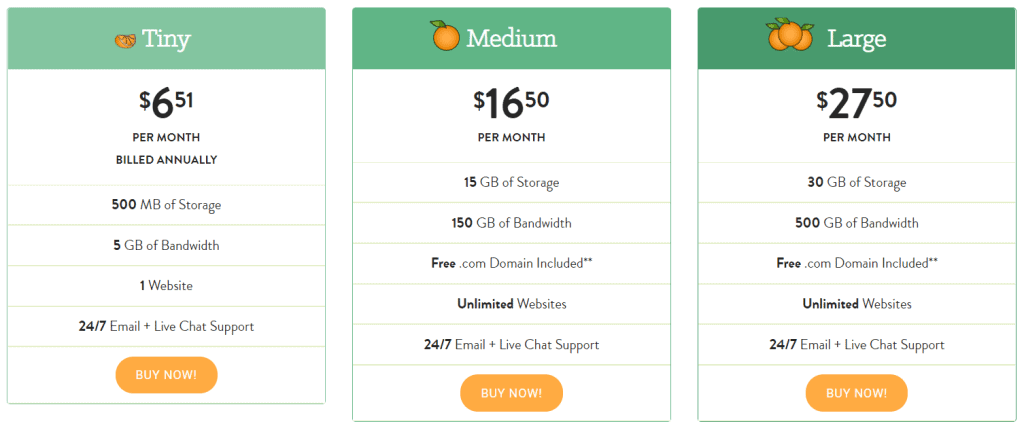 A Small Orange offers four shared hosting plans that you can purchase and install WordPress on in one click.
The Tiny plan comes in at $6.51/month, giving you 500MB of storage and a respectable 5GB of bandwidth. The plan is cheap and perfect for portfolio sites and new blogs.
But there's a catch – you can only pay for this plan annually. There is no monthly payment option for it like there is for the other plans.
The Medium plan costs $16.50/month, allowing you to host an unlimited number of websites. The 15GB of storage and 150GB of bandwidth make it ideal for growing blogs and eCommerce stores.
If you pay for the Medium plan annually, you will get a free .com domain, which can be an excellent benefit for bloggers and entrepreneurs on a tight budget.
The Large plan is priced at $27.50/month, giving you access to 30GB of storage and a healthy 500GB of bandwidth. There are no restrictions on how many websites you can host with this plan.
Like the Medium plan, if you pay for the Large plan annually, you will get a free .com domain.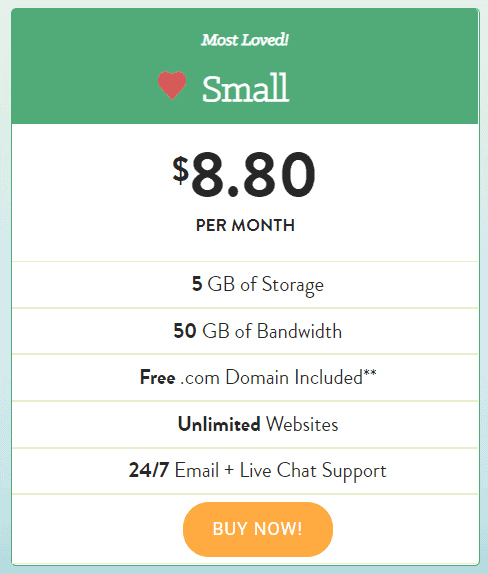 The company's most popular plan, the Small plan, costs $8.80 a month, giving you access to 5GB of storage and 50GB of bandwidth. It's the best value the company offers.
Benefits
All plans except the Tiny plan get you a free .com domain if you opt to pay annually.
Additionally, all users can create an unlimited number of email accounts and mailing lists.
Regardless of which plan you buy, you will get access to the same speedy support – there is no priority system at play, and you don't need to pay them more for support.
There are no WordPress-specific plans, but cloud VPS plans, reseller plans, and dedicated server plans are available.
If you expect your WordPress site to experience sudden traffic increases, you can get the company's cloud VPS plans that start at $24.20/month.
A Small Orange offers some of the longest guarantee periods in the industry. If you are dissatisfied with the service at any point in the first three months of your purchase, you can get your money back.
Hosting Features
A Small Orange has a respectable set of features that can be tough to beat when factoring in the price you get them at.
Security
Security is always a big concern, especially when you consider hosting with a budget-oriented host.
However, A Small Orange makes no compromises in keeping your data safe. A backup of your website is made every day. The file is stored for seven days, regardless of which shared hosting plan you get.
IP-blocking support is available, and your directory is password-protected, ensuring that only you or another authorized user can access it.
Additionally, hotlink and leech protection comes included with all plans, protecting your bandwidth and access limitations.
And all of these features come included at no extra charge.
However, if you want extra security from SiteLock, you will need to pay a relatively small fee of $20 per year for it.
If you're running an eCommerce portal, spending the extra dollars is worth it.
Software
A reliable backend makes a bigger difference to the hosting of your site than you would realize.
A Small Orange uses MySQL 5.5 through MariaDB, which makes for better performance. 
While PHP 5.4, 5.5, and 5.6 are supported with Composer, the company does not use PHP 7. It's not a dealbreaker, but it's certainly disappointing.
On the plus side, though, PHP works with Composer on a suPHP secure environment, which is relieving.
You can use the Softaculous application to install and manage the 350+ application packages you get access to.
Ruby & Rails are supported via the Phusion Passenger, which fortifies the security and increases Rails applications' reliability.
CURL, Git, SVN, Mercurial, Python (with Apache FCGI), and NodeJS are all supported. So, if you're a developer, the company supports everything that you ever need.
Email
As mentioned earlier, A Small Orange allows every shared hosting user to make an unlimited number of email accounts on their domain.
This is an excellent feature because other hosts either don't allow users to make email accounts at all or limit them according to the plan the customer is paying for.
POP3, IMAP, and webmail access are included with every account, and you can make an unlimited number of mailing lists without needing to pay extra.
Spam and virus filtering comes built into the email system, and you can set up auto-responders and email forwarding with ease.
Filtering through emails is easy from A Small Orange's default email system, and it also boasts alias capabilities, which is impressive.
SSL Certificates
While you can get SSL certificates from A Small Orange, they are not free, which I find disappointing. 
With most web hosting companies offering a free SSL certificate with their cheapest plans, I expect the company to give at least one domain an SSL certificate for free.
On the plus side, though, the price of the standalone SSL certificate is $39.95/year, which is how much you'd need to pay for an SSL certificate to another company anyway.
Weebly Website Builder
Each shared plan gives you free access to the Weebly website builder. You can pick from the several pre-built designs and customize it using the drag-and-drop interface.
You can create one website with it for free regardless of which shared hosting plan you get.
If you need just one page, say a portfolio page, and are new to WordPress, Weebly is definitely worth looking into.
User Interface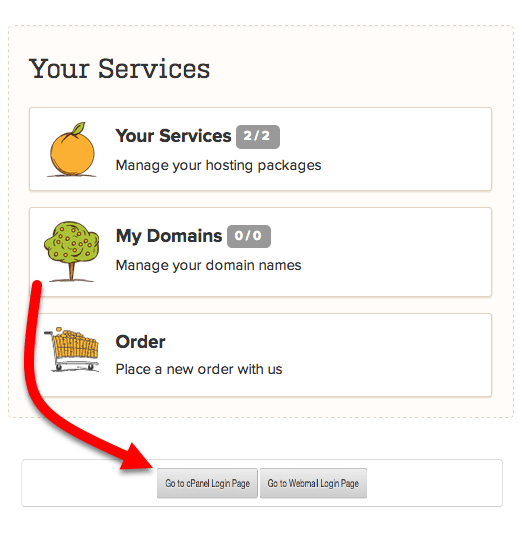 The dashboard you get access to is relatively plain compared to what other companies offer.
The simple light orange background gives it a lively tone, and you won't find any extra, out of place options on the dashboard.
You can manage your domains, pay for services, and avail of new ones from the dashboard. It also makes accessing the cPanel easy.
All you need to do is go to the Domains section and find the domain you want to change the settings of.
Click on it and scroll to the bottom, and you will find the "Go to cPanel Login Page" button.
A Small Orange supplies you with a standard copy of cPanel, so your experience configuring your website won't be different from what you get with the average web hosting company.
Speed and Uptime
While the plans are relatively cheap, the company makes no compromises when it comes to speed and uptime.
Only enterprise-grade NGINX servers are used to host websites. The company does not use hard drives, and the SSDs are in the RAID configuration, which increases reliability.
SSDs are 15 times faster than the average hard drive, which, coupled with the latest Xeon processors, ensure that your website loads almost instantly.
With the right configuration, you can get your website to load in under three seconds with ease.
It's also important to note that the servers are based in two tier-one data centers, making for low latencies and high throughputs.
A Small Orange guarantees a 99.9% uptime – which is not the industry-best, but one par with what I expect from a web host in 2020.
Support/Documentation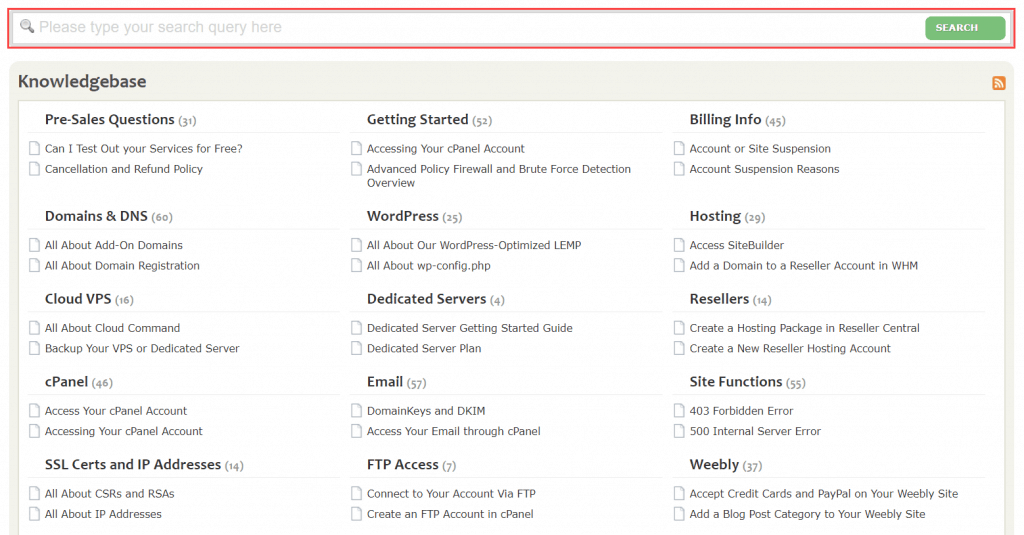 The company makes it easy to get in touch with customer support agents if you have some queries or are dealing with technical issues.
You can use the live webchat function to connect with an agent and resolve your issue quickly.
You can also email the company to get your issue resolved.
However, there is no phone support, which may not matter to WordPress beginners, but can be a dealbreaker to those trusting the company with their online business.
The knowledge base has over 300 articles, covering everything from the most common pre-sales questions and the basics of WordPress to dealing with Apache errors.
If you ever face an issue, searching the vast knowledge base will likely give you a solution instantly.
Verdict: Worth it?
Good, cheap WordPress hosting can be hard to find.
But you can rely on A Small Orange to keep your website up and running and give you all the email capabilities you need.
The company supplies impeccable security features and keeps your site backed up.
All for a few dollars a month!
If you need cheap WordPress hosting, you cannot go wrong with A Small Orange.