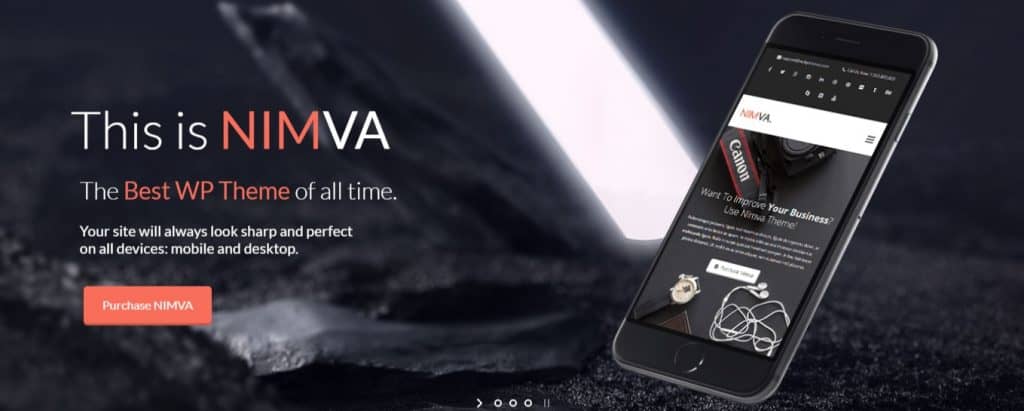 Not every multipurpose theme comes with an all in one package – some don't have a front-end editor built-in, while others lack variety in templates.
Nimva is billed as the best WordPress theme of all time, and they back up their claim with fully responsive, retina-ready design and lifetime support.
But is Nimva really the best of the best?
More importantly, is it worth the hefty price?
In this Nimva Theme review, I'll go over all of Nimva's features and also expand on its weaknesses to find out if Nimva is worth your attention.
What Is Nimva Theme About?
Nimva pitches itself as the perfect theme for business, portfolio, and online shop websites. But in reality, it's a lot more versatile than that.
If you're a freelancer looking to get your brand online, or if you're a marketer trying to sell a product, Nimva can come in very handy.
You can also make About Us pages, Services pages, Contact Us pages, Coming Soon pages, and Maintenance pages using the theme with ease.
It offers a multitude of customization options, enabling you to create unique color schemes, edit fonts, and even create drop shadows!
RockyThemes, the developers of Nimva, made their debut into the WordPress themes market in 2013 when they launched Creativo, their flagship theme.
Nimva is their second theme and meets the expectations set by Creativo. It is also very surprising that more users use Nimva than Creativo.
---
Nimva Theme Review
The theme comes with a ton of easy to use features, making it the perfect premium theme for beginners.
Design And Style
Most of Nimva's design language aims to keep the pages neat and attractive, with all-white demos that have a lot common between them.
If you're looking to keep your website's design simple, you may be happy with what the templates have to offer.
But if you're looking to build a website that has modern, flat, minimalistic, or bubbly elements, you will need to customize the templates heavily.
Thankfully, customizing is made easy with the drag and drop builder, and the WordPress Customizer also gives you a lot of control over your website's design.
Theme Features
One-Click Import
The one-click import feature stands out because not only can you leap forward in the designing process in one click, but you can also choose exactly what you want to import from a demo.
If you need just the widgets or just the sliders from a demo, you can choose only to import those and leave out the others.
Elements
You get access to over 90 different elements that you can add anywhere you see fit. Their element pack includes rows, quote boxes, call to actions, counters, FAQ sections, Google maps, social media sharing links, accordions, and a lot more.
WooCommerce Support
Nimva supports WooCommerce right out of the box, and comes with beautiful templates built-in, enabling you to create your dream online shop faster.
Visual Composer
If you're used to designing your site with an editor and aren't too familiar with the WordPress Customizer, you can use the Visual Composer that's baked right into Nimva.
Editing is entirely drag-and-drop, and you never have to fiddle with a piece of code to get something done. It's a live editor, which means you'll be able to see the changes you make in real-time!
Adding and editing elements to fit your requirements and match the website's theme is simple and can be done in just a few clicks!
100% Responsive
Every website you make looks fantastic on every screen – be it a mobile phone, a tablet, or a laptop!
You can also toggle responsiveness on or off, depending on your website's use case!
Since Nimva is also retina-ready, your website will look just as great on retina displays.
Animated Visual Elements
Nimva packs gorgeous-looking CSS3 animations, enhancing the design of your website. You can set up animations right from the Visual Composer using just your mouse – no technical knowledge required!
Video And Parallax Backgrounds
You can add a YouTube video to your site's background across your website, or pick individual rows, posts, or portfolio items to display the video.
Parallax backgrounds are uncomplicated to set up and add a layer of style to any site.
Tons Of Fonts
You can preview any of the 600+ fonts, and apply different fonts to different elements, including menus and headings.
Layer Slider
Layer Slider comes integrated into Nimva, allowing you to make a pretty slider for your website without needing to make another purchase.
Performance
You can deactivate elements on individual pages, enabling you to speed up loading times. You can also couple the theme with lazy loading plugins to ensure that visitors never leave your site.
Lazy loading also reduces bounce-back rates, improving your website's SEO.
SEO Friendliness
There are no SEO features included with Nimva, which is disappointing considering the high price.
However, you can still cut down on heavy elements, and make use of on-page SEO techniques to make sure that the website ranks well.
Theme Options
Header Styles
You can pick from the three header designs, or create a new one for your website. You can also create a Sticky Header in one click using the theme options.
Footer Styles
Changing the copyright text, creating a sticky footer, customizing colors and backgrounds, and switching footer widgets is all possible from the WordPress customizer.
Unlimited Color Options
You can apply any of the eight unique colors presets to your website, or create your own unique color scheme.
Layouts
You can switch between the boxed and the wide layout in one click!
On top of all of these features, you also get smooth scrolling effects, page loading effects, menu editing options, buttons, and custom CSS options baked right into the theme.
All in all, you get a little over 450 customization options, enabling you to many any template truly your own.
---
Additional Features Of Nimva
Translation Ready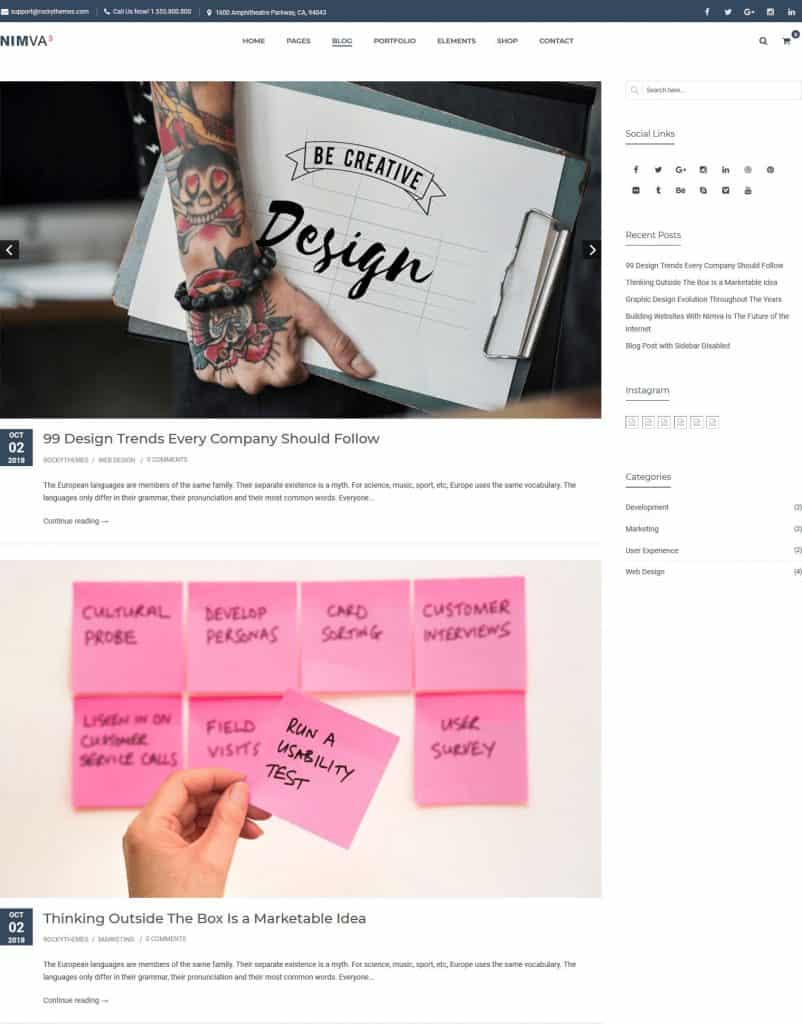 Nimva is RTL compatible and works flawlessly with the WPML plugin, enabling you to design a site targeting any audience across the globe.
Cross-Browser Compatible
Your visitors will be able to use your site regardless of if they visit it from Firefox, Safari, Chrome, or Internet Explorer.
Automatic Updates
Whenever a new update to Nimva is available, you will be notified on your WordPress dashboard. You can update your copy of Nimva in one click!
---
Support And Documentation
One of the most impressive offerings of Nimva is their Video Academy – RockyThemes has created a dedicated video tutorial library that can help both complete beginners and rusty veterans learn everything there is to know about the theme.
If you happen to have a question that's not addressed in the tutorials, they will create an on-demand video just for you!
They also have a live chat section and a forum that you can use to get instant answers to all of your questions.
There is also extensive documentation separate from the Video Academy, where you can find every feature and element and ways you can use them.
Overall, they have an impressive support system that ensures that every user gets the most out of the theme.
---
Nimva Theme Pricing
Nimva is expensive, coming in at $59 for a single website. If you're looking to get Nimva for more than one domain, you can get the five-domain license for $236.
If you want to develop and sell the websites you make with Nimva, you can get the developer license, which is priced at $1475.
If you're a complete beginner and want the theme installed on your WordPress, want your theme backed up, or want your site to look like the demo, you must pay up to $149 on top of the base price.
Then again, you can go back and forth with support and read some tutorials and do it yourself, saving some money in the process.
For what you get, the price is a tad bit too high.
---
Verdict: Is Nimva Worth It?
Nimva offers a decent range of templates and features, and its wide selection of elements enables you to give your projects a personal touch.
Customization options exist, but they don't pack a punch, which is disappointing considering that Nimva is priced at $59. Looking at their demos, I see a pattern – which is bad because other themes have demos that look entirely different from one another.
With an alternative theme like Divi available for the same price, offering a lot more templates that are very customizable, Nimva seems overpriced.
Also, with a theme like X with voguish designs and superb support available for almost half the price, Nimva stands out as being downright uncompetitive.
If you're a beginner and are looking for a premium theme that's not as complex as the others, Nimva may be right for you. Outside of that, though, Nimva lacks the zest expected out of a premium theme – its features are simply not as pronounced and polished as its competitors. We hope you found this Nimva Theme review helpful!