Themeco bills X as the ultimate WordPress theme – it's meant to be this super customizable, responsive theme that provides you with multiple voguish designs to pick from.
At first glance, this demo site made using X looks really pretty!
But is X truly the all-rounded theme they make it out to be? In this X Theme review, we'll go over all of X's features so you can decide for yourself.
What is the X Theme About?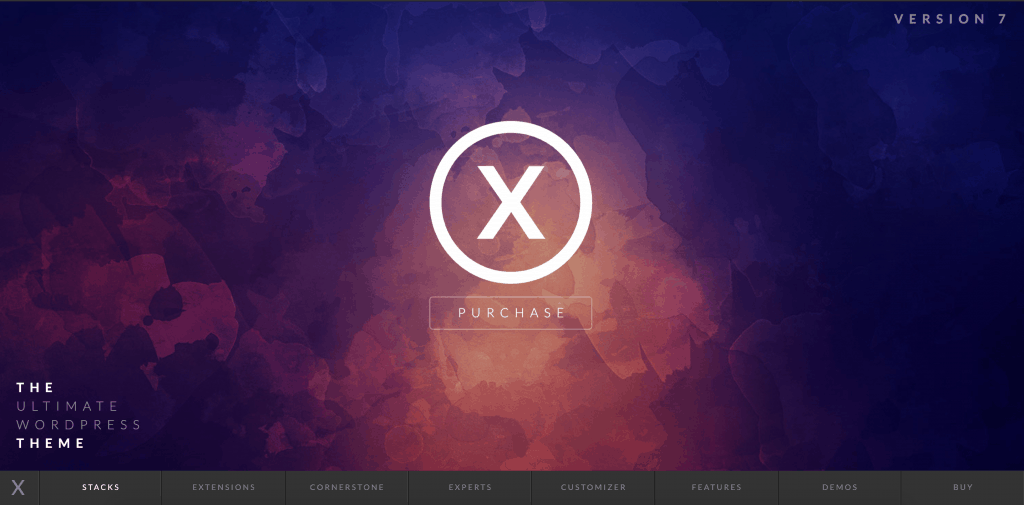 X is Themeco's flagship theme, and the company proudly flaunts X's title of ThemeForest's fastest selling theme of all time. X is the only product on ThemeForest to bring in more than $1,000,000 in its first six months on the portal.
It also holds the title of "Most Popular New Product" on ThemeForest.
X is only one of Themeco's offerings. Themeco also offers Pro – which is an advanced website creator for WordPress.
Making an eCommerce site, a blog, a website for a gym, or a portal for a marketing agency is a breeze with X.
Since X comes with a license of Cornerstone, which is considered to be one of the most powerful frontend page builders on the market, you can start with any template and make virtually any type of site you need.
Let's see if X lives up to the hype.
X Theme Review
The way X works is a little different – instead of dumping a few templates and calling it a day, Themeco gives you access to four "Stacks."
Think of Stacks like they're style options – you can make any kind of website with a Stack, but what Stack you choose determines the overall look and feel of your site.
There are four Stacks – Integrity, Renew, Icon, and Ethos. Let's look at what they look like and understand which Stack goes best with what kind of site.
Design and Style
Integrity Stack
Integrity is a multi-purpose design that works well with almost every type of site. The Integrity Stack has a modern-yet-elegant design, but it has clean lines that divide pages into sections.
The lines give every page current and fresh look without making it too flashy or overwhelming. Here's what I mean: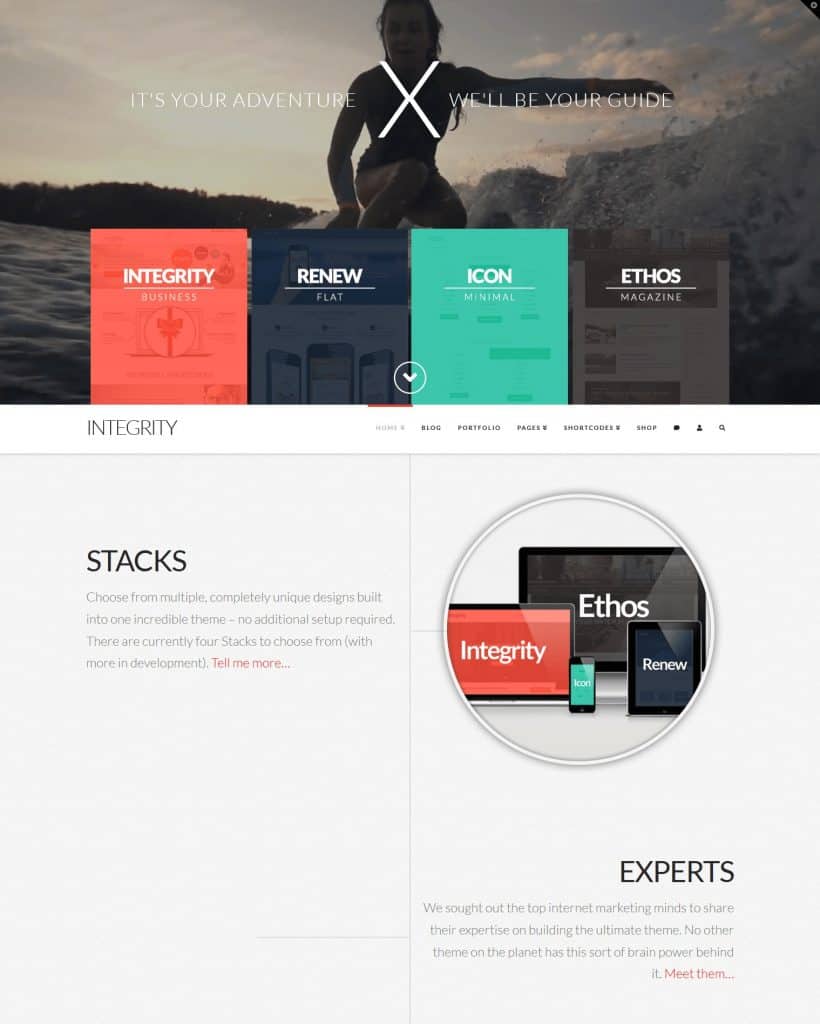 The design is elegant, and regardless of the color scheme or the pacing of the content on your page, you can rest assured that all the elements fall in place just right.
The demo is neither flashy nor underwhelming, and the elements flow into one another seamlessly.
The Integrity Stack is perfect for business sites, and also makes for a good foundation for portfolio and eCommerce sites.
You can change the website's color scheme from light to dark in one click, which is a nice touch considering the neutral, fits-right-in approach to the design.
Renew Stack
If you're into flat designs or a website in your niche calls for a website with a flat design, you will love the Renew Stack.
A webpage with a flat design has bright colors and features two-dimensional elements. This style pushes the content on your page to the limelight, and the colors and elements are non-obtrusive yet beautiful.
Here's what webpages built with Renew look like: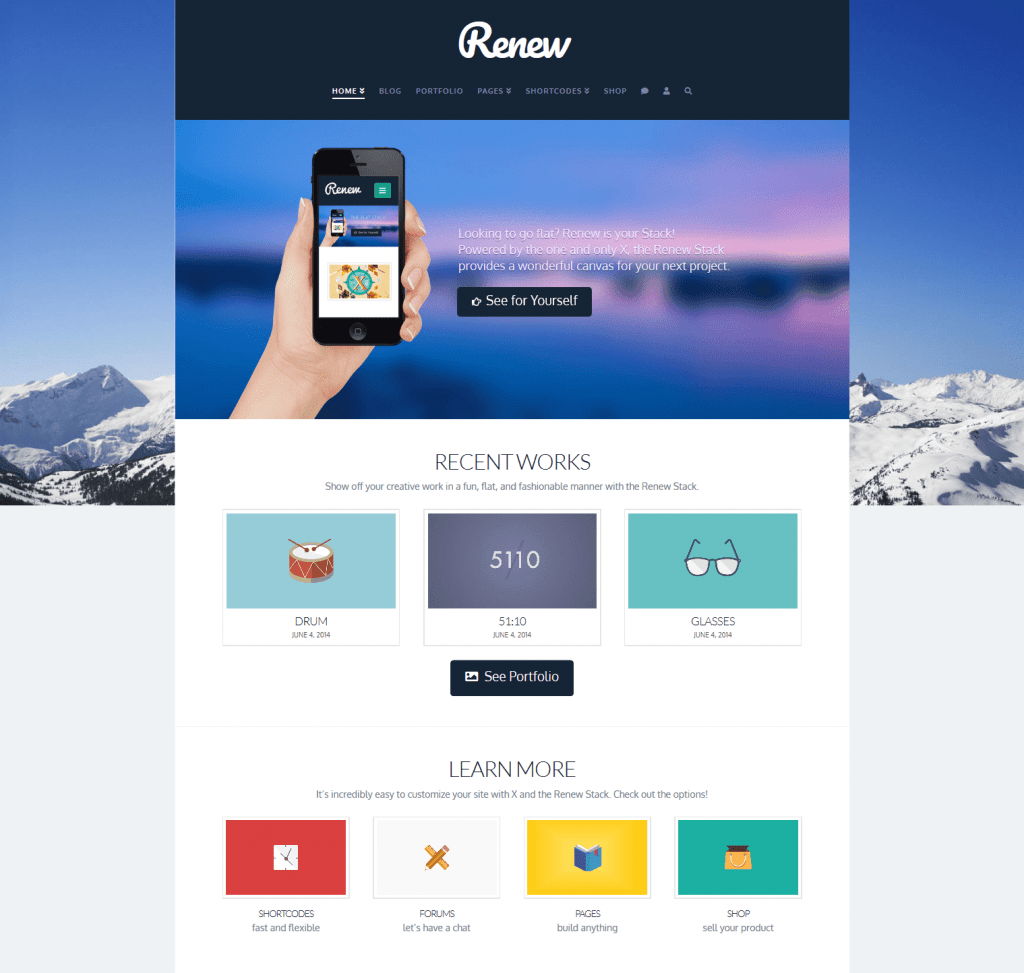 Renew can bring your hottest post on your blog or the best deal on your store to the forefront.
Icon Stack
The Icon Stack is the super minimal, which enables it to take the written word to the center stage. Paired with its extensive theme options, you can easily alter it to better suit your personality and style.
It is the ultimate Stack for a blog.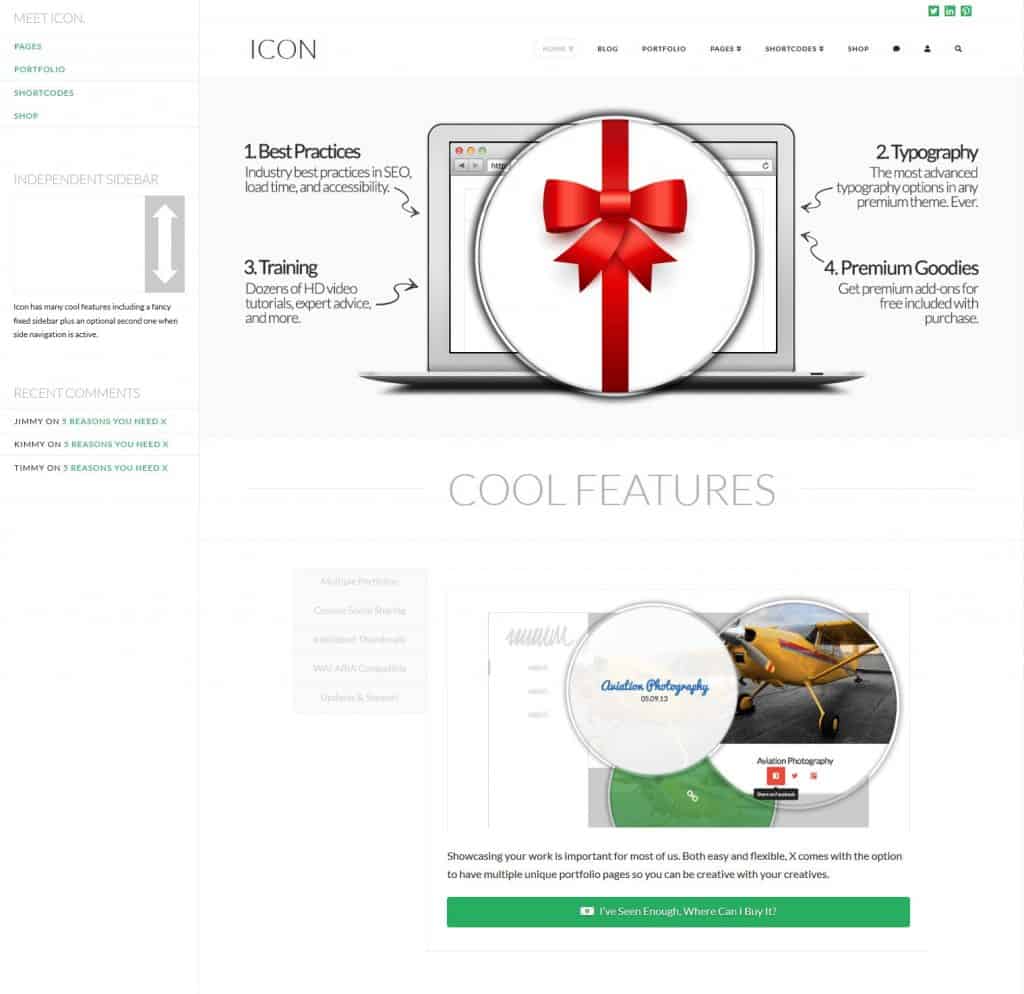 You can change the background of individual posts, and give different sections of a blog post a different color and format – or you could leave it plain white. It's all up to you!
The Icon Stack can double up as a clean portfolio design – with the details of your niche and vertical up top and your previous work and details on the bottom of the webpage.
Ethos Stack
The Ethos Stack has the most striking design of all – which is what makes it the perfect Stack for a magazine-cum-blog website.
Its overall design and several of its features are built specifically so it can attract tons of clicks and serve up hot content to visitors as soon as they reach the page.
Here's what it looks like: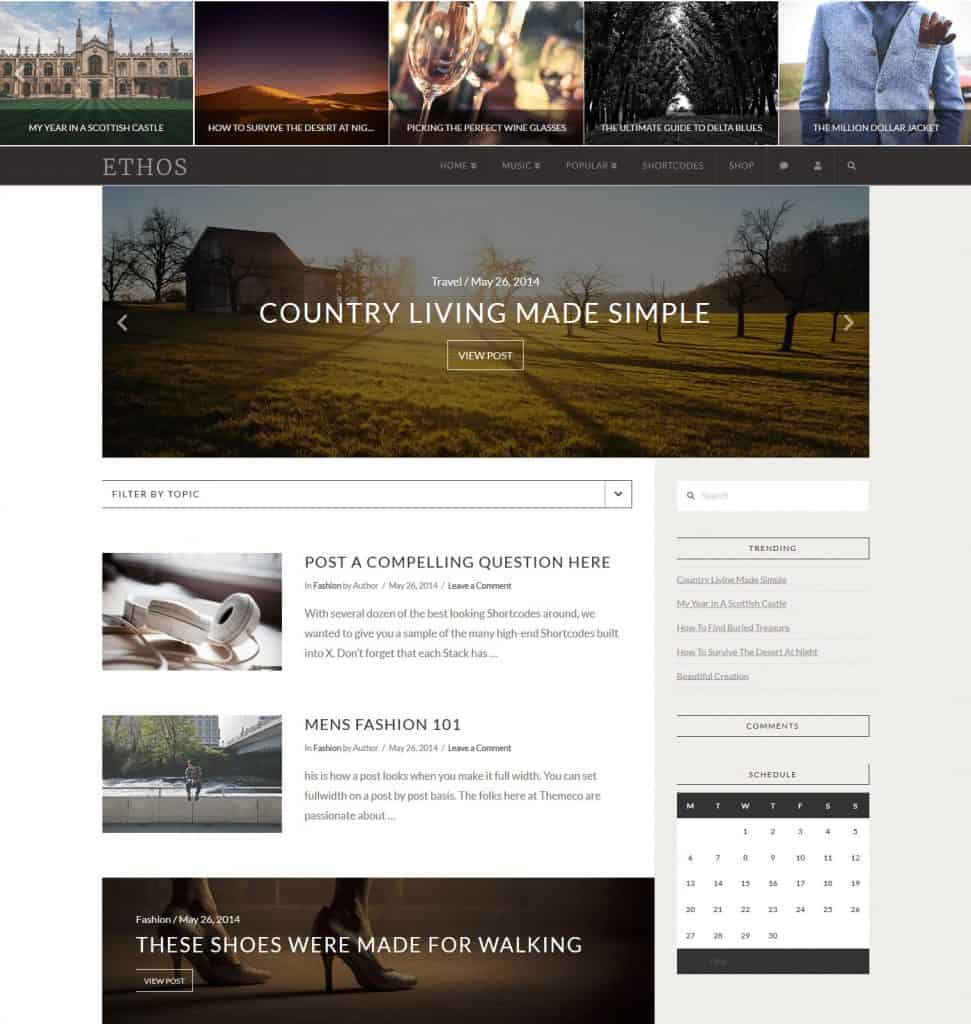 You can use the post carousel to keep your best posts front and center. You can either set specific posts to show up on the carousel or choose to show the most recent or most popular posts on the carousel.
The Stack gives you multiple "Featured Images" options to make posts as engaging as possible, and the real-time blog indexing filtering feature gives visitors the ability to sort content based on category, making discovery easier.
Theme Features
Responsive: All of the websites made using X look and perform well on all platforms regardless of Stack used.
Drag-and-drop page builder: A page builder comes integrated into the theme, saving you the hassle of setting up an extension.
Megamenus: If you have a lot of content to display, you can integrate a megamenu into your site and neatly present all you have to offer.
Extensive typography options: With over 600 ready-to-use Google Fonts, you can load the right font quickly and easily.
Simple forms: Styling comes included for the most popular form creation plugins around – including Contact Form 7 and Gravity Forms.
One-click layout adjustment: Choose between boxed, full-width, and sidebar layouts and apply them in one click.
WooCommerce support: Turning your WordPress site into a full-fledged storefront is quick and straightforward.
Massive selection of icons: X gives you access to over 600 different icons that look great on all screens.
Social buttons: Social media buttons can be customized to look great on any type of site.
Performance
The average loading time when using the X theme is only 450ms!
The theme enables you to combine all the assets and minify everything without breaking the way the website works.
Most third-party plugins work flawlessly, and the overall snappy interface makes X fun to use.
SEO Friendliness
X is built using the latest, semantic HTML5, which enables search engines to distinguish where your content starts and ends. This boosts your SERP ranking and gives you an edge over your competitors.
No meta descriptions are added by default, but you can use any of your favorite plugins to add meta descriptions with ease.
Theme Options
X offers a rich selection of theme options that enable you to customize anything and everything on the page.
You can adjust the transparency and color of the top bar, the navbar, and the footer separately. You can also set the colors of the buttons that appear on the site when visited on mobile.
If you have a blog, you can enable the blog header, title, and the subtitle, and also adjust the color and position of the entry icon.
On the Ethos Stack, the theme options give you full control over the post carousel and post slider on your page.
The portfolio index sharing and sort button features give your page a lot of structure and make things look neat and sophisticated.
Additional Features for X Theme
Cornerstone
Every purchase of X gets you a license of Cornerstone, which is a WYSIWYG-style premium frontend editor.
Unlike other editors, Cornerstone gives you a clean and decluttered workspace. The interface is two-sided, with the options and buttons organized on to the work area on the left.
Cornerstone enables you to edit on the fly without having to fiddle with the backend of your website.
Shortcodes
In addition to all of the standard WordPress shortcodes, X gives you access to new shortcodes like responsive visibility and table of contents at no additional cost.
Extensions
With every verified purchase of the X theme, you get access to X's extension library that includes over 20 premium plugins worth over $1,000 if purchased separately.
The extension library includes sought-after plugins like the Content Dock, Email Forms, E&P Forms Builder, Disqus Comments, Custom 404, Olark, Smooth Scroll, Slider Revolution, and a lot more.
Support and Documentation
The theme comes with six months of premium support, and since it is sold on ThemeForest, both the support and the documentation are verified for quality.
The Themeco Docs page can help you get started with building your first webpage and also help you learn about specific features that can improve your website's design.
X Theme Pricing
The theme comes at a modest price of $35. Considering the 20+ extensions and the four Stacks that come with the theme, it feels like Themeco is asking for a lot less than it's worth.
Even with the extra $8 for extended support, X is a steal!
Verdict: Is X Theme Worth It?
X is truly an all-rounded theme that enables bloggers, freelancers, and enterprises to build and maintain their sites with ease.
The low price makes it an alluring option for anyone that needs a powerful theme for their WordPress site. We hope this X Theme review was helpful. Check out the Live Demo and pricing details below.