Whether you're trying to create a landing page, an eCommerce site, or a blog, a one-page design can be both an effective and attractive solution to use.
Hestia is a high-quality one-page theme that comes loaded with customization features, and its beautiful starter sites help you shorten site development time.
There's also a Pro version that expands on the free Hestia theme's capabilities.
But how does it fare against more powerful multipurpose themes like Divi?
More importantly, is it worth the high $69 price?
We will go over its features before helping you make the call.
What Is Hestia Theme About?
Hestia is a one-page theme that boasts modern material design. It is both stunning and lightweight, enabling it to load fast and attract visitors.
The UI is excellent, and the theme enables you to interweave beautiful fonts, colors, images, elements, and animations to make a striking webpage!
Although it does have options that can help you make a blog, it's linear design makes it more apt for business and marketing pages.
ThemeIsle, the developers of Hestia, entered the WordPress theme market back in 2012. However, only after three years without a sale did its themes take flight.
Zerif (now called Zelle) was their first success, and the theme is still used on over 100,000 websites!
They've since created many other themes, including Neve, ShopIsle, and IsleMag, and all of them are still supported and maintained.
---
Hestia Theme Review
Over 100,000 users love this theme!
Hestia may seem a little basic, but its simplicity adds weight to its charm.
Design and Style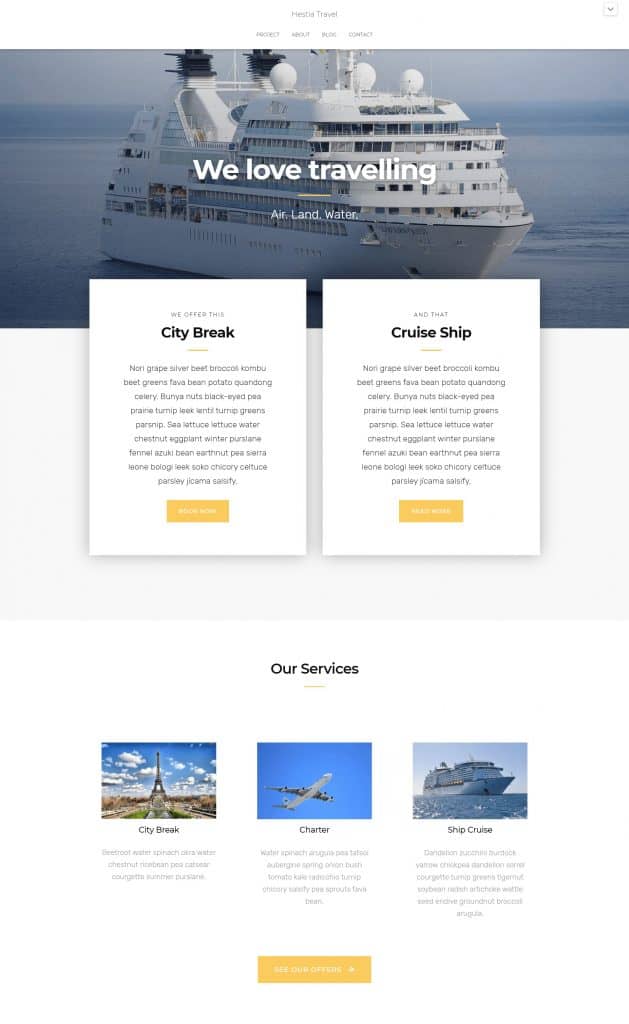 The starter sites have a neat design, and all the sections flow into one another seamlessly.
With the right fonts and images, you can make the theme as flashy, minimal, or bubbly as you see fit.
Theme Features
Beautiful Starter Sites
The library of starter sites makes creating a website fast and easy.
Mega Menus
Hestia comes with a responsive, powerful, and user-friendly mega menu. It enables you to arrange all your offerings in one place, and putting them all together is also very simple.
Live Customizer
The material design of the theme gives you a foundation to work on, and the live customizer makes building on the foundation super convenient.
Performance
The theme's optimized source code and compatibility with caching and minification plugins help ensure that the theme performs at its best.
All the starter sites have a loading time of under two seconds, meaning if you have good hosting and only change the text, you should get the same performance.
However, optimizing the page using both built-in and third-party tools can help you speed up your site even more.
SEO Friendliness
Hestia has an SEO-ready structure, and its clean code enables it to play well with search engines.
It is also compatible with SEO plugins like Yoast that you can use to get an edge over competitors on SERPs.
Theme Options
If you get the pro version, you will get access to tons of static homepages that you can switch between in the Homepage settings.
The free version comes with a limited number of starter sites, but it does give you access to a lot more Customizer options than a run-of-the-mill WordPress theme would.
Appearance Settings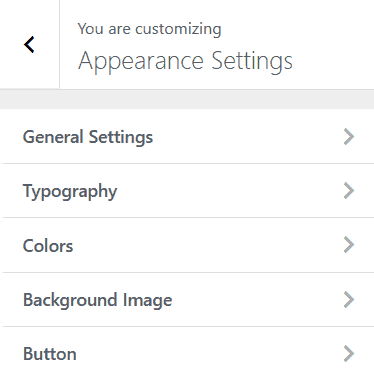 Customizing the sidebar layout, fonts, colors, and setting background images can be done using the Appearance settings. You can also toggle sharing icons and the "Scroll to Top" button on and off from this menu!
Frontpage Sections
You can toggle entire front page sections on or off sections using this menu!
But that's not all. You can set the background image of a specific section, change the title and text, and set a button and add a URL to it all from the same tab.
Editing the content of the section is easy, and you can also enter shortcodes to change the purpose of the section completely.
Header & Footer Settings
These tabs give you control of the elements on the very top and very bottom of your website.
On the bar on the top, you have options to add widgets, a menu, and modify many other details, including the colors of every element.
The navigation settings offer different menu layouts that you can customize and make your own. There is one pitfall, though – only one of the many layouts allows you to add widgets, and this may affect your design choices.
The header settings enable you to customize the header layout, and there are different layout sections for product pages, posts, and other pages, which uncomplicates the design process.
You also have the option to add an image to your header and select if you want to show the image only on a single page or across your site.
The footer options do not disappoint and give you access to a modest number of customization options. Configuring widgets, layouts, colors, and footer credits is made straightforward and uncomplicated.
Blog Settings
If you're looking to create an alluring blog, it's easy to recommend Hestia because of the host of blog options it offers.
You get multiple layout options that you can switch between in one click, and you can also choose to have an excerpt from your blog posts below the title. You get to choose the length of the excerpt, too!
Depending on your blog's style, you can either showcase your blogs in lists of pages, or you can use the infinite scroll option.
Picking a featured post is as simple as finding it and selecting it!
Shop Settings
If you use the shop template, it unlocks a theme options section called "Shop Settings."
You also need WooCommerce installed on WordPress to make it work. You will find numerous customization options that give you control over the product style, the listing style, and even the number of products per page!
In addition to all of these options, Hestia also has a "White Label" option that enables you to hide the fact that you're using the Hestia theme.
It also removes the reference to ThemeIsle from the theme, and you can add the name of your brand/company in its place.
The documentation is accessible right from the theme, saving you a few taps and clicks that you would spend looking for it.
If you're familiar with CSS, adding your code to fine-tune the website is made super easy. You scroll to the bottom of the theme options and click on the "Additional CSS" button.
Here, you can add your CSS code in the console and see the changes happen live!
---
Additional Features of Hestia
Translation Ready & RTL Compatible
Hestia supports RTL languages out of the box, and translating your site using plugins like Weglot should be a breeze.
Page Builders Compatibility
The theme plays well with page builders, and you can use Beaver Builder, Gutenberg, Visual Composer, and even Elementor to design your website.
WooCommerce Support
WooCommerce enables you to get an online store up and running in a matter of minutes. The appealing shop designs that come with Hestia make your job a lot easier.
---
Support and Documentation
If you're a free user, and have a question or need support, you can go to ThemeIsle's WordPress forum and ask for help there.
Paid users can use the dedicated support page on their website and get instant support!
The documentation is available for all users, free and paid, and can help you learn to use the theme and all of its features to build a site from start to finish.
They also have videos that can help you configure your first site!
---
Hestia Theme Pricing
Hestia is free to use, but they do offer a Pro version. The Pro version gives you access to enhanced WooCommerce compatibility and an additional shop design that has an appealing user-focused design.
It also gives you access to all of their starter sites, two additional pricing and portfolio sections, and more theme options in the Customizer, including new layouts, sections, and masonry effects for blogs.
You can get Hestia Pro by subscribing to their annual plans or by getting a lifetime subscription.
The annual Personal plan is priced at $69 and gives you one year of updates and support for one site. The yearly Business plan comes in for $99 and enables you to make three sites, and the Agency plan costs $199 and allows you to build unlimited sites.
If you know you're going to use Hestia Pro for more than two years, it makes financial sense to buy the lifetime subscription.
---
Verdict: Is Hestia Theme Worth It?
It's features, compatibility with plugins, and overall stability make it one of the best free themes on the market.
For the additional features you get, though, I don't think the high $69 price is justified. The main selling points are the extra demos and customization features, but there are cheaper options out there that offer similar, if not better, demos and features.
If you're a designer or run a web design firm, I can see you and your team making good use of the Business or the Agency plan.
However, with themes like X, Divi, and Uncode available for cheaper, I cannot recommend the Personal plan.