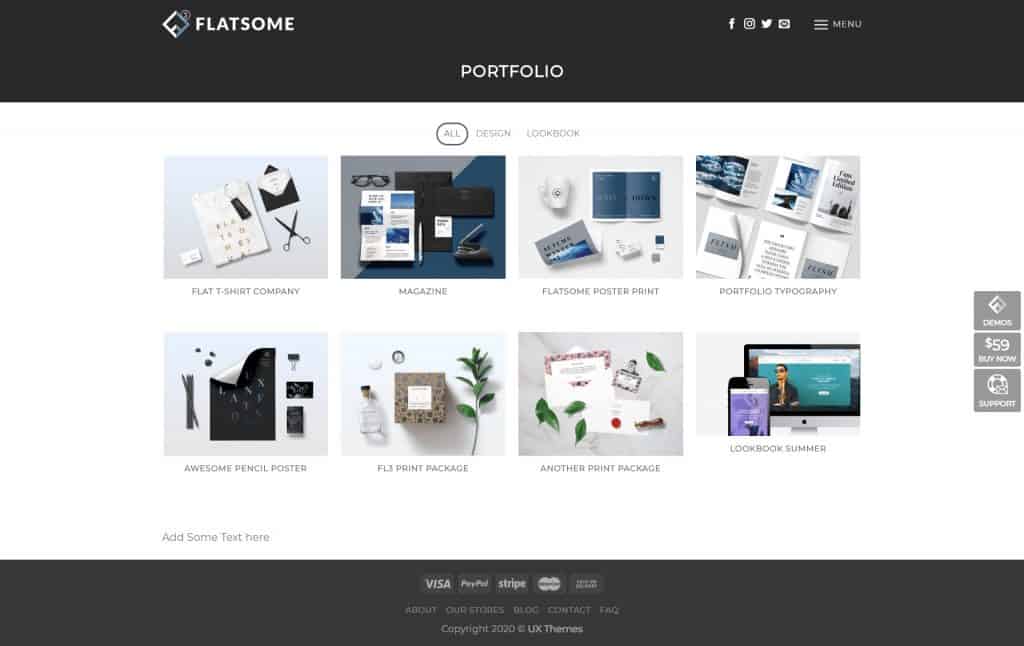 There is no shortage of stellar multipurpose themes for WordPress. All of them offer a slew of customization options and tons of attractive templates.
Flatsome is a super popular multipurpose theme for WordPress – having been sold over 125,000 times.
However, it claims to be the fastest multipurpose theme around – but with light multipurpose themes like OceanWP and Astra available, the claim can be hard to believe.
Is it as fast as it claims to be?
More importantly, is it worth the $59?
We will review its performance and features to find out.
What is the Flatsome Theme About?
Flatsome is a multipurpose theme that boasts a modern, voguish design. The theme's primary focus is to supply website visitors with an excellent experience, which it pulls off by combining smooth transitions and animations, light and tinted colors, delicate lines, and sans-serif fonts.
It comes with over a dozen striking demos, all of which are fully customizable. The theme can be used to make all kinds of websites – including blogs, portfolios, agency sites, and eCommerce shops.
Its voguish design makes it perfect for clothing and accessory shops right of the box. It can also create stunning business websites and blogs with casual undertones.
However, since it's customizable, you can make the theme as professional or vibrant as you please by changing the fonts, sections, elements, and colors to meet your requirements and taste.
UX Themes develop and maintain Flatsome. The company first appeared in the WordPress theme market back in 2013.
They have only one theme for sale, and they focus all of their resources on maintaining and upgrading Flatsome. They also developed a page builder dubbed the UX Builder, and it comes coupled with Flatsome.
The page builder is exclusively built for Flatsome and is not available for use outside of their theme.
---
Flatsome Review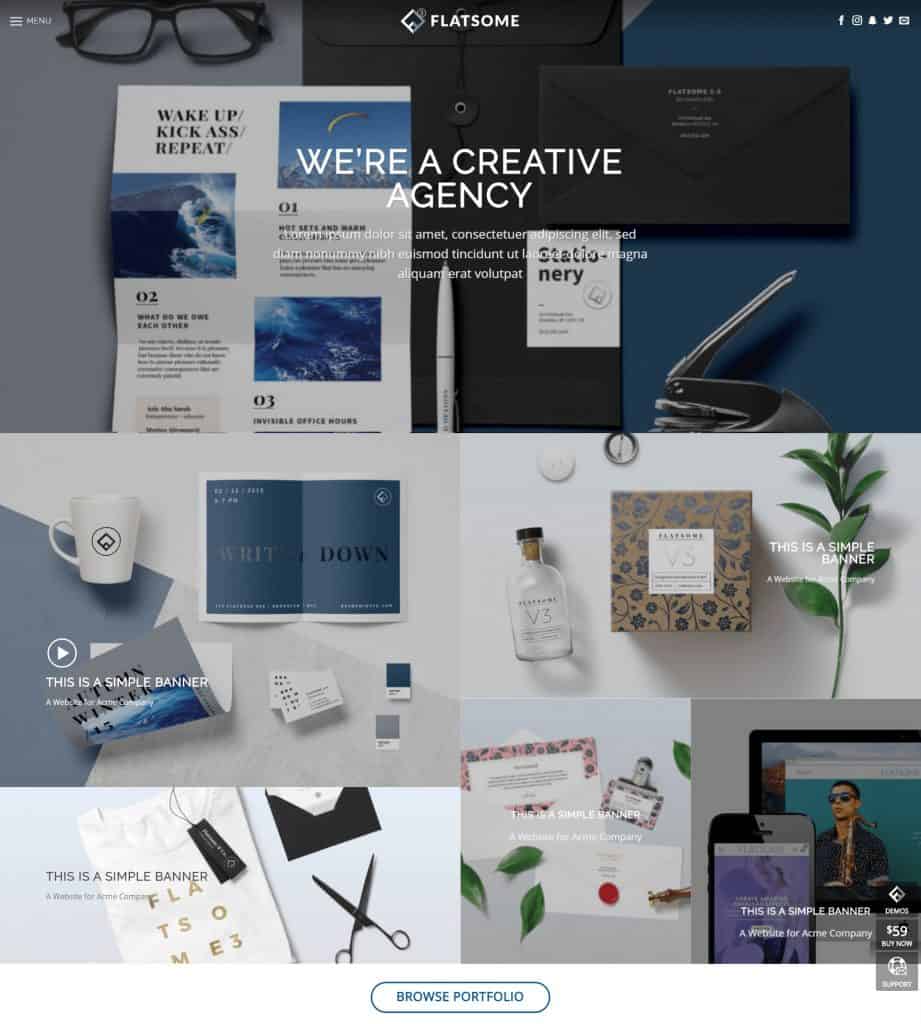 Flatsome is marketed as a high-performance theme, but it does not skimp out on integrations and customization options. You get a full suite of features that you would expect out of a premium theme.
Setting it up takes five minutes. After installing it using the .zip file from ThemeForest, the setup wizard will help you set up your child theme, logo, and also the plugins it needs to run best.
Features
The theme supplies you with excellent foundations for your website – the dozen and a half demos. These are completely customizable, and you never have to start from scratch.
You can import any of their demos in one click and get to customizing right from the theme options.
Your customization options include adding parallax effects, CSS animations, mobile-optimized sliders, sticky sections, and a lot more.
User Interface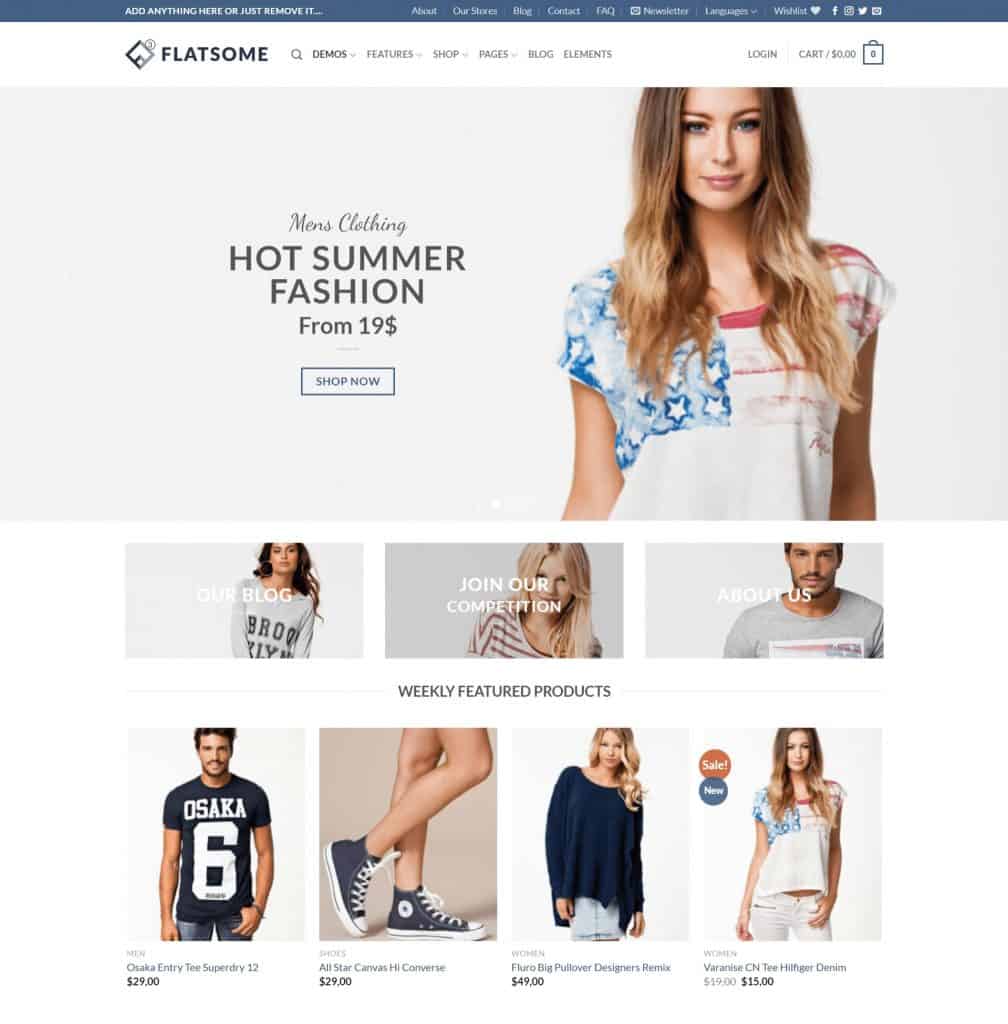 Unlike some other themes, Flatsome does not appear in the main navigation menu. However, you will see Flatsome appear on the WordPress toolbar.
The primary mode for you to interact with the theme will be via the Customize section under the Appearance tab. The theme options menu is completely overhauled – it includes tons of enhanced controls that make customization super easy.
The other way you will interact with the theme is via the UX Builder, which you can access by opening a page or post from the All Posts section under the Posts tab on the WordPress main navigation menu.
When you open a page, an "Edit Page" button will appear on the toolbar. Clicking on it will reveal a dropdown, giving you access to UX Builder.
The UX Builder is intuitive and enhances WordPress's customizability like nothing you've seen before. The page builder rivals premium builders like Beaver Builder.
Third-Party Integration
The theme supports WordPress's Gutenberg builder right out of the box, but with UX Builder handy, you likely won't be using it much.
It also supports Elementor, which is great if you're familiar with it, and since the theme is GDPR compliant, you do not have to worry about ensuring the privacy of your visitor's data.
Excellent WooCommerce integration happens to be one of Flatsome's main selling points. It also comes with over half a dozen shop demos, making creating an eCommerce store very easy.
It also includes Contact Form 7 and comes with a few form presets – but the seamless MailChimp integration is the impressive part.
Performance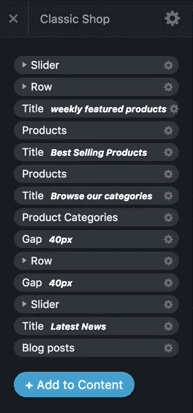 The company claims that UX Themes is the fastest multipurpose theme available for WordPress.
However, if you look at GT Metrix speed tests, you will find that the theme takes about a second to load.
The speed is impressive – but Flatsome is not the fastest multipurpose theme for WordPress.
The Suki theme takes under 700ms to load, the Astra theme needs a little over 700ms, and the Ocean theme takes roughly 800ms to load.
While the results are not at all disappointing, if superfast speeds are your top priority, there are better themes you can opt for.
Overall, though, the theme is lightweight and comes with smart features like lazy loading. These features ensure that regardless of the content on your website, it will always load fast.
Settings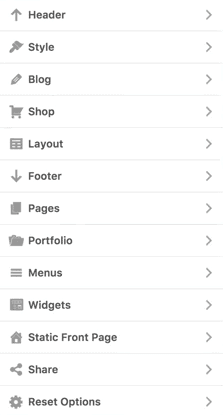 The theme options enable you to change global default colors quickly, edit the CSS of the page, view changes live, and set global layout modes.
But that's not all.
You can set a custom site width, customize the font, entirely overhaul the header, edit dropdown styles, modify the footer, edit the menus, add widgets, customize the mobile banner height, set up static front pages, and more.
There are also dedicated menus for blogs and shops loaded with customization options that enable you to give your website a personal touch.
The UX builder gives you access to Flatsome Studio, which offers 300+ pre-built layouts and sections, enabling you to create a site that matches your style and taste quickly.
It also gives you access to a Flatsome's massive selection of elements, allowing you to add sliders, banners, buttons, banner grids, share buttons, icons, tabs, testimonials, and a lot more wherever you please.
The UX Builder, in and of itself, also impresses – giving you the ability to customize individual elements and give them your own spin.
You can adjust parallax effects, add borders and edit backgrounds, set up dividers, and customize rows, columns, and sliders, among other things.
The combination of settings the theme options and the UX Builder provide gives you complete control over all individual elements on your website.
However, if you're in a hurry to launch a site, you can also use their pre-built sections to get your site looking beautiful in no time.
All in all, the theme is formidable and makes building a website from start to finish simple and straightforward.
---
Additional Features for Flatsome
100% Translatable
The theme comes translated to 12+ languages, and boasts WPML support, enabling you to translate your website to any language.
If you're running an online shop, localizing the shop by translating it can boost sales.
Mobile Optimized Design
No matter how much you customize your website with Flatsome, it will look equally attractive on phones and tablets since it is responsive.
Banner Focus Point
Some large banners do not look good on mobile screens. To solve this problem, you can use Flatsome's trademarked Banner Focus Point feature to focus on the most important part of the banner image when the visitor is using a phone.
Full Typography Control
You can change the text to any color and completely customize the height, weight, and size of fonts.
Built-In Live Search
You don't need to get a plugin for integrating a custom search bar into your website – the theme comes with live search options built-in.
---
Support and Documentation
The Flatsome theme is documented extensively – the UX Themes' Knowledge Base comprises of articles that cover everything from the installation basics to development guides.
Video tutorials are also available, ensuring that complete beginners can learn to use the theme with ease.
You can get support by going to their ThemeForest page and opening a ticket. You can also use their Facebook community page to get answers to your queries from moderators and other users quickly.
UX Themes' support is on-par with industry standards.
---
Flatsome Theme Pricing
Flatsome's regular license comes in at $59, with six months of free support from UX Themes. Updates are free for life, and it also comes with the demos PSD files and assets, which is a nice plus.
Aside from theme usage queries, you can get assistance with bugs and third-party assets. However, installations and customizations are not included in the support clause.
If you want to extend the support period to one year, you will need to pay a $17.63 premium.
---
Verdict: Is Flatsome Worth It?
Flatsome strikes the right balance between features, design, and performance, and since it's customizable and comes with stunning demos, creating any website with it is quick and easy.
It's not the fastest theme available for WordPress, but it is still fast, with loading times averaging around one second. This alone makes it worth the $59.
If you're looking for a premium theme with a stylish design that also loads quickly, Flatsome is perfect for you.