SiteGround was founded in 2004 and has grown to become one of the biggest web hosting companies globally. It employs over 500 people, hosts over two million domains, and is one of the web hosts WordPress recommends officially.
Cloudways, on the other hand, is a newer web hosting company that signed on its first customers in 2014. It is now one of the best-known cloud hosting companies in the industry.
Both companies have an impressive portfolio – but which one is definitively better?
I'll compare all of their offerings and make picking between them easier.
| SERVICE | FEATURES | VISIT |
| --- | --- | --- |
| | #1 Recommended provider. Fast, easy, and cheap! | |
| | #1 Recommended provider. Fast, easy, and cheap! | |
Cloudways vs SiteGround: Overall Review
Reviewing the two, I find that while both are excellent web hosts, they have entirely different approaches to hosting. The differences in approach make a massive difference in your experience with the hosts (and the verdict).
Here are my thoughts and overall opinions:
Cloudways Overall Review
The first distinction that sets Cloudways apart is that it is purely cloud-based. This characteristic gives you a lot of flexibility in terms of scaling your website.
There will never be a problem with hosting resources with Cloudways, and downtime will be a rare occurrence.
Cloudways does not use the standard cPanel, and the company gives you access to your server via a custom interface. You may think that this is a setback, but that is not the case.
Their proprietary panel is easy to use, but it does not offer some of the convenience that cPanel provides. By default, you miss out on features like the email hosting services, the file manager, and the DNS manager that cPanel offers.
But there are workarounds that you can use to add these features to Cloudways. Considering the speed and scalability of the platform, this is a relatively minor trade-off.
Prices are slightly more expensive than SiteGround, but the price difference isn't too significant, and the premium you pay gets you useful benefits.
I only thing I find concerning with Cloudways is their support. Don't get me wrong – support is good, but not exceptional.
It feels like Cloudways is an overall better package when compared to SiteGround.
SiteGround Overall Review
If you're a beginner or are looking to launch a new website, it is difficult to find a better host than SiteGround.
When it comes to pricing, SiteGround is very competitive and offers some of the most affordable plans in the industry.
But the discounts only last for your first term – you will need to pay increased prices after your first term with SiteGround.
It's not all bad – the company ensures that every customer fast and reliable hosting regardless of what plan they pick. Their professional customer support staff ensures that any technical or account-related issue is resolved quickly.
SiteGround recently replaced cPanel with a custom interface called Site Tools. It gives you access to all the previously available features with cPanel, including email hosting, the DNS manager, and the file manager, but it boasts a cleaner look.
Although their services are great, they double, and sometimes triple the hosting prices after your first term. Couple this with the fact that the plans are not flexible like Cloudways, and their offering seems inferior to Cloudways.
I will highlight the differences in detail so you can understand the contrast between the two services.
---
Hosting Plans & Pricing
Cloudways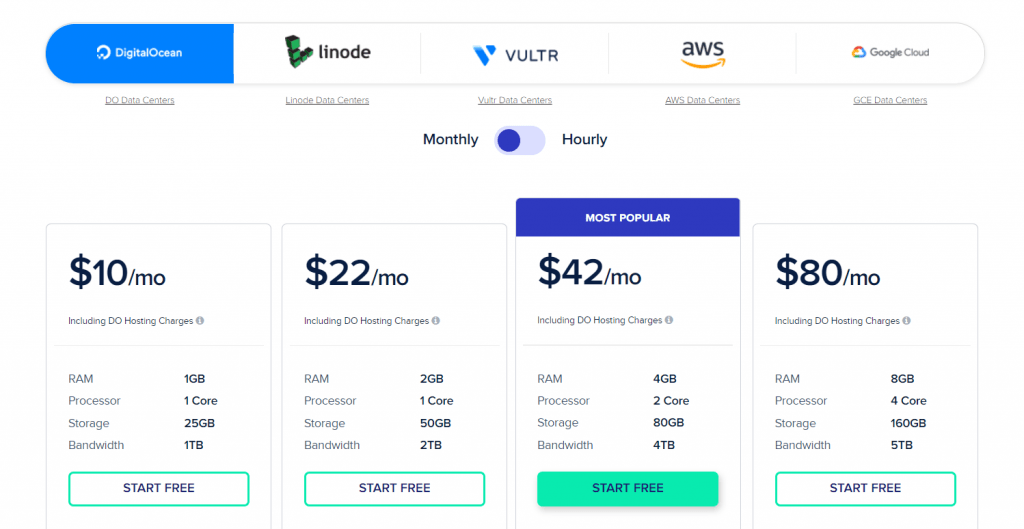 Cloudways allows you to test their services for free for three days. Availing the trial does not require you to enter your credit card details.
Cloudways does not offer its own hosting services. It is a Platform as a Service (PaaS) provider, and it works in conjunction with other companies that provide cloud servers.
When you sign up, you can choose the size of the cloud server you wish you use. You can also freely select which cloud service provider you want to host your website with.
There are five options: DigitalOcean, Linode, Vultr, Amazon Web Services (AWS), and Google Cloud.
Pricing varies from provider to provider, and more expensive tiers offer more storage, computing power, and bandwidth.
DigitalOcean offers the most affordable hosting, starting at only $10/month. The company does not increase prices from term to term, and the service works on a pay-as-you-go basis.
This means, if you only use your server for one day in a month, you will only need to pay for using the service for one day.
SiteGround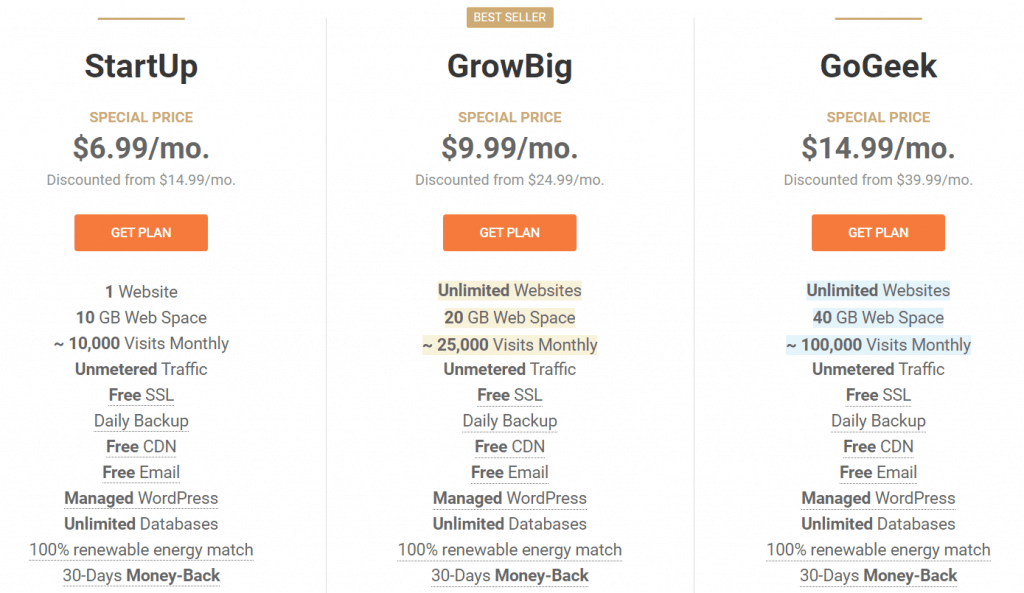 SiteGround does not offer a free trial, but they do have a 30-day money-back guarantee.
The company offers four plans, each of which has several tiers. Their plans include the Reliable Web Hosting plan, the Managed WordPress Hosting plan, the WooCommerce Hosting plan, and the Cloud Hosting plan.
The Reliable Web Hosting plan is their most affordable offering, with prices ranging from $6.99/month to $14.99/month for your first term.
You can only avail of these plans on a yearly, biennial, or triennial basis, and you must pay upfront.
At face value, it seems like a great deal. Prices are affordable, and the features seem excellent.
But prices increase to the range of $14.99/month to $39.99/month from your second term. That's almost triple the initial price.
The jump in price is too big to justify use in the long run.
Also, while the company does offer cloud hosting, the plans start at $80/month, making Cloudways the prominent choice for cloud hosting.
---
Hosting Features
Cloudways
Cloudways offers a host of features that can help you ensure that your website is fast and secure. The first of which is the free SSL certificate they give out with all plans.
They also offer a CDN service that hosts a static version of your website on servers globally. The CDN can improve loading times and help with engagement and conversion. However, you have to pay for the CDN separately from your hosting plan.
But since the service is cheap, starting at $1 per 25GB, it offers excellent value for money.
Cloudways allows you to host an unlimited number of applications with one plan, clone your website in one click, and use its staging environment to test new pages for bugs before publishing them.
Cloudways also offers an automated backup service, but like the CDN service, you will need to pay for it separately from your hosting plan.
Prices for offsite backup storage are fixed at $0.033/GB for every server, making it an excellent add-on that ensures that your website data is always protected.
Many security features come built-in with Cloudways at no extra cost. Features like the dedicated firewalls, 24/7 monitoring, and the auto-healing, HTTP/2 enabled servers, coupled with the company's regular security patching, ensures that you never have to worry about security.
Excellent team management features, PHP 7 support, and use of multiple databases fortify my impression of Cloudways as the best cloud hosting service.
SiteGround
Like Cloudways, SiteGround also offers free SSL certificates with all of their plans. But one thing SiteGround does better than Cloudways is creating backups.
SiteGround stores backups of all accounts every day – at no extra cost.
You can create backups on demand, and access and restore backups right from Site Tools from the Backup section under the Security tab.
The staging tool that comes with SiteGround helps you ensure that a new or updated page is free from bugs and errors before you publish it, and the SG Optimizer plugin enables you to boost your WordPress website's loading time.
While the company does not offer its own CDN service the way Cloudways does, SiteGround is partnered with Cloudflare, and Cloudflare's CDN service comes coupled with every plan.
Their built-in email service makes it easier for you to create and manage emails, and all users have access to the Dev Toolkit, enabling you to tinker with the backend of your server to fine-tune performance.
There are no compromises made to security, either. In 2019, the company wrote over 300 new firewall rules that fortified website security. The firewall, coupled with the proprietary anti-bot system, makes your website safe from threats.
---
User Interface
Cloudways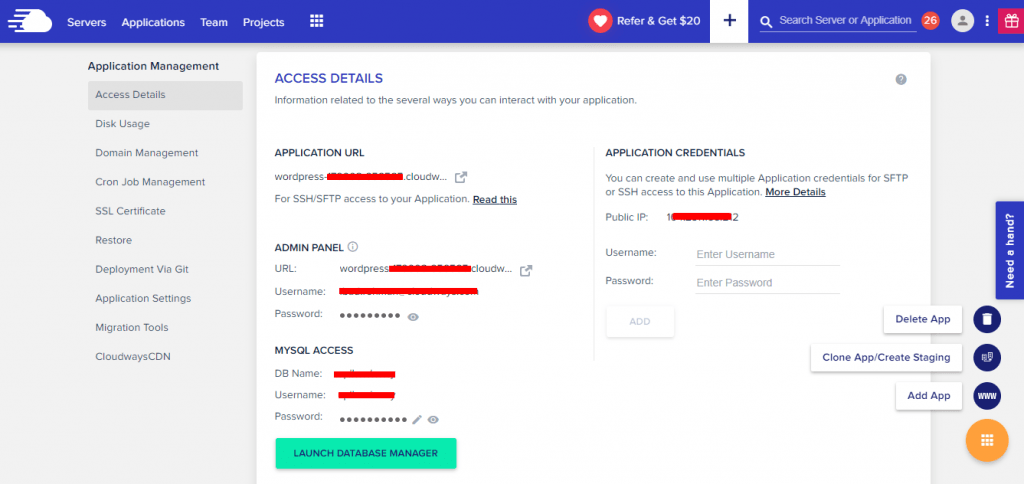 Cloudways is a cloud host, and cloud hosts are inherently focus on performance more than regular web hosts do.
The reasoning behind using a custom interface is apparent – cPanel runs on Apache, which is much slower than NGINX. A custom interface ensures that website performance is not affected.
But by default, Cloudways users miss out on features like email hosting and file management.
It's not all bad since there are workarounds. For file management, you can use tools like FileZilla and manage files between your PC and your server.
While many believe that you cannot host email with Cloudways, this is not true. It does require quite a bit of configuration, but it can be done.
The truth is, anything you can do with cPanel, you can do with Cloudways' interface.
SiteGround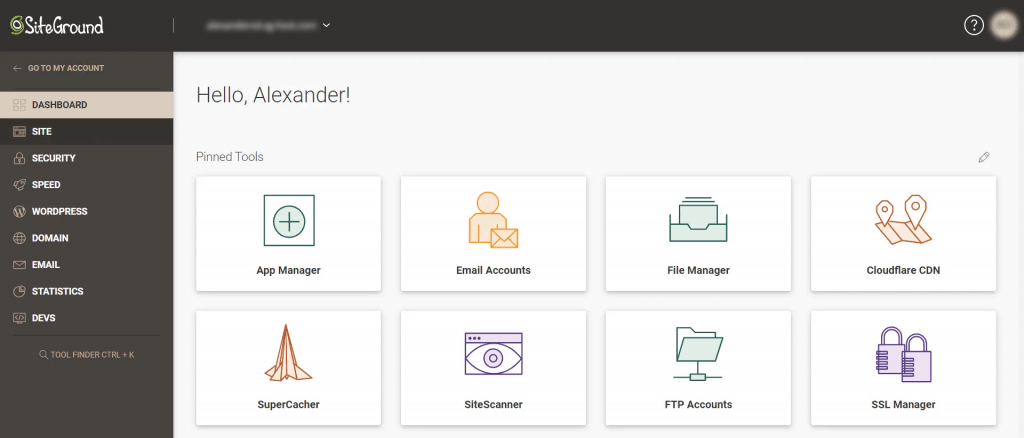 SiteGround recently replaced cPanel in favor of their new custom interface called Site Tools. It gives users access to all the previously available features, and also adds some new features.
You can find documentation and also open tickets for support right from within this new interface. You can also manage your hosting plans directly from the interface.
Site Tools enables you to add collaborators to your website. A collaborator could be a business manager, developer, or designer. All of their actions are logged, and you can revoke access at any time.
The new interface also allows you to add clients to your website. This feature comes in handy for web designers that are looking to sell their site.
SiteGround takes it one step further by enabling you to ship sites to your clients with ease right from the interface.
The best part?
You can do all of this from your phone when you're on the move since Site Tools is mobile friendly.
The interface is a huge level up from the old, clunky-looking cPanel.
---
Ease of Setup, Speed, and Uptime
Cloudways
Migrating your website to Cloudways is made super easy with the free WP Migrator plugin.
But if you're looking to have your website migrated manually by an expert, you can ask Cloudways to do it for you for free. Migration is free for the first time.
The SSD-based hosting reduces page loading times, thereby increasing engagement and reducing bounce rates.
Other features like the built-in caches and pre-configured PHP-FPM speed up your website dramatically.
Getting your website to load under three seconds should be a breeze.
Several customers report that their website uptime comes around to an aggregate of 99.9%, which is standard and expected from a cloud hosting service.
You can check if Cloudways is down at any time by visiting their live reporting website: http://status.cloudways.com/.
SiteGround
SiteGround also makes migrating your WordPress website or blog easy. If you purchase their GrowBig or GoGeek plans, their experts will migrate your website for you for free.
You can also use the SiteGround Migrator WordPress plugin to migrate your website by yourself.
SiteGround uses SSD storage and employs several software solutions at the server level. These include HTTP/2, Memcached, and auxiliary PHP optimization.
Uptime hovers around the 99.9% range, and their excellent support helps you report and resolve downtime quickly.
---
Support/Documentation
Cloudways
Cloudways' chat support is available 24/7/365, which can help you resolve most basic issues. If you have a more pressing issue, you can open a ticket.
If you run a website that drives hundreds of thousands of visitors, you can get their premium support add-on, which will give you access to a senior support engineer at any time.
Their Knowledge Base is filled with helpful articles that can help you resolve fundamental issues.
SiteGround
SiteGround is best-known for its excellent customer support. Like Cloudways, online chat support is available 24/7/365.
Response time for tickets is approximately 15 minutes, which is impressive. If you need a quicker resolution, you can speak to a support representative on the phone in under 2 minutes.
Their Knowledge Base is filled with thousands of helpful articles and tutorials that help you solve issues and make better use of their hosting.
---
Verdict: Which Is Best?
Cloudways offers decent support, and you will never have issues with performance. Its scalability is a massive advantage that only a few other hosts provide at a low price. I unreservedly recommend Cloudways – it is more powerful and costs less in the long run.