SiteGround officially made the switch to Google Cloud Platform in 2020 – which means it's up against the likes of better-established cloud hosting services like WP Engine, Cloudways, and Kinsta.
Sure, SiteGround was founded in 2003 and has been offering premium managed cloud hosting for years now.
But now that it's 100% cloud-based, how does it compare to a cloud hosting long-runner like Kinsta?
Is it overpriced? How do the features compare? Does the company still offer the same reliability? Or has it lowered its standards?
In this post, I will review and compare Kinsta and SiteGround head-to-head and find out which of the two is the better cloud hosting service.
| SERVICE | FEATURES | VISIT |
| --- | --- | --- |
| | Fast. Impressive. Popular. Reliable | |
| | Affordable. More Fatures. Easy to Use. Flexible | |
Kinsta Vs. SiteGround: Overall Review
Kinsta Overall
Kinsta keeps the interface simple and supplies an array of bleeding-edge hosting features that make it an impressive cloud host.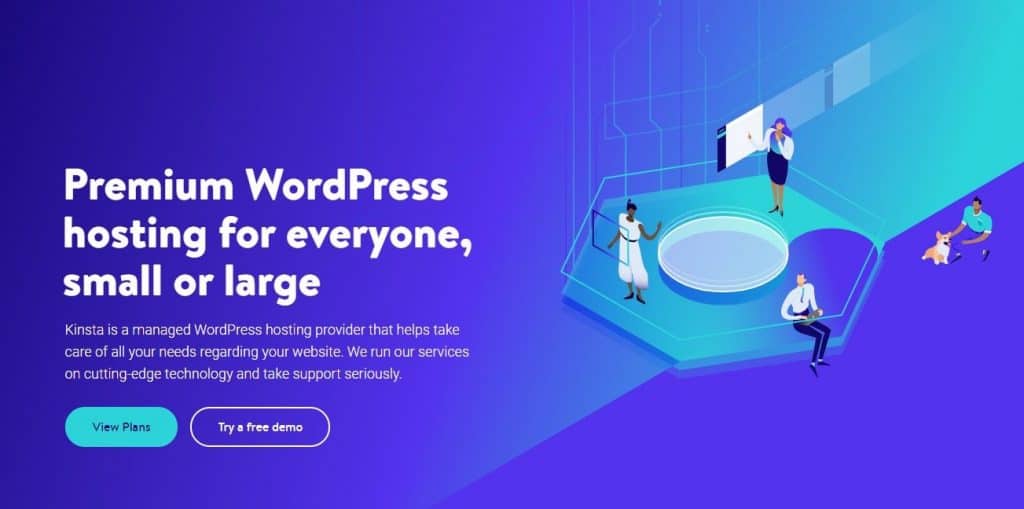 Support response times are excellent, and the company offers some of the fastest speeds in the industry for reasonable prices.
The only snag is the lack of email – but it's easy to find several free SMTP servers online that get the job done.
The plans supply excellent value, making the service hard not to recommend.
SiteGround Overall
SiteGround's unbeatable pricing is a significant driving point, but the benefits are short-lived since no discounts are offered after your first term.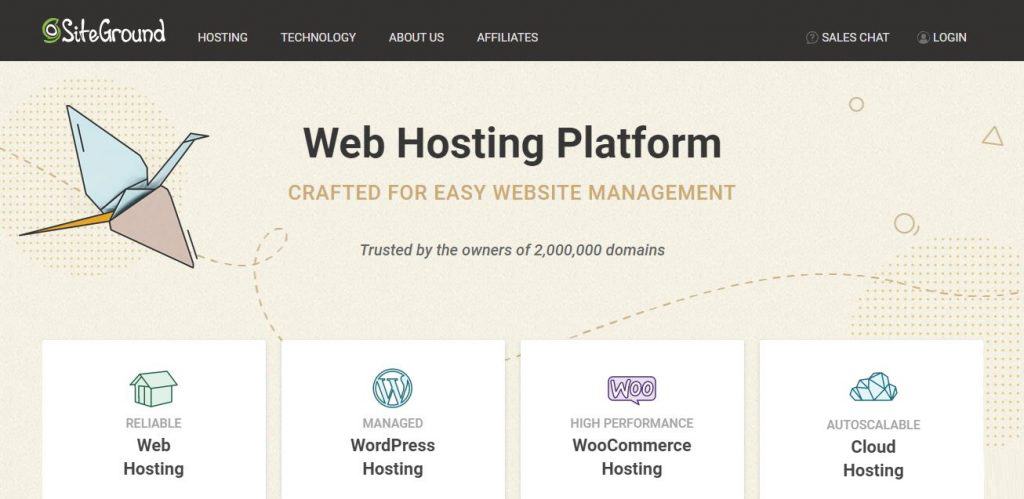 While the feature set is complete, the backup features are inferior, and the interface is comparatively dull.
Loading times are longer, which is another downside, but there are no compromises when it comes to support, ease of setup, and security.
At face value, SiteGround offers great value, but there's a lot you'll miss out on if you pick it over Kinsta.
---
Hosting Plans & Pricing
Kinsta
Kinsta has a much more defined pricing model – not just when compared to SiteGround but in general. Total beginners, experienced bloggers, growing businesses, and in-demand services all will find a perfect plan that meets their needs.
The ten pricing tiers are not the end – Kinsta also offers a Custom plan for agencies that drive over three million visitors every month.

The least expensive plan is the Starter plan, coming in at $30/month, and giving customers access to 10GB of disk space and a healthy 20,000 monthly visitor limit. The plan limits CDN use to 50GB bandwidth a month.
But there's a twist:
It's twice as expensive as SiteGround's most affordable plan, and while it does provide an extended monthly visitor limit, the storage space and WordPress installation limits are identical.
As mentioned, there are ten pricing tiers, and WordPress installation limits, visitor/month limits, issued storage space, and CDN bandwidths roughly double with every tier.
But unlike SiteGround, Kinsta has an overage fee structure in place, and the penalties are simple: for every 1000 extra visitors you attract to your website in a month, you will need to pay an extra dollar. Also, for every additional GB of CDN bandwidth your site uses, 10 cents are added to your bill.
There is no free trial, but a 30-day money-back guarantee ensures that any purchase you make is risk-free.
SiteGround
SiteGround's pricing model is a little different from what most hosting services. They have four plans, but three of them have the same tiers and prices.
The Reliable Web Hosting plan, the Managed WordPress Hosting plan, and the High-Performance WooCommerce Hosting plan all have the same pricing tiers: StartUp, GrowBig, and GoGeek.
But the Reliable Web Hosting plan gives you the flexibility to choose your CMS. You can pick anything from Joomla to Magento to Prestashop, and many more in just one click. SiteGround will install your CMS of choice on your site for you.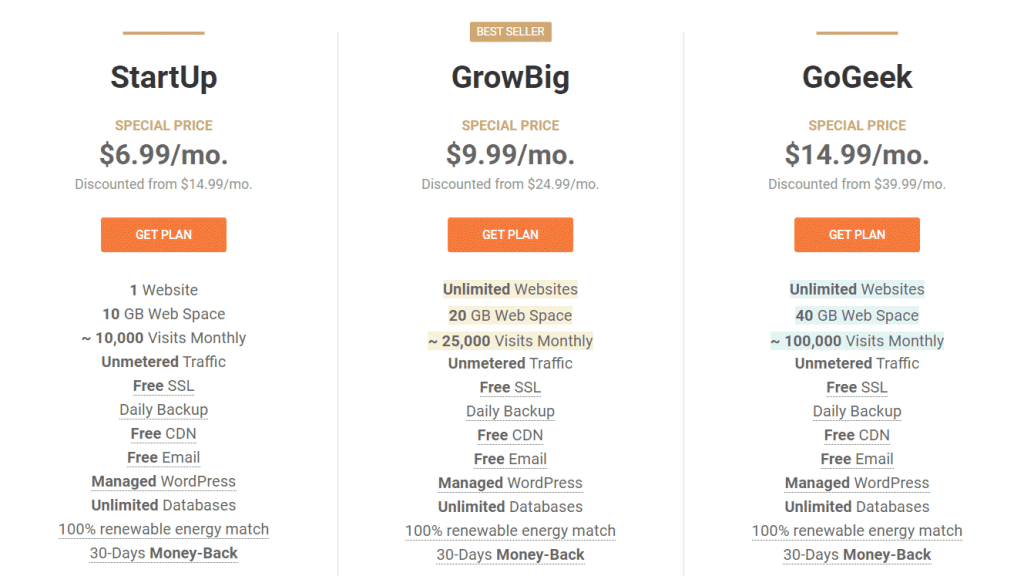 The other two plans are self-explanatory: one gives you a feature-loaded and optimized WordPress install, while the other is designed to help you sell more products from your website online.
The StartUp tier is priced at $6.99/month – but this price is discounted only for first-time users. At renewal, you will need to pay $14.99/month.
You're allowed to set up one website, given access to 10GB of space on the Google Cloud Platform, and tier limits you to roughly 10,000 visits/month.
Now, I say "roughly" because SiteGround doesn't gauge usage with the visits/month measure. The company uses "CPU cycles." When you exceed your CPU cycle limit for the month, your website gets suspended until the next month.
If you need your website to go live again, you will need to contact support.
The GrowBig plan comes in at $24.99/month (discounted to $9.99/month for new users) and allows users to host an unlimited number of websites. But space is limited to 20GB, and you're only allowed roughly 25,000 visits/month.
The GoGeek plan is priced at $39.99/month (discounted to $14.99/month), giving customers access to 40GB of disk space and ~100,000 visits/month.
Their pricing may seem super competitive at first, but no discounts are offered after your first term.
The company also offers a pricey Managed Cloud Hosting plans with tiers ranging from $80/month to $240/month.
The plan gives you access to dedicated cloud hosting, and it can also be customized, with options available to add SSD space, RAM, and CPU cores.
Auto-scaling is only available in this plan.
Also, the Managed Cloud Hosting plan only comes with a 14-day money-back guarantee, whereas all other plans come with a 30-day guarantee.
---
Hosting Features
Kinsta
Like SiteGround, Kinsta is partnered with Google and uses the Google Cloud Platform to host websites. But Kinsta automatically scales up the CPU and RAM assigned to your site when there's a spike in traffic regardless of which plan you get.
You don't have to be involved in the process in any way – in fact, their website doesn't even mention any specifics about CPU cores and RAM. It's all handled for you.
SiteGround, on the other hand, only offers this feature to the customers that use the Managed Cloud Hosting plan. So, if you have a blog site and only target trends, your website's chances of going down with surges in traffic are high with SiteGround.
Kinsta creates a backup of your website every day, and the backup is stored on their servers for two weeks. But there are snags: you must generate a backup every time you want a copy of it, and can only generate backups once a week.
Additionally, there are no options for restoring only parts of a backup. You can only restore a full backup.
The staging function makes updating your website convenient – you don't need to take it down or make backups profusely before testing the effects of changes and updates on your website.
Kinsta doesn't count the space used for staging under disk storage, so you can test all you like without worrying about running out of disk space.
Pushing a tested, error-free site is as easy as clicking the right button.
Kinsta offers a lot of excellent features, a superfast CDN, free SSL certificates, and managed WordPress updates being some of them. But it doesn't provide email features, which is a little disappointing.
SiteGround
SiteGround bests Kinsta in many ways, the first of which is by offering affordable domain registration services. But if you have a domain, this doesn't matter much.
You can get SSL certificates for free, which is standard.
Still, SiteGround pays special attention to its security by fortifying it at both the server and application level.
Backups are made every day, but only saved for a week, and you can only download a backup of your website a limited number of times.
But it's not all bad – WordPress is managed for you entirely, and unlike Kinsta, you don't even have to update your plugins manually.
Another advantage of getting SiteGround is that the Cloudflare CDN offered doesn't have any bandwidth limits or overages.
The staging tool is simple to use and makes a copy of your website for testing quickly. But it's important to note that this feature isn't available for StartUp plan users.
But one of the biggest differences between SiteGround and Kinsta is that SiteGround offers an email feature.
Nonetheless, SiteGround's webmail interface makes setting up and accessing email super easy.
The white-labeling feature ensures that web designers can give their clients a clean page free of any logos, and the speed-boosting caching features reduce the loading time of WordPress sites.
Overall, while Kinsta does offer some great features, SiteGround provides a more complete set of features. But all of these features (say, email) are easy to substitute with free alternatives – which ultimately gives Kinsta an edge over SiteGround.
---
User Interface
Kinsta
Kinsta has the livelier interface of the two web hosts, and it's a level up from the bland cPanel installation that many other web hosting services supply.
The dashboard is one of the interface highlights because it shows you all the important stats: resource usage, invoice information, data transfer details, and visitor count.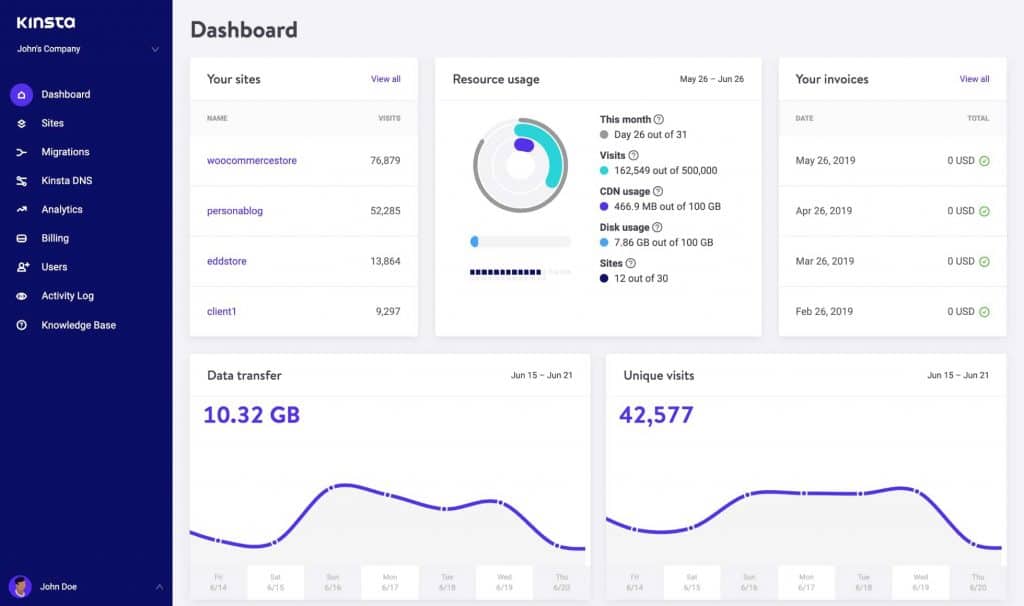 Although no search function enables you to find settings, the bar on the left organizes settings neatly and intuitively. After a few hours of use, navigation becomes second-nature.
While Kinsta doesn't automatically update the plugins on your WordPress setup, it does supply an option to update the plugins right inside the interface.
Also, Kinsta makes it easy for you to assign roles to users on your website. The roles are well-defined and diverse, ensuring that the right members access only specific parts of your website and that you remain in control.
Overall, Kinsta's interface is much more polished and vibrant, making the service a lot easier to recommend.
SiteGround
It's great to see SiteGround upgrade not just their hosting type but also their interface. Earlier, SiteGround would also offer just a plain installation of cPanel.
But in September last year, the company replaced cPanel with a custom-built interface dubbed "Client Area and Site Tools."
It's not as vibrant as Kinsta's interface, but the setting options show up as large tiles, which certainly makes navigation easier.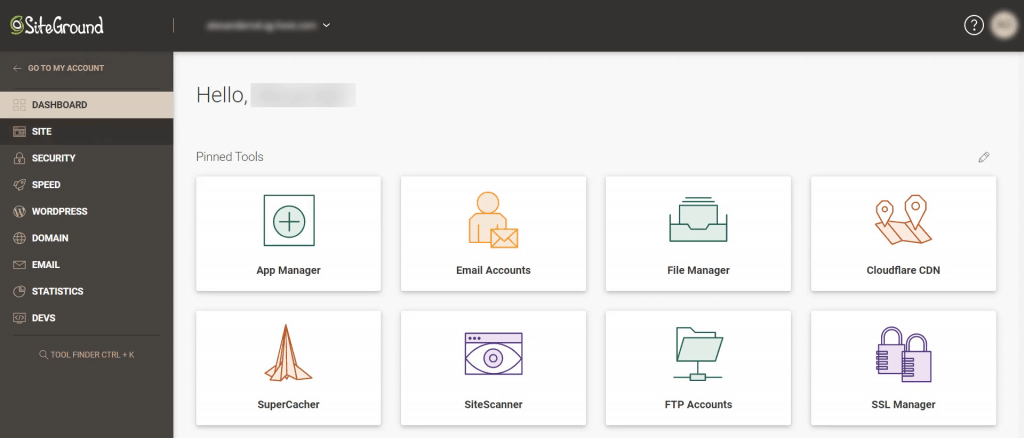 The new interface added a lot of features to SiteGround, and it now gives customers the ability to add "Collaborators" to the website. But one critical catch to keep in mind is that you cannot assign any roles to these Collaborators, and only the default "client" role is available.
This makes working with a team significantly harder. But the good thing about this feature is that everything the Collaborator does is logged.
A site shipping feature also comes included with SiteGround's new interface, and the interface is mobile-friendly, ensuring that you can manage your website on the go.
---
Ease of Setup, Speed, Uptime
Kinsta
Kinsta's vibrant interface makes setting up a new website as easy as entering some details for the WordPress installation.
One of the biggest advantages of picking Kinsta is that their in-house WordPress experts migrate all of your websites for you free of charge.
Heavy multipurpose themes load in only one second, which is super impressive, and uptime is rarely an issue with Kinsta's 99.99% uptime guarantee.
SiteGround
The WP Starter site-building wizard makes setting up a website a cakewalk. But the company will not transfer any customer's site to their servers for free – a $30/site fee applies.
The hosting is fast, with heavy multipurpose websites loading in about 2 seconds, but speeds aren't as impressive as Kinsta. But the low price makes this a reasonable compromise.
The company provides a 99.9% uptime guarantee, which is not the best, but still impressive.
---
Support/Documentation
Kinsta
New articles are continually added to Kinta's knowledge base, ensuring that you get all the guidance you need if you're a beginner.
While the documentation is top-notch, only live chat and ticket support is available. But the near-instantaneous response times make up for the lack of telephone support.
SiteGround
There is no ticket support system, but live chat responses are quick, and it's also possible to connect with a customer support representative in under two minutes via telephone.
The proliferating knowledge base is super helpful in getting you up and running with your CMS of choice.
---
Verdict: Which is Best?
Cloud hosting exists for one reason, and one reason only: speed.
Kinsta not only is the faster hosting service of the two, but also offers an excellent interface, world-class support, and a reasonably balanced set of features. Sure, it's a little pricier, but it's worth every penny for what you get.