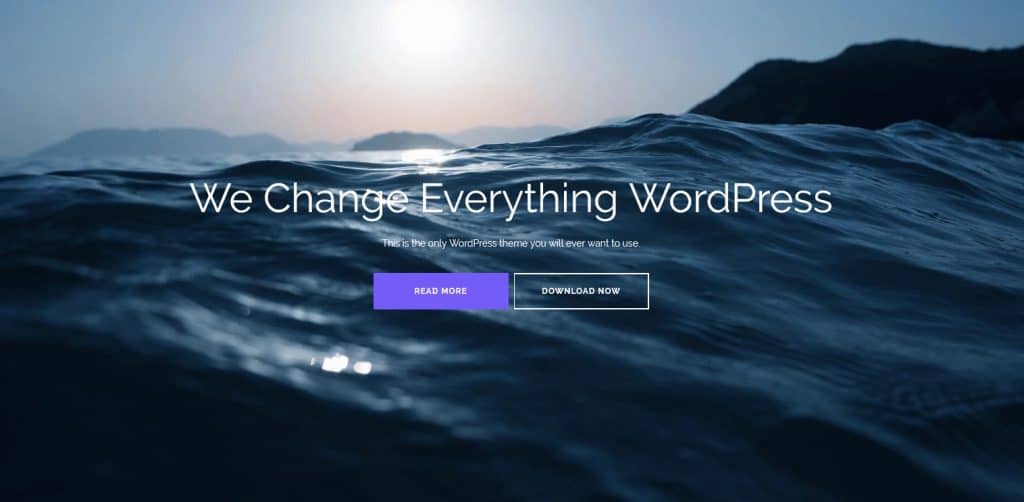 Contemporary multipurpose WordPress themes come with a massive number of features, and not all of them need you to pay to use them!
Shapely by Colorlib is one such theme – it comes with tons of demos, features, and layouts that you can use free of cost!
You can use it to make practically any type of website, from a blog to a business page, and since it supports WooCommerce, you will have no issues creating an online shop with it either.
However, can you choose it over a fully-featured free theme like OceanWP?
More importantly, do you get the premium-quality support and documentation that Colorlib is known for?
In this Shapely theme review, we will go over all the theme has to offer before helping you decide if you should use it.
What Is Shapely Theme About?
Shapely is a free responsive multipurpose theme that enables you to build any type of site free of cost. All you will need to arrange for is a domain name and a hosting service!
It comes with a homepage, a blog page, and a portfolio demo installed, and you can customize them quickly and easily.
Its modern design makes it apt for almost any type of website, and since it is customizable, you can turn up the flashiness or simplify the design as you see fit.
Shapely is developed and maintained by Colorlib, which was initially just a learning experiment for the founder Aigars Silkalns back in 2013.
It quickly turned into a lot more than an experiment, with the official website getting over 300,000 views every month by 2014.
It's now an established business that helps WordPress beginners and novices alike set up websites that attract clicks and drive sales.
Shapely Theme Review
Good free multipurpose themes are hard to come by, and Shapely makes a great first impression with its bold design and feature-rich demo.
Design and Style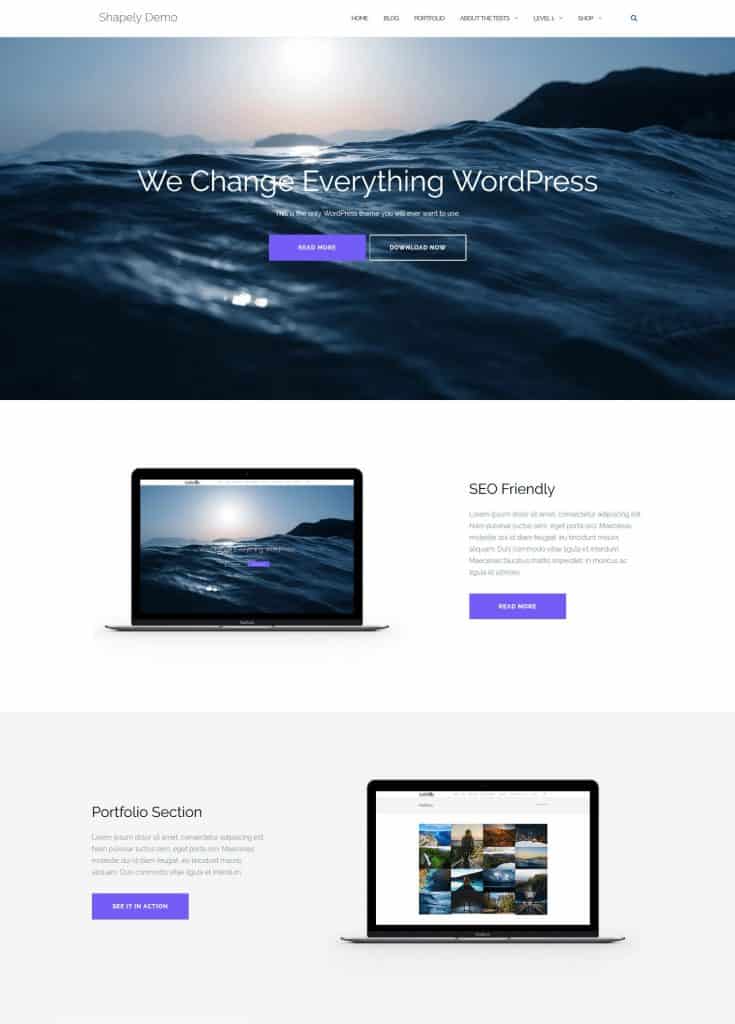 Shapely has a sharp and modern design that can match any type of site. If you're looking for a bold theme that can also get the message across without looking too flashy or overwhelming, Shapely is perfect for you!
Theme Features
Plugin Support
Shapely is built with WordPress's coding standards in mind, which ensures that the theme works perfectly with every plugin – be it official or third-party.
The theme comes specially optimized for use with plugins like Contact Form 7, Jetpack, WordPress SEO plugin, iThemes Security, W3 Total Cache, and a lot more.
It also works flawlessly with all of the major page builders, including Elementor, enabling you to add and edit elements by just dragging and dropping them in place.
If you're used to Beaver Builder or Visual Composer, those are supported, too!
You will never need to look for an alternative plugin!
WooCommerce Support
You no longer need to get a premium plugin to use WooCommerce!
Building your own eCommerce site has never been cheaper!
Translation Ready
Shapely is ready to be translated right after install. All you need to do is install your preferred translation plugin and set it up!
Since Shapely is RTL-ready, you will have no problems building a website for specific audiences.
Unlimited Color Options
Every menu, bar, element, accent, and piece of text you see is customizable. Changing the color is made simple with the one-click color pickers that come with the theme.
Lazy Loading Support
Speeding up your website is made super easy with the built-in lazy loading feature. It reduces the size of images depending on the user's display size, and hence optimizes bandwidth use, speeding up loading times.
Font Awesome Icons
The theme's built-in Font Awesome support enables you to use vector-based icons. These icons are flexible in size and color, enabling you to put them anywhere on your website without worrying about image quality.
Performance
None of Colorlib's themes has any bloated code; therefore, fast performance is virtually guaranteed.
The code optimizations, coupled with lazy loading, can help you achieve load times of under two seconds with ease!
SEO Friendliness
Again, since the code is optimized, search engines will have no problem picking your site up.
The theme supports SEO plugins, including Yoast, giving you full control over your site's SEO.
Using on-page SEO techniques is also easy, and will give you an edge over the competition when it comes to your ranking on SERPs.
Theme Options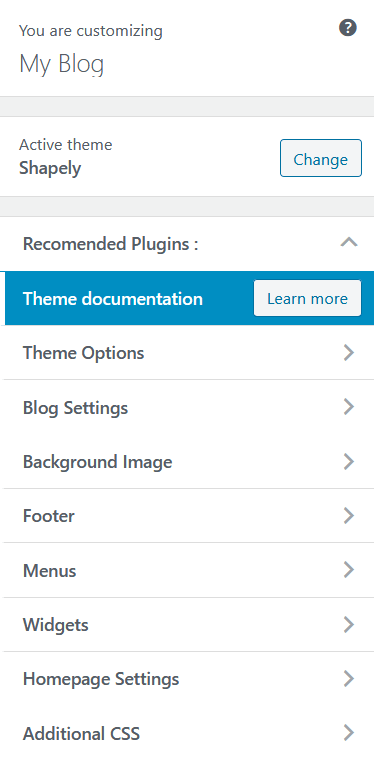 Shapely has a lot more to offer when compared to a run of the mill free theme. At first glance, the options menu might not look like much, but it is filled to the brim with customization options.
The Theme Options tab allows you to set or remove your site's title and tagline and also enables you to set a site icon. The icon is displayed in browser tabs, bookmark bars, and within WordPress mobile apps!
You can set the logo of your website using the Site Identity tab.
The theme also lets you display your mobile menu on desktop, which makes for consistency, and also allows you to set a CFA link, button text, and callout.
Enabling a sticky or a transparent header is as simple as toggling the right option.
You can also set the header text color, background color, link color, link hover color, button color, and button hover color from this tab.
The theme gives you demo specific options to play with. For instance, if you're working with the blog demo, the Blog Index Settings menu will enable you to toggle category details and blog titles, choose blog layouts, assign blog images, and set the post template.
There are a lot of other toggles that can help you deliver the exact experience you want to!
The Background Image tab is pretty self-explanatory – you can set the background image here.
The Footer menu is also fairly straightforward. You don't get many options, and you only get to set the copyright text that you typically find on the bottom of websites.
The Menus tab enables you to create menus and it's items, and assign the menus to your preferred location.
By default, you can only display menus in two locations on the site. However, any widget area can double as a placeholder for a menu, which is something to keep in mind if you're looking to get creative.
Per usual, the homepage widgets come pre-assigned, but you still have full control over them. For example, you can change the title, image, button texts, and links for the parallax section on the blog demo with ease.
The footer has four widget sections, and you can add custom widgets to them in just a few clicks.
The Homepage Settings tab is what allows you to switch between the different demos and helps you assign the homepage and the posts page.
You can also configure your blog page to show your latest post rather than the static design.
In addition to all these options, you can also use the "Additional CSS" tab on the very bottom to add your CSS code to the website.
Using CSS helps you further fine-tune your website's look and feel, enabling you to give it a personal touch.
---
Additional Features of Shapely
Responsive and Flat Design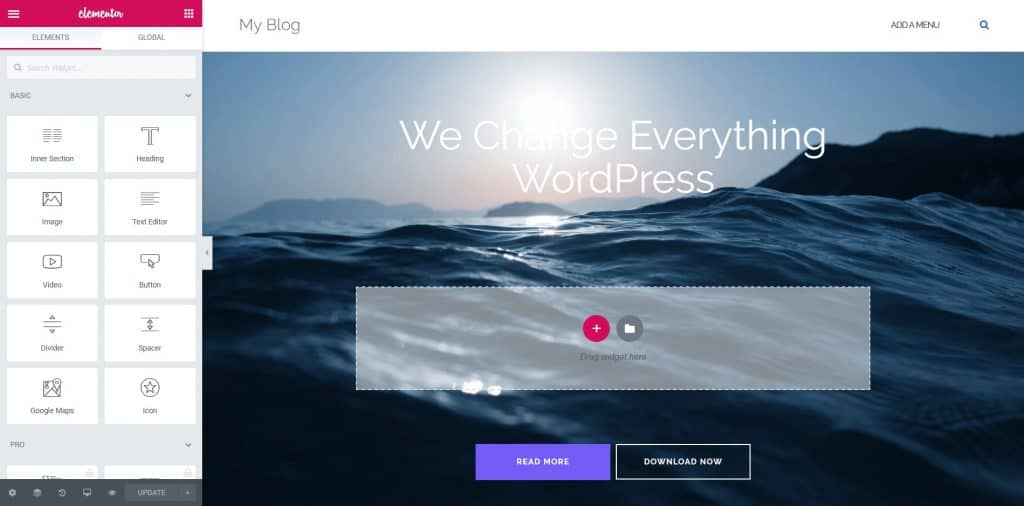 Shapely is developed using the Bootstrap 3 frontend framework, making it fully responsive and optimized for any and all mobile devices.
You will never need to redesign your site separately for each device, and this feature ensures that your website looks good on all screens.
Retina Ready Theme
The theme boasts sharp text, vibrant colors, appealing graphics, beautiful images, and striking vectorized icons.
These elements help you deliver a polished website with a premium feel, and ensures that it looks good on High DPI Retina displays.
Hero Image Support
You can add a fullscreen image to your website with ease. Loading it with the right hook and tagline can result in significant boosts in conversion rates.
You can also execute a stylish call to action with the hero image to streamline the user's experience.
---
Support and Documentation
Colorlib offers support for free on their support forum, and they also answer fast, so you'll never be stuck with an issue for long.
Additionally, they have detailed documentation for Shapely available on their website, and you can access it free of charge.
---
Shapely Pricing
Shapely is 100% free to use, and you don't have to pay to get support or read the documentation.
Since Shapely is open source, you can edit the code and make it your own, and potentially make a profit off of it if you have the skills!
---
Verdict: Is Shapely Worth It?
Shapely impresses with its neat demos and high-customizability. The excellent plugin support enables you to use it with your favorite plugins, and the world-class support and documentation ensure that your web design ideas come to life without much hassle.
All of its features put it up next to the best free themes in the market, and with outcomes comparable to that of premium themes, getting Shapely is definitely worth your time.