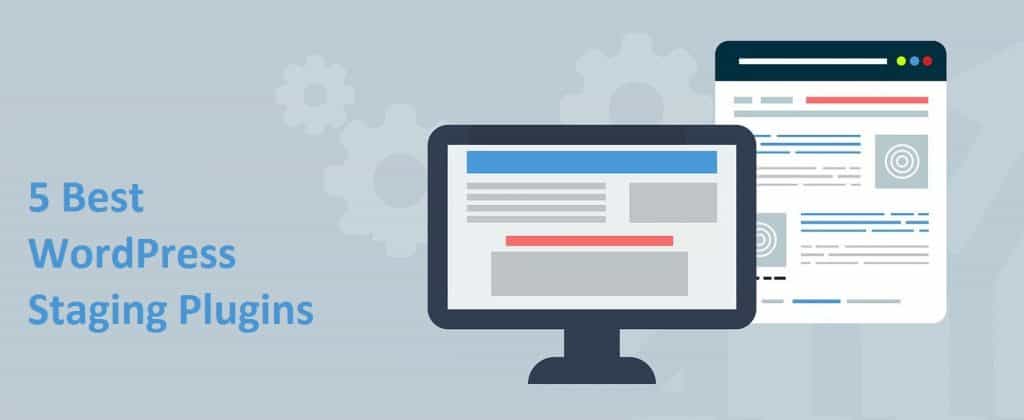 WordPress makes building websites super easy. But when you make changes to your website, there is always a risk of things going wrong. Bugs and errors may break your website's interface or even lead to downtime.
Fortunately, there is a simple solution to this problem. Instead of pushing updates to your website directly, you can use a non-public staging environment to test the effects of new plugins and site redesigns.
Several plugins supply seemingly reliable staging environments – but not all of them are worth your time or money.
I will showcase and compare the five best WordPress staging plugins available and help you find the best of the bunch.
Best WordPress Staging Plugin: My Top Picks

BlogVault is a multi-purpose WordPress management plugin. While it is primarily sold as a WordPress backup plugin, it also offers a top-notch staging feature.
The plugin makes creating a clone site as easy as clicking the right button. The button is available right on the central dashboard, enabling you to set up a staging website in less than 10 seconds.
The plugin works correctly regardless of which web host you use because the staging website you create runs on BlogVault's cloud servers.
You can safely test your website updates and changes, and if you're satisfied, you can push changes to your live site in one click. In case you find some errors, you can also selectively merge changes on your staging site to your live website.
Over 400,000 sites employ the plugin for their backup and staging needs. The plugin's ease of use makes it an attractive option.
BlogVault also offers flawless site migrations and enables you to migrate your website up to 80% faster. The company guarantees 100% uptime and ensures that all of your backups have a 100% restore rate.
What's most impressive about the backup feature of the plugin is that backups are created daily and stored for 90 days regardless of what plan you purchase. This means you will have access to an archive of daily backups with a 90-day buffer.
You are billed annually, and all plans come with the staging feature, which is fantastic. There are four plans: Personal (for single-site owners), Small Business (up to 5 sites), Developers (up to 20 sites), and Agency (more than 20 websites).
Every plan has three tiers: Basic, Plus, and Advanced, and the pricing of the tiers varies according to the plan you get. The Basic tier for the Personal plan is priced at $7.40/month, and gives you access to backup, migration, and staging features.
The plan also enables automatic plugin, theme, and WordPress updates.
However, if you're looking to add features like built-in malware scanning and removal, login protection, real-time backups, and a 365-day backup archive, you will need to purchase a higher tier.
But overall, if you're looking for a staging plugin that also offers a host of handy features for cheap, BlogVault is perfect for you.
Pros
Excellent pricing
Staging is made fast and easy
Host of useful features
Seven-day free trial available
GDPR ready
Cons
Best features only come with higher-priced tiers
No free plugin

WP Staging addresses the fact that tons of WordPress setups are left outdated because users are afraid that updates will break their website.
WP Staging is available for free and allows you to test the effects of updates in a secure and unindexed environment. All you need to do is install the plugin and click on the "Create New Staging Site" button.
The plugin can take a few minutes to create an exact copy of your website, but it typically takes only a few seconds to do its job.
There is one downside, though. Unlike BlogVault, the plugin creates a clone of your website in a subfolder of your WordPress site. The clone includes a full copy of your site's database.
In addition to being easy to use, the plugin also makes the cloning process convenient. All serialized links and paths of your website are automatically searched for and replaced, and time-consuming file and database copying is done in the background. The plugin will not get in the way of the functioning of your website.
You also don't have to worry about your web hosting, since the plugin works on smaller shared servers just as well as it works on larger dedicated servers.
Staging websites are protected by login credentials, which, coupled with the no-index header, ensures that your staging site remains undetected by search engines. It will not affect your ranking or SEO.
The free version proves sufficient for most users, but if you want the convenience of being able to push a tested staging site directly to your live site, you will need to purchase the premium version.
You must pay a one-time fee of between $101 and $564, according to the number of WordPress sites you want the plugin for.
Updates and support are free for one year, and if you want access to updates and support after your first year, you will need to purchase the plugin again.
Pros
One-click staging, fast cloning
Easy to migrate
Feature-loaded free version
WordPress multisite compatible
Secure
Easy to define user roles
Cons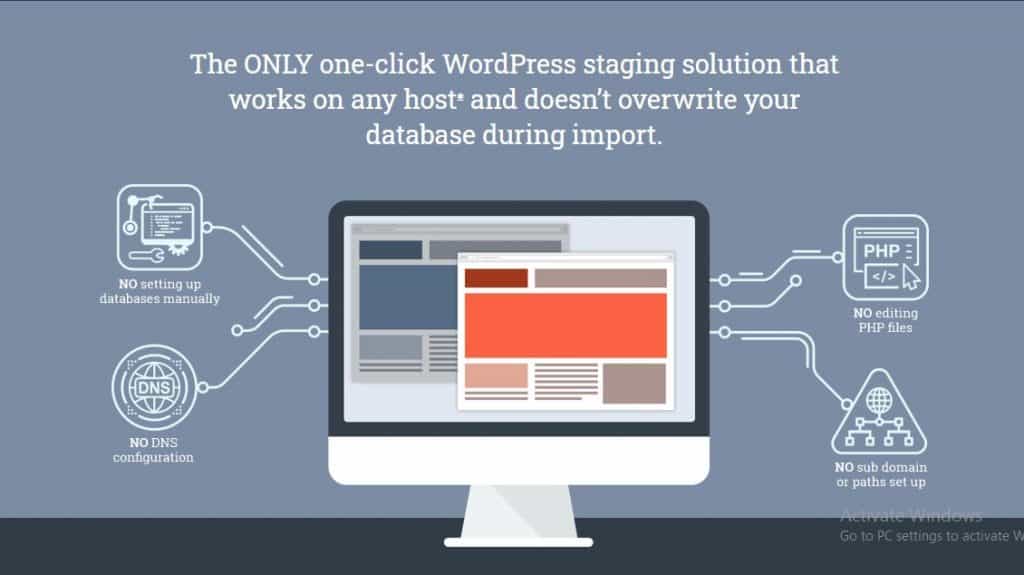 WP Stagecoach signed on its first customers in 2014, and it has since come to be known as one of the most reliable WordPress staging plugins available.
The plugin does a number of things to enable you to create a staging website quickly and easily.
With WP Stagecoach, all you need to do is set a URL where you want your staging website to appear. Clicking on the "Ride the Stagecoach!" button will create a staging website in seconds.
The plugin speeds upstaging site creation by hotlinking images from your website.
But some web hosts block this feature, which leads to images disappearing from your website. The developers realize this and supply an easy to access "Disable Hotlinking" option.
Any caching plugins you install will also be exported to your staging website by default. But a lot of times, these plugins tend to break your website when the URL changes. You don't have to worry – caching plugins can be disabled from your staging website in one click.
The plugin's importing features are just as impressive. WP Stagecoach never overwrites your site's database – it merges them. It ensures that you never lose any content or functionality on your live domain when you migrate a tested staging website back to your live site.
Your website will continue to collect orders or registrations flawlessly, even after you import your staging website.
One of the best things about WP Stagecoach is its "Revert Files" feature. If your automatic migration doesn't go as planned, you can revert to the previous state of your website.
While an automated database revert feature is not available (yet), an option to restore database file manually is available.
The pricing ranges from $12/month to $45/month, and the five-day free trial allows you to get a feel for the plugin. Since there is a money-back guarantee, your purchase is risk-free.
Pros
One-click cloning and migration
Files are imported in chunks – works well for slow servers
Hotlinking feature speeds up the migration
Revert feature available
Great pricing
Cons
No free version available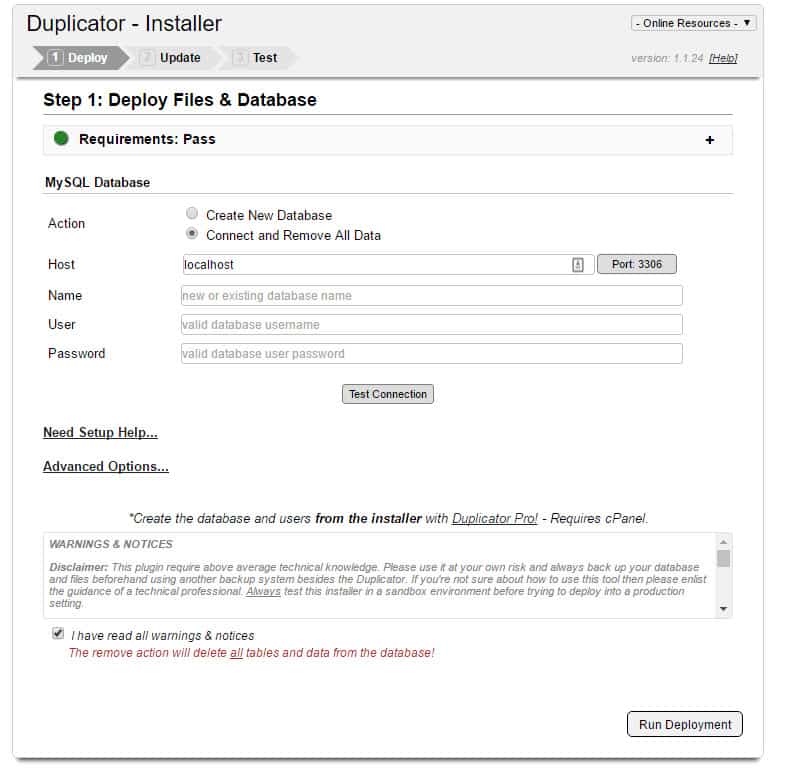 Duplicator is an open-source tool that supplies several premium features for free.
The plugin has been downloaded millions of times and has an excellent rating – all for good reason.
You can move, migrate, or clone a site between domains and hosts for free. But that's not even the best part.
The plugin can do all of that while ensuring zero downtime.
Duplicating a live site to a staging area or vice versa is made easy with the tool. It has a simple interface, but that doesn't take much away from its utility.
Duplicator also has an alternative use. You can package a WordPress website for easy distribution or reuse. The package bundles everything on your website – the themes, content, plugins, and the database, and compresses it into one simple zip file.
You can then use the zip file to move your website to another location on the same server or to an entirely different server.
The Pro version on Duplicator adds tons of useful features, including scheduled backups and cloud storage. With Duplicator Pro, you can migrate a multisite WordPress network in one go, and connect to cPanel directly from the installer.
There is one downside to getting the free plugin – you will not get personalized support and will need to post support questions on their WordPress forum.
Personalized support is available for Pro users, and considering that the plugin starts at a low price of $59, buying it to clone and backup your website makes a lot of sense.
Pros
Cloning is super easy
Scans for issues before packaging
Excellent free version
Cons
Scheduled backup feature available only with Pro version

While All-in-One WP Migration is a migration plugin, it is reliable and doubles as an excellent staging tool.
Its interface is neat and minimal, which is very impressive, considering that it is an open-source plugin. Staging is not direct, but all you need to do is export a copy of your website, which happens quickly, and use a non-public site for testing.
The plugin gives you a bunch of nifty options that enable you to exclude files that you likely don't need on your staging site.
To exclude files like spam comments and the database, all you need to do is uncheck the right option. You can also find and replace specific details from the export file, such as usernames.
You can use the plugin for free for any number of websites, but you must keep in mind that cloud storage is a feature that you will need to pay for.
All-in-One WP Migration takes a modular approach – while the main plugin is free, adding features such as multisite support and cloud-storage support requires you to purchase an extension from ServMask's website.
The extensions are expensive, and pricing starts from $99.
Another downside is that if your website is larger than 512MB, the free plugin will not export it. You will need to purchase at least one paid extension to unlock larger export sizes.
Though staging using the plugin requires a little manual effort, it is reliable and free to use, making it one of the best WordPress staging plugins for smaller WordPress sites.
We did a detailed tutorial on how to use this plugin here.
Pros
Breaks website into chunks
Excellent interface
Exported sites protected by original site credentials
Cons
Importing overwrites everything on live site
Expensive extensions
---
Must-Have Features in a Staging Plugin
Speed and Ease of Use
The plugin must have an intuitive interface and take no longer than a few minutes to stage a site.
Security
Password protection, SSL encryption, and reliable server security are a must, considering that hackers are always on the lookout for weak websites.
Reasonable Pricing
Staging and testing can save you a lot of hassle, but it doesn't need to be expensive to carry out. The best staging plugins are affordable.
Smart Staging
Merging features are a good indicator that a plugin is reliable and useful. Merging shortens import time and ensures that existing features on your live site function correctly post-import.
Additionally, the plugin must ensure that your website remains hidden from search engines, so your content is not marked as plagiarised. It ensures that your ranking and SEO remains unaffected.
---
Verdict: Which Is Best?
WP Stagecoach impresses with a neat interface, and it never overwhelms beginners. Veteran webmasters also get a handful of advanced features that enable fine-tuned staging and testing.
Pricing is cheap, and the free-trial and money-back guarantee makes signing up convenient and reassuring. While the support could be a little better, it is not a deal-breaker, and since it offers an array of excellent features for as little as $10/month, WP Stagecoach is the best WordPress staging plugin available.