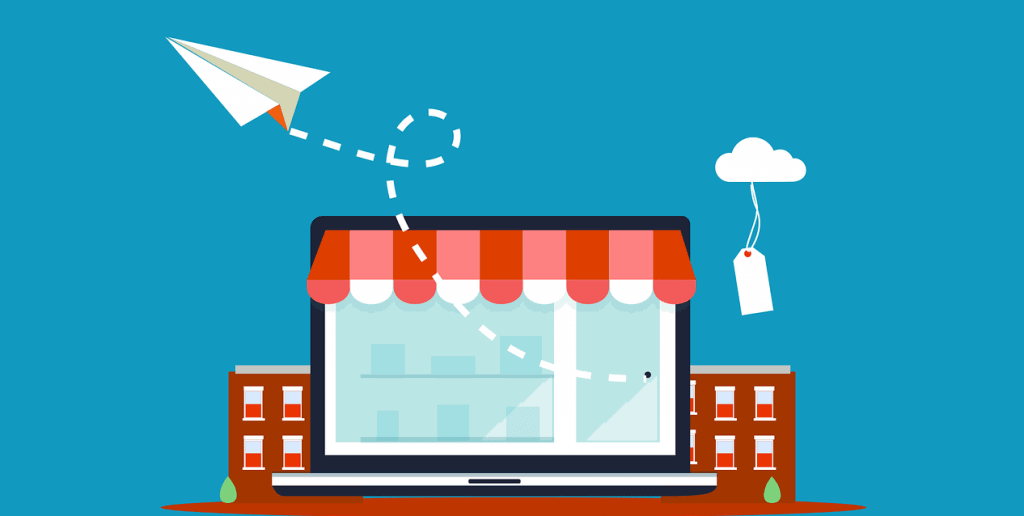 Amazon is trusted globally and accounted for 13.7% of all online purchases in 2019. The platforms' popularity is only rising, and tapping into growing demand is a proven formula for making money.
But the tools that Amazon provides to its affiliates offer minimal functionality, which makes adding product links to hand-curated content very difficult.
While the Amazon SiteStripe toolbar does enable inserting text links, the images it inserts never look quite right, and the process of adding a table of products is needlessly complicated.
Using third-party Amazon WordPress plugins makes adding product images and descriptions to content super easy. Some plugins also enable you to insert product reviews and pricing details.
But finding the best plugin to use requires hours of research.
Don't worry, I've got you covered there.
I will review the top Amazon WordPress plugins available, discuss the pros and cons, and determine the best plugin available.
Best Amazon WordPress Plugins: My Top Picks
If you're looking to speed up your link adding process for free, you can use EasyAzon. You can download and install the plugin from the Plugins section with ease.
Post activation, you will need to provide the plugin with your Access Key ID and Secret Access Key to make it work.
The free version is super basic – you can only add text links. But since a dedicated EazyAzon button appears right in the Posts section, it makes adding links a lot faster.
The Pro version costs $47 and enables tons of features, including automated link cloaking and link localization.
With the Pro version, you can add product images, information blocks, locale-specific "Buy on Amazon" buttons, and links to the search results of the specific terms.
The plugin also enables prompting users to add items to the shopping cart after they click the link.
Making the links "no follow" and enabling visitors to open links in new tabs is as easy as checking the right option.
The free version is lackluster, but the Pro version offers a robust set of features that makes affiliate marketing Amazon products a lot easier.
Pros
Feature-loaded Pro version
Decent pricing
Cons
Very limited free version
Free version uses shortcodes and not markup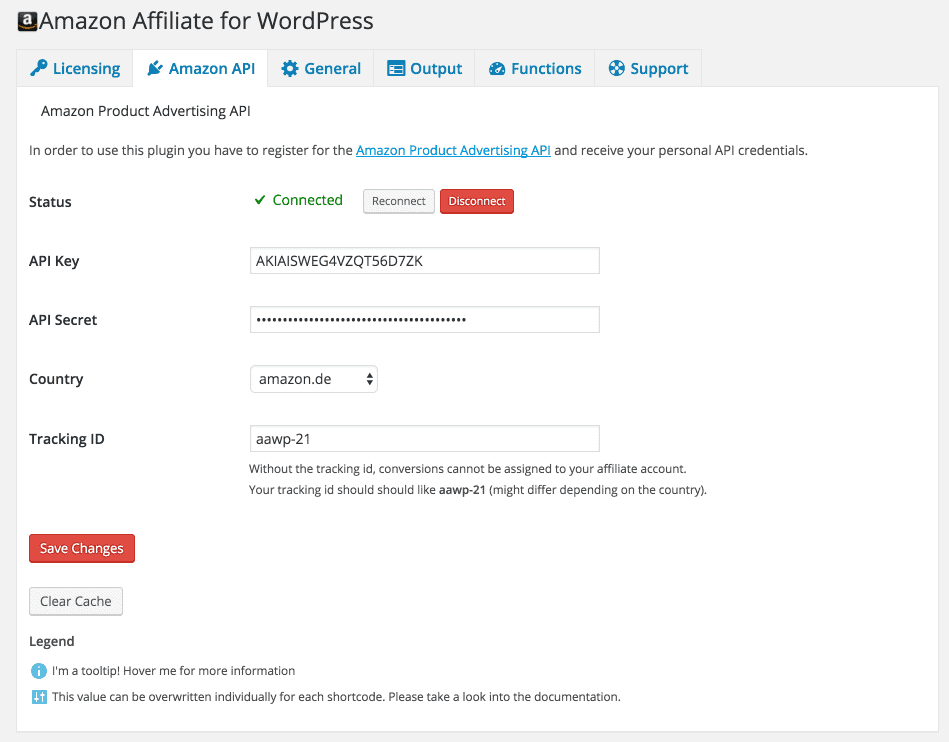 AAWP is one of the best-known Amazon affiliate plugins in the industry, and it does live up to its reputation. 
It has a neat and attractive interface that makes using the host of features it offers super easy.
In addition to enabling you to add text affiliate links faster, it also allows you to add striking product boxes. These boxes have all the details about the product, including the description, price, and images. A CTA is also included in the product box.
AAWP also enables you to add a data field, which fetches specific pieces of information from Amazon. For example, you can add a field that fetches the most recent price of a product.
While it includes standard features like product comparison tables, features like the geotargeting and caching are what make the plugin stand out.
Ensuring that the visitor gets redirected to the product listing in their locale and that the product information is served quickly makes for better user experience.
The attention paid to user experience, and the aggressive pricing (starting at $44!) make it a winner in my book.
Pros
Excellent features
Great value for money
AMP-compatible elements
Cons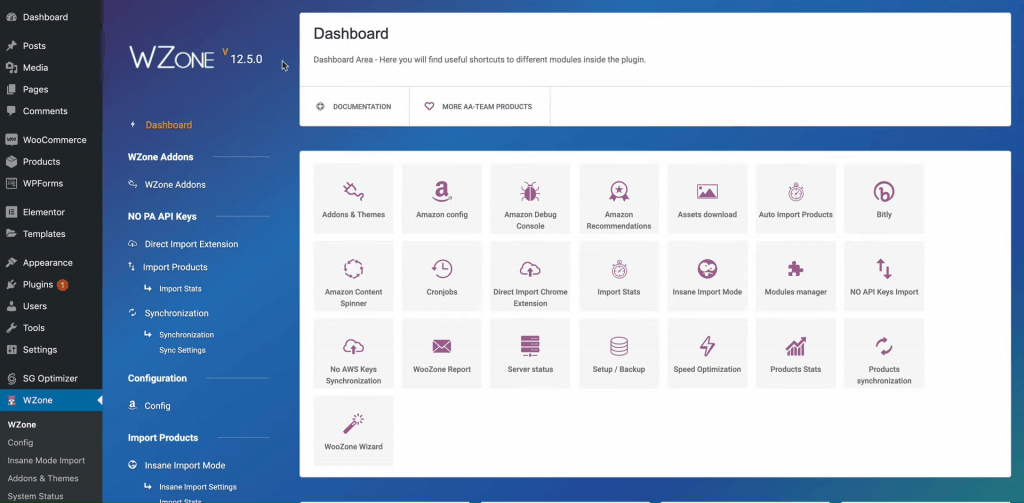 If you're not going the blog route and want to create a shop to sell products in your niche, WooZone can make things a lot easier.
The plugin makes connecting your WooCommerce store with Amazon simple. Essentially, you can make money in two ways with this plugin.
The first way is to configure your website to sync products from Amazon to your website automatically. They will appear as WooCommerce products, and when a visitor adds an item to their cart, they will be redirected to Amazon to check out. Of course, you will get an affiliate commission for the sale.
The second way to make money is to create a dropshipping-style model. The visitors will buy the product from your site, and you must then order from Amazon and ship it yourself to fulfill their order.
While this takes effort, you have better control over profit margins.
The plugin includes everything you would need to create dropshipping-style websites.
You can add and sync products without an API key, use the automatic content spinner for descriptions, and target audiences in different locations with ease.
It is priced at $49, but you get more than your money's worth.
Pros
Auto-product sync
Detailed reporting features
Cons
Can slow down your website
Slightly high price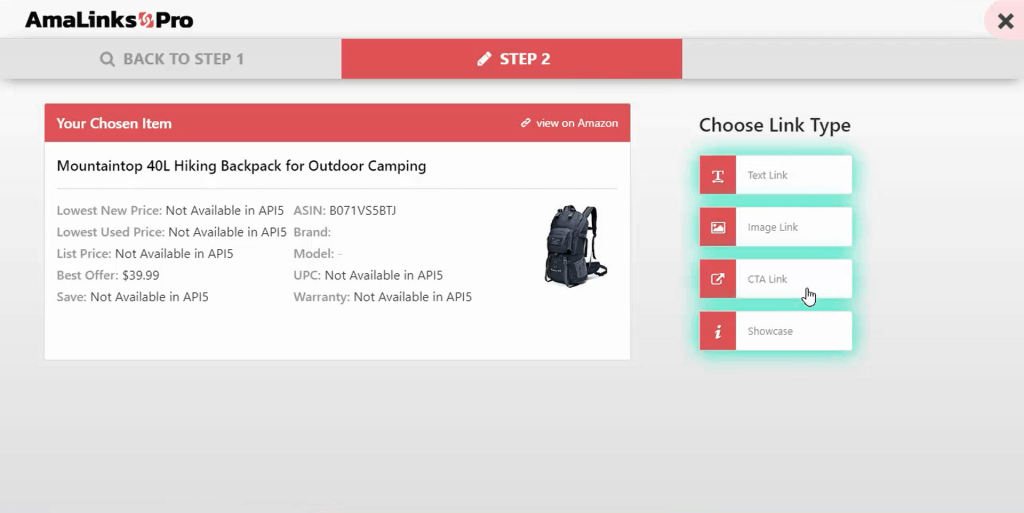 In addition to making the insertion of text and image affiliate links faster, AmaLinks Pro also enables you to add entire product showcases to your website.
Creating any type of link is super easy – you simply navigate to the post or page you want to add the link in and click on the AmaLinks Pro button above the classic WordPress editor.
A new page will open up, and you can search for the product via keyword or ASIN. After choosing the product, you will see all of its details, and the plugin will display the link options on the right side of the screen.
The links have editing options. For example, in a showcase link, you can hide individual elements and also edit any text in the showcase.
All the content in the showcase, including the description and the price, is frequently synced with Amazon. It ensures that you never face any compliance issues.
The plugin is expensive, starting at $67/year, but every purchase includes the Table Builder plugin, which makes creating attractive product tables that fit your taste simple.
The plugin works perfectly with Gutenberg, which is a huge plus.
Pros
Easy to use
Table builder plugin included
Cons
Expensive pricing
No trial version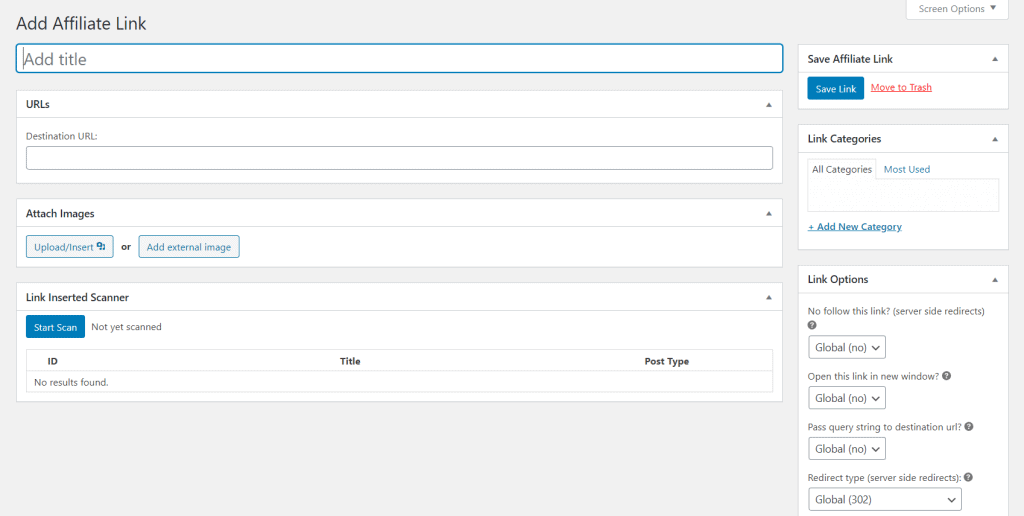 If link cloaking and link management is something your website lacks, the ThirstyAffiliates plugin is exactly what you need.
It enables you to cloak your long and unattractive affiliate links, with shorter, more personalized links. Cloaking your link with the plugin also makes your website more secure, since your links will no longer be susceptible to scraping by malware.
The plugin also enables you to categorize your links, and add images to your affiliate links to make them more attractive.
The Pro version is affordable at $49/year and adds features like advanced statistics reports, CSV import/export, auto-keyword linking, and much more to the already impressive plugin.
Pros
Polished Gutenberg block
Customizable URL prefixes
Auto-link fixer replaces bad links
Affordable pro version
Cons
No WooCommerce integration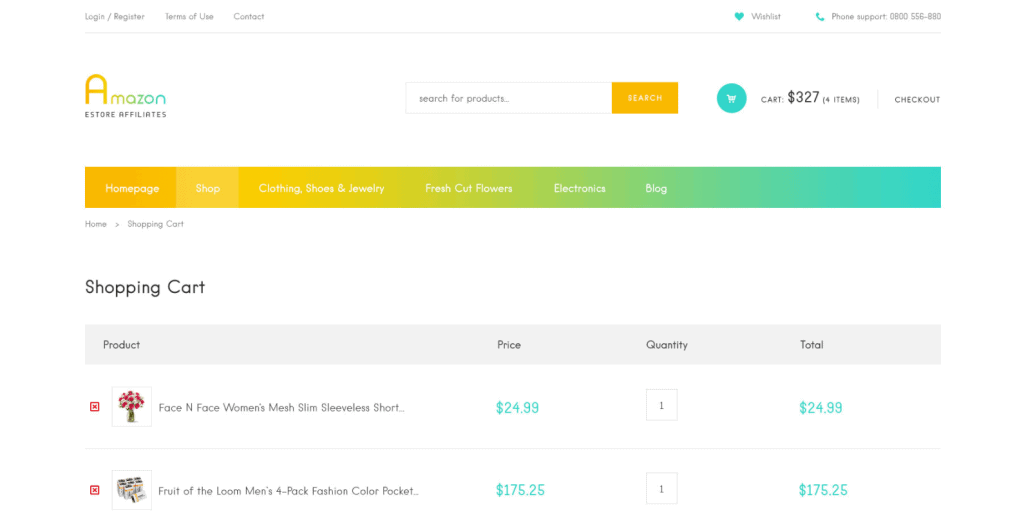 Although the plugin will only set you back $39, it offers a ton of features that can help you create a successful Amazon product store.
While the plugin works perfectly with every theme, it comes with its own theme that you can optionally install and use.
Importing products in bulk is possible without the API keys, and users can leverage the geotargeting and synchronization modules to ensure that content is relevant and up-to-date.
Auto importing products, fetching remote images, adding checkout emails, and using the content spinner module makes your affiliate marketing process a whole lot more efficient.
The advanced stats module and the on-site cart module enable you to optimize your WooCommerce-based Amazon product site for maximum profits.
Pros
Excellent value for money
Facebook integration
Fantastic product image gallery features
Cons
Too complex for beginners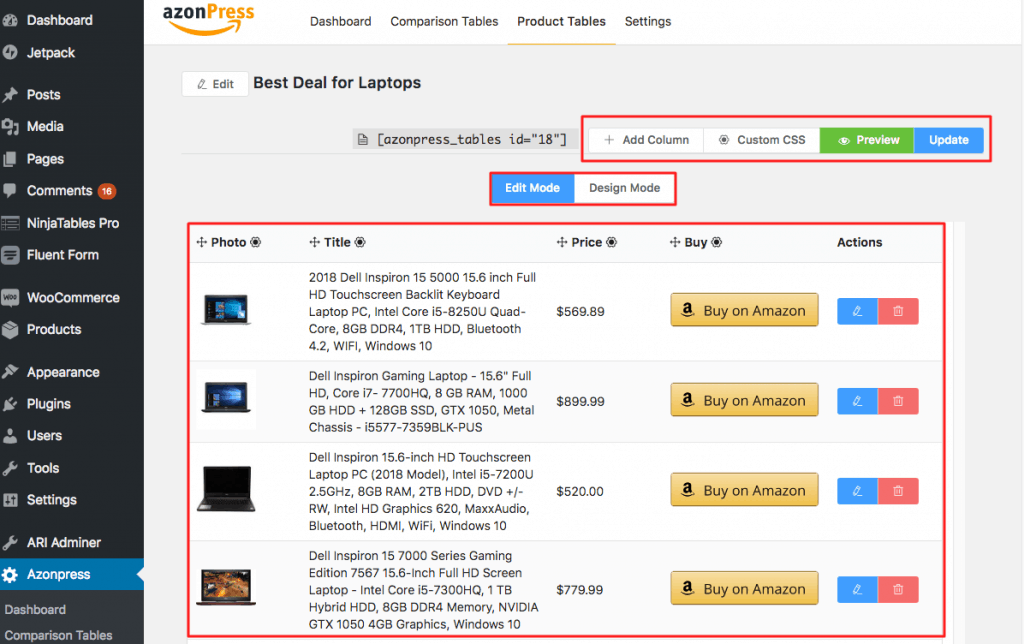 Striking presentation is critical to making a sale as an Amazon Associate – the developers of AzonPress leverage this fact.
Adding text and image links is made simple, and the plugin also enables users to add striking product grids, lists, and single product boxes with ease.
Additionally, the plugin makes selling blog visitors on products a breeze with the beautiful comparison table they help create.
But there's a lot more to the plugin than just pretty elements.
It supplies geotargeting features that help you convert visitors from all parts of the world, and its template designs speed up the marketing process without compromising on quality.
Considering its features and the $39 price, the plugin is the best value for money option on this list.
Pros
Comes with templates included
Supplies several ways to add affiliate links
Great value for money
Cons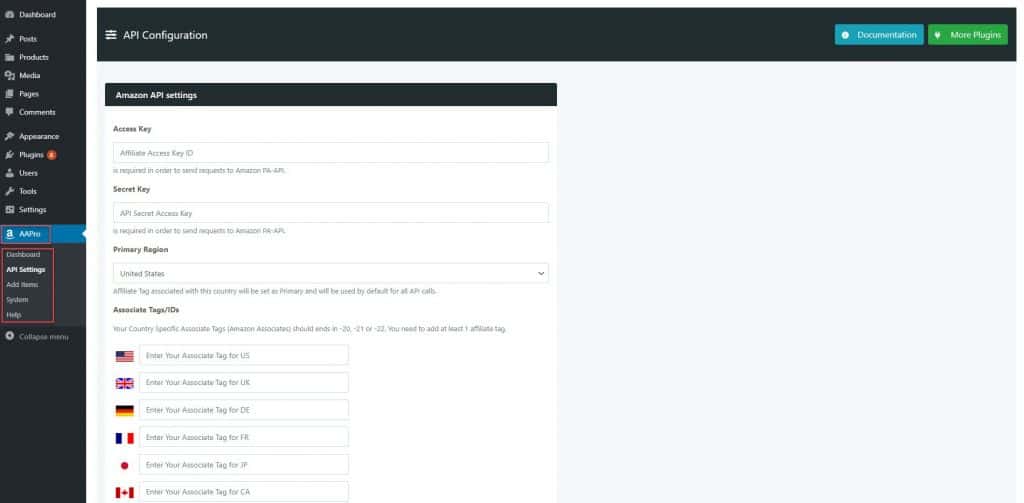 Although AAPro is cheap at $29, it makes no compromises in the quality of the store it creates. The plugin provides you with multiple ways to import Amazon products to your store. 
Visitors can browse through the catalog of products, but when they purchase a product, they are redirected to Amazon to complete the purchase.
The plugin enables you to add to the visitors' experience by using features like wishlists, price alert notifications, and the remote add-to-cart feature to your website.
The built-in analytics dashboard lets you track your best-performing products and helps understand why other products aren't selling well enough.
While AAPro comes with a WordPress theme, but using it is optional. It will work with all other WooCommerce themes without any hassles. 
Overall, the plugin is worth every penny.
Pros
Affordable
Feature-loaded
Comes with theme
Cons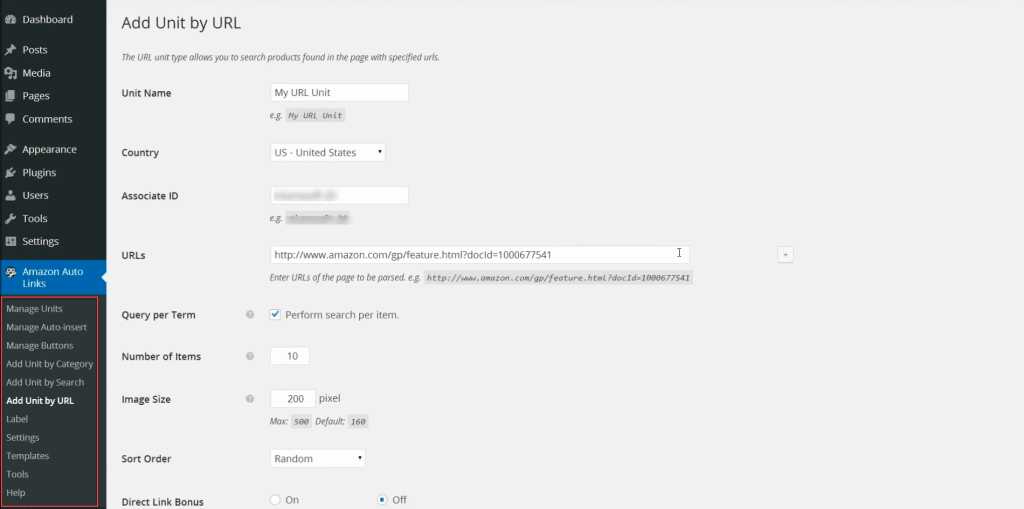 Amazon Auto Links makes adding products to your website simple. It uses the latest Amazon API, and although it's free to use, it has an impressive set of features.
You can insert specific products or add a feed that displays products sorted by category.
The plugin also enables you to add products from a search query on Amazon.
You have full control over the links you add – the plugin has shortcode parameters that you can use to change the size of the product image in your link. It can also be used to alter text and change the length of the description.
Amazon Auto Links supports all locales, meaning you can convert visitors from all around the world without any hassles.
For a free plugin, Amazon Auto Links offers a lot of value.
Pros
Simple and easy to use
Free of cost
Cons
The interface could have a better design
---
How To Choose an Amazon Associates Plugin for WP
Starting out as an Amazon Associate, you will need to make three affiliate sales before you get access to the API.
You must look for plugins that enable you to add Amazon links to your website without the API.
Feature-richness and value for money are two other things you should look out for.
While most plugins on this list have a free version, the best features are locked behind a paywall.
So you must ensure you understand the limitations of the plugin and its plans before you spend any hard-earned money.
---
Verdict: Which Is Best?
AAWP is the best Amazon WordPress plugin because it is both affordable and feature-rich.
Learning to use it is super easy, and it gives you access to all the features you will need to make profits marketing Amazon products.
Also make sure to bundle an Amazon plugin with an Amazon-focused theme for the best results.