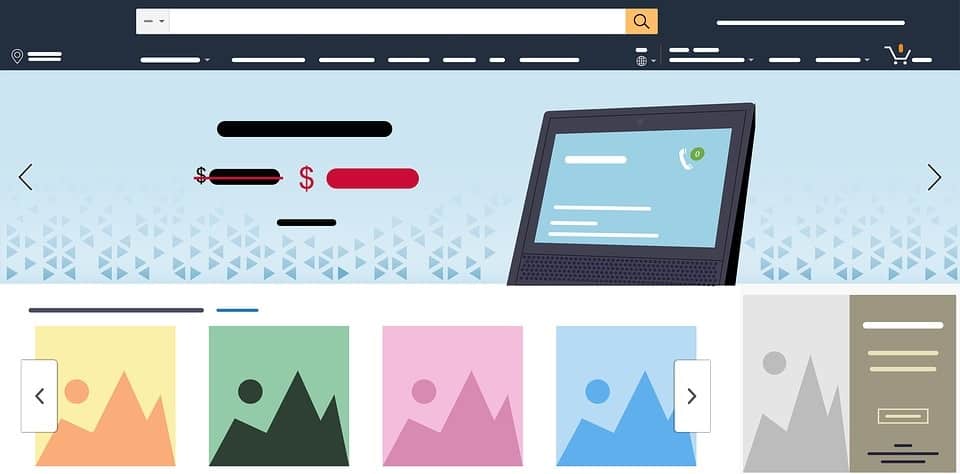 Affiliate marketing is undoubtedly one of the best ways of making money online. No other industry enables you to tap into a multi-trillion-dollar market from your couch.
There's no beating Amazon when it comes to market share in the eCommerce space – it generated $280.5 billion in the last year alone. The company is trusted globally and has a catalog of millions of products that you can sell for commissions.
It is one of the best companies to affiliate products for!
But successfully selling products requires you to have a beautiful website. Although there are tons of WordPress themes that you could use, most of them look shabby or downright sketchy, and are not worth your time or attention.
However, you don't need to spend hours looking for the best themes – I've done that for you.
Here's a hand-curated list of the best Amazon WordPress themes available.
Best Amazon WordPress Themes: My Top Picks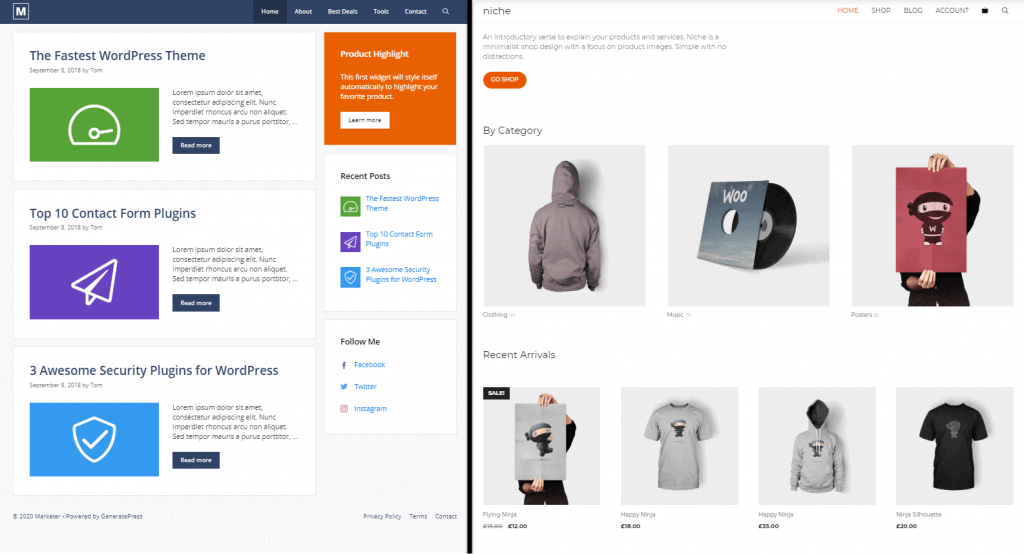 GeneratePress is a powerful multipurpose theme that enables you to market products by blogging and by creating a shop website.
While the core theme is available for free, no compromises are made to security or quality. It is lightweight and has a size of under 30KB, which boosts website performance.
The theme does not have any dependencies, and jQuery is switched out in favor of vanilla JavaScript. Your website will never have any render-blocking issues.
GeneratePress is SEO-friendly and accessibility-ready by default, but purchasing the premium version unlocks a slew of advanced features that make creating your affiliate marketing site easier.
Coming in at $49.95, the premium version gives you access to the GeneratePress Site Library, which has almost three dozen templates that you can customize to make your own.
The premium version also makes the theme a lot more customizable by adding tons of color, typography, and spacing options.
It gives access to dozens of unique elements and various menu styles, making it the most customizable theme on this list.
Pros
Works with Gutenberg
WooCommerce integration
Excellent pricing and support
GDPR ready
Cons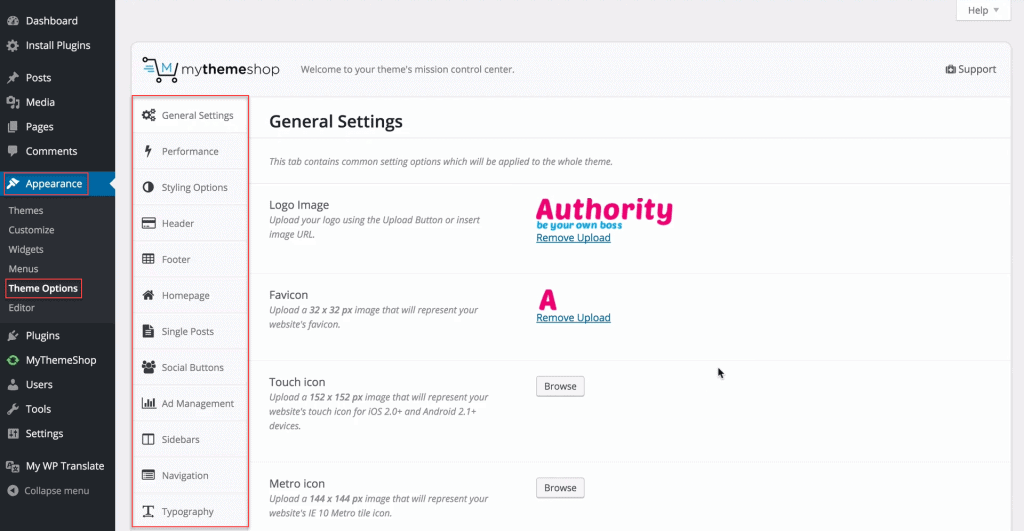 Authority is flexible – its design enables you to build a blog in any niche without much hassle. The theme is inspired by Matthew Woodward's website, which is a super successful marketing blog that drives six-figure profits every year.
Matthew himself has endorsed the theme – which only fortifies my positive opinion. It has a Pingdom performance grade of 100/100, and the demo loads under half a second, which is super impressive.
You can import any of several theme templates right from the theme options in only a few clicks, and the premium design of the templates speeds up the blog design process multifold.
All you have to do is add the required details, and your blog will be ready to make you profits!
While you can use the templates right out of the box, the theme enables you to make customizations using its custom Theme Options menu easily. Your website will meet design requirements and also match your taste.
MyThemeShop prices it at $69, and gives you a license for three websites. The price tag may seem high, but the convenience and features the theme offers makes it worth the cost.
Pros
World-class performance
Six website templates
Excellent customization options
Cons
High price
No lifetime access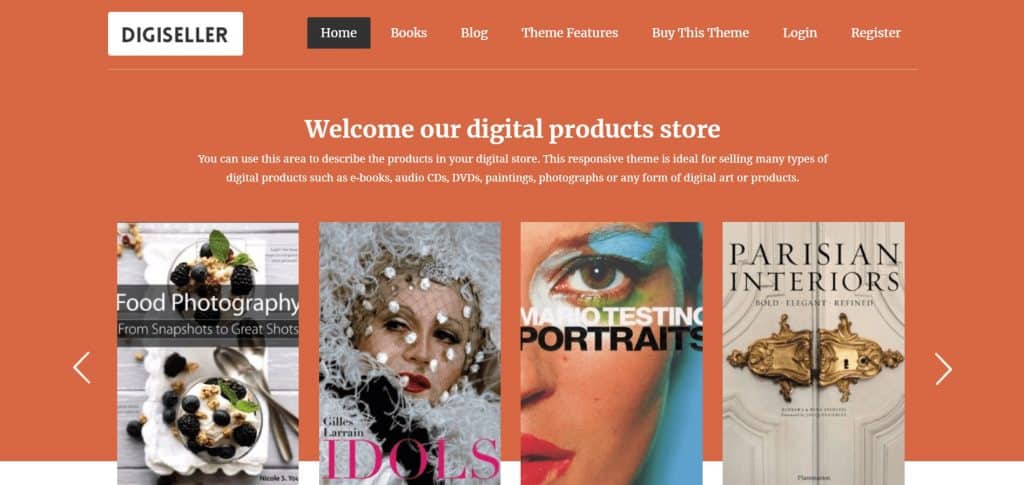 DigiSeller by Templatic enables you to create a personalized portal for selling books. You can list books and make commissions from Amazon for every sale.
The theme impresses me because it enables you to make commissions selling both physical copies and eBooks.
In addition to adding your Amazon affiliate links, you can also add links to other websites like Barnes & Noble that offer commissions for marketing books.
Once you install the theme, it will look exactly like the demo on their website. But the theme is customizable, and you can give the design your own spin.
DigiSeller is responsive and mobile-friendly out of the box and comes with features like a category-wise book slider and a catalog mode that makes displaying your best-selling products and converting visitors a breeze.
A PayPal gateway comes included, making it possible to partner up with authors and market books for direct commissions.
Although the theme is primarily made for books, you're welcome to sell other products with it – all you have to do is import different products from Amazon.
Coming in at $59, it is a solid niche-focused premium theme that affiliates can make great use of.
Pros
Super customizable theme
One-click install
Lifetime usage license
Cons
Slightly high price for what you get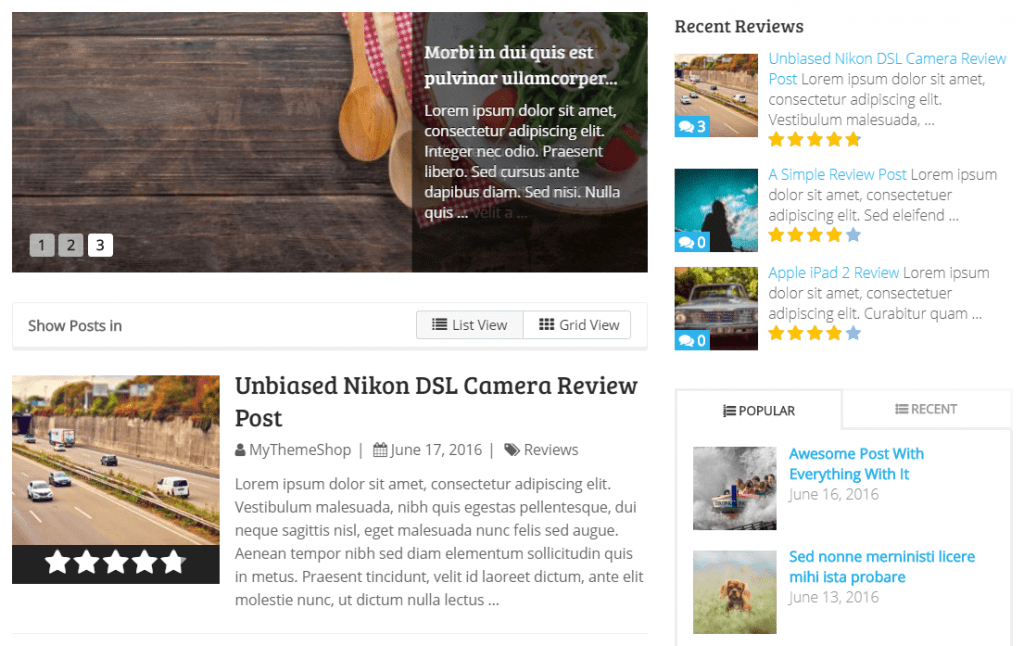 Splash is another excellent theme by MyThemeShop that enables you to create a next-level blogging site that maximizes content impact and boosts conversions.
Regardless of what kind of products you want to sell, the built-in rating system makes your review posts look a lot more enticing.
Splash is 100% responsive, gives you access to eight beautiful templates, unlimited color options, over 630 fonts, and translation settings right from its extensive Theme Options panel.
The panel also enables you to customize your homepage to your liking, and the theme has social media buttons integrated, allowing you to leverage social media without needing to install a plugin.
Splash comes in at $59, but it offers additional value in the form of the 13 plugins and 20+ shortcodes that come packed with it. The WooCommerce integration enables it to double as an eShop.
Prefetching and lazy loading options are baked into Splash, making it the best-rounded theme on this list.
Pros
Eight attractive templates
Several plugins and shortcodes
Excellent value for money
Cons
Too complicated for complete beginners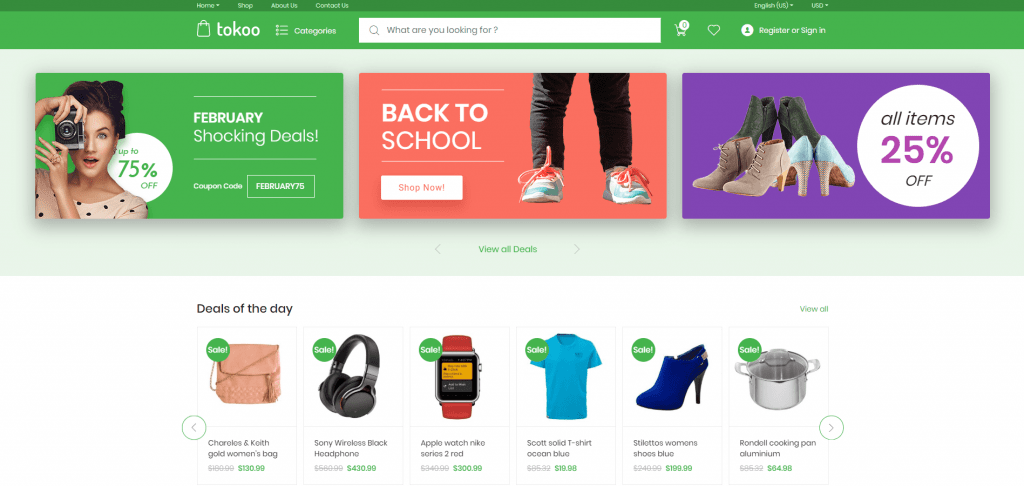 If you're looking to market products by making a polished eCommerce website, the Tokoo theme is perfect for you.
Right after install, it makes your site look like a top eCommerce portal. It mimics all the design traits effortlessly – it barely has any whitespace, has a smaller font, simple headers, excellent navigation features, and a clean checkout page.
The design is super slick, and the theme lets you give it a personal touch with its customization options.
You can pick from the five different homepage templates, or use the 17 blocks that come with the theme and stitch up your own.
Tokoo also comes with four different header styles and features a separate mobile header that you can also customize.
The theme is slightly heavy, but making it load under three seconds with the right plugin shouldn't be a problem.
For $59, the theme is a steal considering all you get.
Pros
Host of customization options
Excellent appeal right out of the box
Cons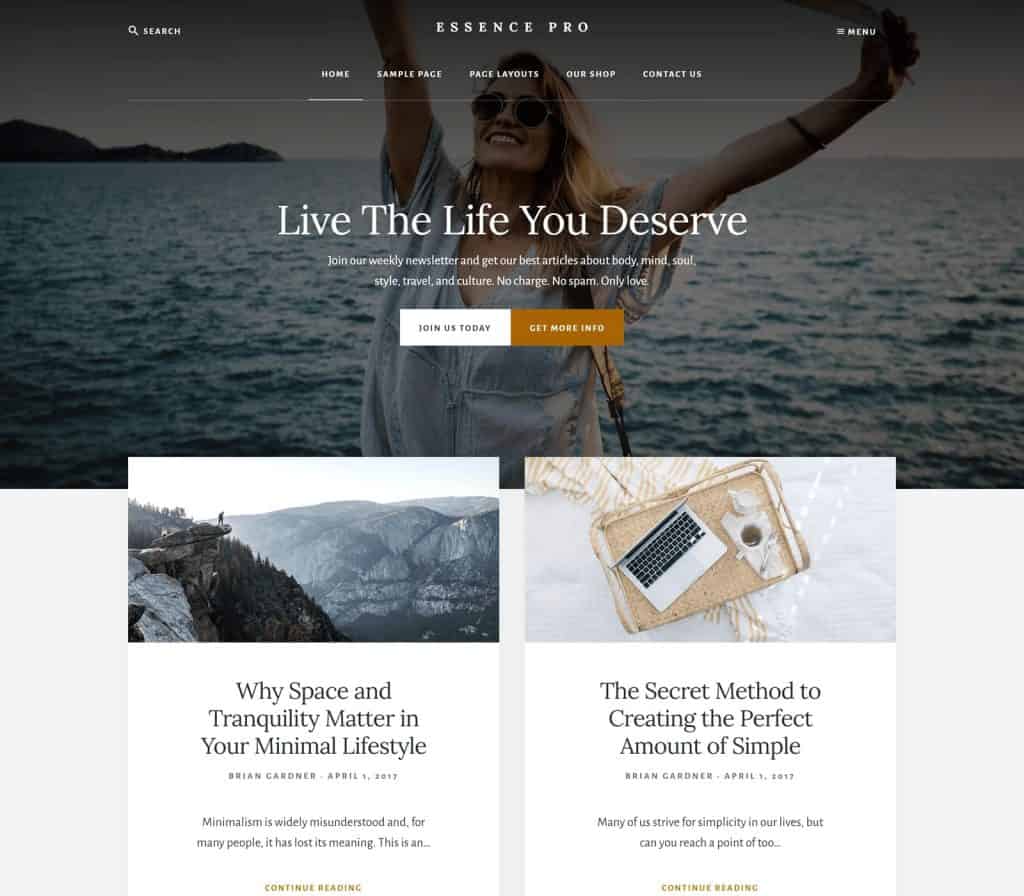 StudioPress's Essence Pro is perfect for bloggers that target audiences in health, wellness, and lifestyle niches.
The theme's design feels very warm and welcoming, and with the right content, you can nudge visitors into conversion with ease.
Essence Pro is accessibility-ready, mobile-responsive, and eCommerce-ready, making it the perfect theme for affiliate marketing.
It enables you to customize all visible elements without much hassle using StudioPress's Genesis Framework that comes with the theme.
The theme also works with Gutenberg, which helps make the design process a lot easier.
You get three premium plugins, tons of demo content, and an easy to use customization framework with the theme, which more than justifies the $129.95 price.
Pros
Translation and AMP-ready
Extensive layout and header customization options
Tons of additional features
Cons
The developers at Sizam Design specifically designed REHub for use by affiliate marketers. You get a ton of unique affiliate marketing tools that you won't find in other themes.
The theme offers the features you would typically get out of a premium theme that is coupled with a premium plugin. Adding product comparison tables that are synced with Amazon data is made easy using the Content Egg and the bulk import tool.
REHub also makes adding extended Amazon reviews and top review sections to your website possible.
The theme comes with over a dozen demos, each of which adapts to a different affiliate marketing model. You can use REHub to build anything from a review+community website to a coupon, deal, and cashback website.
You can also make a full-fledged store and redirect users to Amazon to finish the purchase post-conversion.
The custom Elementor modules, coupled with Gutenberg and Customizer features, give you full control over your website's look and feel.
Considering all you get with the theme, the $59 price tag feels underpriced.
Pros
11 bonus plugins
Amazon-recommended product
Conversion-boosting features
Cons
Too complicated for complete beginners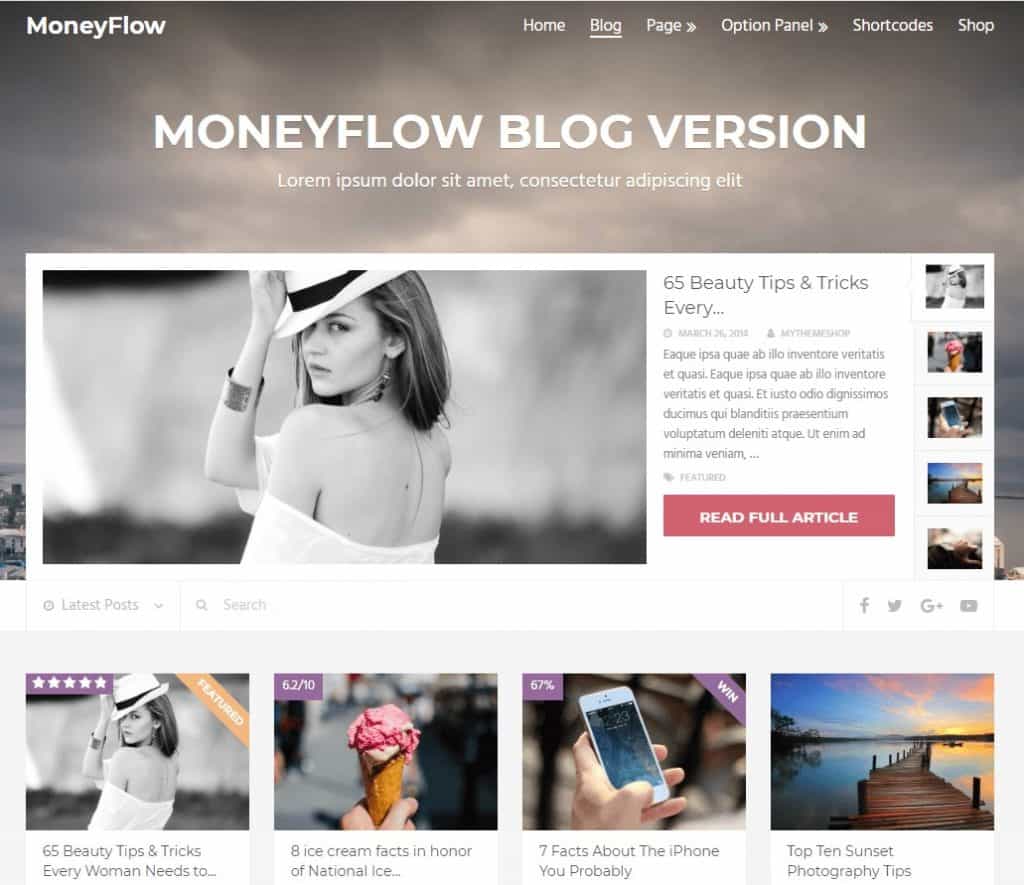 The modern-yet-professional aesthetic is super trendy at the moment. The MoneyFlow theme recreates the aesthetic perfectly, and you can create both blogs and eShops with it without any hassles.
In addition to now-standard features like translatability, SEO-optimization, and responsiveness, the theme also gives you access to slider sections and featured sections that help showcase your best posts.
Parallax scrolling and an AJAX search bar feature come integrated into the theme, which you can use with all three of its templates as you see fit.
You also get access to a slew of shortcodes and a powerful options panel that enables you to customize everything about the theme.
Spending the $59 for MoneyFlow makes a lot of sense if you're looking for a theme that helps your website go from concept to reality quickly.
Pros
Child theme support
Decent pricing
Cons
Comes with only three templates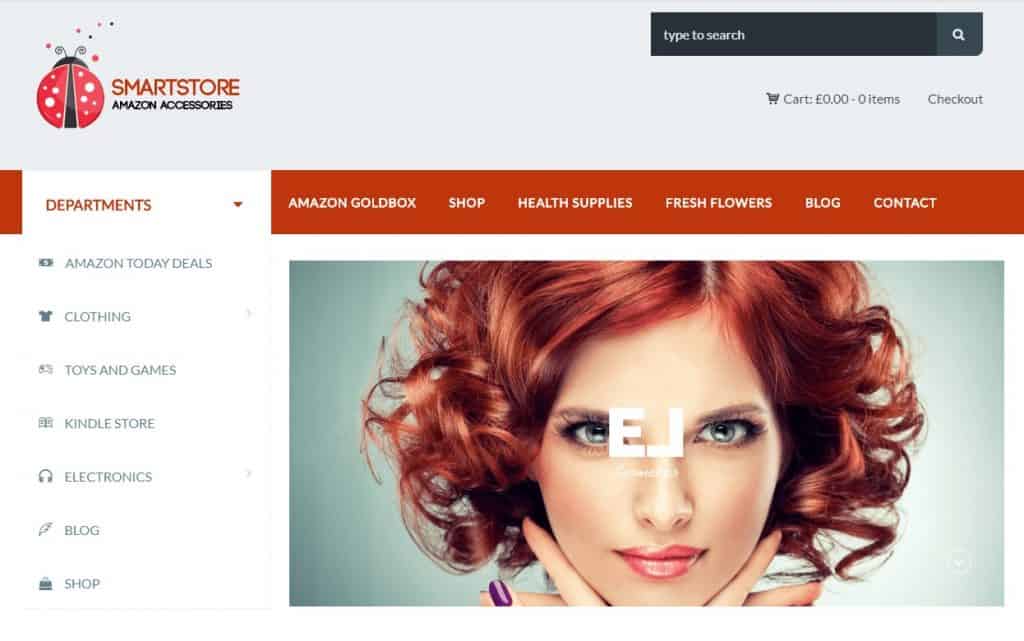 Niche-flexibility is a feature that very few shop themes pull off correctly. The Kingdom theme happens to be one of these themes.
Kingdom comes with eight templates that you can customize and make your own. 
In addition to the Theme Options, you can use Gutenberg and Visual Composer to customize the templates to your liking.
The theme comes bundled with Visual Composer, Slider Revolution, Premium SEO Pack, and Convert Plus plugins, making it a steal for $39.
Using WooZone with the theme supercharges it and enables you to add products quickly and easily.
Pros
Excellent pricing
Comes with four premium plugins
Cons
Overwhelming customization options.
If you're looking to market electronics from Amazon for a commission, there isn't a better theme to do it with than the Electro Electronics Store theme.
For $59, you get your hands on theme with an expertly-polished UI and a super-modern aesthetic.
In addition to being responsive, the theme is GDPR compliant and loads in two seconds.
You get access to a slew of customization options, templates, and element styles that make giving your website a personal touch easy.
Pros
Includes Electro Extensions plugin
Extraordinary design
Cons
Only fit for the electronics niche
---
How To Choose A Theme for Amazon Sites
You must first decide if you want to market products using a blog or create a portal for Amazon products.
Next, you must pick a niche – electronics, health and wellness, furniture – whatever you are knowledgeable about.
You must then ensure that the theme you get has a design that aligns with your niche. A flashy-looking theme will suit a clothing portal, but may not go well with a blog or an electronics shop.
Lastly, you must make sure that the plugin is compatible with Amazon plugins like WooZone because they make adding affiliate links and other elements to your website fast and uncomplicated.
---
Verdict: Which Is THE Best Amazon WordPress Theme?
Splash by MyThemeShop boasts a super polished design that can help you sell any product you want using any marketing model you please. 
It has eight beautiful templates that enable you to speed up your blog/eShop creation process, and it has a slew of customization features that allow you to make the theme your own.
It comes bundled with over a dozen premium plugins, which only make it worth your money that much more.