WordPress is one of the most powerful CMS's out there – but there's no denying that its customization interface could use a little work.
WordPress builder plugins like WPBakery and Elementor make theme customization much more intuitive and also add a ton of customization features that are not available on WordPress by default.
But getting a premium WordPress theme and a WordPress builder can get expensive.
Which brings forth the critical question: which of these two builders is worth YOUR money?
I will review both the builder plugins and compare their features to give you a definite answer.
| SERVICE | FEATURES | VISIT |
| --- | --- | --- |
| | Fast. Convenient. Popular. Customizable | |
| | More Features. More Elements. Easy to Use. Popular | |
WPBakery vs Elementor: Overall Review
WPBakery Overall
WPBakery's simplistic approach to designing a website is very refreshing. The user interface is elegant and neat, and you won't need to refer to the documentation to figure out how it works.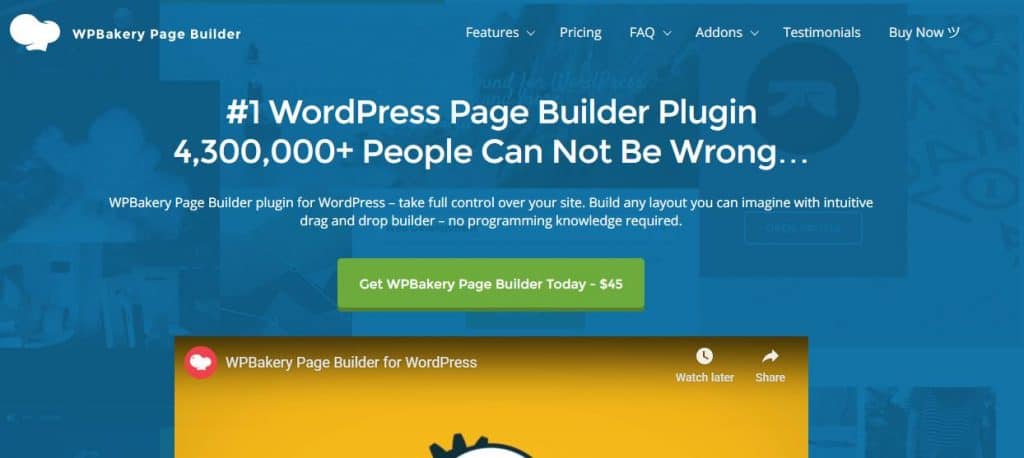 While the builder has a respectable set of features, the complete lack of marketing features is disappointing. Also, elements like pricing tables are not available for free, and you must pay for addons to get access to these.
But no compromises are made when it comes to supporting and documentation, and the pricing is more than fair for what you get.
Elementor Overall
Elementor gives users access to a modern and lively interface that makes designing a website fast and convenient. Complete beginners might find the abundance of features a little overwhelming, but after a few hours of use, creating a world-class website becomes second nature.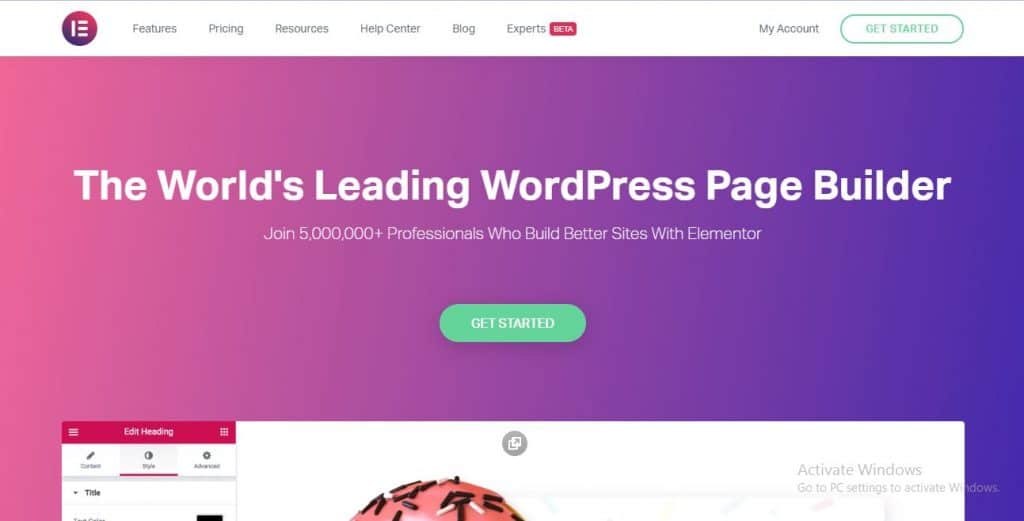 The marketing features, animation effects, and rich set of customization options give it a massive edge over WPBakery.
The cost works out a lot higher since WPBakery offers a lifetime license for the price that Elementor gives access to a single website license for one year.
But the excellent interface, copious features, extensive documentation, and fast support make it worth the money.
---
Features
WPBakery
WPBakery boasts that it can work flawlessly with any theme, which is excellent because it allows you to sidestep the frustrations that come with switching to a different WordPress builder only to customize a new theme.
Besides offering 50+ content elements, including post sliders, video players, masonry media and post grids, and a widgetized sidebar, the builder also provides a template library.
The template library is filled with professionally designed layouts that you can customize to your liking using the drag and drop interface you get.
The library is updated every week, and all the templates are free to use. WPBakery offers over a hundred pre-defined templates out of the box, which gives you an abundance of designs to pick from.
WPBakery allows you to create presets of element settings similar to the "save template" feature that Elementor offers, except that Elementor allows you to save a whole block of elements. In contrast, WPBakery only lets you save a single element's style.
Besides offering new template layouts every week, WPBakery also offers add-ons that enable you to add features like animation effects, icons, and pricing tables to your website.
But there are no free addons, and you must pay for these features separately.
Another downside is that WPBakery doesn't offer any marketing features – not even a form builder.
The builder is WooCommerce compatible and ensures that regardless of if your theme is responsive or not by default, it will look great on both phones and PCs.
Compatibility-wise, there's not a lot to complain about. The builder plays well with SEO plugins like Yoast and marketing plugins like MailChimp, making for a hitch-free experience.
Multiuser and multisite network support are impeccable. Assigning roles to the various users that use your website is as easy as visiting the Role Manager section and checking the right options in the plugin.
The roles available are diverse, and your options include Administrator role, Editor role, Author role, Contributor role, and Subscriber role. The roles limit access to critical settings according to the user's profile, which is excellent. This feature typically ships with high-end themes, which makes WPBakery more impressive overall.
If you're familiar with CSS, you can customize your website's look by adding your own code via WPBakery, and a developer API to make addons is also available.
The builder comes with Google Fonts integration, giving all users access to a massive base of fonts, and a vast icon library also comes bundled with WPBakery.
The built-in image filters are unique, enabling you to change the feel of an image without needing to use an image editing software.
Using the video background and image parallax features are excellent ways to make your website more attractive. The Shortcode Mapper feature enables you to use third-party shortcodes directly in the WPBakery interface, making designing super convenient.
The support for multiple languages is a huge plus – you can customize any theme to appeal to any market with the included .po and .mo files.
Elementor
Elementor's feature set is a lot more polished than WPBakery's. The builder works with every theme and plugin, but it also includes bonus features that don't come with its competitors.
You can use the popup builder to design popups that are consistent with the theme of your website.
But that's not the only marketing tool that comes with Elementor.
A landing page builder, form builder, action links feature, countdown feature, sticky bar, and the star ratings and reviews feature make it a full-fledged marketing suite.
Where WPBakery offers a little over 50 elements, Elementor supplies over 80 elements, or "Widgets" as they call them. These include everything from essential elements like text and icon boxes, to advanced elements like animated headlines and navigation menus.
WooCommerce-centric elements like menu carts, product breadcrumbs, and custom add to cart boxes also come with Elementor.
The expansive template library boasts over 200 professional layouts with pixel-perfect designs, and new templates are added to the collection every so often.
The fantastic animation features, photo touch-up controls, and world-class shape dividers elevate your website's look to a whole new level.
The role manager only offers four roles: Editor, Author, Contributor, and Subscriber. But controlling access to parts of the website made as simple as checking the right boxes.
Overall, the rich feature-set gives it an edge over WPBakery.
---
User Interface
WPBakery
WPBakery gives you access to its editors from the Pages section of WordPress. Whenever you're making a new page, a WPBakery prompt will appear on top and give you two options: Backend Editor and Frontend Editor.
The Backend Editor will not divert you to the page you're designing and show you the effects of the changes you make in real-time.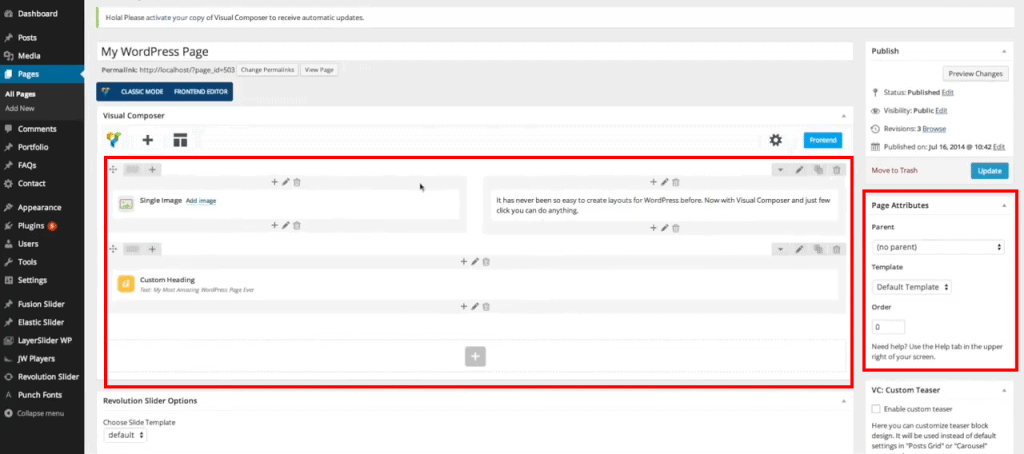 Instead, a tab will open up in the default WordPress interface, giving you a schematic mode view of your page. You can them make sections and rows and add content elements freely.
Using a backend editor is an older way of building pages. But, WPBakery justifies the inclusion of this feature by claiming it makes designing content-rich pages easier.
Sure, if you're writing a blog and want to, say, sell your own eBook amidst content, the Backend Editor can come in super handy and simplify designing.
But outside of that, most users will resort to the Frontend Editor.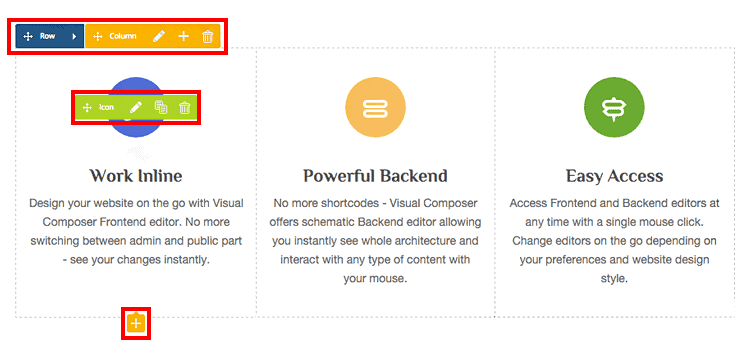 Compared to Elementor's UI, WPBakery is a lot more toned down in terms of aesthetics. It's not bubbly or modern, but its simplistic controls are super intuitive.
You likely won't need to read the documentation to learn to use it, and playing with it for an hour will make usage second-nature.
I find the interface impressive because it makes finding the right elements easy with the search bar and because there's no real use of the right mouse button.
Here's what I mean:
To delete or customize an element, hovering over it will present all available customization options, making editing a lot less complicated.
Also, it allows you to make a four-row section with ease. Doing this with Elementor is a complex process.
But one thing to keep in mind is that while using pre-built templates is easy, creating your own is not as simple as Elementor makes it.
Regardless, if you're a complete beginner with no knowledge of design or WordPress, I wouldn't hesitate to recommend WPBakery because it is so uncomplicated and intuitive.
Elementor
Elementor has a lively and modern interface that strikes the right balance between intuitiveness and ease of use.
In addition to making customizing pre-built pages easier, it also allows you to search for and add pre-built content blocks simple.
These features make the stitching together a unique website easy. Another great thing about Elementor is the templates feature, which allows you to store any new blocks you create for use later.
But making your own section with widgets is not as easy as it should be. You cannot search for widgets, say, text boxes, and insert it quickly like you can in WPBakery.
For a complete beginner, looking through the 80+ elements can be overwhelming.
But it's not all bad. The editor allows you to copy and paste styles, which can save you a lot of time. Here's what I mean by this:
If you change the color, font, and size of a text block, and want the rest of the text blocks on your website to use the same color, font, and size, you can simply copy and paste the style to those blocks.
The text will remain the same – only the look of the text will change.
The editing panel on the left is loaded with best-in-class design features, and far as feature-richness goes, Elementor is tough to beat.
But if you're a beginner, it will certainly take you longer to get used to the vast array of editing options you get.
---
Pricing
WPBakery
WPBakery is available for purchase on the company's official website. The Regular license is priced at $45 for use on a single site and comes with a six-month premium support period.
The Extended license is meant for use by SaaS applications and comes in at $245. Support for this plan is also limited to six months, but it can be extended to both plans if required.
There is no free version of WPBakery you can install on your website, but a free online demo is available on the official website, where you can try out all of the features and get a feel for the tool.
Lifetime updates are issued for all users at no extra charge, which is excellent. But the money-back guarantee is only valid for 15 days.
Users can also buy WPBakery on the Envato market for $64. There are no differences as far as features go, so make sure you buy from the official website to save some money.
Elementor
A free version of Elementor is available for download on their official website, but the features it offers are limited.
To unlock all features, including the Pro widgets, templates, WooCommerce builder, popup builder, and more, you will need to purchase one of its three plans: Personal, Plus, and Expert.
The Personal plan costs $45/year, giving access to Elementor for one site. You can get the $99/year Plus plan if you want to use Elementor on three sites, or the $199/month Expert plan if you need Elementor for up to a thousand sites.
You can access support and updates for one year, post which you will need to resubscribe to Elementor. It comes with a standard 30-day money-back guarantee.
---
Support/Documentation
WPBakery
You can find extensive documentation about WPBakery on the official website. It covers all the plugin features and has articles for developers looking to customize their website further.
Video tutorials are also available for complete beginners, and all users can get reasonably fast support using the ticket system.
Elementor
Elementor has a full guide about how to use the plugin on their website in addition to the regular documentation.
The company also has a dedicated page for developers where developers can find useful resources.
All users can contact the support team via the ticket system and access their dashboard if they get stuck.
---
Verdict: Which is Best?
The whole purpose behind getting a theme builder is to get access to features that weren't available before.
In this respect, Elementor is the clear winner – it offers more widgets, has a feature-rich interface, and supplies enough templates and blocks to ensure that every website you make looks unique and different from the rest. The pricing is a little high, but the features you get access to will make you your money back and more.