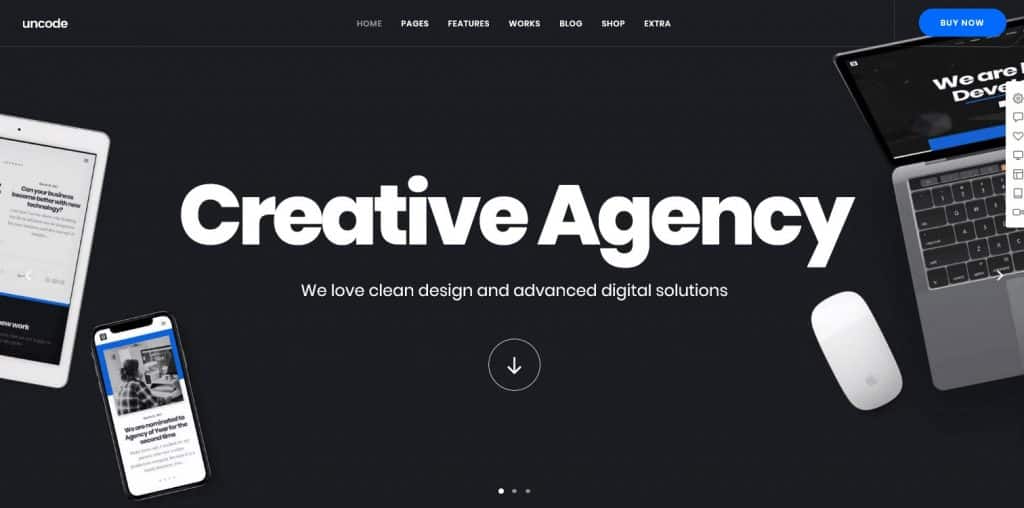 Attention to detail can make a whole lot of difference, especially when it comes to website design.
Uncode is an ultra-popular theme that offers professional, sleek designs that have a modern and clean layout.
It's been a success among designers and agencies alike that are looking to whip up alluring websites with speed and ease.
However, for the average user, it is worth spending $59 on?
In this Uncode Theme Review, we will go over everything Uncode has to offer before arriving at a conclusion.
What Is The Uncode Theme About?
Uncode is a creative multipurpose WordPress theme built using an enhanced version of the popular WPBakery Page Builder.
The theme is an all-in-one package for any website you may want to build. You can create a blog, a portfolio, and even a creative agency website!
The modern-yet-fresh design makes it apt for eCommerce sites, too!
Undsgn, the developers of Uncode, are based in Europe and hold the Power Elite Author trophy on ThemeForest.
The team has had over a decade of experience catering to big-ticket clients, and many of their projects have fetched international awards.
The theme has received appreciation from multiple magazines, including Forbes, and the roughly 70,000 sales made speak for themselves.
Uncode is Undsgn's only theme, and all of their resources and focus go into improving the theme.
---
Uncode Theme Review
If you're looking for something innovative that can provide users with a fresh experience, getting Uncode is your best bet!
Design and Style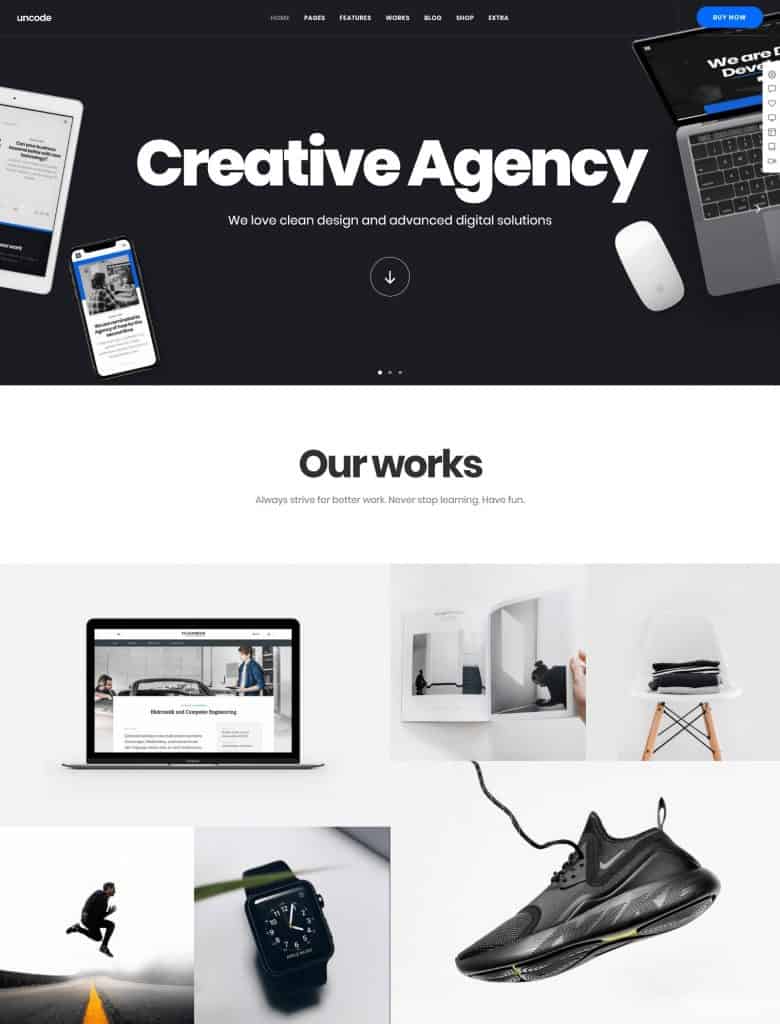 Uncode boasts neat structuring and sectioning, and the clean lines and non-obstructive, yet beautiful elements enable the theme to pull off every kind of website with ease.
Theme Features
Frontend Page Builder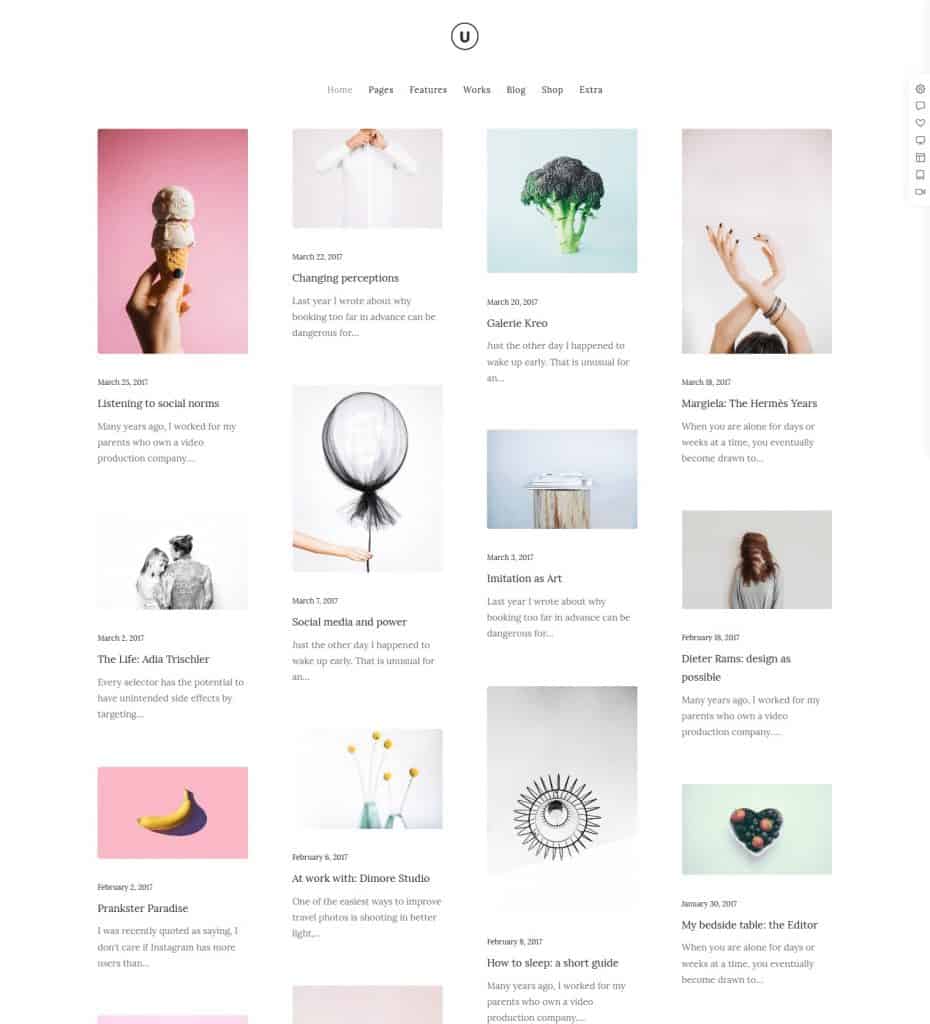 The new front-end editor lets you edit your pages in real-time, making for a smoother and faster designing experience.
You can also use the old-school backend editor if you like it better.
Demo Library
Uncode boasts a sizable library of over 70 customizable demos that can help you jumpstart your website development process.
You can import the demo content in one click and start tweaking your site in no time.
The import feature also gives you a replica of the homepages, posts, portfolios, product layouts, and sliders like the ones you see on Uncode's main demo.
Wireframes Plugin
Uncode comes bundled with the Wireframes plugin, which enables you to import any of the 400+ carefully designed section templates. You can combine these with any demo and make a complete website, or make individual landing pages.
Content Blocks
Creating custom sections of content on your site and applying them has never been easier. The automatic query feature also enables you to create a design matrix so you can style, categorize, and archive your pages and related posts.
Advanced Grid System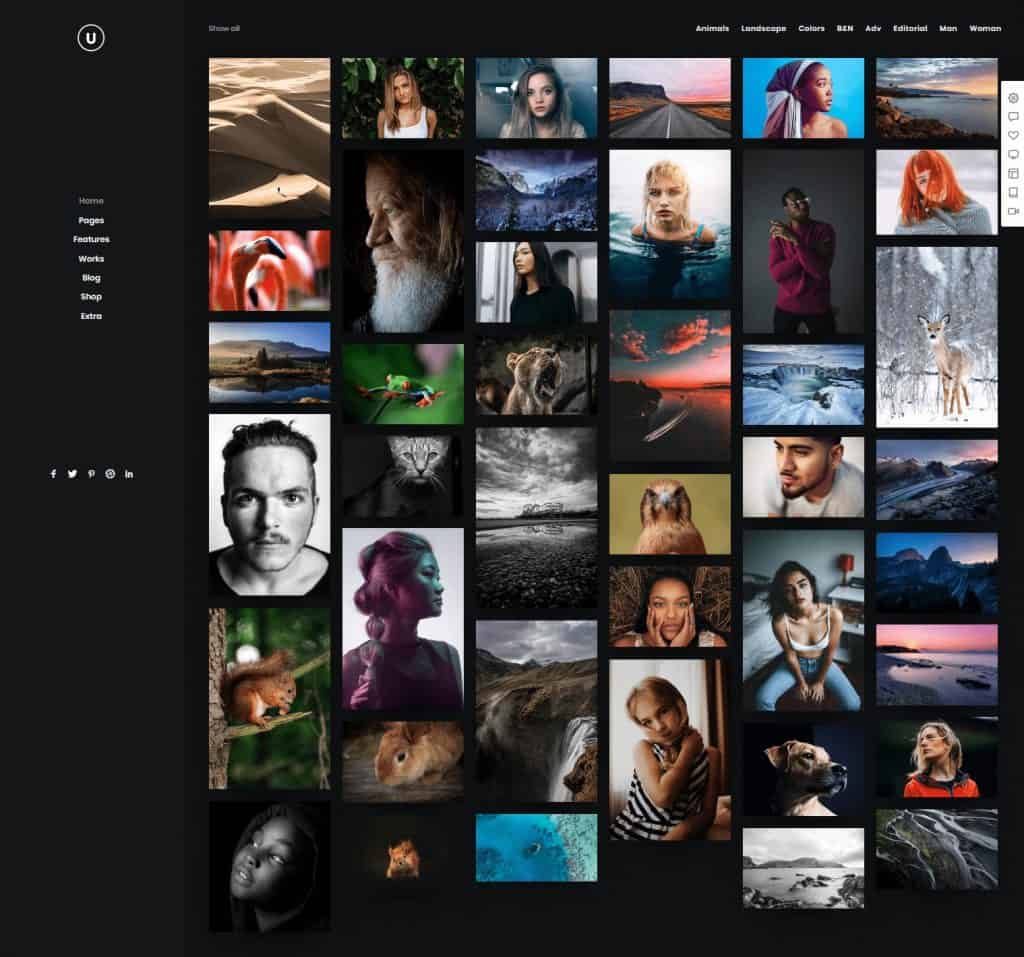 Uncode works on a superior Grid system, enabling the theme to push layout variations to the limit with a multitude of options.
The full-width, limit row, gap control, vertical alignment, off-grid shifts, animations, and much more give you complete control over your website's design.
Header Builder
You no longer need to rely on third-party plugins to make a custom header for your site!
Uncode enables you to visually design your headers and sliders right from the page builder.
The modular design system enables you to personalize the header to meet your requirements.
Adaptive Images
The theme's adaptive images system detects the visitor's screen size, and then automatically creates and delivers re-scaled versions of the images on your website.
The re-scaling of images dramatically improves performance without making any compromises on image quality.
Animated Headers
The advanced animated headings and highlighting features enable you to bring your pages to life and attract visitors quickly.
Slides Scroll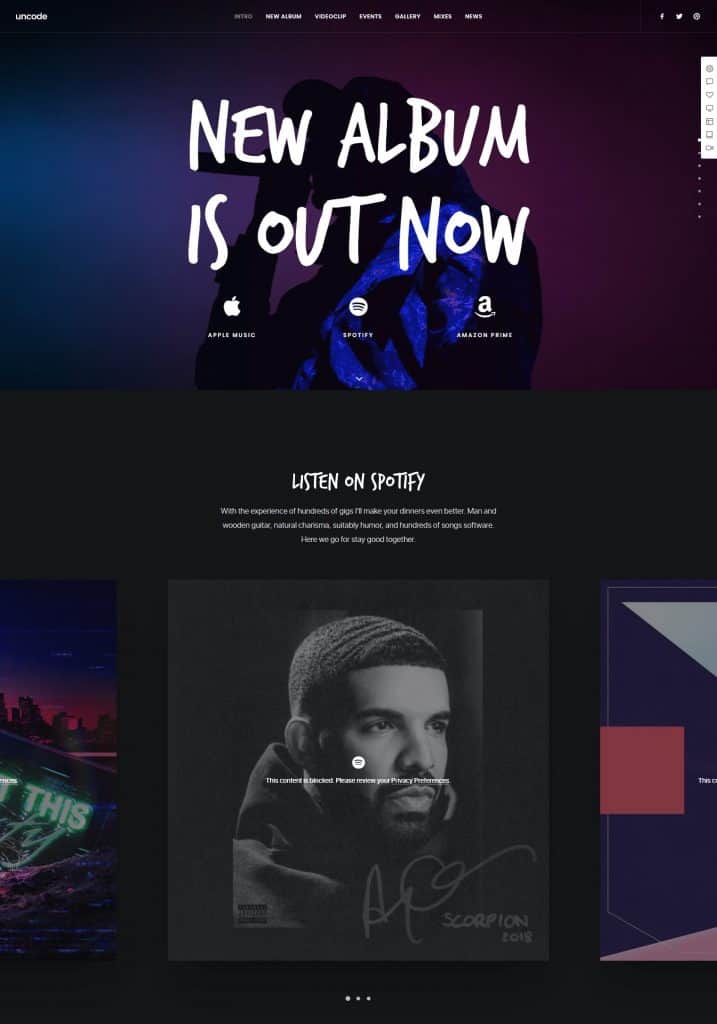 Uncode gives you a toolset of options that you can use to transform any of your one-page designs into exciting presentations.
Scrolling through sections can be done using just the mouse or the arrow keys, and since it's enhanced with transitions, the feature can make your presentation very next-level.
WooCommerce Support
The theme is compatible with WooCommerce, enabling you to provide visitors with tons of functionality on your eCommerce store.
It enables you to start selling quickly and easily.
Album Galleries
These are entirely independent media galleries that are located within a parent gallery. Using this feature, it is possible to open a media gallery via one thumbnail, enabling you to create impressive one-page portfolios.
Coming Soon Page
The theme enables you to create a custom "Coming Soon" page that you can use to tease new features or sections of your website.
You can also enable a "Maintenance Mode" whenever you're making changes to the site.
Performance
Uncode has decent loading times, with users reporting between 2.5 and 3 seconds of delay on average.
However, your mileage may vary since the loading times depend on factors like the number of hops to the server, the use of CDN, and hosting speed.
On the upside, the theme support plugins like WP Rocket, enabling you to fine-tune performance with ease.
SEO Friendliness
Uncode has a few SEO options built-in, and adding metadata to your pages should be easy.
It is also compatible with popular SEO plugins like Yoast SEO, enabling you to calibrate your site for search engines a lot better.
Theme Options
Extensive Typography Options
The theme seamlessly integrates with fonts from Google Fonts, Adobe Fonts, Fontdeck, and FontSquirrel.
If you need a custom font, the theme options panel gives you control over the size, margin, and even the letter spacing.
Skins
Uncode enables you to toggle between light and dark modes with ease. The skins change the color of text and elements without effecting quality or look and feel.
Colors
You can save any color you pick in the theme as a palette color with the click of a button.
When you change the color in the palette, the change will take effect everywhere on the site.
Beautiful Blog, Product, and Portfolio Layouts
You can customize your website with the global theme options, or make use of the individual page options to override over specific sections.
Enhanced Backgrounds
Adding background images, overlays, gradient colors, parallax effects, and animations is super easy. They make your website come alive!
---
Additional Features of Uncode
Certified Multilanguage and RTL Support
The theme holds a certification from the official WPML team, assuring users that Uncode can be translated to any language with ease.
Since there's support for RTL languages, no one will be left out of reading your blog, availing of your services, or purchasing your products!
Privacy Plugin
Uncode comes bundled with Privacy Plugin, which ensures that your website is compliant with GDPR.
The GDPR ensures that data is only collected and used for advertising if the user consents to it.
Responsive
You won't need to build your site over and over again for different devices since the theme is responsive with pixel-perfect accuracy.
No screen-estate goes to waste, and the theme detects the screen size and automatically tweaks the website's layout to look good on that screen.
---
Support and Documentation
Uncode has immaculate documentation that covers everything from the basics to the advanced features the theme has to offer. You can find their documentation in the Knowledge Base section of their website.
If you're a complete beginner, you can look at their detailed video tutorials and learn to use the theme quickly.
They also have an FAQ section that you can look through for tips & tricks, improvements, and extras that come with the theme.
You can join their Facebook group to discuss ideas and learn about the tricks other WordPress users use.
If you're having trouble with a feature and neither the documentation nor the group is helping, you can submit a support ticket on the official site. They will get back to you in under 24 hours with a solution.
---
Uncode Pricing
The regular license comes in at $59, which is super impressive considering all you get with the theme.
You get six months of support for free, and if you want to extend the support period to 12 months, you must pay an additional $17.63.
Uncode is a competent theme, and if you're looking to build a site with that you will charge users to use, you must buy the extended license. It comes in at $2,950, that is with six months of support.
If you want to extend the support period to 12 months, you must pay an additional $881.25.
---
Verdict: Is Uncode Worth It?
Uncode's main highlight is undoubtedly the selection of high-quality demos it offers. Every design has a modern, professional look that suits a wide range of projects.
The pre-built layouts and templates come in very handy, and the theme allows you to mix and match the demos and elements you like to create the perfect website.
The host of customization options make it easy to personalize your website, and with the Visual Composer at hand, editing should be a breeze.
All of this, coupled with the free lifetime updates makes the theme worth every dollar.