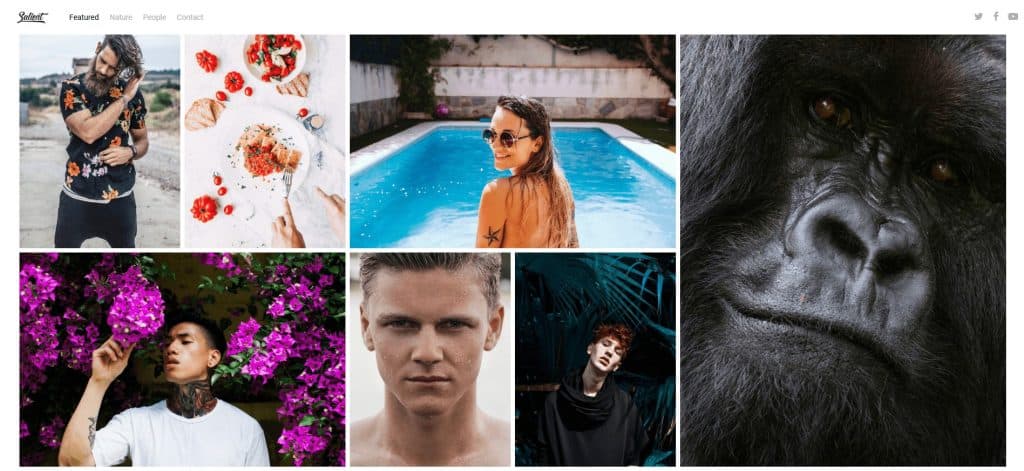 A lot of the WordPress premium theme market is now flooded with multi-purpose themes claiming to be the only theme users need to make any site.
The Salient theme happens to be one of the top contenders in this category, offering excellent performance and a wide range of templates and customization options.
But does it deliver on all it claims to offer?
More importantly, is it worth the hefty $60 price?
In this Salient Theme Review, we'll check out the theme's features and performance before making a call.
What Is Salient About?
Salient is a feature-packed multi-purpose WordPress theme created by ThemeNectar.
ThemeNectar has been around since 2013 and has a Power Elite profile on ThemeForest.
You can use the theme to make any type of website with ease – from a beautiful blog to a trendy looking eCommerce store.
The theme comes with hundreds of templates and gives you a ton of customization options, making it possible for you to give any site you make a personal touch.
Adding beautiful animations and giving your website a fresh look is made super easy, and the theme gives you control over every image, icon, and piece of text on your website.
Salient is ThemeNectar's only offering – the only other thing they offer other than the theme is support for it.
---
Salient Theme Review
Salient makes creating an attractive website very uncomplicated – you never have to fiddle with a piece of code to get anything done.
Regardless of if you're making a portfolio or a business page, you should have no trouble going from concept creation with Salient.
Design and Style
The Salient theme gives you access to loads of demos, speeding up the design process multifold. All you have to do is pick from their modern designs and add the right info.
Most of their demos have a modern feel – the pretty transitions and animations coupled with brilliant color schemes give them a distinct feel.
You can also find some minimalist-style demos which make for the perfect foundation of a neat blog or portfolio.
Since the theme is super customizable, you can edit any of these demos and make them as bubbly, flat, or plain as you like.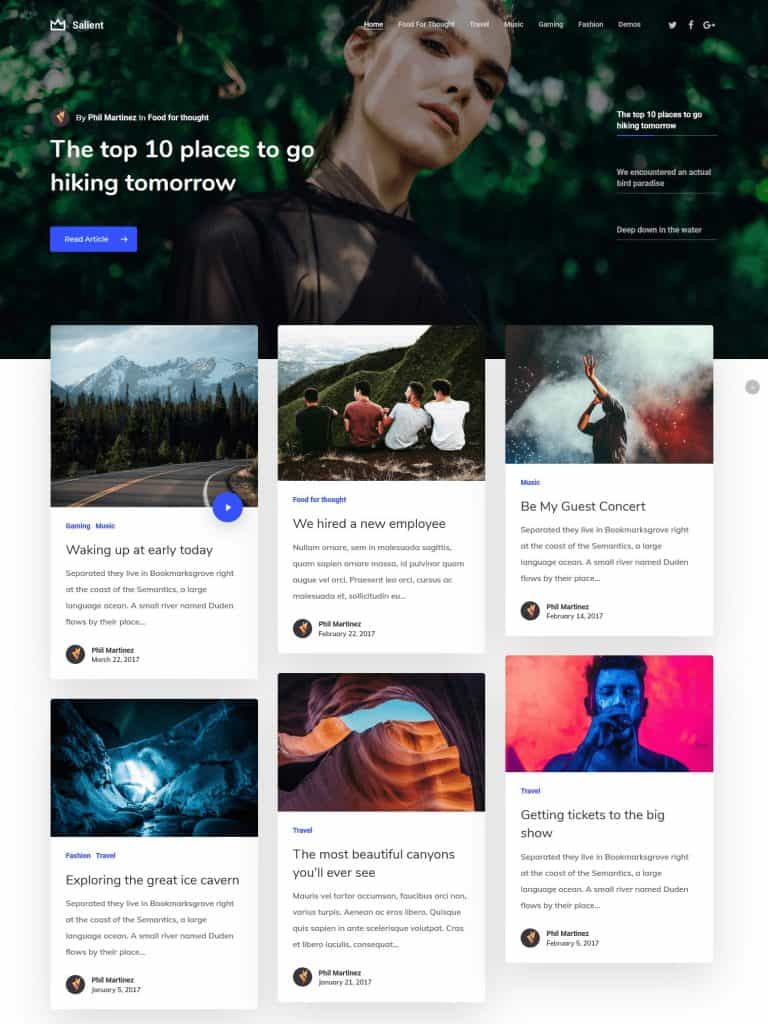 Theme Features
Rich Collection of Templates
Salient comes with over 330 professionally designed section templates built-in, with more added regularly. You can use these directly from the page builder and create a website that mirrors your brand's style.
All of these templates are accessible from ThemeNectar's Salient Studio, and you can filter and sort through the extensive collection of templates with ease using the 15 filterable categories.
If you're starting from scratch, you can mix and match section templates till you get all the features you want on your site.
Pre-built websites are also included with Salient, which make creating a full-fledged website as easy as picking a template and typing in the right details. These demos can be imported in one click, making for a hassle-free experience.
Easy to Customize
Salient comes with a highly-customized version of the WPBakery page builder, complete with stunning visual options.
It also comes with advanced features like device grouping for key element attributes, which enables you to deliver unique, tried-and-tested web design to visitors based on the device they're browsing from.
The drag and drop page builder enables you to give any template your own spin with ease, and since you get access to 55+ unique page elements (including buttons, cascading images, blog posts, and a lot more), creating a website true to your vision is a breeze.
You can add smooth animations, page transitions, and beautiful-looking parallax effects right from the editor – no plugins required!
WooCommerce Support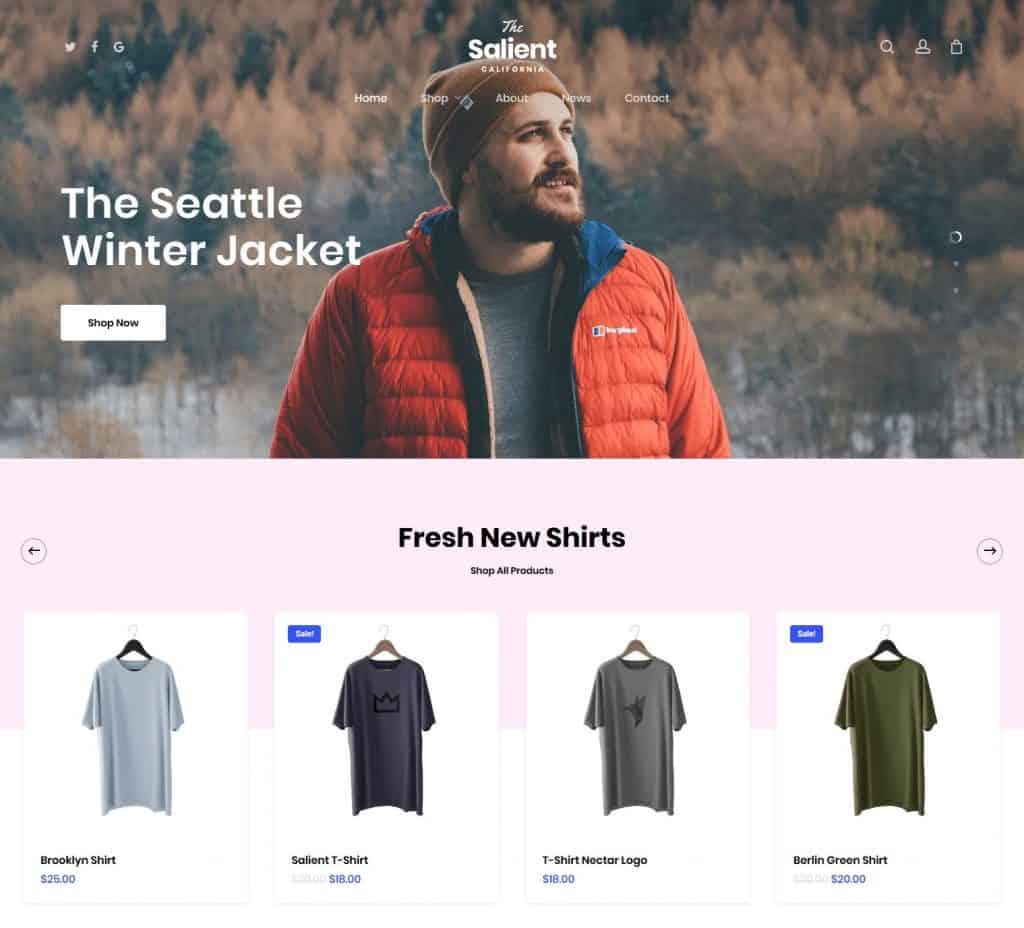 Creating your dream online store is extremely easy with WooCommerce, and since Salient supports WooCommerce right out of the box, you won't need to go through much hassle to set it up.
Salient offers multiple product styles to choose from, and the custom gallery options and the advanced layout options ensure that your style seeps into the website perfectly.
Additionally, the AJAX cart ensures that your visitors can order multiple products with ease.
The Product Quick View feature makes for a smoother and more intuitive user experience since the user does not have to leave the current page to check out a product.
Responsive and Retina-Ready
The theme was made with responsive styling in mind rather than as an after-thought. You can just design your website once and relax, knowing that your site will look great regardless of what display the user is on.
Performance
The Salient theme boasts some of the best performance right out of the box. It has a 97% PageSpeed score and a 93% YSlow Score on GTmetrix.
It takes 1.6 seconds to load fully and has a page size of 1.16MB. What's even more impressive is the fact that it makes only 16 requests in total!
It has better minification and image optimization features than most other premium themes, making it one of the fastest premium WordPress themes available.
SEO Friendliness
Since Salient is a multi-purpose plugin, creating internal SEO functions that work perfectly with all configurations is not practical.
Although Salient gives you some SEO options, they're don't pack enough of a punch to make a significant difference.
However, Salient works with Yoast SEO perfectly – ensuring that regardless of your website's configuration, it ranks high on SERPs.
Theme Options
Header Layouts
With over a dozen header layouts built right into Salient, you'll never need to edit code or look around for better options for your site's header.
Massive Icon Collection
The theme comes with over 3,500 icons for no extra cost, allowing you to ensure that all the buttons on your website match the style of your site.
Unlimited Color Options
You can create unique color schemes and gradients to fit your site's design. The sheer volume of color options pave the way for a truly unique-looking website.
Tons of Typography Options
Salient comes with over 800 font options, and switching them out and mixing and matching to get the right feel is effortless.
In addition to all of these customizations, you also get to define row types, set paddings, edit backgrounds, create video backgrounds, edit shape dividers, and animate parallaxes. A lot more is possible with the theme's options.
---
Additional Features of Salient
Advanced Adaptive Images
The advanced adaptive images are what make Salient a tad bit more polished than other themes in the market.
It harnesses the full power of adaptive image sizing, and images are served to users depending on their device's screen size. The smaller the screen, the smaller the image – which leads to faster loading and lesser bandwidth usage.
Multilingual and Translation Ready
The theme comes translated into ten languages, and since it supports RTL and WPML, you won't have any problems designing your site for specific audiences.
Social Media Integration
Adding social media sharing buttons on your site is as simple as picking icons and adding links.
Multiple Styles for All Sites
With 18 portfolio site styles, 18 blog site styles, 19 shop templates, and many more demos, finding the right design for your site is easy.
525+ Shortcodes
The Salient theme comes with hundreds of high-quality shortcodes, all of which are customizable. As far as visual elements go, you won't need additional plugins for anything!
---
Support and Documentation
Regardless of if you're a new or a legacy user, Salient's easy to navigate documentation will ensure that you make the most out of the theme.
ThemeNectar also has an articles section where you can find questions from other users. Most of these questions have been answered, and chances are you'll find a solution to most technical issues here.
However, if you need account-related or technical questions answered, ThemeNectar has a ticket system that enables you to get answers to your questions. They respond within one business day; however, response times depend on the load.
---
Salient Pricing
Salient is available for purchase on ThemeForest for $60. You get access to all future updates and six months of support. For $18 more, you can get six additional months of support.
ThemeNectar pairs its theme with a theme hosting offer, and you can take them up on it if you need hosting.
If you're looking to make a website or a tool that you charge users for, like a subscription site, you will need to get the extended license, which comes in at $2950.
---
Verdict: Is Salient Worth It?
Salient impresses with its vast assortment of elements and editing options and provides additional value by coupling the theme with hundreds of fonts and icons.
The templates and demos give you a lot of flexibility – you can go with what they offer or edit a demo and make it your own.
The theme also boasts fast performance and seamless Yoast SEO compatibility, making it a well-rounded premium theme.
All in all, if you're looking for a beautiful theme, and have $60 to spend, Salient is one of the best themes to spend it on.