OceanWP and GeneratePress both have excellent reputations in the WordPress community and are known for their fast loading times and high customizability.
Both have almost three million downloads, and both are available in free and premium versions.
Their uncanny similarities are what make them the perfect competitors.
But if you're a tinkerer, which is a prerequisite to becoming a WordPress user, you'll eventually ask yourself the all-important question:
Which of these should I install?
This calls for an in-depth comparison between the two themes, which is precisely what I do in this post to help you find which of the two themes is worth your time and money.
OceanWP Vs. GeneratePress: Overall Review
OceanWP Overall

The free version of OceanWP supplies an extensive assortment of features and demos that give it an edge over GeneratePress.
The top-notch WooCommerce extensions arm you with all you need to make a shop website navigate smoothly and with style.
While the Core Extensions Bundle isn't the cheapest you can find in the market, considering the high volume of demos and the quality of features it adds to the theme, it feels aptly priced.
Support and documentation are on par with 2020 standards, but getting your OceanWP powered site to load under two seconds could take some work.
Overall, though, it's a theme that I can recommend to every WordPress user.
GeneratePress Overall

GeneratePress's free version is a little lackluster since there are no demos or templates you can use.
But the assortment of customization features made available enables users to create a site from scratch.
The premium version of the theme gives users access to three dozen templates and some excellent extensions. Still, the demos aren't multipurpose like in OceanWP, and the features don't unlock much out of the ordinary.
Don't get me wrong – for the hardcore tinkerer that can also code, GeneratePress can work out excellently.
But the value doesn't justify the price, making it hard to recommend.
---
Theme Features
OceanWP
OceanWP's main strength is the demos it supplies – there are 13 free demos available, and paying users get access to an additional 60 professionally designed demos.
Several demos are the main reason for the OceanWP's excellent reputation – you get multiple themes at the price of one.
Demos are available for a variety of niches – and you'll find the perfect demo regardless of if you own a confectionery or a gym.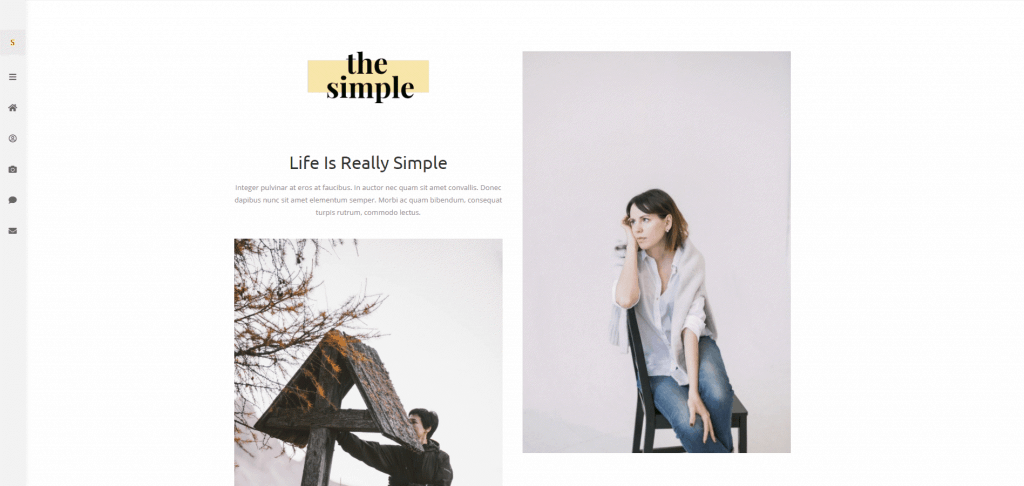 Every demo that comes with OceanWP is designed to be both a blog and a shop. But unfortunately, you won't find as many portfolio demos.
But the high quality of the portfolio themes available makes up for the lack of quantity. The "Simply" theme, in particular, boasts a unique minimalist design that maintains a professional undertone while remaining bright and vibrant.
But aside from the array of impressive demos, OceanWP offers some other features that make it an enticing option.
It's responsive, meaning your website will look great on all screens. It is also compatible with WooCommerce, giving you the ability to sell both digital and physical products from your site.
OceanWP also sidesteps the norm by supplying features in the form of extensions. Eight free extensions are available, which enable you to add things like custom sidebars, modal windows, sliders, social media "share" buttons, and more.
But the premium extensions are what take the cake.
They give you access to features like popup login boxes, white-labeling, "add to cart" popups, sticky headers and footers, and also a responsive side panel that you can customize.
With the premium extensions handy, you can also directly integrate your Instagram feed to your website, allowing you to showcase your skills, products, or experiences depending on your website's nature.
It doesn't end there.
The theme is super SEO friendly and supports RTL languages, enabling you to blog or market products to specific markets.
The floating Add To Cart bar, off-canvas filters, and the product quick-view feature take your visitor's shopping experience to a whole new level.
The theme works flawlessly with most page builders, including Elementor, Beaver Builder, WPBakery, and Divi.
The feature-loaded theme is tough to top.
GeneratePress
GeneratePress is super lightweight, which is what makes it one of the fastest themes available for WordPress. The default install only adds 30KBs to your WordPress setup!
Another massive advantage that GeneratePress offers is that it has no dependencies. The theme is built without a line of jQuery in it, and only clean JavaScript is used, which means your website will never have any render-blocking issues.
The validated HTML, coupled with the built-in schema.org structured data, makes it super search-engine-optimized, boosting your rankings on SERPs from day one.
GeneratePress is accessibility ready and follows WCAG 2.0 standards, which means no one is ever left out when browsing your website.
The free version of the theme doesn't come with any demos, which is disappointing. But a robust set of customization features and modules come included.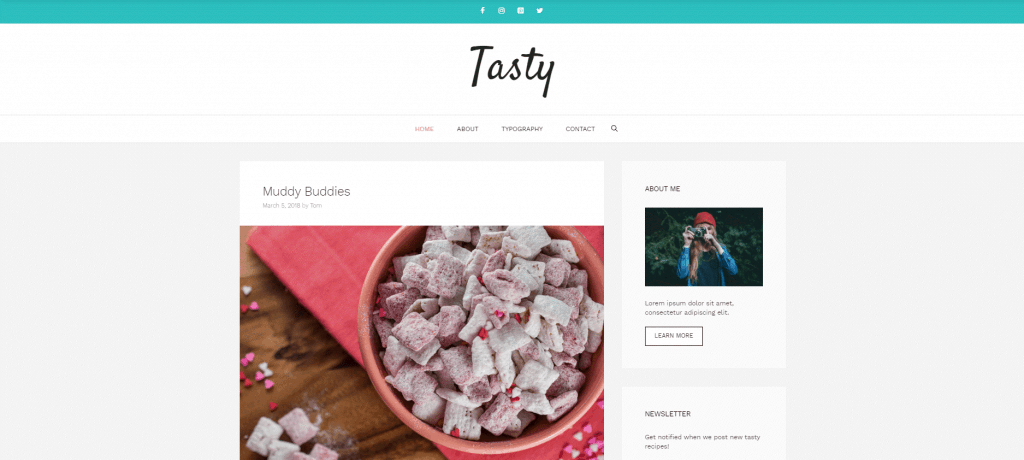 In addition to giving you enhanced control over the colors, fonts, and the layout of your website right from the WordPress Customizer, the theme also gives you the flexibility of using any page builder you're familiar with.
Hooks and filters are available in the free version, and it comes translated into 20 languages right out of the box, including RTL languages.
You can build a site of any kind with the free version of GeneratePress, but the Premium version makes it a lot easier. You get access to three dozen demos that target a variety of niches, but unlike OceanWP, a demo only works as either a blog, a portfolio site, or a business page. There are no multipurpose demos available.
The premium modules unlock more colors and typography options, and also give you access to a selection of elements such as dynamic page heros.
Menu options like off-canvas navigation, spacing options such as padding and margins, and WooCommerce is also unlocked when you purchase the premium version.
But overall, both the free and paid versions of OceanWP are more flexible and feature-rich compared to GeneratePress.
---
Speed
It's important to note that hosting you use can make a big difference in your loading speeds. I have just gauged the consensus and approximated how fast your website should load if you use the themes.
OceanWP
Most users report a loading time of between 3 and 4 seconds when using a regular host. Using cloud hosting will further bring the loading time down further to between one and two seconds.
But if you're using regular web hosting and don't want to move to a cloud host, you can always use a plugin like Autoptimize to boost loading speeds.
GeneratePress
As mentioned earlier, GeneratePress is super lightweight, and hence loads faster than a lot of themes on the market.
A page with a header, footer, and some page content will load in under three seconds if you use regular hosting, but using cloud hosting can bring loading time down to under two seconds.
---
User Interface/Customization
OceanWP
Installing OceanWP is easy and can be done from right inside of WordPress. Setting it up is also a breeze, thanks to the nifty setup wizard.
It's important to note that while OceanWP recommends installing three plugins – Elementor, Ocean Extra, and WP Forms – it's never mentioned that the Ocean Extra plugin is critical to the theme's functioning.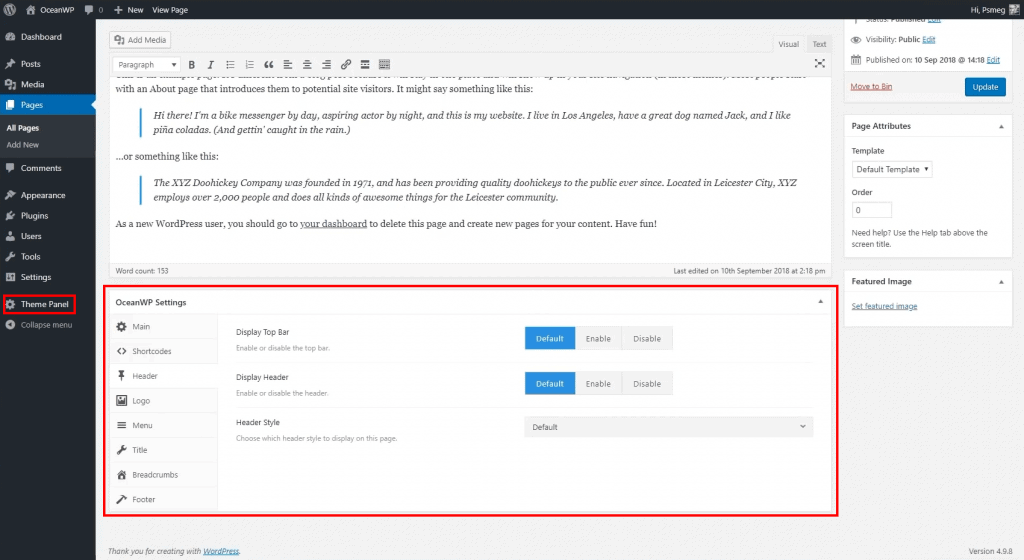 So, for convenience, don't skip any plugin installations recommended to you in the wizard.
While you can use Elementor to edit the theme to your liking with ease, the built-in WordPress customizer panel also gives you a lot of control over how your website looks.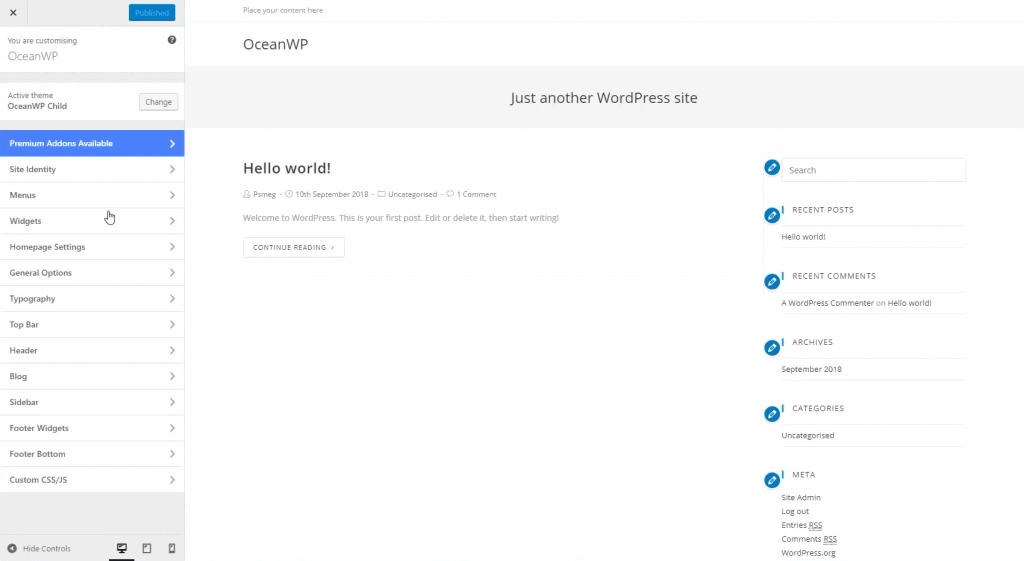 The WordPress customizer allows you to change everything about the fonts, header, footer, menu, social icons, and general layout of the website.
Additionally, an OceanWP panel will appear on the bottom of the Pages and Posts sections that allows you to alter the universal settings like header styles and titles that you set using the Customizer.
It makes for a neat way to change the design for specific pages while keeping the other pages consistent.
GeneratePress
The free version of GeneratePress pretty barebones, and other than the enhanced Customizer, there are no other panels or options included.
Thankfully, the Customizer gets a considerable power-up, allowing you to update the site logo and icon, use the several header and footer customization options, and configure the entire page's primary navigation style.
I also like that the Customizer now comes with color presets – you don't have to make your own palette and change every color one after the other, and can instead use prebuilt a "color theme" in a few clicks.
Getting the premium version adds an assortment of much-needed features to the theme.
For example, the "Sections" extension makes page building easier by adding section creation and customization options to the Page section of WordPress.
You must activate the license and install the GP Premium plugin to access the premium extensions and the three dozen demos. It's a little inconvenient, but not too much of a hassle.
The theme gives you the flexibility of deactivating the extensions you're not using, which reduces site loading times.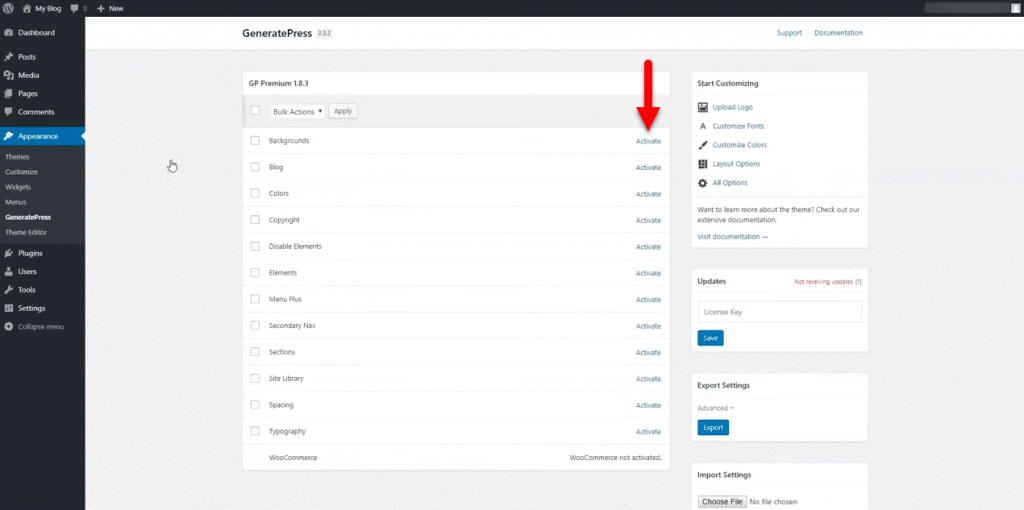 OceanWP feels a lot more polished and supplies more customization options than GeneratePress, which gives it a massive edge.
---
Pricing
OceanWP
A free version of OceanWP is available on WordPress.org, but it only gives you access to a limited amount of demos and extensions. There is no way to try premium extensions and demos without purchasing OceanWP's Core Extension Bundle.
But there's a 14-day money-back guarantee, which makes your purchase risk-free for two weeks.
The Core Extension Bundle is offered in three plans: Personal, Business, and Agency.
The $59 Personal plan gives customers a license for one site, and the $79 Business plan supplies a license for three sites. If you want the theme for more than three websites, it makes financial sense to get the $129 Agency plan that supplies a license for 25 websites.
Lifetime versions of these plans are also available at $159, $319, and $519.
OceanWP promises its customers that they will get access to any new extensions and demos added to OceanWP over time without needing to pay extra.
If you don't need all the extensions, you can buy individual extensions at $29.99 flat.
GeneratePress
You can install the free version of GeneratePress from the Themes section of WordPress.
The premium version of the theme comes in at $49.95, and you can use the license with unlimited WordPress sites.
While you can still use the theme after a year, you won't receive updates and support.
But the company offers an incentive to customers that renew their licenses – a substantial 40% discount.
Like OceanWP, there is no way to try out the premium features for free. But the 30-day money-back guarantee makes your purchase risk-free.
---
Support/Documentation
OceanWP
The documentation covers everything from the basics of the theme to how every extension works. Developer docs are also available on the OceanWP website.
All users can avail of support using the ticket system. You can get faster support, setup assistance, theme/plugin conflict testing, and debugging if you pay for any of their Priority Support plans.
GeneratePress
GeneratePress's documentation is extensive, and there's an entry for everything from setup basics to all the Customizer options. Each Pro module has its own section that's loaded with articles that will help you master it.
The Developer docs are clear and pay special attention to hooks and filters.
Anyone can browse through the support forum, and members can post on it if they don't find the solution they need.
But there are no priority support plans, phone lines, or even a live chat option, which can make things difficult for complete beginners.
---
Verdict: Which is Best?
OceanWP's demos are versatile and polished, and both the free and premium versions are impressive, making OceanWP the superior theme.
The support and documentation are excellent, the value offered justifies the pricing, and the only snag I find is the slightly slower out-of-the-box speeds the theme provides.
But this can be fixed with a little trial and error with the theme options and caching plugins. The bottom line? Both WordPress beginners and experts will love the sheer volume of excellent features OceanWP supplies!