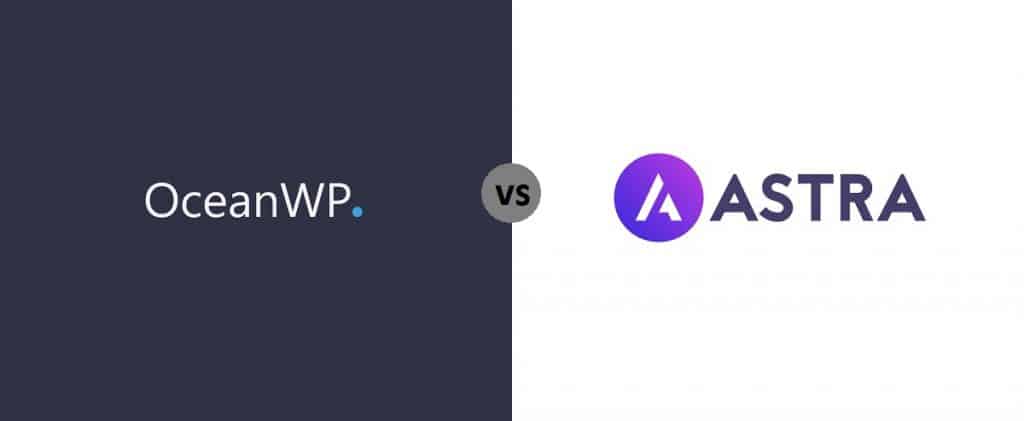 OceanWP and Astra are arguably two of the most flexible themes available for WordPress.
But they're also very similar:
Both of them have free versions, and both themes come with free website templates that you can make your own.
The themes are known to play well with almost every page builder and supply a vast array of customization options.
But which one is better?
Answering this question requires an extensive comparison of the features, available templates, loading speeds, ease of use, support, and pricing of the two themes.
That is precisely what I will do in this post, and reveal how one of the themes is substantially better than the other.
| SERVICE | FEATURES | VISIT |
| --- | --- | --- |
| | Fast. Full of Control. Multipurpose. Customizable | |
| | Impressive. Attractive. High Performance. Flexible. | |
OceanWP vs Astra: Overall Review
OceanWP Overall
While OceanWP offers a respectable set of free templates and extensions, the selection is not as extensive. But the premium extensions are impressive and add a lot of useful features to the theme.

It's not the fastest theme in the market but will load in 3 seconds as long as it's optimized correctly. The extra panel included in the Pages and Posts sections is an excellent touch, but it doesn't make much difference if you use a page builder.
Pricing is aggressive, and the theme offers excellent value for what you get, but it lacks the punch that Astra packs that make it the better option.
Astra Overall
Astra does it just right by supplying tons of beautiful templates and copious customization options.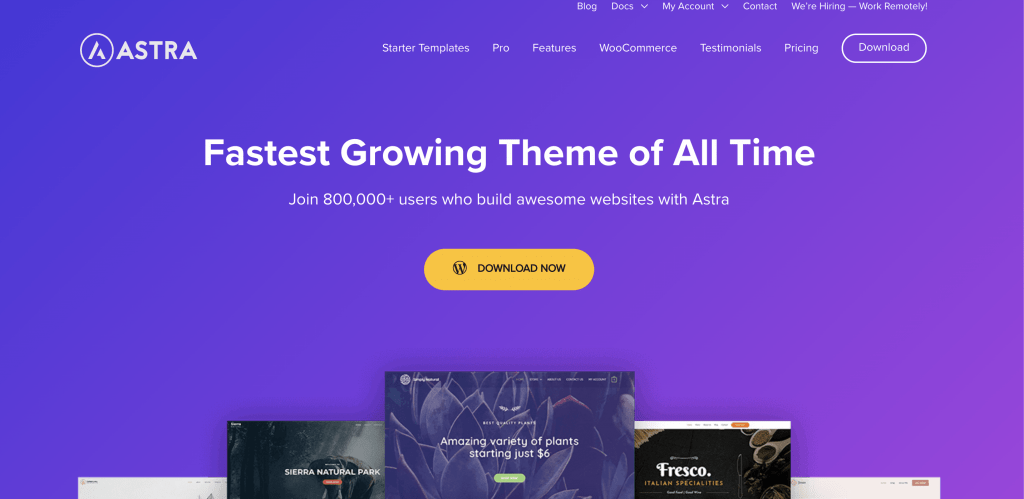 The pricing structure is intuitive since you pay for the features you want, and not the number of websites you want it for. The plans are pricier than OceanWP's but worth every penny.
The theme will not only load fast, but it will also make pages easy to customize. The video tutorials are a blessing for WordPress beginners trying to put together their first site, and support response times are excellent.
Astra is very easy to recommend!
---
Theme Features
OceanWP
The high-quality website templates that OceanWP supplies are one of it's biggest strengths.
It comes with 13 demos that all free version users can make their own, but users that buy the Core Extension Bundle get access to 60 additional demos.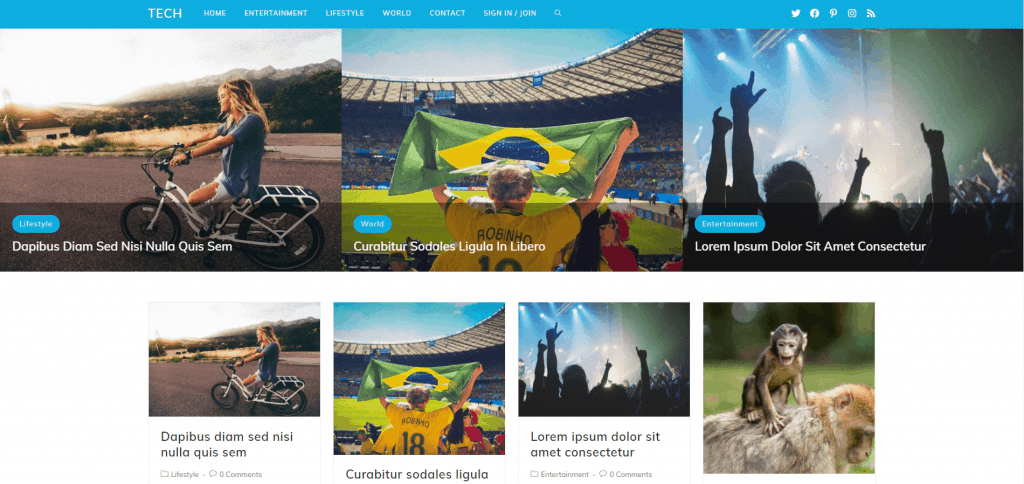 The demos are diverse – they cover a variety of niches, and regardless of if you have a bakery or run a marketing agency, you'll find the perfect template for your website.
Most of the templates can double as both a blog and a shop, but some are built for specific purposes only – like for use as a portfolio website.
An excellent example of a high-quality single-purpose template is the "Tech" template that comes with the Core Extension Bundle.
But OceanWP has a lot more to offer than just a broad set of quality demos.
The theme is responsive, which means your website will look great on all screens, and also supplies the option to add a logo for Retina screens.
The flawless WooCommerce compatibility gives you the ability to sell both physical and digital products from your website. The several shop templates only make this easier.
One way in which OceanWP is different than a lot of other themes is that it uses exclusive extensions to add functionality.
A total of eight extensions are available for free, adding features like custom sidebars, modal windows, social media "share" buttons, and sliders into the mix.
But the 13 premium extensions that come with the Core Extension Bundle transform the versatile theme into a powerhouse.
Paying users get access to extensions that enable popup login boxes, white-labeling, "add to cart" popups, sticky headers and footers, and a customizable and responsive side panel.
There's more.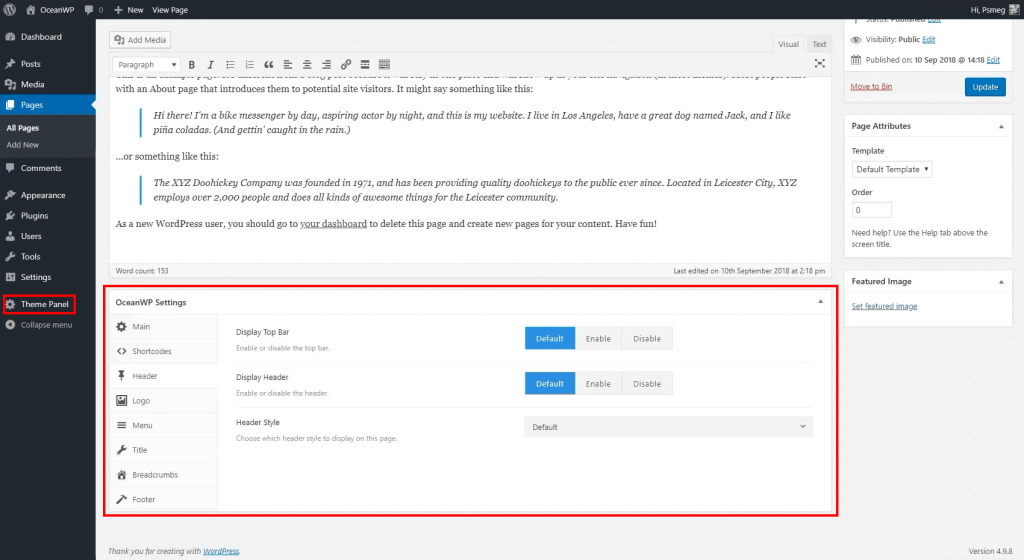 The theme is designed in accordance to the highest coding standards, which makes it super SEO friendly. It supports RTL languages, which enable you to connect with audiences on a deeper level in a variety of markets.
The off-canvas filters, floating Add To Cart bar, and the product quick-view feature take the shopper's experience to a whole new level.
Lastly, the theme is compatible with all major page builders, including Elementor, Beaver Builder, Divi, and WPBakery. So, you can use whatever builder you like the most.
Astra
OceanWP's list of features may make it seem tough to beat, but Astra bests its competitor in many ways.
The large selection of 53 free site templates makes it one of the most flexible – if not, the most flexible – free theme available for WordPress.
But users who get the Agency plan get access to 69 more templates and free themes. The Agency themes are noticeably more attractive, which gives users more of an incentive to upgrade.
Let me explain – the "Cake Shop" theme that comes with the Agency plans looks a tad more polished and attractive than the free "Brandstore" template looks.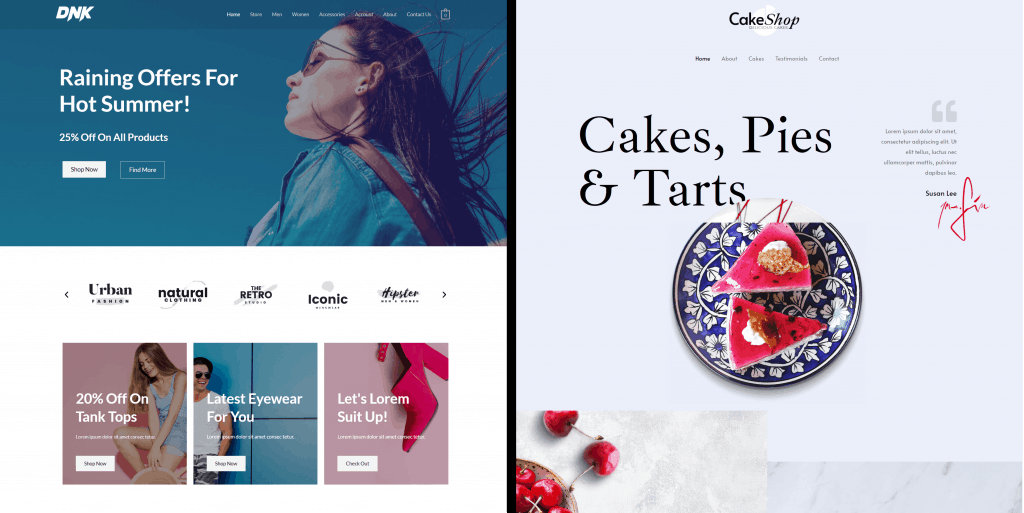 I know the themes cater to entirely different niches, but the higher quality of the Agency themes is consistent.
My comparison of the two themes also shows that the 100+ themes cover a broad array of niches and are not just similar-looking WooCommerce shops.
OceanWP, on the other hand, only gives access to more demos while keeping design standards more or less consistent. There's nothing wrong with this, but the trait does make Astra a little more enticing in comparison.
While the theme works flawlessly with Elementor and Beaver Builder, the WordPress Customizer is loaded with features that ensure that you don't miss out on much if you're not familiar with any of the page builders.
No jQuery is used in Astra, which makes for hitch-free performance optimization and completely circumvents render-blocking issues.
The entire theme's size is less than 50KB, which is super impressive considering the customization options it packs (more on this later).
The theme is 100% WooCommerce ready, and you can customize your shop to your taste using just the WordPress Customizer.
Astra's paid versions unlock a massive selection of features that enhance the already super impressive free package.
You get access to three site layouts, and a fluid layout is also added. The three blog layouts – list, grid, and masonry – coupled with features like post pagination, infinite loading, excerpts, date boxes, and enhanced structure control give you control over every pixel on your blog.
The spacing control feature also comes unlocked in the paid versions, overriding the default space settings and enhancing the level of control you get over how your website looks.
The premium versions of theme give you access to spots you can't customize by default on WordPress. For example, you can change the colors above and below a header, and also on the sticky header.
The WooCommerce suite is also improved. Features like infinite scroll, grid settings, off-canvas sidebar, gallery options, the dropdown cart, product quick view, and the attractive sales bubbles can help you sell a lot more products by making your website look that much better.
Customizable layouts are unlocked, enabling you to edit the look and positioning of headers, footers, and 404 pages.
Lastly, the LifterLMS and LearnDash integrations enable you to transform your website into an attractive course site.
Overall, I find Astra more impressive than OceanWP.
---
Speed
Speeds are influenced by a massive number of factors, such as hosting type, the host's hardware, data center locations, and more. I've only gauged the consensus to give you an approximation of what you can expect.
OceanWP
OceanWP can load in under three seconds with the right hosting, but most users report that it takes between 3 and 4 seconds to load.
Astra
Astra almost always loads in two seconds regardless of the template, headers, footers, or content.
Using caching tools like Autoptimize on WordPress can improve loading speeds further.
---
User Interface/Customization
OceanWP
The nifty setup wizard quickly configures all the required settings and asks you to install three plugins: Elementor, Ocean Extra, and WP Forms.
It is important to note that the theme needs the Ocean Extra plugin to work correctly – you are not notified of this during the wizard.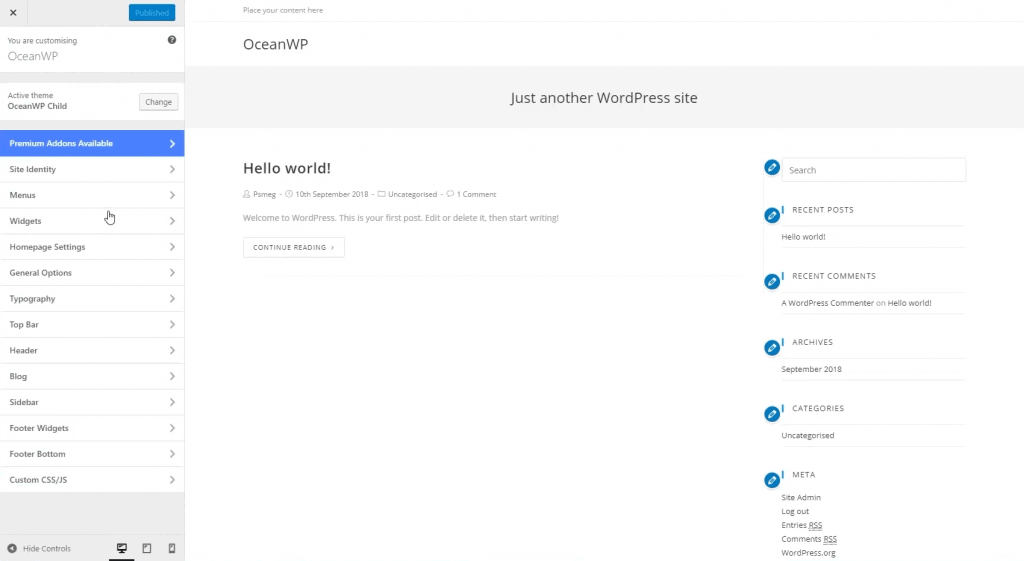 The WordPress Customizer gives you access to a slew of customization options that enable you to make the most of the theme's templates. But I find that the options are a little excessively nested, which could be improved upon.
You can set some universal design options for your website from the Customizer. Later, use the panel that appears under the Page and Post sections to edit how individual pages look.
Impressive!
Astra
I find Astra's WordPress Customizer neater, and love that they've made a separate section for menu, widget, and homepage customization.
Unfortunately, though, the Pages and Posts sections don't supply an option to customize individual webpages as OceanWP does. But you can do this with Elementor and Beaver Builder, so there's nothing to complain about.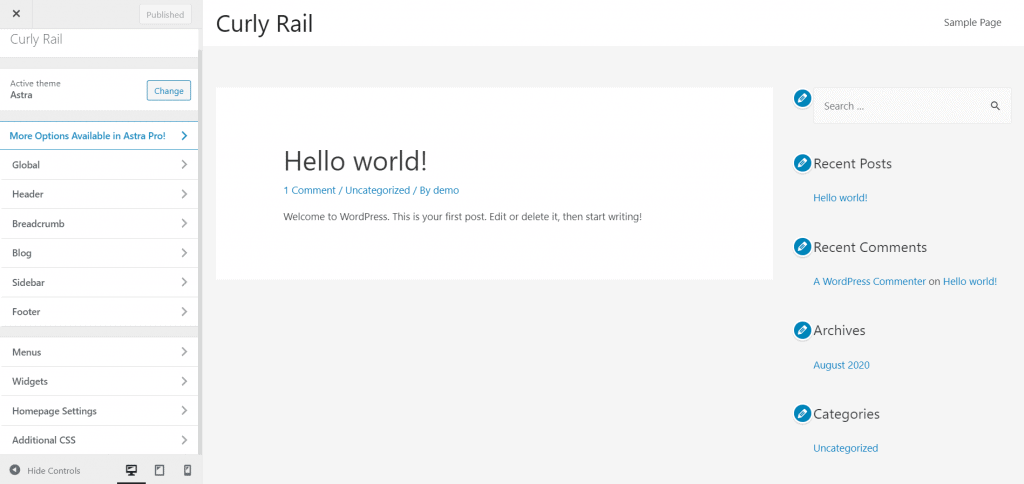 The layout settings, header options, and color settings are super easy to access. The Pro version adds more color and typography options into the mix, making it a lot more versatile.
It's easy to manage your blog posts and archive pages, and you can also customize the sticky header, mobile header, and mega menu with ease.
While OceanWP does have the edge over Astra because of the extra control panel that appears in the Pages and Posts sections, if you use a page builder, it won't make a difference.
---
Pricing
OceanWP
OceanWP is available for free on WordPress.org, and you can install it directly from under the Themes section of WordPress.
But it only supplies a limited selection of templates and extensions. There is no free trial for the Core Extension Bundle, but if you buy it, you're covered by a 14-day money-back guarantee.
The bundle is offered in three plans: Personal, Business, and Agency.
For $59, the Personal plan gives you a one-site license, unlocking all extensions and templates. The $79 Business plan gives you access to the same features, but for three websites.
The $129 Agency plan is the right plan to get if you're looking to use the theme for any more than three sites because it gives you a total of 25 website licenses. Great value!
But these plans don't get you access to lifetime updates and support – these expire after one year on all three plans.
If you need lifetime access, you can get lifetime access plans for $159, $319, and $519.
You also have the option to buy individual extensions for $29.99 a pop, but I don't find this worth the money.
Astra
Unlike OceanWP, there is no licensing system in Astra. Once you buy it, you can install it on any number of websites.
But there's a twist in their pricing structure:
The $59/year Astra Pro only gives you access to the additional customization options – things like sticky headers, custom layouts, more colors and fonts, white-labeling, and more are unlocked.
But you will not get access to the 69 Agency site templates.
The $249/year Mini Agency Bundle gives you access to the Pro features, Agency templates, and the WP Portfolio plugin. You also get to choose between Ultimate Addons for Elementor and Beaver Builder, each of which is worth $69.
The Agency Bundle gives you both the Ultimate Addons plugins, all the features, plugins, and templates, the Convert Pro and Schema Pro plugins, and access to SkillJet Academy.
Support and updates are supplied for a year on all three plans, and while lifetime plans are available, they are expensive, ranging between $523 and $1893.
The 14-day money-back guarantee is reassuring.
---
Support/Documentation
OceanWP
Support is fast via the ticket system, and response times are less than 24 hours.
However, if you're looking to get your support ticket slipped to the top of the pile, get setup assistance, theme/plugin conflict testing, and debugging help, you get can purchase the priority support plans.
The documentation is super extensive and covers everything from the very basics to the intricate facets of every extension. The OceanWP developer docs can help you further customize the theme to your liking if you have programming knowledge.
Astra
Astra also has a ticket system in place for support, and response times are excellent.
But it bests OceanWP by supplying video tutorials in addition to the in-depth documentation.
The Astra blog is regularly updated with helpful content, which is a nice plus.
---
Verdict: Which is Best?
In addition to fast loading speeds and top-notch SEO, the theme gives you access to hundreds of pre-built website templates that make getting your website online quicker and easier.
The array of customization options gives you control over every element and pixel on your page, which I find very impressive. The plans are expensive, but the value you get justifies every penny spent.