Landing pages are probably the most difficult webpages to pull off – they're either a hit or a miss, and there's no middle ground. One optimization missed, or one mismatch in the design can lose you a client.
The Moto theme claims that it can help create a profit-generating landing page in five minutes or less.
But will this claim hold up in actuality?
In this Moto theme review, we'll go over all of the theme's features to help you find out.
What is the Moto Theme About?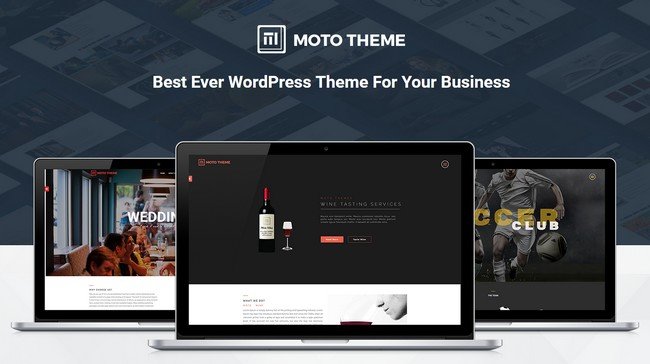 Himanshu Softtech, the creators of the Moto Theme, bills Moto as the last WordPress theme you will need – and the claim is backed up by tons of features and beautiful templates.
You can market practically anything with the Moto theme – from apps to physical products, and even subscriptions. Moto also enables you to set up your own online store, and affiliate marketing a sought-after product to high-intent audiences is made super easy.
Business owners, marketers, drop shippers, online shop owners, industry creatives, bloggers – practically anybody with a marketable skill, brand, or business can use the Moto theme to enhance their reach and boost income.
The company has been around since 2012, and they've catered to many A-list clients before deciding to make a product for the masses via JVZoo.
They also offer web designing, graphic designing, app development, WordPress theme, and plugin development, and hosting and SEO services on their sites to both enterprises and individuals via their website.
Himanshu Softtech is marked as an elite author on both ThemeForest and CodeCanyon (under the profile "kamleshyadav"). It is a testimony of the quality of their theme.
Let's see if their flagship theme lives up to its reputation.
Moto Theme Review
Design and Style
Moto is super-versatile: you get access to over fifty different marketing layouts and 1100+ pretty looking pages!
Creating a website for a niche as nuanced as the wine niche is made convenient – have a look at the demo!
The 115 demo slider options and 82 shortcodes make Moto a super customizable theme, and enable you to make a truly unique design for your brand.
Creating a rad-looking slider-based page is extremely easy as well.
Needless to say, every website made using Moto is geared to help you engage and convert quickly.
Theme Features
Drag N Drop Editor: No need to fiddle around with the backend of your website – you can create a beautiful website using just your mouse!
One-Click Demo Installation: Importing any of the 50+ demos is as simple as clicking on the one you want.
100% Translatable: Moto supports both WPML and RTL, enabling you to cater to any audience worldwide!
eCommerce Ready: Moto makes selling products and generating profits as easy as creating the website itself. The Amazon store builder and integrated WooCommerce support make getting a business up and running a breeze.
Tons Of Unique Layouts: Moto provides you with layouts suited for a wide range of websites. Building an affiliate blog page, an opt-in page, a landing page, and even a countdown page is fast and uncomplicated.
Fully Customizable Pages: Using the revolution sliders, shortcodes, and the incredibly powerful page builder makes creating your dream website extremely simple.
Social Media Buttons: You can add social media sharing buttons as you please, and you can even integrate your Twitter, Instagram, or Facebook feed right into your blog or portfolio page!
Custom Widgets: Adding contact forms, info blocks, images, and Flickr photo streams is made easy with Moto's collection of custom widgets.
Performance
Every Moto template has an 'A' rank by GTmetrix. Regardless of how much you customize a template, you can rest assured that your site will load fast and have a high conversion rate.
The fast load times also help decrease bounce rates, which in turn boosts your ranking on SERPs.
SEO Friendliness
All of the websites created using Moto are search engine optimized right out of the box, which gives you an edge over your competitors.
The theme does give you options to micro-manage SEO by allowing you to add meta-descriptions and use on-page SEO techniques, but you get an SEO-ready website by default every time you use Moto.
Theme Options
The theme gives you tons of customization options, allowing you to give every site you make a personal touch.
Here are some of the most impressive theme options Moto has to offer:
Custom Header Designs
You get access to 20+ navigation headers, giving you the flexibility to create any design without needing to worry if the header will match.
Moto also has sticky headers with toggle switches that give your page a unique, polished feel.
You can upload any SVG logo and size and position it as you see fit. The mega menu feature ensures that your header always looks neat no matter how many different pages you have to show off.
Vertical menus and pre-header options can be used to give your page some novelty. The background image of the navigation menu can be customized limitlessly, which ensures that your header always matches the theme of your website.
Unlimited Color Variations
The theme allows you to pick from 15 predefined colors, and it also has light and dark theme options.
You can switch between the light and dark themes in one click!
Advanced Portfolio Options
If you plan to use Moto to create a portfolio, you can pick from four different layouts and use any of the eight hover effects to give your site a unique charm.
These features make converting visitors a breeze!
Additional Features for the Moto Theme
Custom Widgets
With every verified purchase of Moto, Himanshu Softtech also gives you four of their premium plugins for free.
The Video Overlay plugin enables you to adjust when your opt-in form appears, when it exits, and what it looks like.
You can choose to pause videos on your site when the form pops up, or leave it running if you like. The plugin also lets you place social media sharing buttons front and center, which helps bring in more traffic.
You also get the WP Ultimate Notification Bar plugin, which allows you to deploy any message or image on your site as an info popup. You can position the bar at the top or the bottom of the page, and customize how it looks.
The Exit Popup WordPress plugin enables you to create and manage exit popups. You can set up exit popups to show up on specific pages or posts, and you can even have it appear on the entire site. You can set up a cookie to make sure that repeat visitors don't see the popup over and over again and get annoyed.
The Sticky Ads Bar WordPress plugin makes creating and managing ads super straightforward. The ads displayed are always related to your niche, and they never obstruct your website's design.
Advanced Opt-In Forms
Moto gives you access to ten different contact form styles, enabling you to integrate an opt-in form to your site regardless of color scheme or niche.
Support and Documentation
The company has a slew of HD video tutorials that can guide you through setting up the theme and using its features to create striking marketing pages.
All of its features are comprehensively documented, which means even if you're a complete WordPress beginner, with Moto, you'll be able to make a beautiful-looking site with ease.
Even if you do get stuck setting up the theme or building a website, you get direct access to Himanshu Softtech's 40+ in-house experts that can help you through your queries and resolve any issues.
The company claims that customers almost always receive a response within an hour, which is super impressive!
Moto Theme Pricing
Moto is aggressively priced, making it accessible to complete beginners and marketers on a tight budget.
You can get a single-site Moto theme license for only $39, which is very impressive considering the sheer volume of templates, layouts, and features you get.
You can also pay $67 to get your hands on the developer license, which enables you to create and sell all of your Moto theme designs at whatever price you like without needing to pay any royalties.
Either way, at this price, Moto is a steal!
Verdict: Is the Moto Theme Worth It?
We home you found this Moto theme review useful. Moto can be an invaluable tool for beginners and veteran marketers alike – the vast array of templates and layouts give you a head start and enable you to create a professional-looking site in a matter of hours!
The theme options enable you to customize anything and everything you see, and the premium plugins you get at no extra cost make Moto an alluring option for the low price.
The excellent support, the host of tutorials, and the extensive documentation are just icing on the cake.
As claimed, Moto is a super-versatile theme and one that's worth spending money on.