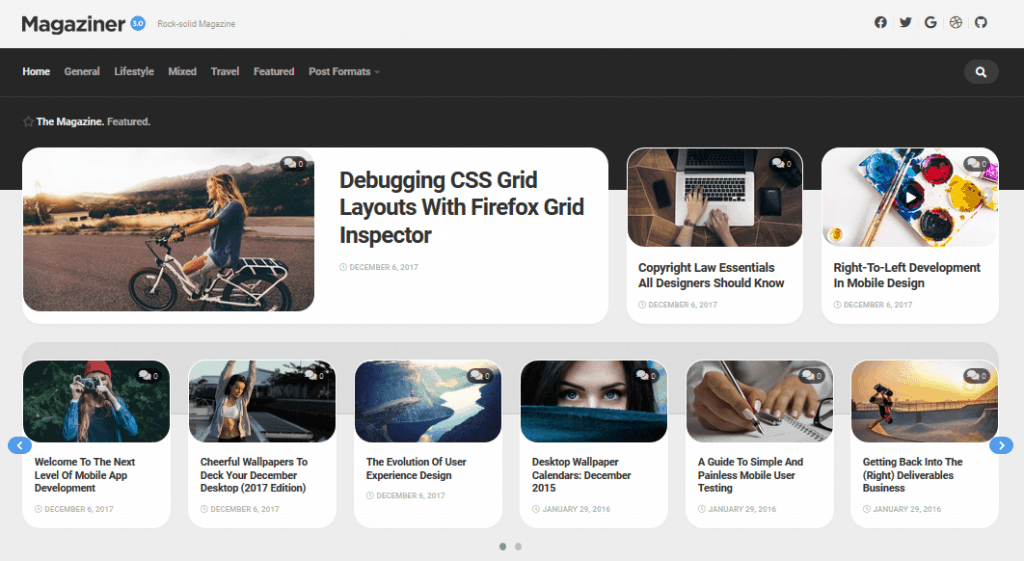 Blogs have the most monotonous design of all websites – you will likely see walls of text (typical headings with short descriptions), maybe a little color on the top bar, and a sidebar for more content.
The Magaziner theme from AlxMedia breaks the monotony and adds life to a blog by dividing it into elegant sections that filled are with color and spaced perfectly.
The theme makes space for images, sharing buttons, advertisements, and menus, and the elements work in harmony – elevating the blog to another level visually.
In this Magaziner Theme Review, I will go over everything the theme has to offer and check out the support and documentation to determine if it's worth the $49.
What Is Magaziner About?
The Magaziner theme from AlxMedia is the perfect theme for a blog or website in any niche.
AlxMedia is managed by Alexander Agnarson and is on its ascent to the mainstream WordPress theme market. Over 18,000 users already deploy AlxMedia's themes!
Magaziner is a premium theme, but AlxMedia offers both free and premium themes on its website.
The free themes are 100% GPL compliant, meaning anyone with the skills can modify the code and improve the theme, and even sell it!
Other than the Magaziner theme, AlxMedia offers 10 premium themes and 14 free themes.
---
Magaziner Theme Review
The theme can be customized to match your style and fit your requirements, making it perfect for a blog in any niche and vertical. It is responsive, meaning it looks great on all devices!
Design and Style
Magaziner boasts a striking design, and although it looks pretty flashy, your website will look unmistakeably like a blog – and a good one at that.
My first impulse on seeing the blog was to scroll around and find something to read – this doesn't happen if the blog is just a plain wall of text.
Hovering the mouse over a blog post changes its color, and a great-looking arrow pops up on the bottom right, which is a minor detail, but makes a massive difference in the overall impact on a visitor.
The post page's design is equally impressive, with the post, featured posts, comments, sharing buttons, recent posts, and a search bar elegantly sectioned off.
There's also a "previous post" button, and the sheer volume of elements the developer has managed to fit in one space without making it look crowded or make the page any less elegant is astonishing.
Overall, the theme boasts a fantastic fresh design that can drive clicks to posts like nobody's business.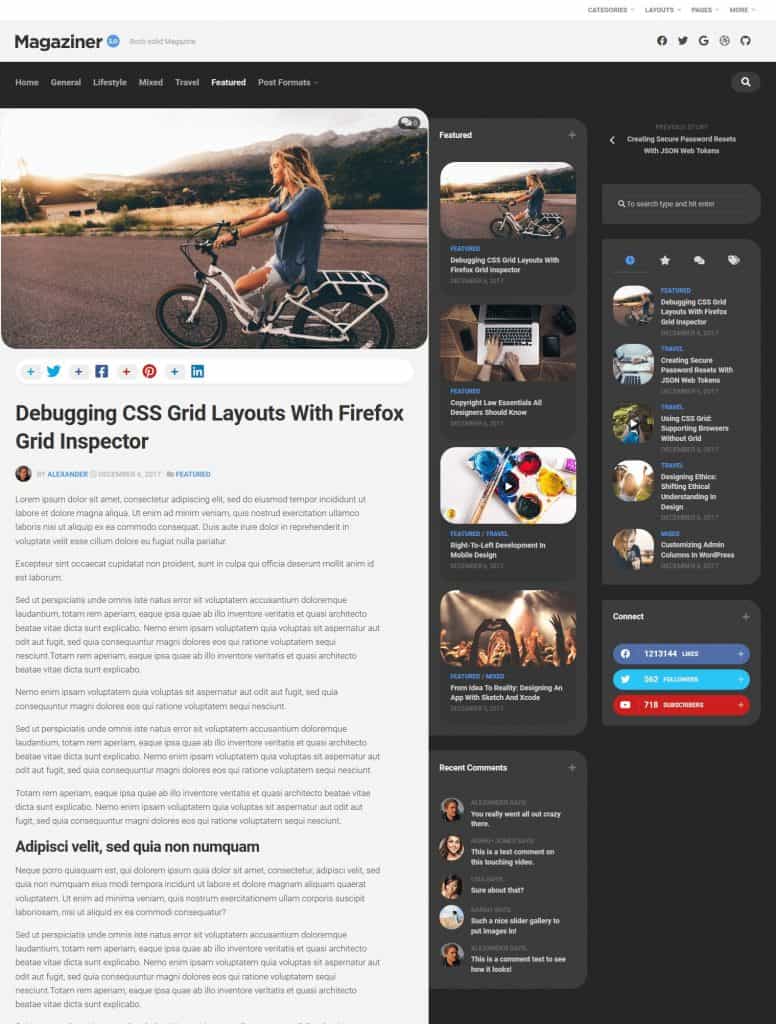 Theme Features
In addition to the standard features that come with AlxMedia's themes, you get:
Toggle Fixed-Width Sidebars
You can select from multiple sidebar options that have fixed-width sidebars. On lower-resolution screens, the sidebar will fold up, creating space for the content.
Related Posts and Post Navigation
The theme comes with a related posts section and post navigation links built-in, and if used right, you can nudge visitors to explore more of your content.
Boxed Layout
If you like a boxed layout better than a full-width layout, you can switch to it in one click from the styling options menu.
Header and Footer Ads
You can use the header and footer widget areas to add advertisements to your site.
Performance
The theme is fairly lightweight and coded with WordPress standards in mind. These considerations, coupled with the fact that the layouts allow for a limited number of images, should keep loading times down.
Getting your blog to load under two seconds should be a breeze.
SEO Friendliness
The theme's markup is search-engine optimized, giving you an edge over competing websites when it comes to ranking.
Coupling it with an SEO plugin like Yoast SEO and using on-page SEO techniques should bring your website to the top of the SERPs in no time.
Theme Options
Extensive Color Options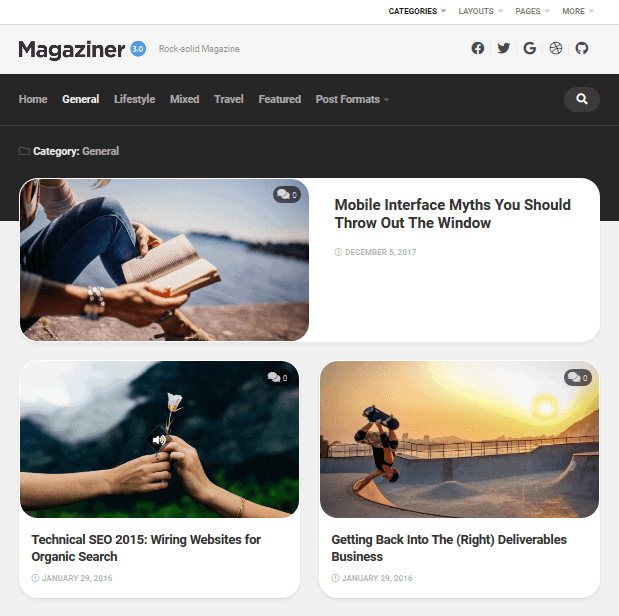 You can set any combination of accent colors you please for the theme and other specified areas with ease.
Various Post Formats
You don't have to stick to text alone – integrating videos, audio files, images, and gallery sliders is super easy.
Near-Zero Images
The theme uses Font Awesome, which, coupled with CSS and the modern, flat look limits the number of images you can use – making it lighter and faster.
The number of images allowed on the page depends on your layout choice.
Unlimited Widget Areas
You can create an unlimited number of widget sidebars and assign each widget area to a page, a post, or a standard WordPress section.
Up To Four Widget Columns
You can set up the theme to have up to four widget columns.
Set Maximum Width
You can select how wide you want your website to be via WordPress's admin panel – the numeric slider makes this process super simple.
Social Media Buttons
You can add links to your social media to the blog's header and footer without any hassles. The theme gives you access to 605 icons, and you can use any of them free of cost.
You can also change the color of the buttons to your liking.
Massive Font Selection
Magaziner comes with a host of great-looking fonts supplied via Google Fonts. The selection includes both Latin Extended and Cyrillic options.
Flexible Layout
You can set a sidebar globally or on specific posts and pages. You can also create an archive, category, search, home, single, and 404-error page quickly.
---
Additional Features of Magaziner
High Resolution
The theme ensures that your blog will look great even on retina screens and other devices with high-resolution displays.
Ultra-Responsive

The theme scales down flawlessly from Full-HD screens down to low-res mobile phone displays.
Integrated Share Counts
The Sharrre plugin comes integrated into the theme, giving you access to beautiful-looking share buttons with counts on each post. You can disable these if you don't need them.
Backend Options
You can customize the theme from the options panel directly without needing to fiddle with any code.
Refined Code
The code's structure is easy to work with – you won't find any layer upon another layer with bloated code.
Custom-Built Widgets
Magaziner comes with widgets that enable displaying responsive videos, tabbed content, post lists, and much more.
Easy Logo Upload
You can upload your logo in just a few clicks, or use the plain-text logo option instead.
Extensive Selection of Page Templates
It comes with multiple layout options, many of which have child-page menus included.
Cross-Browser Support
The theme works perfectly on many browsers, including Firefox, Safari, Chrome, Opera, and Internet Explorer.
Translation Support
You can translate your blog into any language using the .po/.mo files that come included with the theme.
Live Customizer
You can change the look and feel of your blog using the WordPress Live Customizer and see the changes you make in real-time.
Full-Child Theme Support
The theme is built with the development of child themes as a priority and not an afterthought. All of the files and functions are pluggable, making the theme easy to work with.
---
Support and Documentation
AlxMedia's free themes and premium themes have separate forums, and since Magaziner is a premium theme, your questions will be tended to first.
You can also email the developer or tweet at @AlxMedia for a quick resolution.
---
Magaziner Theme Pricing
The theme comes in at $49, which is a modest asking price considering all you get with the theme.
Additionally, with themes like Jevelin and Newspaper X priced at $59, that have, dare I say, cookie-cutter designs, Magaziner seems like a much better option.
---
Verdict: Is Magaziner Worth It?
Let's wrap up this Magaziner theme review. The extensive customization options, the attractive, modern design, and the speedy support make it an excellent theme.
However, since it doesn't have any documentation, you will need to use the forums and go back and forth with support if you're a complete beginner.
If you have some experience with WordPress or have used it for a long time, using it to build your blog will be much easier since the setup and customization process remains the same.
Using it will need some setting up, but this is standard for every blog-focused theme.
All in all, Magaziner impresses with its design and features, and if you're a WordPress novice looking for a striking blog theme, you won't regret spending the $49 on Magaziner.