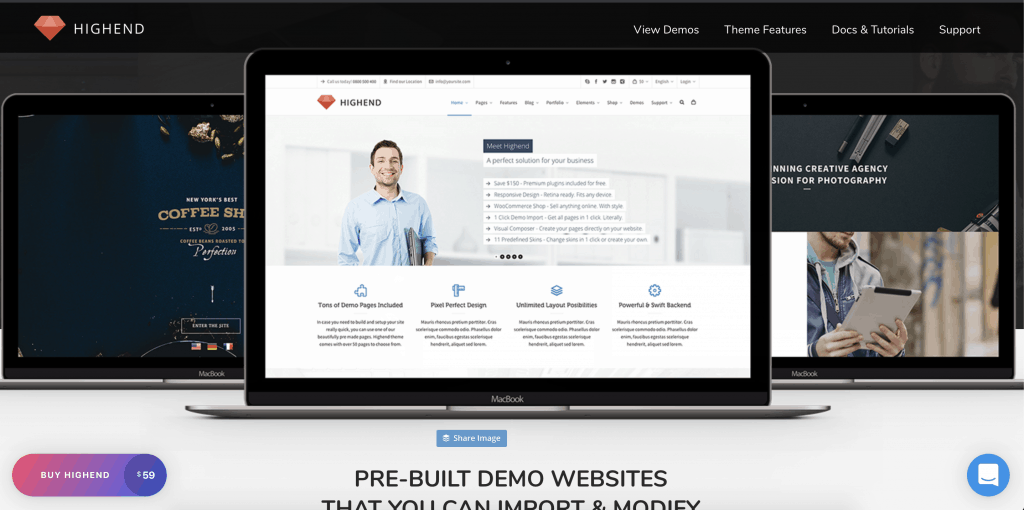 Building a website is a long and complicated process – regardless of what niche or vertical it targets and what the goal of the site is.
HB Themes claims that its Highend theme has helped over 38,000 users build beautiful sites quickly.
But does it really help cut down on development time? More importantly, is it worth the hefty $59 price tag?
In this Highend WordPress theme review, we'll go over all this theme has to offer before arriving at a conclusion.
What is the Highend Theme About?
Highend is HB Themes' flagship multipurpose WordPress theme. With over a dozen demos available, HB Themes showcases how the theme enables the designing of attractive websites.
The company has been around since 2011 and has helped thousands of users set up websites with ease.
Highend also has an impressive blog demo that caught my eyes instantly. It can help you make an online shop, a landing page, a portfolio, a blog, and even a business page!
Highend is only one of HB Themes' offerings – they also offer professional web design services to anyone who needs it.
The company also has another theme called "Sinatra" in development that is scheduled to launch soon.
HB Themes' impressive portfolio gives its theme a lot to stand behind – let's see if Highend packs a punch for its price.
Highend WordPress Theme Review
Design and Style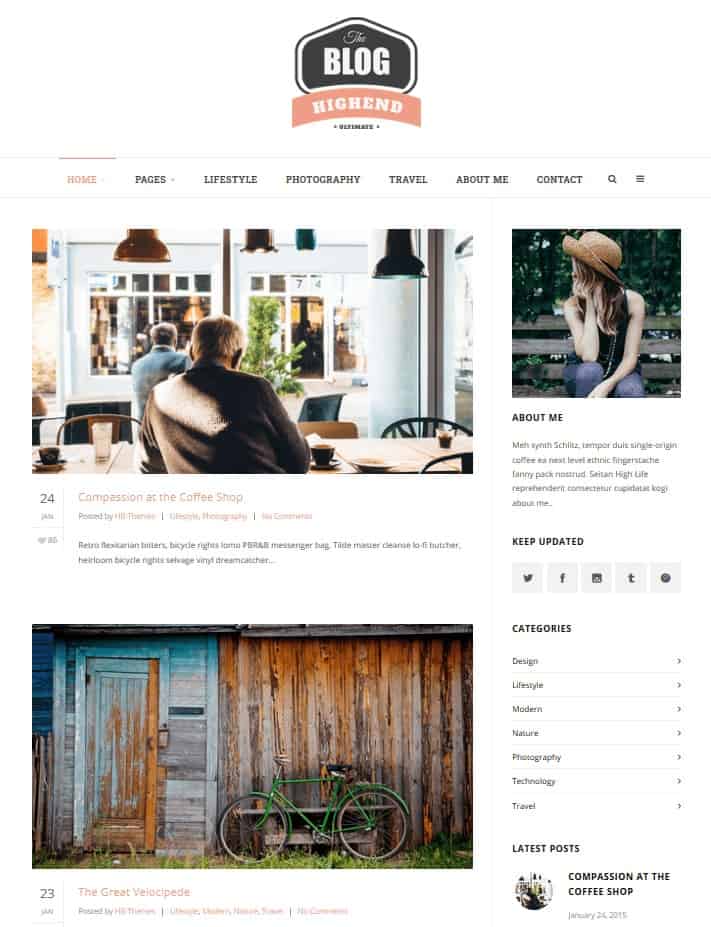 Your website can be as flashy, minimal, colorful, or plain as you like, and the demos give you a glimpse of how Highend works with every style.
Take the demo above as an example. The site neither too flashy nor too minimal, and all the elements harmonize with each other perfectly.
Nothing looks out of place!
Highend's customization options ensure that your site looks great no matter what your niche is.
Theme Features
One-Click Demo Importing
You can import any of the demos (like the one above!) in one-click and modify them to fit your personality and taste!
Front-End Editing
You can build a website in its entirety without needing to use the admin panel.
The 50+ custom-designed shortcode elements combined with the Visual Composer plugin give you all you need to create the perfect website without any technical expertise.
Ultra-Responsive
Highend uses a percentage grid-based framework, which makes every website it makes completely fluid. Your website will look great on every device!
WooCommerce Compatible
If you need a theme for an online shop, Highend is perfect for you!
Besides offering a beautiful online shop demo, the theme is also WooCommerce compatible, enabling you to sell whatever you want, however you want!
Multiple Layouts
Highend gives you access to six basic blog page layouts, 10+ portfolio layouts, five online shop layouts, and a multitude of other layouts that enable you to create stunning home pages.
You can also pick from the different "About Us" page layouts and put your own spin on them!
Forums
Highend is bbPress compatible, giving you the ability to create and style forum pages for your website.
Tons of Animation Options
You can animate any and every element on the page without any hassles. All you have to do is select the animation style and set the delay so the animations synchronize perfectly.
Countdowns
You can enable maintenance, countdown, or coming soon mode in one click when you need to run some maintenance on your site. You can also add countdowns to landing pages and nudge visitors into conversion!
Mega Menus
If a single column menu or sidebar isn't enough for what you have to offer on your website, you can set up a multi-column mega menu to give your page a neat look.
Fully Customizable
You can pick from 630+ fonts and 1600+ icons and make your page as unique as your brand.
Changing the general layout, and the header and content layouts is a breeze, and color schemes and backgrounds are also fully customizable.
Tons of Elements
Highend has an astounding amount of elements that you can place wherever you please.
The toggles and buttons can help you show off your product categories or gain a follower. The carousel elements enable you to show off blog posts and products that need to be in the spotlight.
Flip boxes are a cool, interactive way to show off features and pricing, and if you like the traditional pricing tables better, those are available, too!
Embedding media like YouTube videos and images is super easy, and you can even make banners and teasers from them.
Blog boxes are a beautiful way of putting your write-ups on display, and sliders and full-width galleries can help you highlight your best work.
You can also introduce parallax sections onto your site and make your site that much more attractive.
Testimonials, gradients, tabs, tours, FAQ modules, maps, and info messages are all easy-to-add elements that can take any site to the next level.
Performance
Highend is updated regularly, ensuring that your website is protected with the latest security measures. It also has no history of security vulnerabilities, which is super impressive.
Loading speeds depend on the content on your site, but with good hosting, you can get the site's loading time under four seconds with ease.
SEO Friendliness
Other than the meta settings for each page, Highend does not have any search engine optimization options.
They do have a "Speed Optimization" section on their documentation page, but it only has suggestions of what you could do to speed up your website – like optimize your images and reduce the number of posts.
Using plugins like Yoast and SEOPress is the best way to improve SEO ratings.
Theme Options
Highend has tons of theme options that enable you to control every element on the screen. You can adjust the layout of the page, the header, and the footer, and even set up pre-footer callouts and copyright layouts.
Additionally, you can control how your logo looks like. The contacts section can also be customized, and so can all the elements on the portfolio and blog page.
Setting up sharing and social media buttons is as simple as selecting the right options, and you will never need to fiddle with the backend of your site to adjust colors, add a map, or change font.
With the right demo and some patience, you can create a professional-looking site in hours!
Additional Features in Highend WP Theme
Premium Plugins
With every purchase of Highend, users also get access to three premium plugins and an icon pack for free.
The Revolution Slider, Layer Slider, and the Visual Composer plugins enable you to create carousels and animations and give your website a personal touch.
It also comes with the IcoMoon Ultimate Pack that gives you access to over 1600 icons for free!
Automatic Updates
The notification box in your admin panel will let you know whenever a new update for Highend is available, and you can update the theme in one click – no fuss!
100% Translatable
The theme can be instantly translated to one of five languages, and since Highend is WPML compatible, you can translate your webpage to virtually any language.
Highend is RTL ready, which means you will never have compatibility problems no matter what language you choose to translate your site to.
Support and Documentation
HB Themes has a dedicated forum for users looking to get their questions answered quickly. They also have a "Frequently Asked Questions" page on their website that helps new users out with basic queries.
Extensive theme documentation is also available, enabling users to learn about the nuts and bolts of the theme.
Technical issues are only answered in the forum, but if you have a pre-purchase question, you can email them. Responses are always prompt – regardless of if you mail them or post on the forum, which is amazing.
Highend Theme Pricing
Highend comes in at $59, which is slightly expensive for what you get. There definitely are better-priced options out there.
It does come with $150 worth of plugins for free, which makes the price a little fairer.
However, if you're looking for an uncomplicated website building process, and like the comfort of having a forum for support 24/7, Highend is right for you.
Verdict: Is Highend Worth It?
We hope you found this Highend wordpress theme review helpful. The theme comes with over a dozen demos that you can import in one click and edit away. The vast array of theme options gives you full control over what's on your site, and since it's WooCommerce compatible, creating an online store is a breeze.
The premium plugins that come with it give it an edge over alternative themes with similar features at the same price point, and you get the design quality and features you pay for.
However, if you are on a tight budget, you should look for a lower-priced theme.