GeneratePress and Genesis are arguably two of the best-known themes in the industry. Anybody who has ever used WordPress has at least heard of them.
If you're in the market for a WordPress theme, it is easy to get confused picking between the two.
Both the themes boast an equally professional look, making picking between them more complicated than it already is.
But I'm here to tell you that one of these themes is a lot better than the other.
In this post, I will do a comprehensive review and compare the two themes to help you understand which one you should pick.
| SERVICE | FEATURES | VISIT |
| --- | --- | --- |
| | #1 Recommended provider. Fast, easy, and cheap! | |
| | #1 Recommended provider. Fast, easy, and cheap! | |
GeneratePress vs Genesis: Overall Review
GeneratePress Overall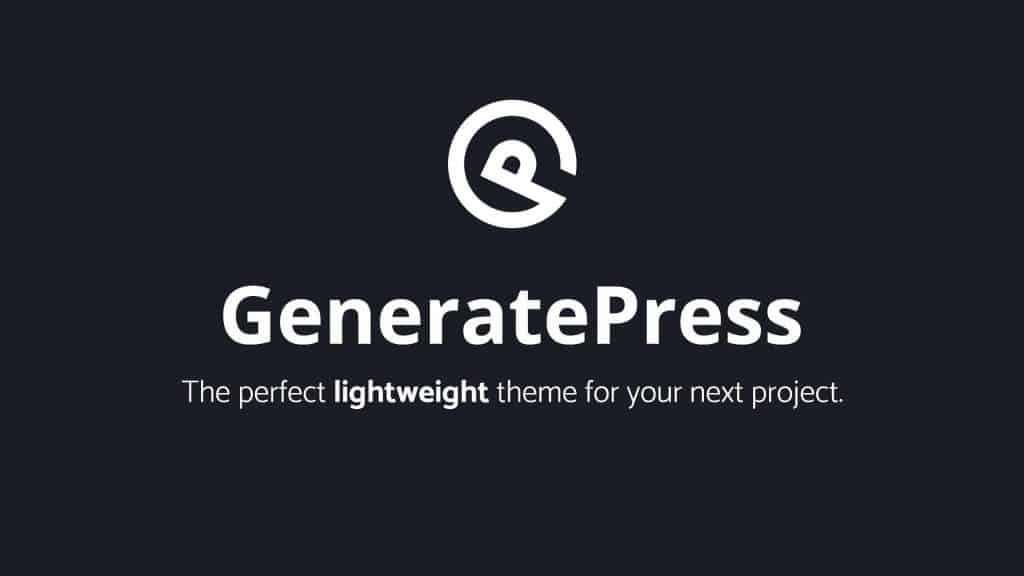 GeneratePress is best known for being lightweight and pocket-friendly and is often picked over other themes because it makes no compromises on features and functionality.
The Premium version of the theme offers better customizability, and the free version feels very limited in comparison.
It's easier to use than Genesis, and since it strikes the right balance between professional and welcoming design-wise, it's excellent for any type of site.
However, Genesis is definitely more feature-rich.
Genesis Overall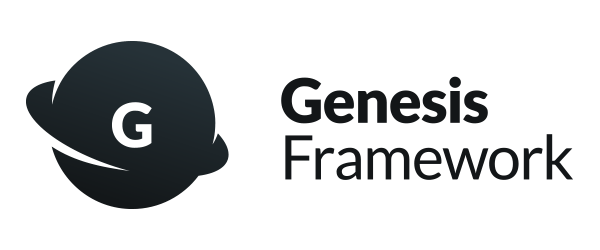 Genesis is different from GeneratePress internally since it works on the Genesis Framework. However, functionality-wise, it has notable advantages over regular themes.
The theme offers second-to-none SEO features, and digital marketers and bloggers are predisposed to vouch for the theme.
It also loads faster and is more customizable, but it certainly has a steeper learning curve.
Theme Features
GeneratePress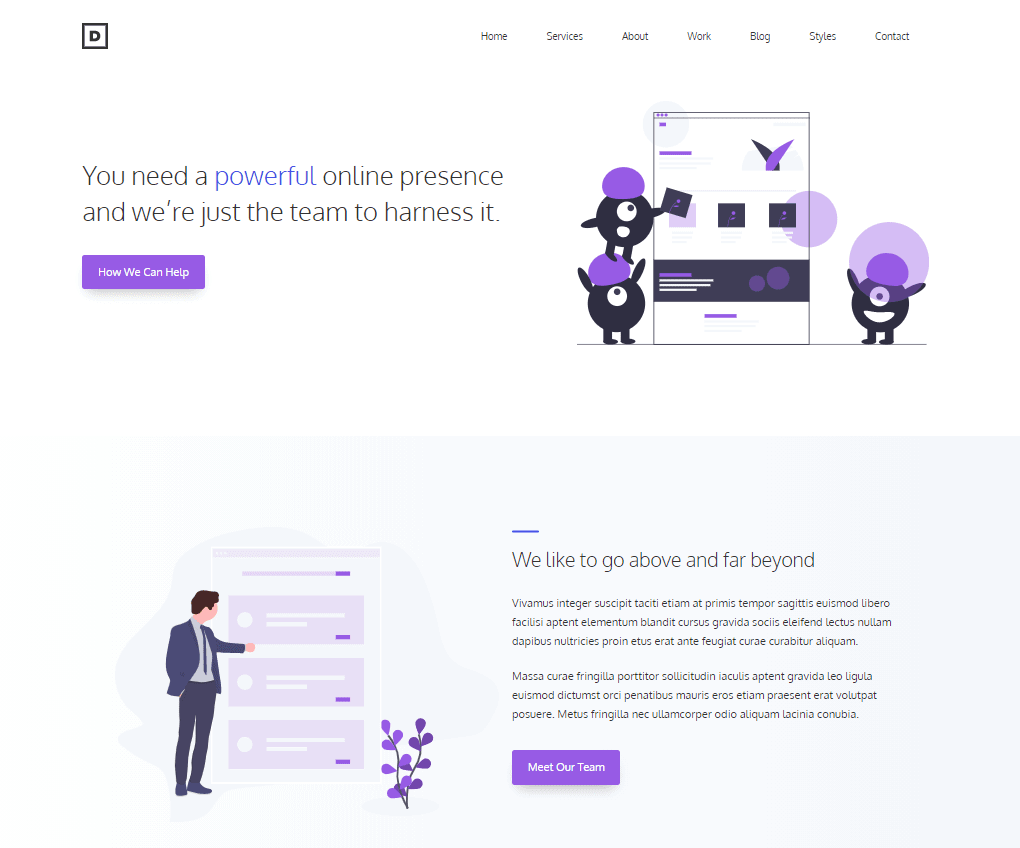 Both the free and the pro versions of GeneratePress offer an excellent selection of features. 
However, one of the main things that the theme offers that makes building a website easier is the Site Library.
The library has over three dozen templates that you can customize using the default WordPress editor to look and say exactly what you want.
There is also a selection of templates that can be customized with Beaver Builder, giving you the familiarity and power you are looking for when building your website.
The design of every site is minimal, but it still catches your eye, which is excellent. The "Dev" template perfectly illustrates what I'm talking about.
But the free version of the theme does not include access to Site Library, which is a little disappointing. Limited access would've been great.
The free version makes up for it by giving users access to an array of excellent features.
Security, stability, and speed are three areas where the theme never disappoints. It's hard to believe that the theme's install size is only 30KB!
No jQuery or other dependencies are used in the theme's code, which means you won't have to deal with render-blocking issues.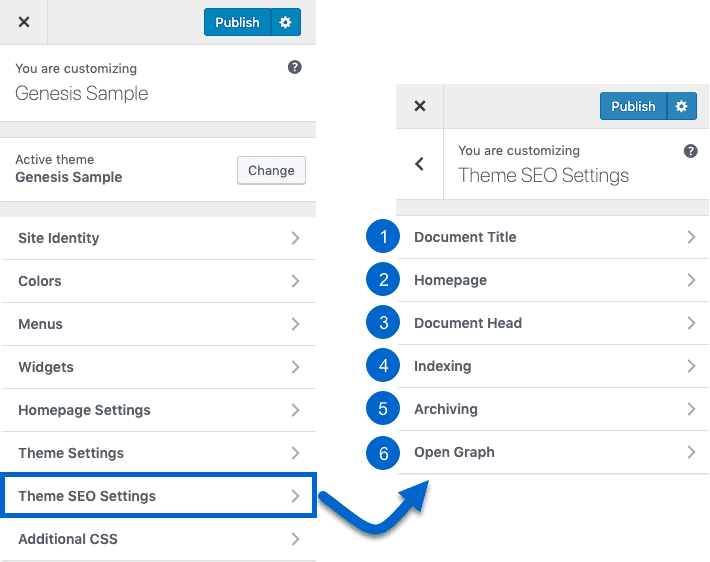 Additionally, the theme comes SEO optimized. The validated HTML and the built-in schema.org structured data gives your website the edge it needs to rank on the top.
However, when compared to Genesis, the SEO features of the theme seem limited. It does support plugins like Yoast SEO, but it's not the same thing as the built-in options and can make a difference to some experts.
On the plus side, the theme comes accessibility-ready, following WCAG 2.0 standards and ensuring no one is left behind when browsing your website.
GeneratePress also works with all major page builders flawlessly, which means you can get the free version and get to work building your site right away.
Developers love that the theme comes with support for hooks and filters, which essentially gives them limitless flexibility in terms of design.
The RTL support ensures that your website appeals to your target audience from the world over, and since it comes translated to 20 languages out of the box, you won't have to put in extra effort to make things work.
The Pro version adds a bunch of excellent features that are worth paying for. It does this by giving you access to what the company calls Premium add-ons.
The Site Library, obviously, is one of these features.
But the Pro version also adds more color and typography options to the theme and enables you to add dynamic page heroes with an advanced hook system and custom theme layouts.
There's more.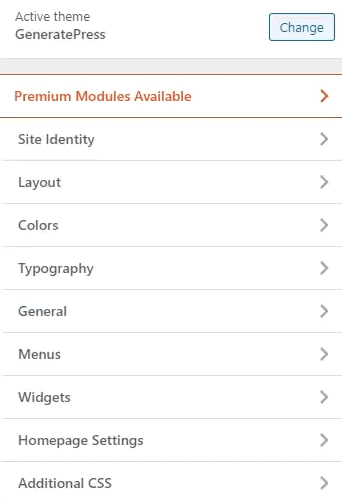 It unlocks more layouts for WooCommerce, too, giving you added flexibility when designing your eCommerce site.
Features like size, padding, and margin control, and sticky and off-canvas navigation are also added.
The blog module unlocks featured image controls, columns, infinity scroll, and a handful of other excellent features.
You can also add a second navigation menu to your website that displays the same options as the primary menu. Adding this will give your site a more polished look.
GeneratePress Pro extends the control you have over your website by allowing you to change the copyright message on the bottom of the page.
The mini-page builder, Sections, enables you to switch up your page's look and break content into sections for a neater look.
You can backup and restore your Theme Options using the import and export features, and if you aren't using an element, you can disable it entirely for a small performance boost.
Genesis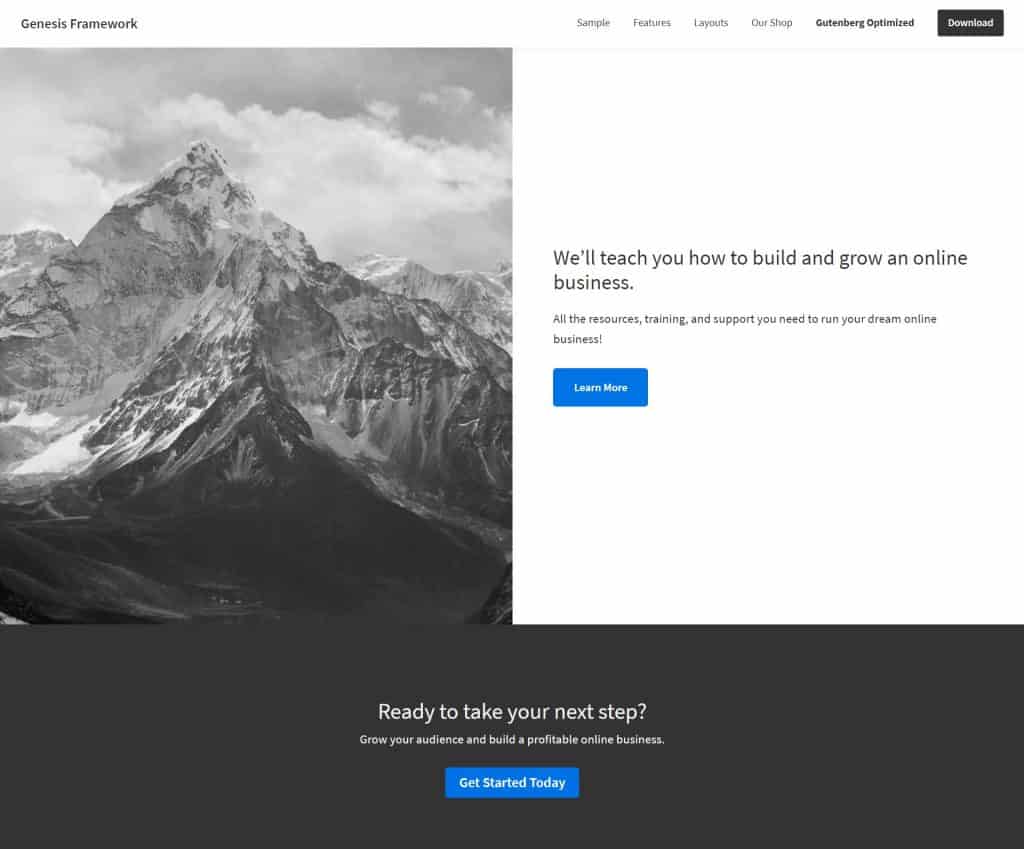 If you just get the Genesis framework, you will only get one template to work with, which is a relatively plain-looking course template.
However, you can get the framework with packages that come with niche-specific templates or even give access to all of the templates. More on this later.
While this is a slight disadvantage, Genesis makes up for it with its vast selection of features.
It comes Gutenberg-ready, meaning regardless of if you're a developer, a designer, or a complete beginner, you will be able to design the modules in the theme with ease.
Every theme template, even the default plain one, comes with three custom page templates: default, archives, and blog page. You can use whichever you think is apt for the site you're building.
The featured content widgets enable you to add featured posts, assign featured pages, and user profiles to your website.
But that's not even the best part.
Genesis is one of the most SEO-friendly themes available. With it, you only need to worry about the content you put up and it's search-engine friendliness.
This is because the theme incorporates schema.org code, which allows you to output microdata in your site's code.
It's worth mentioning that Greg Boser, the SEO pioneer, and well-known industry expert, works on all of the Genesis templates. You're in good hands.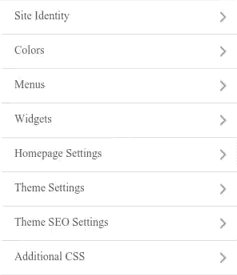 You also get a slew of SEO options in the Theme Options that enables you to fine-tune how your site and its pages look to search engines. You don't need to buy Yoast SEO to make your site search-engine-ready if you get Genesis, saving you a considerable amount of money.
Genesis gives you a massive advantage when it comes to security. Since a lot of other themes tend to break when a new version of WordPress is installed, webmasters just ignore the updates.
But the problem with this is hackers find vulnerabilities in that version and target websites that use it. The damage could range from your site going down to the loss of personal information and even your banking information.
But this isn't a problem with Genesis since it uses the child-parent concept. The working of your website isn't affected by updates at all.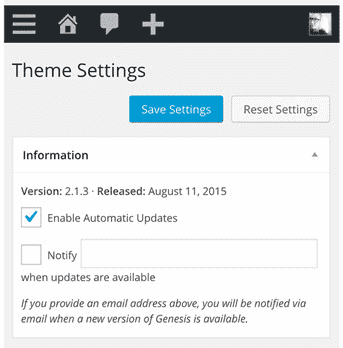 If you enable the "automatic updates" option in the theme settings, you will never have to worry about your website's security.
In addition to his, the theme also enables you to customize your header and make a text-based logo quickly. However, there is no drag-and-drop header builder in Genesis like there is in GeneratePress.
On the plus side, though, the theme is mobile responsive, and you can set up Gutenberg blocks on your new site in a matter of minutes.
Overall, both themes are very feature-rich. However, Genesis gives your site a massive edge when it comes to SEO. However, GeneratePress is easier to use and makes building a new website quicker and more convenient.
Speed
It's important to note that speeds can vary depending on your site's setup, your host, and several other factors. I've gauged the consensus and mentioned the average loading speed that users report.
GeneratePress
GeneratePress tends to load fast, typically under two seconds, regardless of what type of site you're running. 
Even if you have a graphics-heavy website and have Elementor enabled, your site should load in around three seconds.
Genesis
Genesis is the faster theme of the two, with users reporting crazy-fast loading times of around one second.
If speed is your top priority, Genesis is right for you.
User Interface/Customization
GeneratePress
GeneratePress enables you to change your website's color palette and fonts right from the customizer. The theme's paid version unlocks styling options for every element on your website, which is excellent.
You can also adjust what your site's layout is on desktop and mobile using the layout controls. The padding, margins, and sidebar layouts are also accessible right from the Theme Options.
But the best thing about it is that the theme works with your favorite page builder. You won't need to learn to use a new builder altogether just to customize the theme to your liking.
Genesis
I like that Genesis arranges all of the settings in the Theme Options in dropdown boxes. It makes the interface a little more elegant and easier to use.
The developers understand that images are a big part of the appeal of any website. To help you make your site stand out, Genesis adds features a host of image management features and makes creating thumbnails easy for your blog posts.
Drawing attention to your content is a lot easier to do with the easy-to-use image management features.
Genesis also includes a broad set of layout options, which is another way in which the theme enables you to make your website stand out.
You can pick from:
Full-width content layout
Sidebar/content layout
Content/sidebar layout
Sidebar/sidebar/content layout
Content/sidebar/sidebar layout
Sidebar/content/sidebar layout
But the best thing about the theme is that you can pick different layouts for different posts and pages – right from the Theme Options!
In addition to these options, the theme also comes with custom widgets, which give you access to extra customization features that aren't available by default.
The Featured Post and Featured Page widgets are two such widgets, enabling you to display some content from the page or the post along with an image.
But the widget I like the most is the User Profile widget, which displays the Gravatar of the user on your site, and links to an "About" page.
Pricing
GeneratePress
A free version of GeneratePress is available, and you can install it right from your WordPress dashboard.
However, if you want access to all the features, the Site Library, and the premium modules, you must purchase the GP Premium for $49.95/year.
The 30-day money-back guarantee makes your purchase risk-free, and customers get a 40% discount on renewal, which is an excellent benefit.
Genesis
There is no free version of Genesis available, which is a little disappointing.
There are three ways you can get your hands on Genesis. You can:
Get WP Engine hosting for your website and enjoy Genesis Framework and all of its 35+ themes.
Buy Genesis Pro for $360/year and get access to the framework and all the themes.
Get just the Genesis Framework and one theme of choice. Plans start at $59.95.
Genesis is a lot more expensive at first glance, but the advanced SEO and customization options it gives you access to make it worth every penny.
Support/Documentation
GeneratePress
Getting support if you're having issues with GeneratePress is fast and easy. You can visit the support forum and search it to see if you're experiencing a problem that's already been resolved. You'll likely find the solution in minutes.
However, if you can't find the solution, you can also post on the forum to get it resolved.
Response times are short, and you can expect to get your issue resolved in under 24 hours.
The GeneratePress knowledge base comprises several dozen articles, and getting started with the theme should be easy even if you're a complete beginner.
Genesis
After you become a Genesis user, you will get access to support for life for an unlimited number of websites. Excellent!
Every theme comes with detailed instructions, making setting up the framework on your WordPress site and giving it the desired look easy.
You can get support by posting on the support forum or opening a support ticket on your account dashboard.
Furthermore, the StudioPress website is filled with several tutorials, code snippets, and a big list of external resources that will help you make the most of the theme's customizability.
Verdict: Which is Best?
Genesis is superior to GeneratePress in many ways. It's more SEO friendly, loads faster, supplies more customization options, and is also more secure.
However, it also has a relatively steep learning curve for a theme. It's also a little more expensive than GeneratePress.
But the features it offers makes it worth every penny. If you're planning to get your brand on the web for the long haul, you cannot go wrong with Genesis.