Divi and Enfold are two of the most popular multipurpose themes in the market, and even if you're a beginner, chances are you've come across at least one of them.
But which of the two is better?
Divi is more expensive, but is it worth the money more so than Enfold?
Or is the difference in features negligible, and buying Enfold just makes more sense?
To answer these questions and more, I've reviewed the themes and compared all of their features.
After reading this article, you will know why one of these themes is UNDENIABLY better than the other.
| SERVICE | FEATURES | VISIT |
| --- | --- | --- |
| | Popular. Ultimate. Visually. Customization | |
| | Responsiveness. Friendliest. Flexibility. Popular | |
Divi vs Enfold: Overall Review
Divi Overall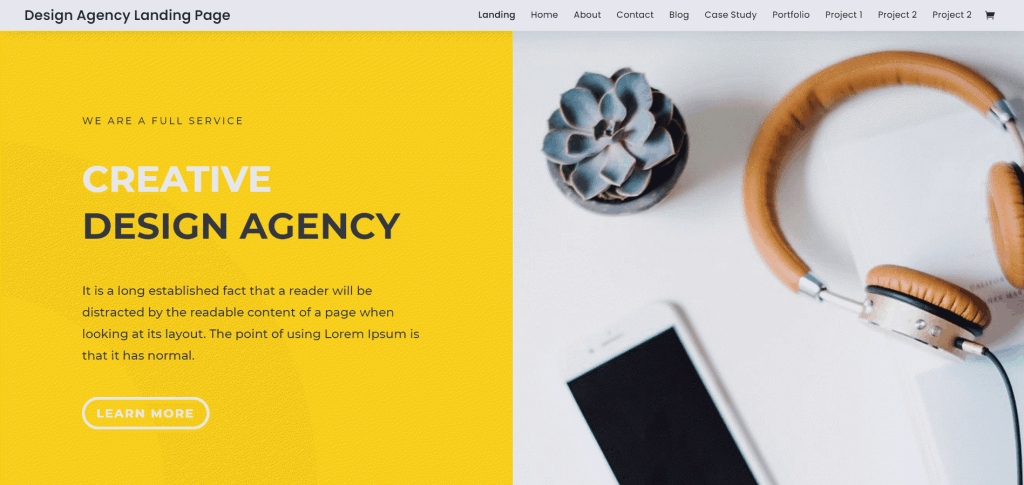 Calling Divi a theme feels like a massive understatement because it's built like more like a suite.
You get access to top-notch marketing features that you usually have to pay for separately. Thetheme's integrated social media buttons, flexible user roles, and support for 32 languages make it a theme that's hard not to recommend.
The 100+ demos feel more modern, and so does the world-class editor. If you already own a theme and want to give it a fresh spin, you can use the included Divi plugin to customize it to your liking.
Support exceeds expectations, and loading speeds are excellent, which leaves nothing to complain about. No wonder 700,000+ users prefer using Divi over any other theme!
Enfold Overall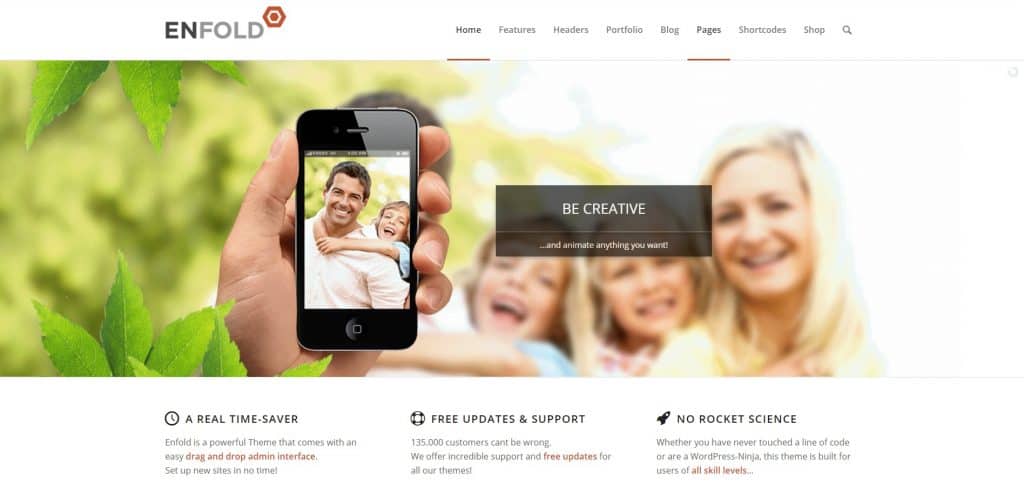 Enfold's more minimalist approach to design and site-building is refreshing and appealing.
You get some marketing features and access to three dozen demos that you can customize, which is impressive for the price.
The user interface is a little lackluster since you must leverage the standard set of Theme Options to customize your website. Also, while the bundled theme builder is useful, it works inside the Edit Post section of WordPress, and you can't see the effects of the changes you make in real-time.
Don't get me wrong – it's a solid theme – but the lackluster features make the overall package less enticing.
---
Theme Features
Divi
I find Divi impressive because the theme includes features that you typically need to purchase separately as plugins.
For instance, the theme offers a host of marketing features, and I'm not just talking about plain-old WooCommerce support (which is also available in Divi).
A split-testing feature comes built-in, allowing you to compare designs objectively and find out what sells better.
Of course, no split-testing feature is complete without the insight system that comes with it – which in this case, enables you to increase your site's conversion rate and raise ROI effectively.
The lead generation features are also a massive plus – it was surprising to find these available at no extra charge.
But it doesn't end there.
Divi's built-in email opt-in module supplies an impressive range of email provider support, enabling you to build segmented lists and collect information from your visitors from right inside the theme. The feature is GDPR compliant, so you won't have to find a plugin for that, either.
The robust contact-form building features are nothing short of impressive, not just allowing you to create custom form fields, but also giving you access to features like advanced conditional logic to hide and display fields in real-time.
Social media buttons are integrated into the theme. You also get flexible user roles and permissions, ensuring that you, as the owner of the page, are always in control of the website.
The theme can be translated into 32 languages, and developers are given the ability to make their own Divi modules using the Divi developer API.
Divi feels more like a suite and not just a theme.
Enfold
Enfold is WooCommerce ready, and also has the WooCommerce Bookings support which enables your visitors to make time- and date-based bookings.
A contact form builder is also included, enabling you to create a contact form from the WordPress backend and modify the inputs, text areas, checkboxes, and dropdowns.
But other than that, there are no marketing features to speak of, which makes the offering a little underwhelming.
However, it's not all bad. The theme comes with the instant AJAX search feature, meaning if your visitor were to search for something – a product or a blog – results would pop up as they type.
Enfold is translation ready and comes with MO/PO files, enabling you to target and connect with specific markets on a deeper level.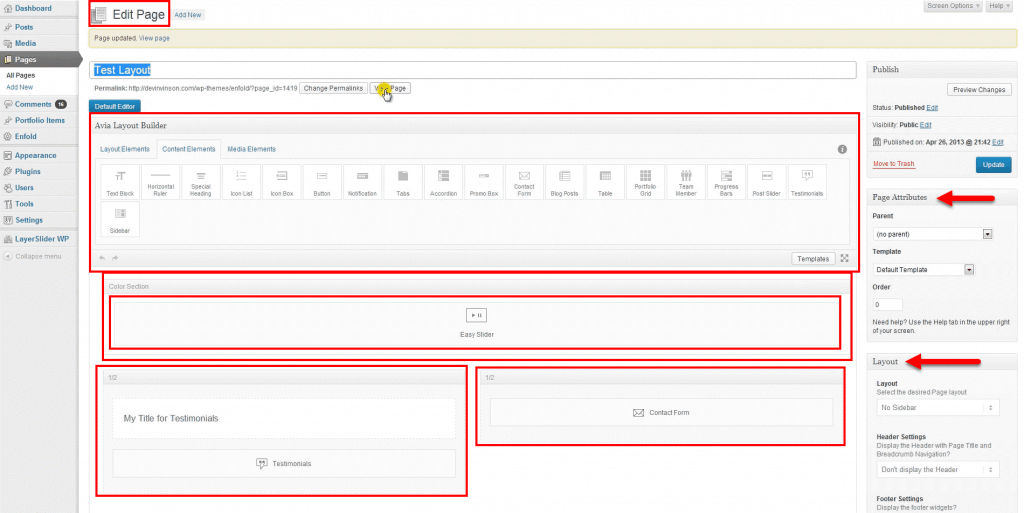 The 100% unobtrusive jQuery degrades gracefully if the user chooses to turn off JavaScript (or has an older computer), giving it a massive edge over Divi.
Heavy internal linking and use of Google rich snippets make it one of the best SEO Optimized themes in the market. Since it's responsive and retina ready, you don't have to worry about your website looking bad on any screen.
The Layerslider plugin is included with Enfold free of charge, enabling you to make enticing sliders for your website in minutes. All sliders come optimized for mobile devices, which is a big plus.
Enfold offers child theme support, which means your finalized theme will not be affected by theme and WordPress updates.
The 30+ included PSDs that come with the demos are tidbits that designers will definitely appreciate.
While Enfold is an impressive theme in its own right, it feels like the weaker theme when compared to Divi.
---
Speed
You must remember that the hosting service you use can make a big difference to your website's loading speed.
Divi
Pages customized with the Divi theme and builder tend to load under three seconds, with many users reporting a 2-second load time, which is impressive considering the graphics-heavy nature of the theme.
Enfold
Enfold also loads under three seconds, but most users report a ~2.5 second load time. It's a little disappointing because the theme is considerably simpler-looking than Divi.
---
User Interface/Customization
Divi
Purchasing Divi removes the need for you to use the clunky built-in Theme Options section altogether.
The Divi theme comes bundled with the "Divi Builder," which is one of the most flexible WordPress builders in the industry.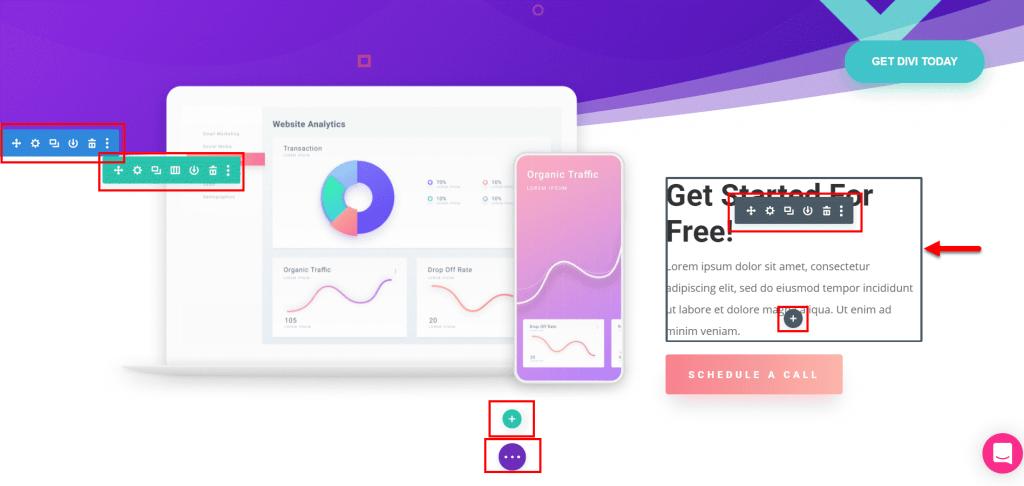 From the colors to the text and graphics, everything on your website can look just like you want it. The hover-style editing system makes it so that complete beginners can create a professional-looking website without much hassle.
It allows you to customize everything you see in any of the 100+ full website templates available.
But one of the best things about Divi is that you don't have to settle for a template as-is. More than 800 unique website layouts come included with Divi, and you can use any of them with any demo.
You can also always make a new layout from scratch – one that meets your requirements and matches your style.
The builder not only gives you the power to build visually, but it also enables you to add animation effects and shape dividers, make edits in bulk, and find and replace multiple elements in one go. You can also undo and redo edits, and make revisions to make a good website better.
Purchasing Divi gives you access to their Layout Library, where users in the community share new templates every day that you can also use.
In Divi, there is a module for everything. In addition to call to actions and testimonials, you also get access to elements like sliders, blog posts, and pricing tables, all of which you can add freely to your website.
A Header & Footer Builder and Post & Product Template Builder is also supplied, and you can also design custom category pages and 404 pages.
In terms of customizability and ease of use, the theme is tough to top.
Enfold
Enfold's main highlight is the clean and responsive demos it offers. The theme comes packed with three dozen templates ranging from business websites, shop websites, and even portfolios, and the company continually works to add more demos.
Unlike Divi, Enfold has a clean and minimalist approach to design, which gives it a professional undertone. But if you're looking to make a flashy and bubbly website, the theme is not right for you.
The simplistic approach extends to the drag-and-drop template builder, Avia, that comes bundled with the theme. You must use it from the regular WordPress Edit Post menu, and while you can see the general structure of the page you build, it does not show you the results of your editing in real-time.
Nonetheless, Enfold's modules include buttons, sliders, galleries, team sections, tabs, pricing tables, and a lot more, but there's a catch: you cannot customize headers and footers to the degree you can with Divi.
The theme supports five different post formats, allows multiple sliders on a single page/post/portfolio, and lets you add videos onto your website from any video hosting service. Video slideshows are also supported.
You get unlimited color options, a unique selection of sidebars, wide and boxed layouts, advanced typography options, and advanced header options.
But overall, Enfold doesn't offer anything new or enticing – which in comparison to Divi shows it in a bad light.
---
Pricing
Divi
Divi is a part of the Elegant Themes package, which means you cannot buy just the theme. You will need to buy an Elegant Themes subscription.
A one-year subscription costs $89, which gives you access to Divi and the Divi Builder and the three other themes the company develops: Extra, Bloom, and Monarch.
All the themes are updated regularly, and buying the subscription once will give you lifetime access; but, you won't receive updates after one year.
If you plan to use the theme for more than two years, it makes financial sense to get their Lifetime Access plan that comes in at $249 and gives you access to lifetime updates and premium support.
Elegant Themes offers a 30-day money-back guarantee, and while a free version of the theme or builder is not available, you can try out the builder demo on their website. It shows you just how easy it is to build a fresh website with Divi.
Enfold
Enfold is offered by developer Kriesi on ThemeForest and comes in at $59. But unlike Divi, free support is only available for six months. If you require extended one-year support, you must pay a $17.63 premium.
But what I like about Enfold is that they offer lifetime updates to all their customers, which is a huge plus for someone that wants a theme for long-term use.
There is no special refund policy for Enfold, and the Envato Market's refund policy applies. Also, a free version of the theme is not available.
---
Support/Documentation
Divi
Elegant Themes offers extensive documentation for their themes and the builder on their website, which makes the theme on par with 2020-standards.
But the company takes things a step further by supplying a one-click technical support feature. If you ever get stuck with the theme or the builder, you can enable remote access for a technician in one-click, which is super impressive.
Live chat support is available to all customers, and forums are also available to help you find instant fixes any issues you encounter.
It's also worth mentioning that Divi has an active Facebook community and even a Meetup group for web designers.
Enfold
Enfold users get access to a beginner-friendly user manual, and video tutorials are available to help users learn to make the most of the theme.
Professional theme support is available via ThemeForest, and their growing support forum has already garnered over 50,000 users.
The developer team answers every post, and response times are fantastic.
---
Verdict: Which is Best?
Divi is a better overall package. It makes stitching up a website a lot easier by giving you access to hundreds of templates, and the 40+ modules ensure that you don't ever have to buy a plugin for any features.
Speaking of plugins – you can entirely dodge buying a marketing plugin since it comes loaded with top-notch marketing features.
Support is excellent, loading speeds are fantastic, and the editor makes building a professional website a breeze. Overall, I find that paying the extra $30 for the convenience and features Divi offers makes much more sense. You cannot go wrong with Divi.