The Astra and GeneratePress themes are some of the most versatile themes available for WordPress.
Both offer enticing demos and a robust array of features – you can make all sorts of websites if you only get one of these themes!
But which of these is worth your time and money?
Answering that question requires in-depth comparisons of their features, templates, loading speeds, customization options, pricing, and support.
In this post, I will do just that, and show you how one of the themes is DEFINITIVELY better than the other.
Astra vs GeneratePress: Overall Review
Astra Overall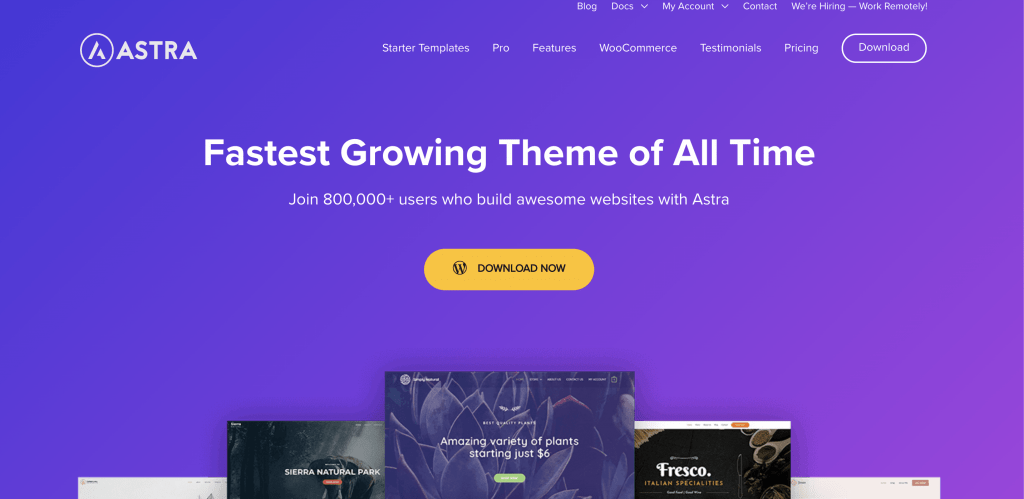 Astra packs everything you would expect out of a premium theme – it's fast, boasts a slew of customization options, and comes with extensive documentation.
The neatly organized Customizer certainly makes finding the right options easier, and the 100+ demos enable you to create the perfect site quickly.
It's pricier, but the theme makes up for it by supplying excellent loading times and making customization convenient.
GeneratePress Overall

GeneratePress's free version is super popular, and for good reason – it comes with excellent customization options that can help a beginner make websites quickly.
But there are no demos included with the free version, which is disappointing, and the premium version only comes with three dozen themes, albeit good ones.
The solid Customizer and the Sections extension make customization easier, and it's a great option if you want to spend less on your theme in the long run.
Overall, though, Astra has a lot more features and demos, which gives it the edge it needs, to be the better theme of the two.
---
Theme Features
Astra
What I like about Astra is that it offers a ton of value for free and expands on its strengths in paid versions.
The free version comes with 53 demos or what the company calls "Starter Templates," which cover a variety of niches, making it one of the most versatile free themes available.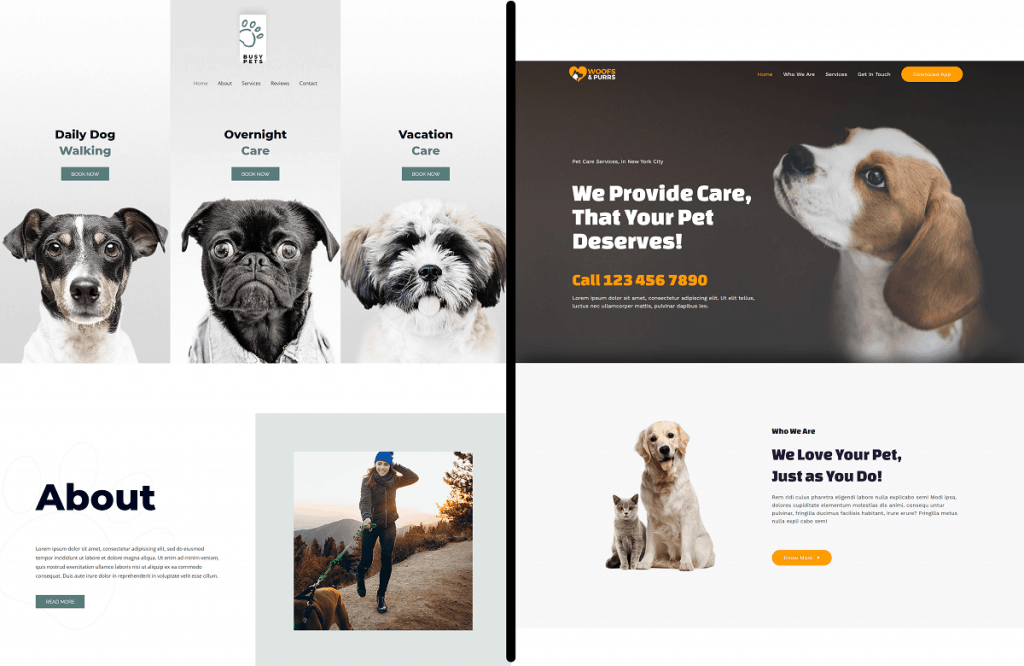 The Agency version of Astra adds another 69 templates to the theme's already vast collection of templates.
Also, the quality of the templates in the Agency version is noticeably higher, which gives users even more of an incentive to upgrade to the paid version.
Here's what I mean:
The "Pet Care" Agency theme looks a lot more attractive than the "Pet Services" theme that comes with Astra's free version.
The pattern of higher quality on the Agency themes is consistent – you can compare the demos available for your niche here.
But the theme has a lot more to offer than just enticing demos.
The WordPress Customizer is enhanced to include more customization options than usual.
While the theme also works flawlessly with Elementor and Beaver Builder, this trait gives WordPress beginners the option to work with what they know to make their website.
The Astra theme is 100% free of jQuery, and only vanilla JavaScript is used to develop the theme. It ensures that your website never has render-blocking issues.
The theme in its entirety only adds 50KB to your WordPress setup, which is impressive considering the customization options it offers (more on this later).
It works flawlessly with WooCommerce and enables you to customize any of the several shop demos that come with the theme only using the WordPress Customizer.
The paid versions of the theme unlock a ton of features that enhance the already impressive theme.
You get access to spacing options that aren't available in a default install of WordPress. It overrides the default settings and gives you full control over how your website looks.
Three site layouts are added, and a fluid layout is also unlocked.
With any paid version of Astra, you can use list, grid, or masonry layouts to make your blog look the way you want it.
Additionally, features like post pagination, infinite loading, date boxes, and excerpts enable you to fine-tune the way your blog looks further.
Most themes do not allow you to change the colors of some aspects of your website. The area above and below the header, and also the sticky header is usually uneditable. But these options come unlocked if you get any paid version of Astra.
The enhanced set of WooCommerce options like infinite scrolling, grid settings, gallery options, off-canvas sidebar, product quick view, a dropdown cart, and the attractive sales bubbles help you sell more products by making the user experience super slick.
Additionally, you can change the look and position of headers, footers, and 404 pages.
The paid versions of Astra also unlock LifterLMS and LearnDash integrations, which make the theme a lot more pliable by enabling you to transform any demo you're your very own course site.
GeneratePress
The main highlight of GeneratePress is its performance – it's the most lightweight theme on the market, adding only 30KB to your WordPress setup!
The theme is also well-coded and has no dependencies. This means that like Astra, it doesn't have any jQuery, protecting it from render-blocking issues and making for hassle-free performance optimization.
Additionally, GeneratePress uses validated HTML and comes with schema.org structured data to better rank on SERPs.
The theme follows WCAG 2.0 standards, making it accessible and ensuring that no one is left out when browsing your website.
One of the most disappointing things about the free version of GeneratePress is that it doesn't come with any demos. You will need to build a website from scratch, which can be very time-consuming.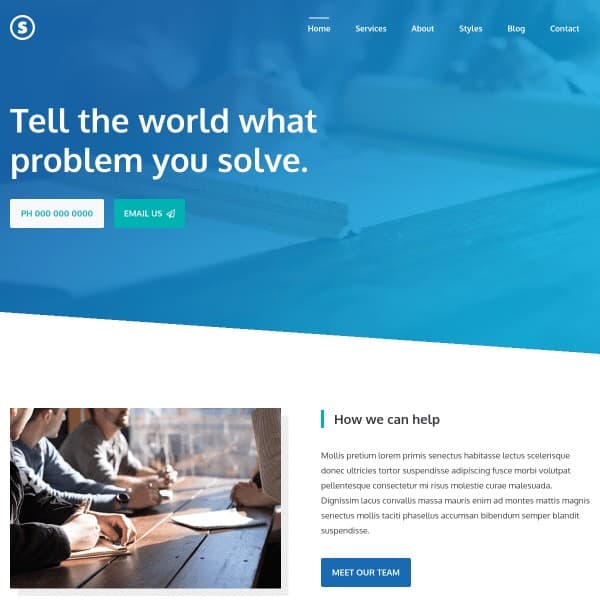 But it's not all bad, since the robust set of customization options is included in the free version. If you wanted to build a website from scratch anyway, this is the theme to do it with.
It's WooCommerce compatible and comes translated into 20 languages, giving you the power to connect with audiences in specific demographics.
The hooks and filters give developers the flexibility to customize the theme to their liking even with the free version.
But if you don't have much programming experience, and want to create a website quickly, you can get paid version of GeneratePress – GeneratePress Premium.
It comes with three dozen super clean demos, which shortens site design time by days!
GeneratePress Premium also unlocks additional colors and typography options and gives you access to a large selection of elements, like dynamic page heros, CTAs, and sidebars.
An advanced hook system is also supplied, and menu options like off-canvas navigation and spacing options like padding and margins come included with GeneratePress Premium.
Overall, though, the free version of Astra is a lot more powerful, and its paid version supplies more demos and features. There's not much incentive to using GeneratePress over Astra.
---
Speed
You must remember that loading speeds are influenced by a ton of factors, including hosting type, the hardware that the web host uses, location of the data center, caching settings, and more.
These are just approximations gauged from user feedback.
Astra
Although Astra offers more demos and tons of features, it manages to load in two seconds consistently.
Using caching and installing plugins like WP Rocket and Autoptimize can improve loading speeds further.
GeneratePress
As I mentioned earlier, GeneratePress is very lightweight, which would lead you to assume that it's faster to load.
But GeneratePress is actually slightly slower to load when compared to Astra. A page with a header, footer, and content will load in just shy of three seconds.
The difference is not huge, and using cloud hosting, optimization plugins, and caching can get you faster loading speeds.
---
User Interface/Customization
Astra
The custom WordPress Customizer that comes with Astra arranges the options more elegantly and makes finding the right setting easy. I really like that the menu, widget, and homepage customization options are separated from the other options.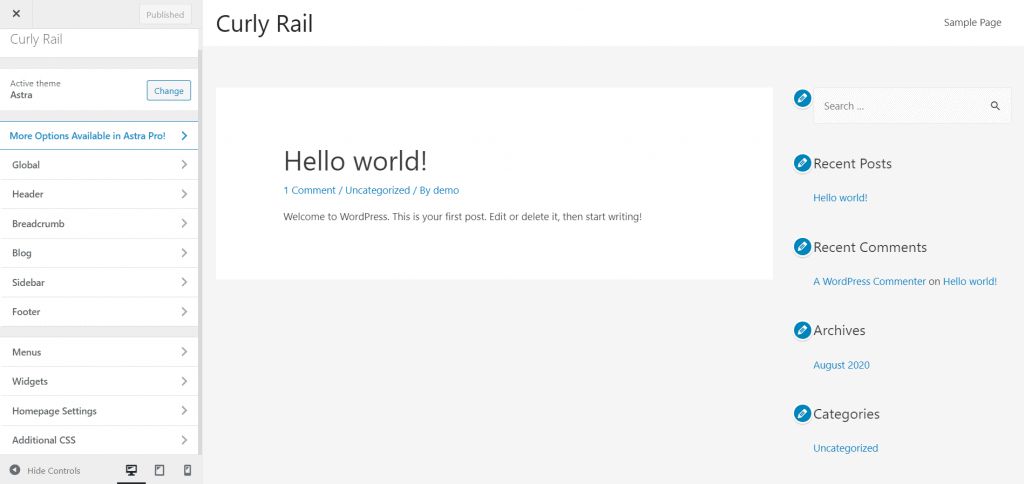 The options are rarely nested, and the simplistic page is easy to get used to.
But unfortunately, these are the only customization options you get with the theme – there are no extra panels or other customization options added to the Pages and Posts sections.
Nonetheless, the neat and powerful Customizer makes altering the layout settings, changing the header options, and editing the color settings super easy.
If you get a paid version of the theme, additional color and typography options are unlocked, making the theme more versatile than it already is.
Managing blog posts and archive pages is a breeze using the options under the "Blog" section of the theme options. Customizing the sticky header or mobile header, and editing the mega menu is just as easy.
GeneratePress
The free version of GeneratePress is super barebones, and as you know, there are no template options to speak of. This makes building a website a lot more challenging with the theme.
But, the souped-up Customizer makes things a little easier, allowing you to create and update your site logo an icon with ease, and giving you access to a host of header and footer customization options.
You can completely alter the navigation style of your website with only the Customizer.
It's not as neat as Astra's Customizer, but it does include color presets – something that Astra lacks – making it easier for you to alter the feel of your website.
GeneratePress Premium adds a variety of features to the theme, like the "Sections" extension. It makes customizing individual pages easier by adding an options panel to the Pages and Posts sections of WordPress.
In addition to activating the license, you must also install the GP Premium plugin on WordPress to access all the features. It's a little inconvenient, but not too troublesome.
You can deactivate the extensions you're not using, which sometimes improves the loading times.
While GeneratePress does offer an extra panel in the Pages and Posts sections, it won't make much of a difference if you use a page builder.
However, it definitely gives GeneratePress an edge over Astra.
---
Pricing
Astra
There's a free version of Astra available, but once you buy a paid version of Astra, you can use it with any number of websites.
There are three different paid plans: Astra Pro, Astra Mini Agency Bundle, and Astra Agency Bundle.
Astra Pro comes in at $59/year and gives you access to additional customization options. It adds more colors and fonts and features like custom layouts, and white-labeling to the free version.
However, you will not get access to more site templates.
To get access to the 69 additional templates, you will need to get the $276/year Mini Agency Bundle. In addition to all the extra features the Pro version supplies and the extra templates, you also get the WP Portfolio plugin for free.
It offers additional value by giving you a choice between Ultimate Addons for Elementor and Beaver Builder, each of which is worth $69.
Finally, for $523/year, the Agency Bundle gives you both the Ultimate Addons plugins, and all the features, plugins, and templates the other two plans offer.
On top of all that, you get licenses for both the Convert Pro and Schema Pro plugins and free access to SkillJet Academy.
Lifetime plans range from $523 and $1893, but these are only worth getting if you plan on using the theme for more than ten years.
You get a 14-day money-back guarantee, which is reassuring.
GeneratePress
GeneratePress Premium comes in at $49.95/year, and like Astra, once you buy it, you can use it on unlimited sites.
There are no lifetime plans, but the company offers a 40% discount at renewal, which is excellent.
It comes with a 30-day money-back guarantee, making your purchase risk-free for a month.
---
Support/Documentation
Astra
The ticket support system gets issues resolved quickly, and the extensive documentation will walk you through all the features.
The video tutorials can be super helpful to beginners, and the blog is regularly updated with useful content.
GeneratePress
GeneratePress's documentation covers everything from the basics to every intricate detail of the modules. The easy to understand developer docs are an added plus.
The support forum enables you to find solutions quickly, but there are no video tutorials, which I would've liked.
---
Verdict: Which is Best?
Astra comes with almost four times the demos that GeneratePress comes with, which is enough incentive to use it over GeneratePress.
The prices are reasonable for what you get, but the theme does you one better by supplying superfast loading speeds and excellent documentation. You cannot go wrong with Astra.