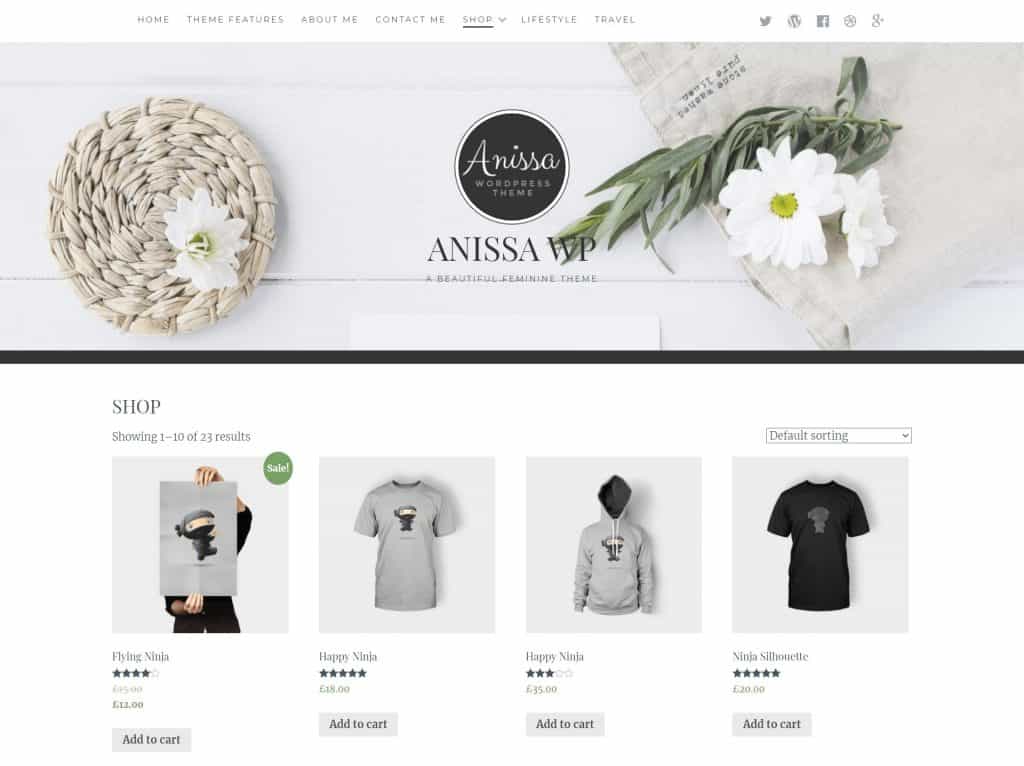 Setting up a feminine brand online calls for a feminine WordPress theme. However, free feminine themes that have a decent selection of features are hard to come by.
Regardless of whether you're blogging or selling products, having the right aesthetic and functionality can help convert more visitors into subscribers and increase sales.
Anissa is a multipurpose theme that boasts a beautiful feminine aesthetic. You can blog with it, and also turn it into a full-fledged online shop!
However, while it does look the part, does it have the right set of features?
More importantly, with free feature-loaded multipurpose themes like Neve available, is trying Anissa worth your time?
We will go over everything the theme has to offer to find out.
What Is The Anissa Theme About?
Anissa boasts an elegant style – it is airy and uncomplicated, and uses delicate typography coupled with graceful post styling.
The shop template looks equally refined with its beautiful spacing between products and the perfect mix of font choices and colors.
The theme is primarily meant for a WordPress blog or shop; however, with the right editing, you could also turn it into a portfolio.
Anissa is created by AlienWP, known for its minimalist style WordPress themes. They offer over 30 themes, about a dozen of which are available for free.
In addition to the themes, the company also develops a few plugins.
---
Anissa WordPress Theme Review
The theme's elegant style translates perfectly on every screen since it has a plethora of fluid and responsive layouts.
But that's only the start – Anissa has a lot more to offer.
Features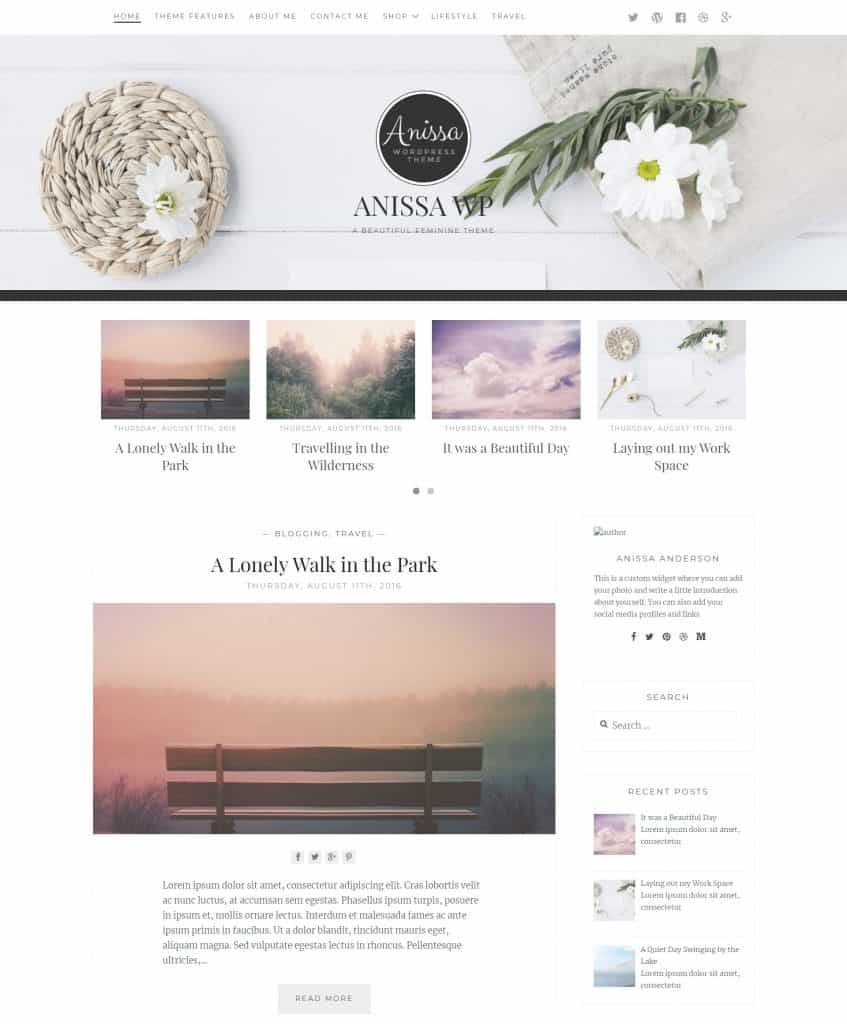 Anissa has a full-width page template that ensures that your website makes full use of the visitor's display.
It has two configurable menus and four flexible widget areas, giving you the ability to add whichever elements you want.
The theme allows you to set a custom background, and since it's child-theme friendly, new WordPress releases will not break your website.
The website is coded in compliance with WordPress's coding standards, which means the code is clean and clutter-free, and the theme will work well with most WordPress plugins.
Another consequence of the clean code is fast loading speeds, which reduces bounce rates and helps increase conversions.
The advanced typography is one of Anissa's biggest selling points. It comes with a set of meticulously designed fonts that perfectly compliment the elegance of the theme.
The fonts are what allow the theme to be bold and elegant and never dim or messy.
The theme integrates social media platforms right out of the box, making sharing posts on social media and social media profile integration easy.
If you're a WordPress beginner, Anissa will be perfect for you since you never have to fiddle with any code to customize the theme.
You will be able to customize the theme from the Theme Options and preview the changes live as you make them.
The theme also allows you to upload a custom logo, which can help fortify your brand image and make your brand more recognizable.
The Featured Posts Slider allows you to choose a category of posts that you want to showcase to visitors. You can also select the number of posts you want the slider to have on display. The slider can be controlled using the mouse on desktops and using swipe gestures on phones.
The theme comes with an About Me widget built-in, and also includes Photo & Social Media Links widgets.
You can also upload a custom header image and couple it with your best blog posts to ensure that visitors find the website engaging right from the get-go.
User Interface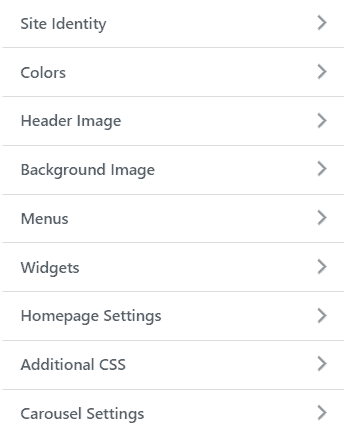 The primary way you will be interacting with the theme is via the Theme Options page. To access this page, you will need to navigate to the Customize section under the Appearance tab.
You will not find anything new or exciting in the theme's interface since Anissa uses the standard WordPress interface with a few custom options.
It is not optimized for Gutenberg, which only makes customizing the theme more challenging. It also means that other than the Theme Options, there is no other way to interact with and customize the theme.
Overall, the user interface is mediocre, with little to nothing new being offered.
Third-Party Integration
Although the theme works with Gutenberg, it is not optimized for it. You will be able to add blocks to the theme, but most of the page will be blank, and the only way to confirm if a block looks right on your website is by previewing it separately.
The theme is not GDPR compliant either – but it works well with GDPR plugins that are available for WordPress.
It comes with form styles that match the theme's aesthetic and works perfectly with Gravity Forms and Contact Form 7.
It also works flawlessly with WooCommerce, giving you access to all you need to launch your own eCommerce shop. The theme's built-in shop demo is attractive and speeds up the web design process.
It supports Jetpack and comes with custom styling for the plugin, which is a nice plus.
Settings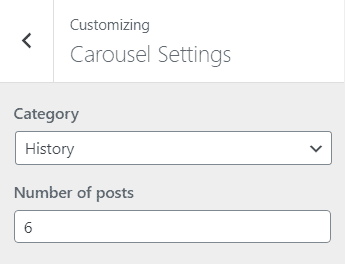 As previously mentioned, the theme comes with the standard Theme Options menu, except it does have a Carousel Settings menu.
Using this menu, you can set the category of blogs you want to display and also specify the number of blogs to showcase.
The theme has an unconventional and off-putting social media icon setup. Typically, themes have an icon setup menu in the Theme Options.
Anissa, on the other hand, requires you to go to the Menus section under the Appearance tab. You must then create a new menu, name it, and tick the "Social Links" checkbox.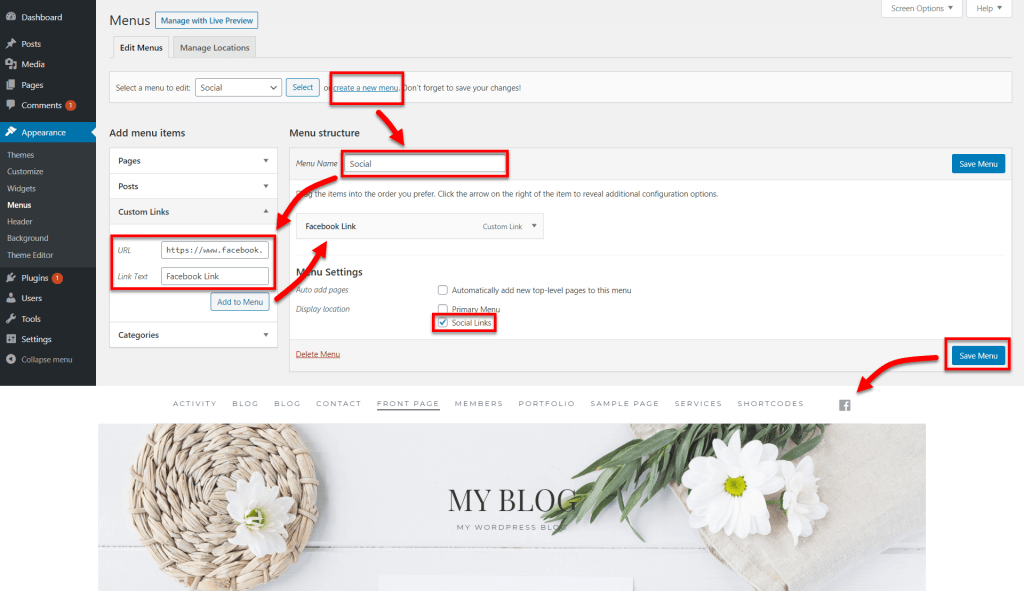 To add icons to your site, you must enter your social media profile's URL to the Custom Link section on the left. The theme supports over a dozen social media icons, including Facebook, Flickr, GitHub, YouTube, Instagram, and LinkedIn.
After saving the menu, the icons will appear on the top-right corner of your website.
The setup for the custom header and logo is conventional – you must navigate to the Site Identity section in the Theme Options and set them there.
In addition to all these settings, you can also customize colors and fonts, add menus and use widgets, and even add your own CSS block to fortify design changes.
---
Additional Features for Anissa
Instagram Feed Integration
If you're looking to interact with your visitors on social media, the theme enables you to integrate your Instagram to your website in a single click.
Custom Widgets
The theme boasts seamless compatibility with widgets, which gives you the flexibility to mix and match content and media across your website.
SEO Friendly
AlienWP uses clean and validated code – which is the kind that search engines like the most. The theme is compatible with SEO plugins such as Yoast and All in One SEO, giving you more control over your website's SEO.
Translation Ready
Anissa is compatible with translation plugins like WPML, enabling you to translate your website to any language. It comes with the .po and .mo files included, which makes translation that much easier.
---
Support and Documentation
Anissa's documentation is very disappointing. It has very little documentation, with only one article to help with installing the theme, and a few sections that brush over how you can use some of the theme's features.
There are no support options or working forms on the AlienWP website that you can use to get in touch with support if you need any help with the theme.
Your only option for getting support is via the WordPress support forum, which is not active and only has a handful of answered questions.
---
Anissa WordPress Theme Pricing
Anissa is free to use, and you can install it directly from WordPress by going to the Themes section under the Appearance tab. You must then hit the "Add New" button and search for it.
Alternatively, you can also go to its official WordPress page and download the .zip file from there. To use the theme, you must navigate to the Add Themes page on WordPress and click on the "Upload Theme" button.
Uploading the file and activating the theme is all you need to do to get full access to all the features on the theme.
---
Verdict: Is Anissa Worth It?
If you love to customize and want to give your site a personal touch, Anissa is not right for you. While it does have customization options, its offerings are lackluster compared to what contemporary themes have to offer. The Neve theme is a much better option if customization is a priority.
With feminine themes like Juliet, Ashe, and Kalon available to download for free that offer more attractive designs, better support and documentation, and more features, Anissa feels outdated and even inadequate. It is best to try another feminine theme, or go with a multipurpose theme and give your website a touch of your personality yourself.