Building a successful online business from the ground-up is one of the biggest challenges one can take on, and it's only getting more difficult by the day.
The competition keeps increasing in both volume and vigor, and only the smartest business owners survive the turmoil.
Which brings forth the question:
What should you use for your site – ClickFunnels or WordPress?
Using one of these two platforms is certainly the way to go – hiring web developers and going that route takes a lot more time, effort, and money.
Picking the right platform can make a big difference in the effort you need to put in as a business owner to manage your brand's online presence.
But the two platforms are fundamentally different – ClickFunnels is a digital marketing suite, whereas WordPress is a super versatile Content Management System.
Learning this only makes things more confusing!
So, in this post, I will make picking between the two easier by showing you how the two are different.
Short Answer: Which is better?
As I mentioned earlier, ClickFunnels is a digital marketing platform. So, if you're looking to build landing pages, sales funnels, and apply email marketing tactics to grow your business, ClickFunnels is right for you.
On the other hand, WordPress is a CMS. While you could use it for building landing pages, it's not as efficient at it.
But WordPress is the perfect tool to use if you want to build a stunning website for your business.
---
ClickFunnels vs WordPress: Comparison Table
| ClickFunnels | WordPress |
| --- | --- |
| Free for two weeks, then you must pay to use it. | Entirely free to use, but you may need to pay for themes and plugins. |
| Large selection of templates. | Thousands of themes and plugins to choose from. |
| A/B testing, email marketing, and other key marketing features built-in. | Plugins are required to add marketing functionalities. |
| Limited control over SEO settings. | Granular control over SEO choices, great for ranking on Google. |
| Updated internally, makes no difference to your existing projects. | Updates can break your site. |
The table should have made the differences between the two platforms a lot clearer.
Overview of ClickFunnels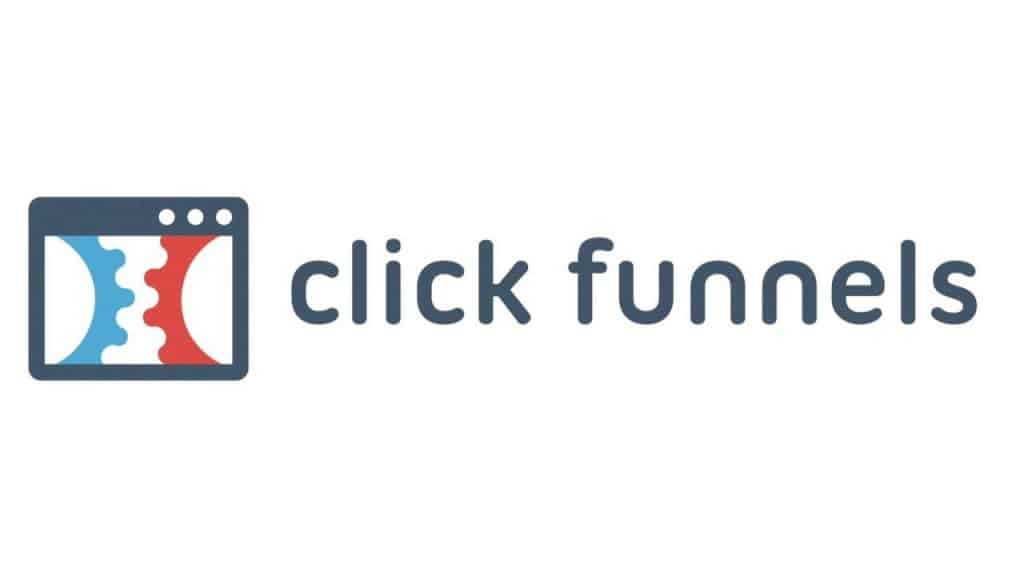 ClickFunnels will help you increase the sales of the products or the services you offer by helping you build a sales funnels and landing pages for them.
Creating sales funnels before ClickFunnels came around was a tedious, almost painful process. But marketers would go through with it in the name of better online business standards.
With ClickFunnels, it is now possible to make a funnel in just a few clicks. You can boost your online business's money-making potential in minutes!
While using ClickFunnels does not require you to have any coding or design skills, you will need to know how to market your brand, products, and services the right way.
Once you have a blueprint of the funnel in mind, you can drag and drop elements to put the funnel together and create landing pages with ease.
You can also pick one from the several pre-designed sales funnel templates available in the software to speed up the funnel-building further.
Furthermore, you can integrate the tool with email marketing tools and advertising tools to boost your sales.
ClickFunnels comes loaded with only the features that make businesses more money by helping capture more leads and converting more visitors.
Notable Features
Ready-to-Use Templates
With ClickFunnels, you never have to block hours of your day to make a landing page for a product you sell.
The suite comes with a large selection of both landing page and sales funnel templates that you can browse through, select, and modify to suit your style and need.
An A/B split testing feature is also available, enabling you to find and use the landing page that supplies a higher conversion rate.
Top-Notch Analytics
Keeping track of your sales funnels performance is made a lot easier with the in-built tracking features. Your analytics dashboard will reveal everything from page views to user behavior, which will help you optimize your funnels for more profits!
Drag-and-Drop Editor
Making pages for your sales funnel is as simple as dragging and dropping elements in place.
You also get granular control over how the page looks – you can customize every visible element on the page just by clicking on it.
Email Marketing Features
It's no secret that email marketing tactics are as effective as ever. But if you get ClickFunnels, you won't have to invest in another tool to incorporate email marketing into your marketing strategy.
All the features you need are included in ClickFunnels!
However, it's important to note that email marketing features are only available to users who buy the top-tier ClickFunnels Platinum plan.
Dozens of Integrations
Integrating popup boxes to grow your email list and connecting it with third-party tools like MailChimp or AWeber is very easy.
You can also connect your ClickFunnels account with eCommerce tools such as Shopify and grow your sales.
But the best thing about it is that if you already have a WordPress site, you can connect ClickFunnels to it and use it to convert more visitors.
Membership Features
Making a membership site with WordPress can be a bit of a hassle. But if you get ClickFunnels, you can be sure that you'll start earning a respectable recurring income from your site in months.
ClickFunnels will also help you promote content for your membership site, which will attract more visitors to your site, ultimately resulting in more profits.
Affiliate Management
Recruiting the right affiliates can boost your business's sales by a huge margin – and ClickFunnels makes this easier too!
You will be able to recruit, manage, and pay affiliates right from ClickFunnels.
Webinar Funnels
Webinars have grown in popularity massively in the past few years, and with ClickFunnels, you can host both product- and service-based webinars on your site.
The suite also enables you to run webinars on-demand, which is excellent.
Overview of WordPress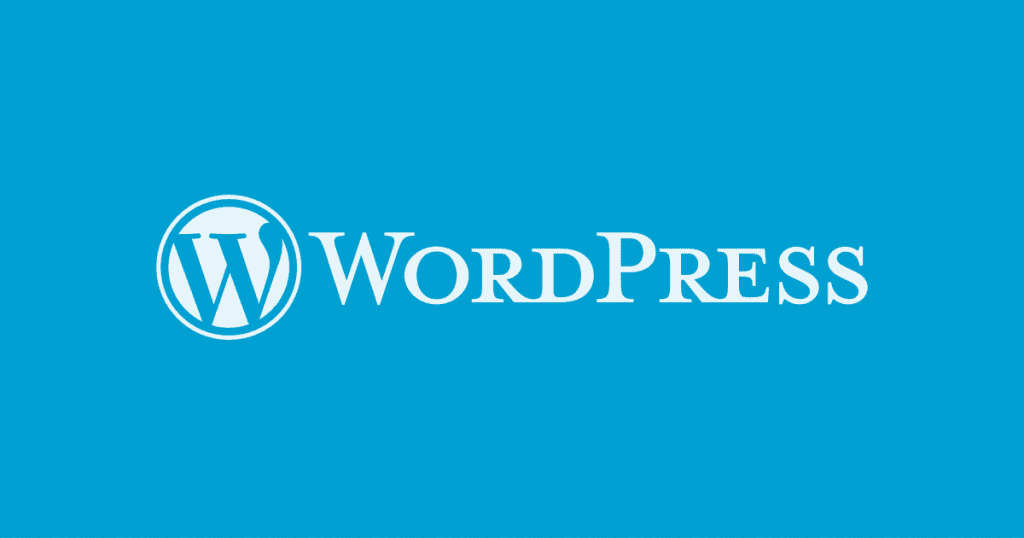 Now that you know almost everything there is to know about ClickFunnels, WordPress may seem like a somewhat inferior option.
But let me assure you, it is not.
There's a reason why 38.5% of all sites on the internet use it.
WordPress is a super flexible site builder that enables you to make all kinds of websites. You can create blogs, online course portals, membership sites, and also eCommerce sites with it.
But in addition to its massive customization potential, it also offers the advantage of being super search-engine friendly.
The themes available for WordPress may or may not give you the SEO features you're looking for. However, every theme works perfectly with plugins like Yoast SEO and Rank Math, which can help you rank on top of the SERPs.
WordPress is free to use, and a lot of paid themes offer with free trials. This gives you the flexibility to start out with the trial version and upgrade to the paid one when business picks up.
You cannot do this with ClickFunnels – you will need to pay to use it.
However, like ClickFunnels, WordPress, too, has its disadvantages.
While you could make the perfect website for your business, the process will likely take a few days to complete. Templates that come with the theme help, but many customizations just cannot be done for you.
And when it comes to building a sales funnel, things get a lot more complicated.
WordPress is your best option for site building – but it doesn't do a great job at making funnel building easy like ClickFunnels does.
Notable Features
Massive Selection of Plugins and Themes
The modular nature of WordPress opened it up to customization a long time ago. Developers have been making plugins for WordPress since its first iterations, and now the WordPress market has over 55,000 plugins that you can use.
The assortment ranges from shopping carts to membership plugins, and from page builders to SEO plugins. You can also add individual features to a theme, like, say, a countdown timer, using plugins.
Speaking of themes, there are thousands of themes available for WordPress, and you will find dozens of them for every niche there is!
And that's not counting the multipurpose themes that come with templates themselves.
As long as you have a vision for your business's website, WordPress will help you put it together it in reality. No technical or design skills are required!
Developer-Friendliness
This won't help you if you're not a developer, but if you are, you will be able to customize anything about a theme as long as you know some HTML, CSS, PHP, and JavaScript.
Integrated Blog
All WordPress themes come with blogging capabilities built-in. Using the feature will enable you to leverage content to bring more users to your site, and eventually convert them into paying customers.
Using the blog to build an email list is also easy.
Image Editing Features
WordPress allows you to edit image content right in the builder. Resizing, cropping, changing alt text, adding captions, and other options can be accessed in just a few clicks!
Multi-Language Support
WordPress is available in more than 70 languages, and contemporary themes support at least a dozen or more right out of the box.
You will be able to translate your site for your target audience and ensure that people buy your product or service regardless of what language they know.
Tons of Integrations
When it comes to integrations, WordPress easily beats ClickFunnels. It integrates with every type of software.
You will be able to use everything from analytics tools like Google Analytics to email marketing tools like MailChimp in conjunction with your WordPress site.
ClickFunnels vs WordPress: Pricing Plans
ClickFunnels Pricing
You can try ClickFunnels for free for 14 days, but you will need to get a paid plan to use it post that period.
There are a few different plans you can pick from, with the most affordable one being the ClickFunnels Basic plan. It comes in at $97/month and allows you to make over a 100 pages for your funnel in a month.
What's more is that hosting is free, but if your website attracts more than 20,000 visits in the month, you will need to fork over some extra cash.
However, it allows you to build 20 sales funnels, which is excellent value for money.
The second and only other plan is called the ClickFunnels Platinum plan.
It comes in at $297/month and gives you access to all of ClickFunnels features, including the affiliate management features and the email marketing features.
But there's more.
You are allowed to create funnels limitlessly, and hosting is unlimited, too!
WordPress Pricing
WordPress can be used for free as long as you find the right host. However, you also have the option to host with WordPress directly.
The plans are competitive and offer great benefits that make them worth considering. The company offers four paid plans.
The Personal plan is priced at $4/month, giving you access to a custom domain, chat support, 6GB of storage, and email features.
The Premium plan costs $8/month and gives you 13GB of storage, Google Analytics integration, advanced social media features, and a handful of other useful features.
The Business plan comes in at $25/month, and as the name states, is apt for businesses. The 200GB of space gives you access to custom plugins, SEO tools, automatic backups, and a lot more.
The fourth and final plan is called the eCommerce plan, which costs $45/month. It is apt for use for online shops that drive thousands of sales.
You can accept payments from over 60 countries with it, integrate your WordPress with shipping carriers, and get access to a special set of eCommerce marketing tools.
ClickFunnels vs WordPress: Funnel Building
ClickFunnels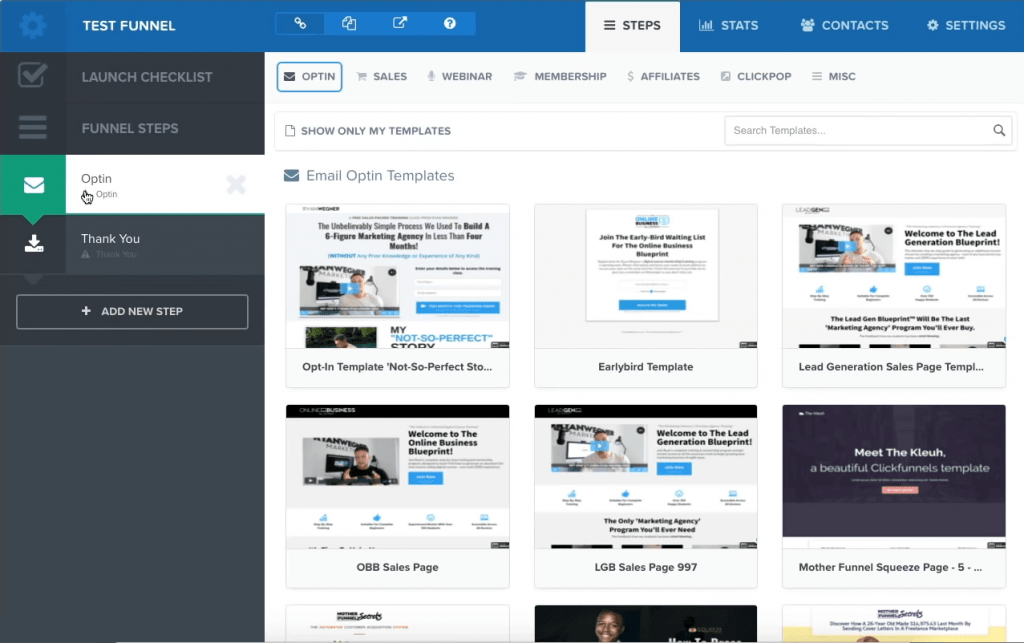 After you sign up for ClickFunnels, you can get to building sales funnels from the dashboard.
But before you start building, you will need to configure some essentials like your payment options, email provider, and domain.
You can then pick from the several pre-made templates of funnels and use the drag and drop editor to finish building in minutes.
After you've finished building, you can generate embed codes and use them on your website. It's that easy!
WordPress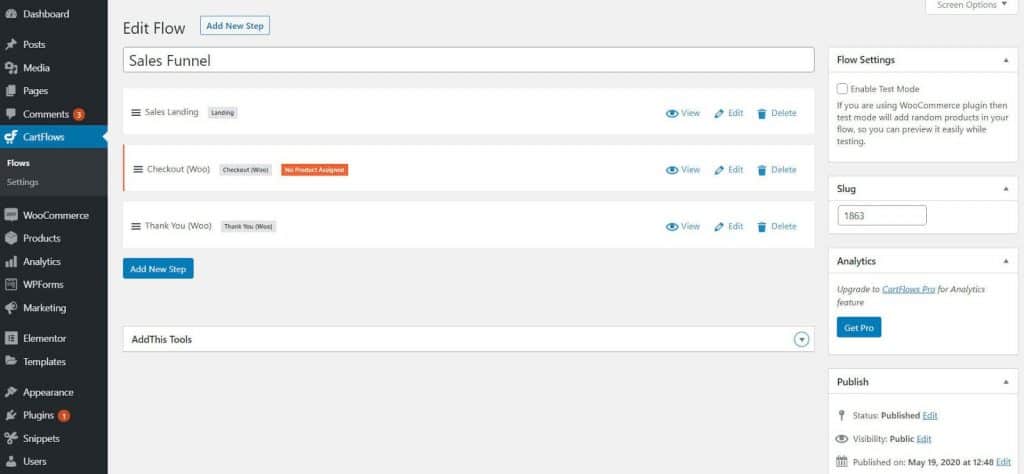 WordPress doesn't come with pre-made funnel templates like ClickFunnels, making funnel building significantly more difficult.
Or in other words – you will need to build every page in your funnel essentially without any aid.
This makes what is a two-hour funnel building session in ClickFunnels stretch out to days.
ClickFunnels is better than WordPress when it comes to funnel building.
However, you can buy tools like CartFlows and Active Campaign and make building the funnels a little easier.
It still won't be as convenient, though.
ClickFunnels vs WordPress: Website Building
ClickFunnels
Building a website with ClickFunnels is just as hectic as building a funnel with WordPress is.
To make a webpage, you will first need to make a funnel, then pick a template and then start customizing the page to look how you want it to.
Homepages and about us pages are not included in the templates. You will need to make these from scratch.
I'd recommend avoiding building webpages with ClickFunnels altogether.
WordPress
WordPress makes building websites significantly easier than ClickFunnels. All you have to do is pick the right theme and template, and add the logos and text in the right spots.
That's it.
If you're using a page builder, the customization process will become a lot faster and easier.
WordPress will save you hours of painful setup that ClickFunnels puts you up against.
ClickFunnels vs WordPress: Social Sharing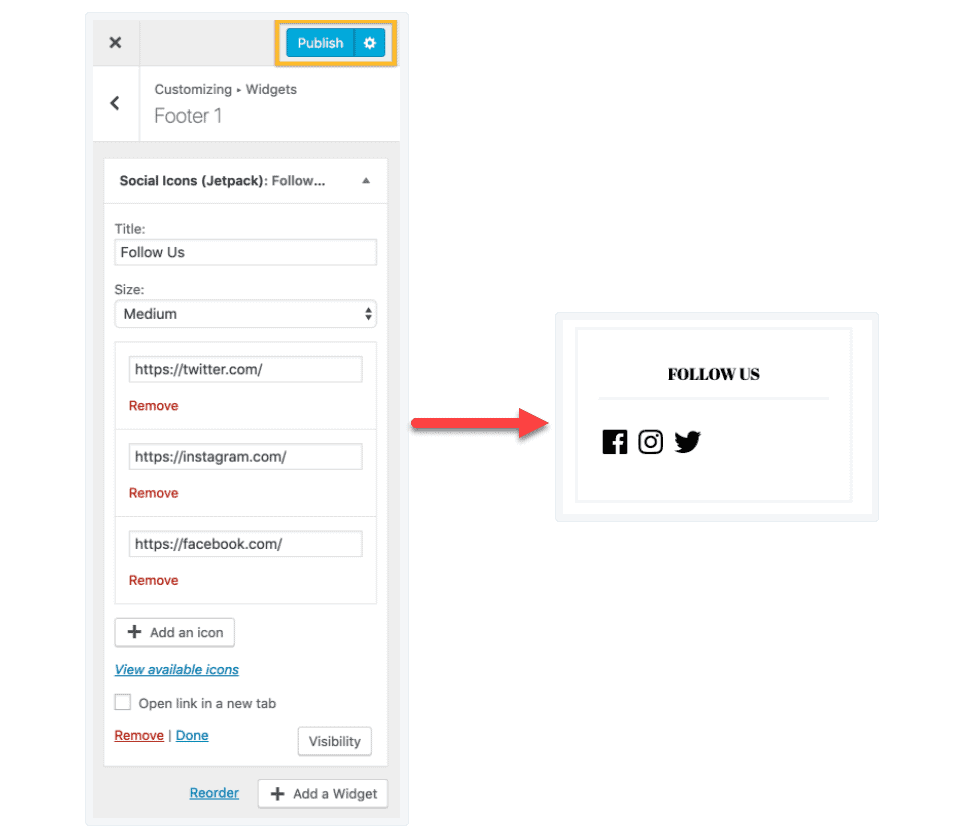 WordPress makes adding social media sharing icons on your page super easy. For a lot of themes, you don't even have to go through the trouble of placing them.
You can simply add your social media links in designated columns in the Theme Options, and they automatically appear on your page.
Or you can also use WordPress widgets like the Social Icons Widget for a neater look.

However, to add social media sharing buttons on ClickFunnels pages, you need to add columns, then add images to the columns, size them, and then add links.
It's not exactly troublesome – just time-consuming.
ClickFunnels vs WordPress: SEO
ClickFunnels offers only one SEO setting – you can only configure SEO metadata.
On the other hand, WordPress allows you to use plugins like Yoast SEO, which give you access to dozens of SEO settings.
You have better control over how your website looks to search engines with WordPress, and chances of your site ranking on the top of SERPs are higher.
ClickFunnels vs WordPress: Support
ClickFunnels offers top-notch features, but the support is a little lackluster, especially considering the plans' prices.
You can chat with the support team at any time, or post your questions or issues in the Facebook group for faster responses. It is important to remember that support is only available from Monday to Friday between 9 AM and 5 PM.
WordPress, on the other hand, has a forum that any user can post in. You can expect to receive a response quickly, usually hours after posting.
You can also browse the forums for solutions, which is the fastest way to get issues resolved.
Final Words
The two tools are for different people. If you're a business owner and already have a website, but are looking for ways to boost business, making sales funnels and landing pages with ClickFunnels is the best way to go.
On the other hand, if you're looking to make a blog, a homepage, an eCommerce website, or maybe all three for your business, you cannot go wrong with WordPress.