Almost half of the users that visit your site leave mid-session and never come back.
Tapping into this traffic can prove to be a super-effective way to garner a larger audience regardless of what niche you blog in. It can also help you drive more sales.
WP Subscribe Pro claims to help you build an email list, so you don't always have to rely on ads for traffic.
However, is it really effective?
More importantly, is the tool worth spending the $19 on?
We will discuss all of its features to find out in this hands-on WP Subscriber Pro review.
| SERVICE | FEATURES | VISIT |
| --- | --- | --- |
| | Fully Responsive. Optimized. Fast. Light | |
What is WP Subscribe Pro About?
WP Subscribe Pro is a plugin that enables you to capture visitors' email addresses in exchange for some value. The value can be in the form of a discount code, an infographic, a newsletter, or an eBook.
Its primarily meant for blogs that are looking to build an email list. Not only can email lists improve website traffic by driving repeat visitors, but they also enable you to run email marketing campaigns to convert your visitors into paying customers.
The plugin works equally well on all blogs regardless of niche or vertical.
MyThemeShop develops and maintains WP Subscribe Pro. The company entered the WordPress market back in 2012 and has since produced over 150 themes and plugins.
In less than a decade, the company has garnered a massive customer base currently over 660,000 strong.
---
WP Subscribe Pro Review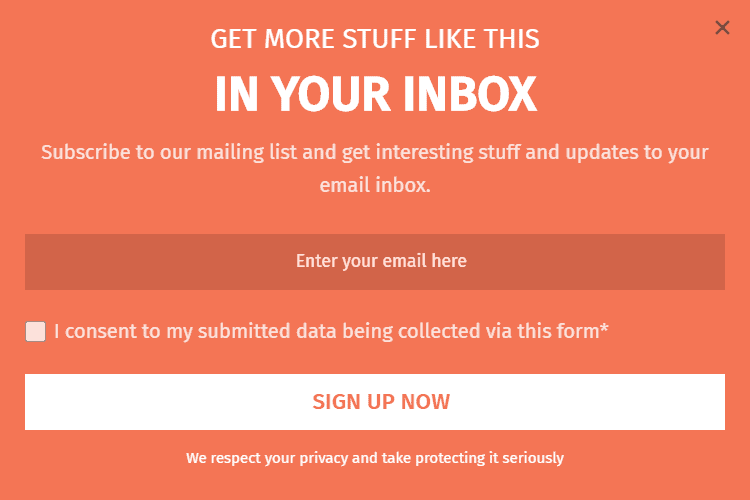 There are tons of subscription form plugins available for WordPress, but WP Subscribe Pro's several features and its ease of use are what make it stand out.
Features
Fully Responsive Forms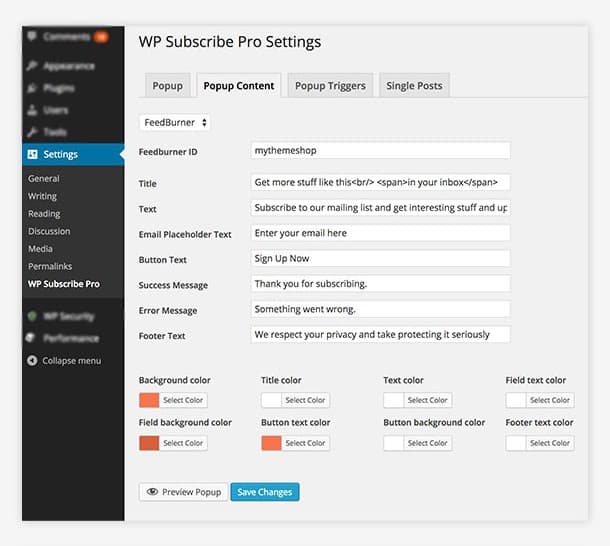 The plugin is fully responsive, and the opt-in forms it integrates on your website are automatically sized according to the visitor's screen.
Its responsive nature ensures that you can capture the visitor's email regardless of if they visit your site from desktop or mobile.
Optimized for Speed
The plugin is extraordinarily lightweight and is coded in compliance with WordPress's standards.
Not only does this make it perfectly compatible with almost every WordPress theme available, but since there are no redundant CSS or JavaScript files, it also ensures that your website does not slow down after you install the plugin.
Detects Exit Intent
The plugin can be set up to appear when a visitor tries to leave your blog.
Offering disengaged users with some value in exchange for their email address is an effective tactic rekindling the user's interest and building your email list.
No Coding Required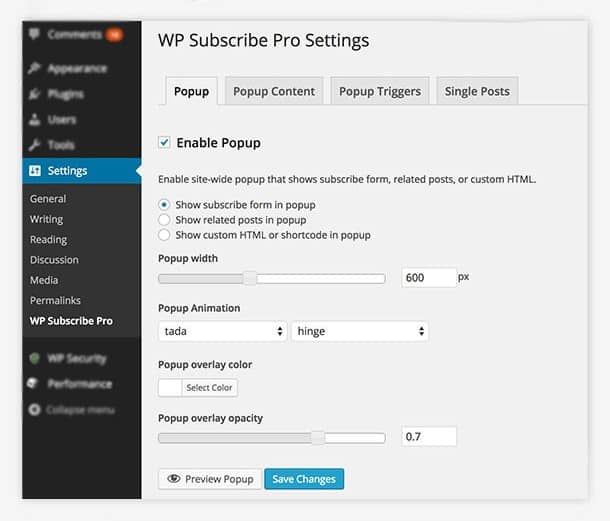 The plugin is designed to make integrating subscription forms as easy as possible.
You don't need to tinker with shortcode or fiddle with any code – integration is seamless, and you will be able to add a form to your website minutes after installation.
User Interface
The plugin inherits WordPress's dashboard-style – it's neat and simple, and there are no fancy elements in the backend of the tool.
However, its simplicity only adds to its ease of use, and even if you're a complete beginner, you will find that WP Subscribe Pro's interface is intuitive and straightforward.
Third-Party Integration
Third-party integrations are the plugin's strength, and it's best known for the vast array of integrations it offers.
It works flawlessly with FeedBurner, which is Google's very own feed management tool that makes creating an RSS feed super easy.
It also works perfectly with email marketing services like AWeber, MailChimp, GetResponse, MailerLite, Benchmark, and MailerRelay.
You will have no trouble keeping track of your subscribers, and with these integrations, you will be able to engage with them in their inbox with ease.
WP Subscriber Pro, coupled with your email marketing tool of choice, enables you to swiftly drive visitors down a marketing funnel.
Settings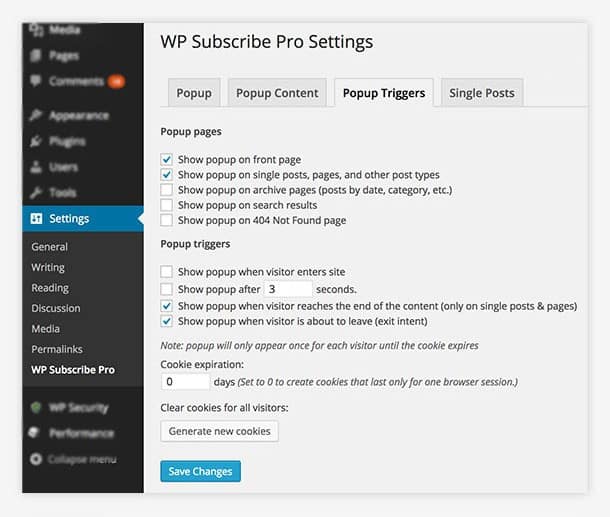 As previously mentioned, the UI is neat and simple. The plugin only has four settings tabs, and all of the controls and options reside in these tabs.
The Popup tab enables you to configure how the popup will look like on your website. You can choose to show users posts related to the post they're reading, and you can also integrate a shortcode of your choosing in the popup to make it more enticing.
You can set the popup's width, customize the popup animation, select the overlay color, and set the overlay opacity from the same tab.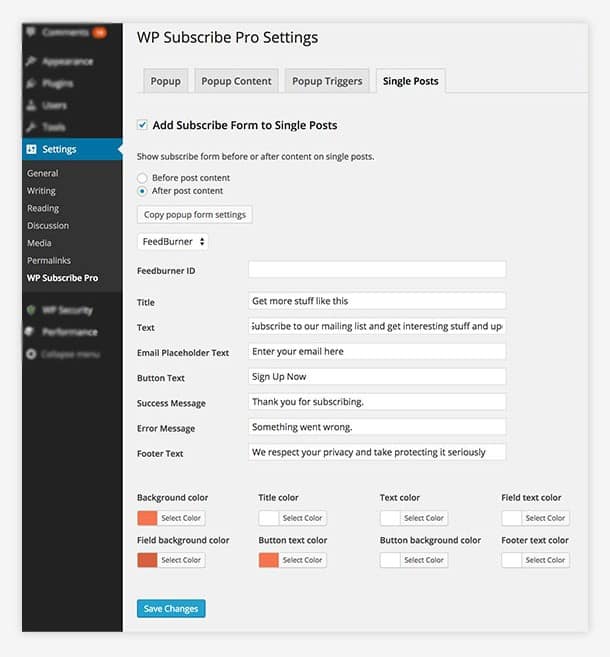 The Popup Content tab is where you configure all the text in the popup. You can set the title, text, email placeholder text, button text, success message, error message, and also the footer text of the popup.
Additionally, you can customize the look of the popup entirely by modifying the color of the different elements from the bottom of the tab.
The Popup Triggers Tab enables you to specify where and when you want the popup to appear. With this tab, you can configure the popup to appear at times when the user is most engaged with your site.
Lastly, the Single Posts tab lets you set up a different (or the same) form for the posts on your website.
---
Additional Features for WP Subscribe Pro
Compatible with SEO Plugins
WP Subscribe Pro does not obstruct your use of plugins like Yoast and SEOPress – it has been tested and proven to be compatible with all SEO plugins.
Built-In Widget Support
The plugin can be integrated into your website's sidebar, enabling you to nudge users into conversion without using the popup.
However, it works just as well when coupled with a popup.
Compatible with Caching Plugins
WP Subscribe Pro will not break your caching plugins setup – it plays well with almost all WordPress plugins.
Cookie Expiration
You can configure how long the cookie the plugin places on the visitor's computer will last, which gives you control over how often visitors see the popup.
If the user has subscribed, the plugin will place a cookie that ensures that the popup does not appear again.
Flush Cookie
The Flush Cookie enables you to display the subscribe box to all the visitors that visit your site regardless of subscription status.
You can use it to showcase any significant changes you've made to your website.
These cookies expire immediately, meaning every user will only see the popup only once. This ensures that you don't accidentally annoy your subscribers.
100% Translatable
WP Subscribe Pro now comes with a POT file for localization, enabling you to translate it to your native language.
---
Support and Documentation
MyThemeShop impresses with their excellent support system – you can use their active support forum to get your query answered quickly. You can also email them, but the forum tends to get you a faster response.
They also have an FAQ section that covers pre-sale and post-sale questions.
The excellent support makes WP Subscribe Pro perfect for beginners to use.
In addition to all of this, the company's website has a contact page that you can use to receive personalized support – regardless of if you have a technical issue or an account-related query.
There are a few pitfalls, though – their knowledge base only documents three of their plugins: WP Review Pro, WP Shortcode Pro, and WP Quiz Pro. If you need help with the plugin, you must either email them or post on the forum.
They also offer a catalog of video tutorials on their website covering the basics like installing themes and plugins.
However, there is no video about the WP Subscribe Pro plugin.
---
WP Subscribe Pro Pricing
If you're looking to get your hands on the plugin for only one site, you can get their single site license for $19.
The company also offers three-site and unlimited website plans at $29 and $49, respectively.
You get access to a year of updates and support from the date of purchase.
If you're looking to get more of MyThemeShop's products, getting their Premium membership makes more financial sense.
You can get access to all of their plugins and themes for as little as $99!
Every plan has a 30-day money-back guarantee, making every purchase risk-free. But you likely won't need to avail of the guarantee since the plugin is reliable.
There is also a free version of the plugin available on WordPress.org that gives you limited access to the plugin's features.
Integrations and animation options are unlocked after purchase, making it right for testing purposes only.
---
Verdict: Is WP Subscribe Pro Worth It?
Regardless of if you're a WordPress beginner or a veteran user, WP Subscribe Pro can help you build a targeted email list.
Having a list of high-intent users makes monetizing your blog super easy. All you will need to do is create an enticing email marketing campaign and ensure that your product solves a real problem.
It will nudge your subscribers into conversion.
The tool is affordable, packed with features, and makes building an email list easy. It is worth a lot more than what MyThemeShop is asking for, and it is a must-have for any blogger or marketer that wants to monetize their blog with ease in the long run.