Regardless of what you're an expert at, sharing your expertise in the form of an online course is now a contemporary formula to building a successful brand.
Several professionals passively earn five- and six-figures from their online course, and while the market is growing fast, it isn't saturated yet.
There couldn't be a better time to get your course online.
WP Courseware claims to offer an excellent solution to getting your course online. It enables you to keep 100% of the profits – the money comes directly into your account.
But is it reliable and worth your money and time?
I've reviewed its features to help find out.
What is WP Courseware About?
WP Courseware enables subject matter experts to monetize their expertise by helping create premium courses. 
Unlike other platforms, the plugin does not take chunks of your revenue, and you don't need to worry about inflated processing fees or money-back buffers.
Regardless of what you're an expert at, using the plugin, you can create elaborate text and video courses and build a brand from scratch.
The plugin is developed by Fly Plugins and was first launched in 2012. The company prides itself in the thousands of development hours that it took to perfect the plugin, and continually uses feedback to make improvements to the plugin.
In addition to WP Courseware, the company also offers other WordPress tools, including S3 Media Maestro and Churnly.
WP Courseware Review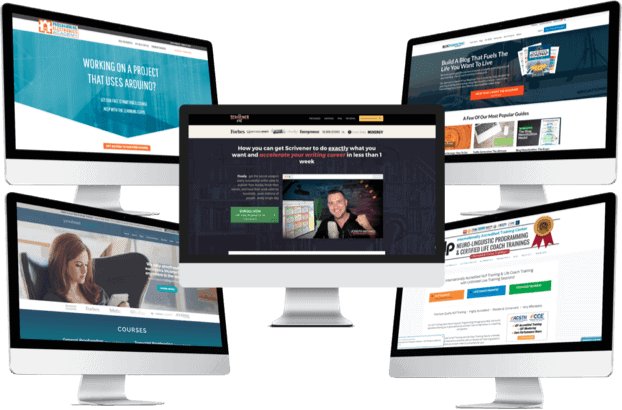 The plugin can feel overwhelming to use if you haven't gone through the documentation or viewed the tutorial. But this applies to most course creation platforms.
User Interface
The plugin's UI is polished and intuitive – you will likely never need to hunt for a setting.
However, the plugin inherits its design from the WordPress dashboard and having a custom UI that is a little more modern would have been great considering the price of the plugin.
Third-Party Integration
The developers at Fly Plugins work tirelessly to ensure that WP Courseware meets WordPress's coding standards and is compatible with all themes and plugins that you might want to use it with.
WP Courseware integrates with the most popular membership and eCommerce products perfectly, enabling you to sell your courses to specific membership levels.
Settings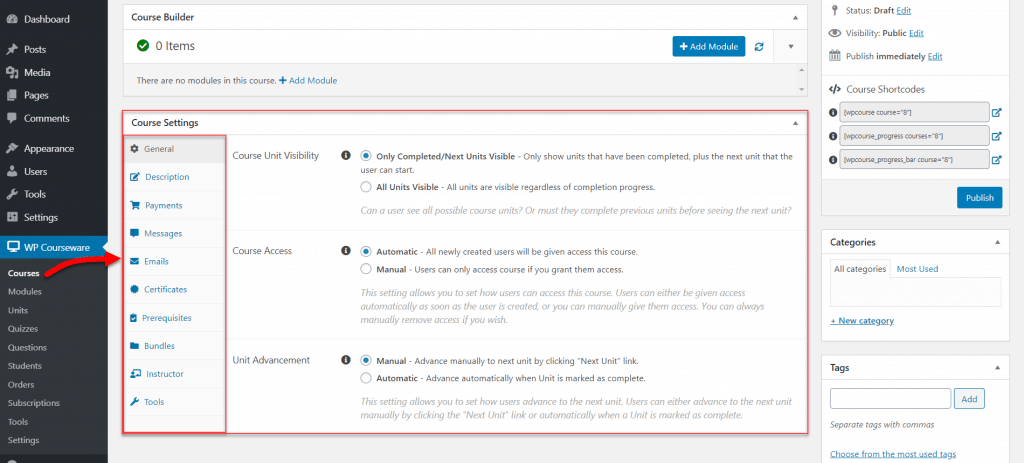 The Settings section is vast and enables you to fine-tune courses, modules, units, and emails that you have already created.
Configuring payment gateways is made easy, and you get full control over the checkout process from the dedicated Checkout tab.
The plugin helps with marketing by enabling you to add coupons in just a few clicks. You can also auto-send emails according to user action.
Easy Course Creation
This is one of the best parts of the plugin. On hitting the Add New button under the Courses section of the plugin, you get quick access to all of the settings in one unified menu.
Going through the menu enables you to quickly configure key settings like course access and visibility and unit advancement, which is a feature that allows you to set up drip content.
Setting up payment options for specific courses is as simple as checking the right box.
You can also add messages that the visitor will see across your website as they navigate through it. For example, you can set up a "Unit Complete!" message when a student completes a section of your course.
Custom emails can also be set up from this menu – all you have to do is enter the address you want to send the emails from and type in the message you want the user to receive. WP Courseware enables you to send emails to your students at six different points, including when they complete a module or unlock a unit.
You can also bundle a course with another course right as you upload it and boost conversions.
After the initial setup, you will be able to add modules to your course and units to your modules.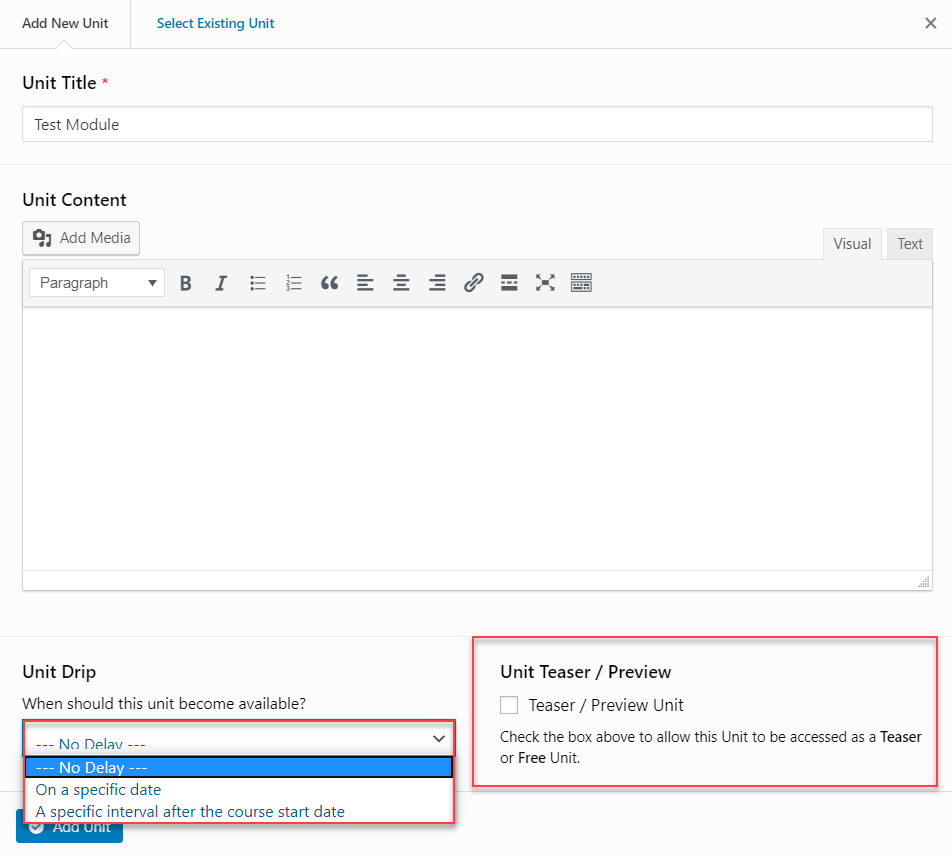 You can configure the units to 'drip out' and give students access to material on set dates or specific intervals after the student joins your course.
The plugin also enables you to set units as preview or teaser units, which can be a great way of giving prospective buyers a taste of what they will learn in the course.
Rearranging units and modules is easy – you will not have to delete a module and re-create it in case you place units in the wrong order. You can drag and arrange modules and units in place.
Integrated Payment Portals
Regardless of if your sales model – whether you bundle courses, sell subscriptions, or accept one-time payments – the integrated PayPal and Stripe modules enable you to get paid directly and securely.
Video Course Compatibility
You can use the plugin to build a premium video course, but you will need to purchase hosting for the videos from services like Vimeo, Wistia, and Amazon S3.
Certificate Generation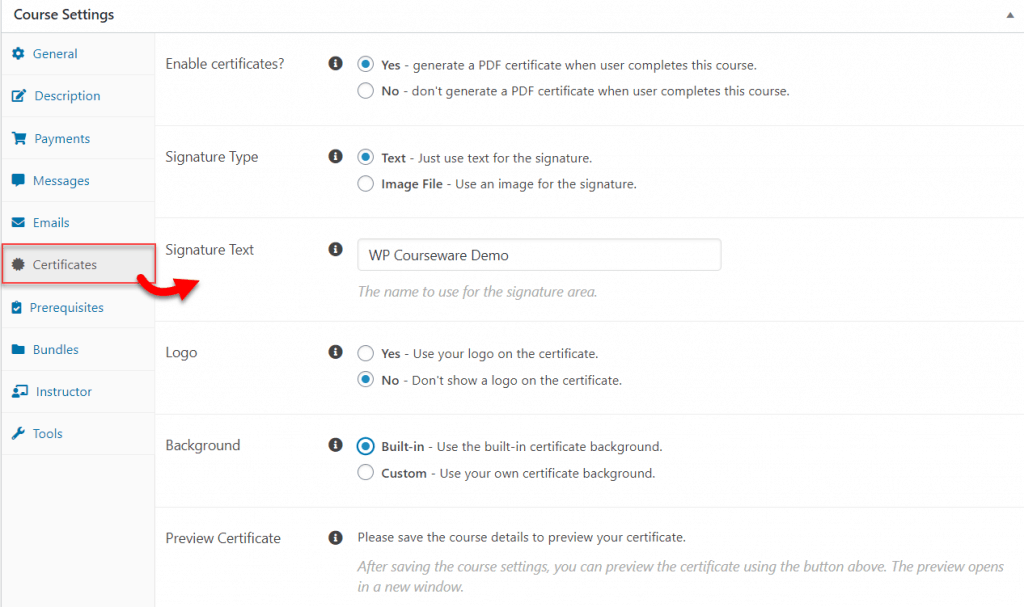 You can configure the plugin to generate PDF certificates when a student completes a course automatically.
Adding a text or image signature to the certificate is simple, and you can pick a custom certificate background to give it a unique appeal.
Multi-Instructor Website
You can partner with niche experts and enable them to upload their course on your course website.
While you will need to upload their course yourself, you can tag their account as Course Instructor and give them enhanced privileges that enable them to interact with their students with ease.
Quizzing
You can create three types of quizzes with WP Courseware: blocking quizzes, non-blocking quizzes, and surveys.
Blocking quizzes enable you to ensure that a student understands the concepts you taught before moving on to the next sections.
Non-blocking quizzes can be used as a recall exercise – students can move on to further sections without restrictions.
Lastly, surveys enable you to get feedback from your students that you can use to improve the course.
---
Additional Features for WP Courseware
GDPR Compliance
The plugin comes with all the functionality that it requires to make your course website compliant with EU privacy law standards.
You will not need to look out for your student's privacy separately – it is handled for you.
Import/Export Options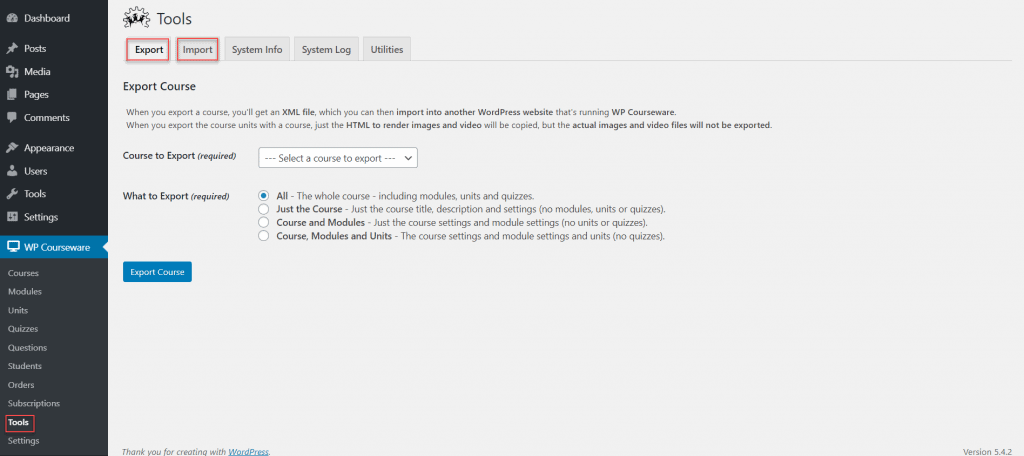 Importing and exporting courses can be done in one-click using the menus in the Tools section of the plugin. You can also enroll students in bulk using a CSV file, and even import a list of quiz questions using a CSV file from the same menus.
Custom CSS
The plugin uses its default CSS on install, but unchecking the Default CSS checkbox in the Style settings enables you to add custom CSS and fine-tune the look and feel of your courses.
---
Support and Documentation
The WP Courseware website has dozens of articles that enable complete WordPress beginners to create online courses from scratch.
The documentation covers everything from installation to publishing the course, and every feature you need to use in between.
Users don't even have to leave WordPress to access the documentation – they can navigate to the Support tab in the plugin's Settings section and search through the documentation right from WordPress.
Fly Plugins also has a YouTube channel with 2-hour long tutorials that take users from beginner to pro-user.
But if you can't figure out how to use a specific feature, or need help with the details of your account, you can head to the website's member portal and submit a help request.
The company boasts fast response times and will help resolve the issue quickly.
---
WP Courseware Pricing
You can get your hands on WP Courseware by purchasing one of the three plans: Teacher, Professor, and Guru.
The Teacher plan comes in at $250/year, enabling you to install the plugin on two websites. The Professor plan costs $299/year and allows you to install the plugin on up to 10 sites.
However, if you want to use it on more than ten websites, you must get the Guru plan for $399.
All plans give you access to one year of support and updates, and regardless of what plan you get, they have a 30-day money-back guarantee, meaning if you don't like the plugin, you can get a full refund – no questions asked.
---
Verdict: Is WP Courseware Worth It?
While creating a course with the plugin certainly takes effort, it gives you access to revenue that other platforms don't.
Overall, adding and managing courses and managing students and payments is super easy. Although WP Courseware is a plugin, it does the job a full-fledged course platform does.  
In addition to adding and monetizing courses in different ways, you can auto-email students and set up coupons for marketing.
I didn't think WP Courseware would deliver features and make earning money with online courses as easy as it does.
I can recommend WP Courseware to complete beginners without hesitating – learning to use it takes only a few hours, and the excellent pricing and features make it a must-have.