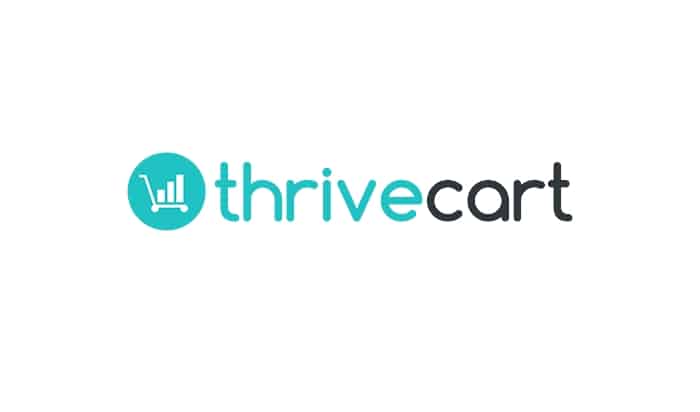 Creating and implementing a sales funnel that makes you more money can be a real challenge. There are a ton of things you must consider, and a host of tactics that you must implement to make sure that a visitor turns into a paying customer.
But most marketers and business owners forget that you can't "set and forget" sales funnels. There are always weak links. 
Carts and checkout pages are the most common weak link in sales funnels, and these are often overlooked. Making them better requires time, effort, and expertise.
And ThriveCart claims to save you time, reduce effort, and bridge the lapse of knowledge to make a better checkout page.
But how effective is it, really? Is it worth your money?
I'll answer these questions and more in this ThriveCart review.
What is ThriveCart?
Thrivecart is a cart software that you can integrate onto your site and improve your sales.
But that's just the start. The software comes with a host of other useful features that will help you increase your sales, even if your website drives relatively low traffic.
ThriveCart works with all websites, including those run using a CMS like WordPress, Joomla, Squarespace, Wix, and others. It'll also work seamlessly with SaaS marketing solutions like ClickFunnels.
You can integrate it into your CMS-run site using the embeddable checkout page that ThriveCart supplies you with!
The web-based software also enables you to add one-click upsells, one-click bump offers, and coupon boxes to your checkout page to boost profits and secure more sales.
You can also assign special discount URLs, manage affiliates, track your sales, follow up with leads, and a lot more using ThriveCart. I talk more about some of its best features later in this post.
Why Do You Need It?
As I mentioned earlier, checkout pages are the most common weak links in sales funnels. They turn a layup of a sale into a complete loss.
According to ThriveCart, a bad-looking cart drives away 40% of the customers that were about to pay you. Just thinking about the potential losses can be equally scary, whether you're an experienced marketer or a complete newbie.
No one wants to lose money that was almost in their pocket!
A decade ago, when eCommerce was yet to become as mainstream as it is now, marketers would embed a simple PayPal button to sell their product.
However, this just doesn't cut it anymore. Even if you drive a customer all the way to the bottom of your sales funnel, the moment they see a plain PayPal button, they will become suspicious.
It's not your fault – it's just that scammers have polluted the online space so badly that shoppers don't find a bland checkout page trustworthy anymore.
Getting your hands on ThriveCart can help you circumvent this issue – your cart will look just as trustworthy as, say, your sales page.
Building a custom checkout page with their intuitively designed builder is a breeze.
It will take you minutes to potentially increase your sales by 40% instantly!
Best ThriveCart Features for Product Creators
1. Bump Offers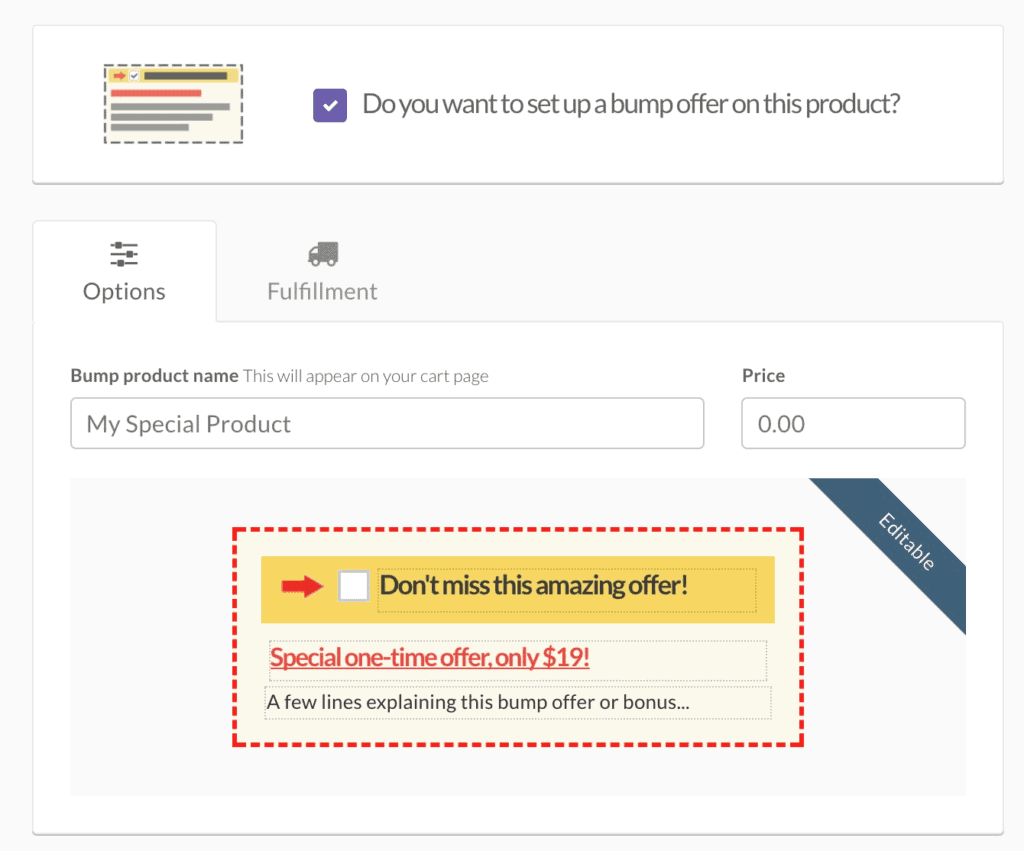 Picture this:
A visitor converts from your sales page or clicks on "Checkout" on your eCommerce site.
In this scenario, the visitor has purchase intent.
You have already convinced the visitor to buy, so the chances of the customer buying a little more from you on the spot are higher.
The one-click bump offers help you utilize this potential by integrating an attractive checkbox with a fantastic offer.
But bear in mind that if you don't offer enough value for the extra cash, no visitor will buy into your upsell.
The bump offer section is customizable, and you can alter it to complement the look of your checkout page while standing out and remaining visible.
Needless to say, using the feature is an excellent way to boost profits.
2. 1-Click Upsells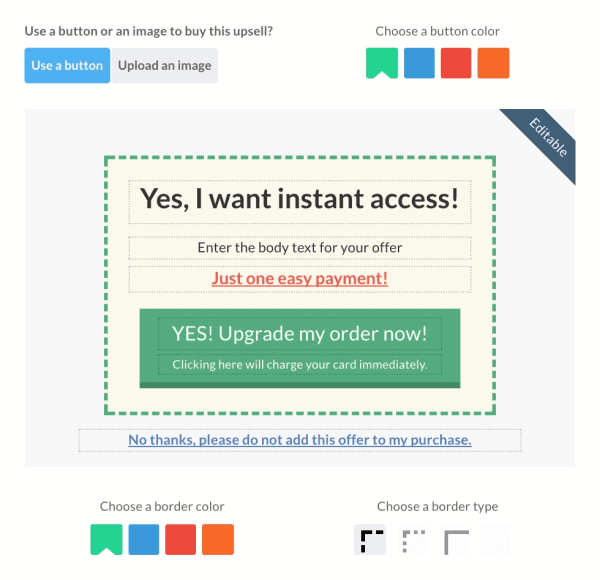 The one-click upsell is a close cousin of the bump offer. However, there are some key differences between the two that make them apt for use in different scenarios.
The story goes a little differently for upsells:
Let's say that the visitor has already hit "Buy" on your checkout page. Normally, the visitor will be asked to enter payment details and complete the purchase.
However, if you use upsells, an offer will pop up AFTER the visitor hits "Buy."
The one-click upsell interrupts the flow of the purchase, unlike its cousin, the bump offer, which is more passive in its approach.
For this reason, you must be careful using upsells and make sure the extra value you're offering makes a significant difference in the customer's experience with the product you're selling.
Upsells are bold, and if you use them right, they can make a big difference to your average cart order value.
3. Integrations
I'll cover all four types of integrations that ThriveCart supports in this section.
First up, payment processor integrations.
ThriveCart works with Stripe and PayPal, which have become ubiquitous now. It also works with Google Pay, Apple Pay, and Authorize.net.
It's worth mentioning that ThriveCart gives you the flexibility to employ different payment models, which can be great if you're running a membership site.
The software also allows you to integrate your email marketing tools with it. If you're already using Mailchimp, ConvertKit, ActiveCampaign, or Drip, you'll be able to integrate your account with ThriveCart effortlessly.
In addition to these, the company also supports over half a dozen more email marketing platforms, which is excellent.
You can also connect your membership tool accounts, including MemberPress, Teachable, Member Mouse, and more to ThriveCart. You don't have to jump through a ton of hoops to adapt ThriveCart into your website management process!
Lastly, ThriveCart also supports webinar integrations, but at the time of writing, only webinar service Demio is available for integration.
But more integrations are in the works.
4. Easy to Use Templates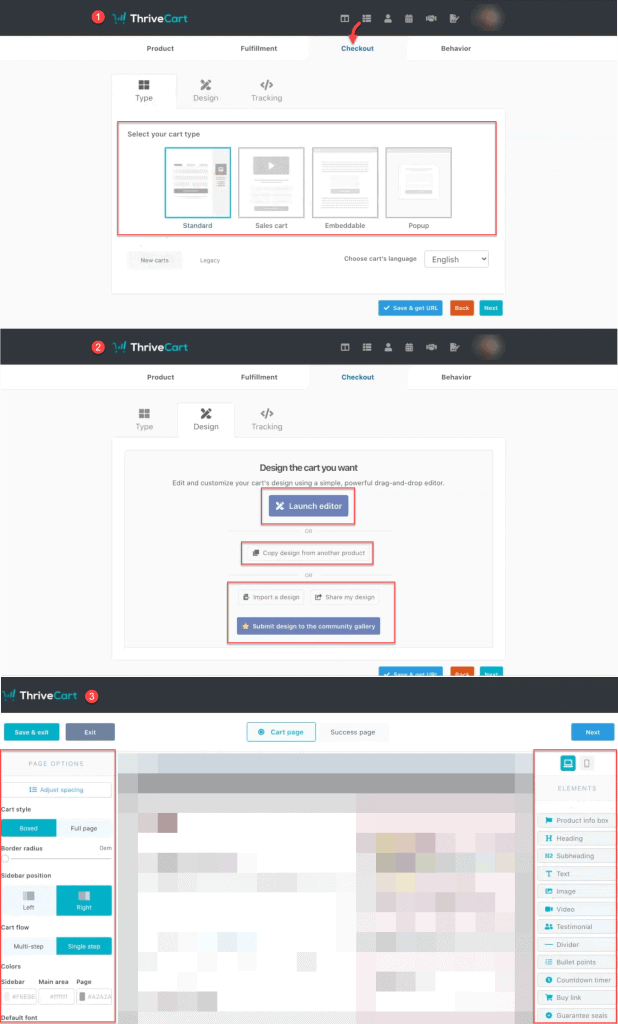 ThriveCart gives you access to four basic cart types: the Standard checkout page, the Sales cart layout, the embeddable cart, and the popup cart.
I really like the Sales cart template since it allows you to design your whole sales page right from the built-in page builder. You don't need to buy other tools or rely on your CMS to do the trick.
After you've picked the cart type, you can move to the "Design" tab on ThriveCart, launch the editor, and make your own custom checkout page from scratch.
Alternatively, you can edit a checkout page you built for another product or use a design from the community gallery to quickly make your checkout page.
At the time of writing, the community gallery feature hasn't been implemented properly yet. But it's in the works, and you should be able to see a ton of customizable designs there soon.
The rich set of customization options is super impressive, and the interface makes finding and using the options really easy. You will be able to use it even if you've never used a page building tool before!
You can also customize the success page that pops up after the payment is complete, which is excellent.
5. A/B Testing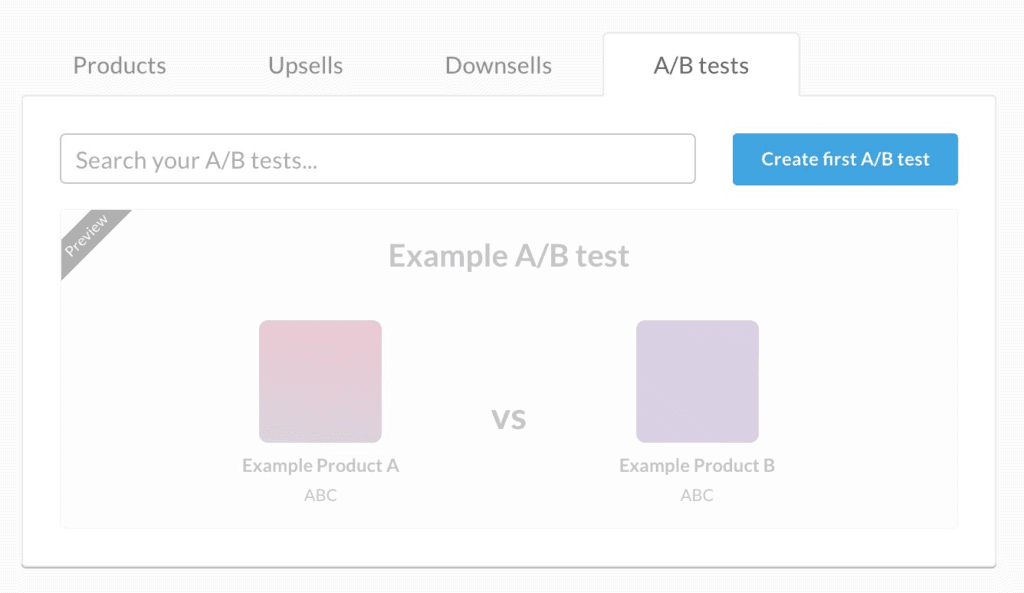 ThriveCart takes things a step further by giving you the ability to test which checkout page converts more.
Let's say you have a book you're trying to sell on your website.
Now, you can clone the original checkout page that you made for the book in just a few clicks and start to alter it.
You can switch up the look of the button, change the payment options, change or remove the testimonials, and make any change that you think will make the page look and sell better.
You can then pop the original and the new checkout page into the A/B testing section on the ThriveCart dashboard and wait for the results.
The software will rotate the two carts automatically and gauge which sells better.
It's a very clever way of increasing your conversion rate.
6. Webhooks
Webhooks are potent tools that can help you increase the chances of conversion by dynamically recommending a product to your visitor.
You will need to have some technical skill to use this feature. However, once you learn to use it, it can be a game-changer for your sales.
You will essentially set conditions and create events to occur as the conditions are met.
For example, if a registered user checks out your book on your website, you can set up ThriveCart to automatically email them a discount code to convert the lead into a paying user.
You only have to set it up once to watch the profits roll in.
7. Auto-Follow-Ups
Cart abandonment is one issue every eCommerce site has to deal with regardless of what is being sold.
However, ThriveCart enables you to re-engage the customer by allowing you to set up auto-follow-up emails.
Setting up and customizing these emails for your customers is made super simple in ThriveCart.
It enables you to take full advantage of even the slightest of purchase intent.
8. Affiliate Management Center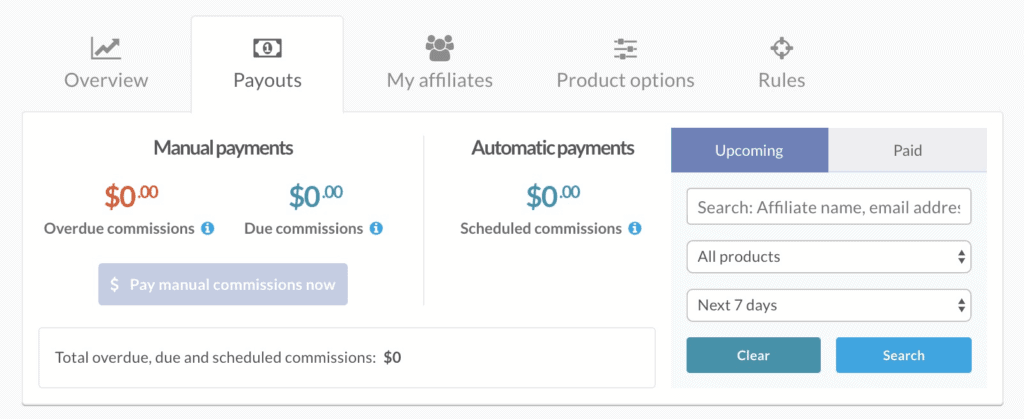 Getting affiliates to promote your products is one of the most effective ways to increase sales.
ThriveCart makes managing, tracking, and paying your affiliates super easy with its affiliate management center.
The Payouts tab allows you to pay your affiliates manually, set custom commissions for the best-performing affiliates, and even set up automatic payments.
You can also incorporate a two-tier affiliate system, which rewards affiliates when affiliates/customers referred by them make a sale.
The detailed reporting gives you a myriad of actionable data, keeping track of which will provide you with insights that could boost profits.
The Product Options and Rules tab give you granular control over how the products are sold.
9. Dunning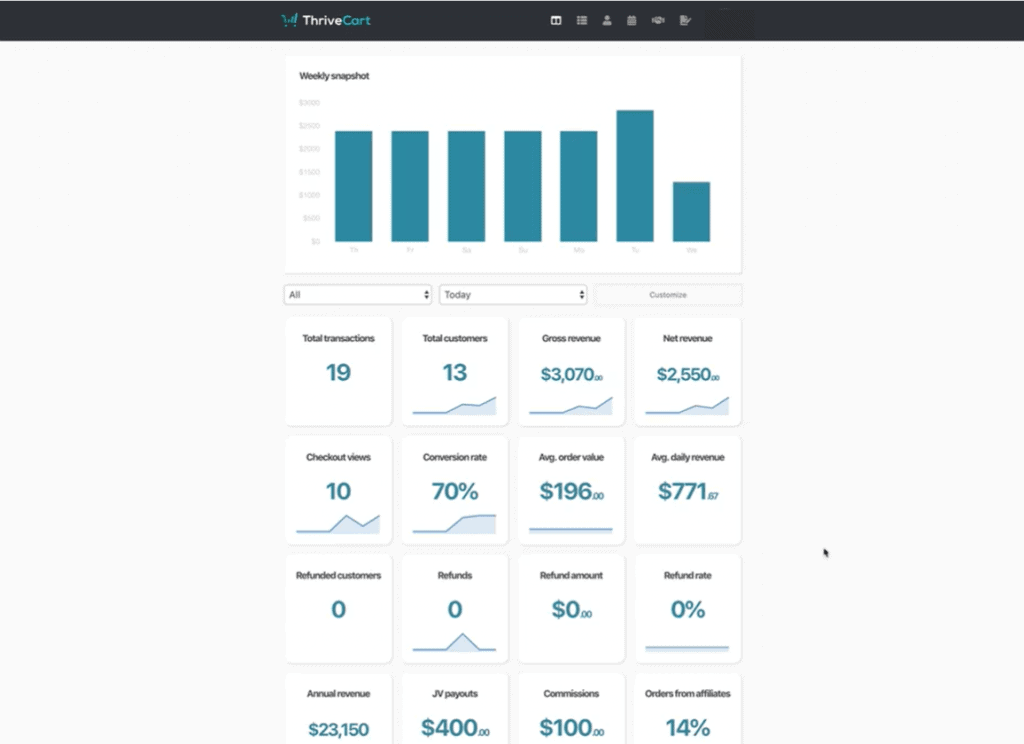 Dunning is a newer feature that was added to ThriveCart just recently.
The company understands that while increasing your sales and profits is essential, retaining business and growing recurring revenue is also crucial.
Enter: Dunning.
Dunning is similar to the auto-follow-ups, but it enables you to remind your customers about their upcoming payments. It can also be set up to notify customers that the payment is overdue or that their card has expired.
ThriveCart also added a subscription management area to the software to make tracking and managing recurring revenue quick and easy.
The feature can be especially helpful to webmasters running a membership or an online course site.
---
ThriveCart vs CartFlows vs SamCart vs Clickfunnels vs PayKickstart
There are quite a few other cart software available in the market that function very similarly. However, ThriveCart is better than the rest in at least one way.
Let's gauge the competition and find out just how better it is.
1. CartFlows
While CartFlows is a popular cart software, you will need to configure all the little details of your cart manually with it.
Plus, the software only works with WordPress and is not flexible like ThriveCart is.
Furthermore, CartFlows is expensive. You can get lifetime access to ThriveCart if you pay a little more than what CartFlows Pro costs for a year.
2. SamCart
SamCart is another super popular option, and it has been one of the top cart software for a while now.
But, ThriveCart is significantly cheaper than SamCart. It's smarter to buy ThriveCart for life than to spend the same money getting only three months of SamCart's Scale plan.
Plus, SamCart and ThriveCart share a lot of the same features. Both have one-click upsells, order bumps, and more that you can use to boost profits.
However, ThriveCart outdoes SamCart by offering almost double the integrations and a handful of extra features.
3. PayKickstart
PayKickstart is known for its excellent selection of checkout templates. However, it does have its flaws.
There is no Apple Pay support, limiting your customer's payment options, which could even directly lead to cart abandonment.
Also, there are no A/B testing features, limiting how much profit you can make.
The lackluster UI is just inexcusable in 2020.
4. ClickFunnels
ClickFunnels is more an all-in-one solution to website woes – you can create sales funnels with it, capture leads, and, of course, make carts.
However, it does not integrate with PayPal directly like ThriveCart does. It also does not allow you to accept payments from Google Pay and Apple Pay.
The affiliate management features are limited to top plans that cost hundreds of dollars a month.
ThriveCart gives you a ton of the same features for much, much cheaper.
---
Verdict: Is It Really Worth the Cost?
Now that you know what the software has to offer, and also know the lapses in pricing and features that its competitors have, it won't be difficult to conclude that ThriveCart is, in fact, the better option.
The low price of the lifetime license, coupled with its top-notch profit-maximizing features makes it a no-brainer.
It's important to note that the company plans to shift from the lifetime license model to a monthly subscription model soon.
If you want to get ThriveCart, you should do it now – you may end up paying more later!