Ranking #1 on Google fetches you over 30% of the clicks for the keyword searched. By ranking on the top, you beat the competition in terms of CTRs by a large margin.
Many SEO tools in the market can help you get to the top of SERPs, but Rank Math and Yoast stand out from the competition.
Yoast has been in the industry for a decade and is used by millions of WordPress websites for SEO.
Rank Math, on the other hand, signed on its first users in 2019 and has garnered a user base of over 400,000. It also offers a lot of new features for free.
Yoast is popular, but Rank Math shows promise.
But which of these two SEO plugins is definitively better?
I will compare their features to help you find out.
| SERVICE | FEATURES | VISIT |
| --- | --- | --- |
| | #1 Yoast Alternative. High Performance. Easy-to-use. | |
| | #1 WordPress SEO plugin. Easy. Popular. | |
Rank Math vs Yoast: Overall Review
Reviewing the two top SEO plugins, I found that there is a stark contrast between the approaches they take. At face value, Rank Math feels like a more modern and up-to-date SEO solution, but Yoast is not far behind.
But one of them offers a more complete set of SEO tools than the other.
Here are my thoughts and overall opinions:
Rank Math Overall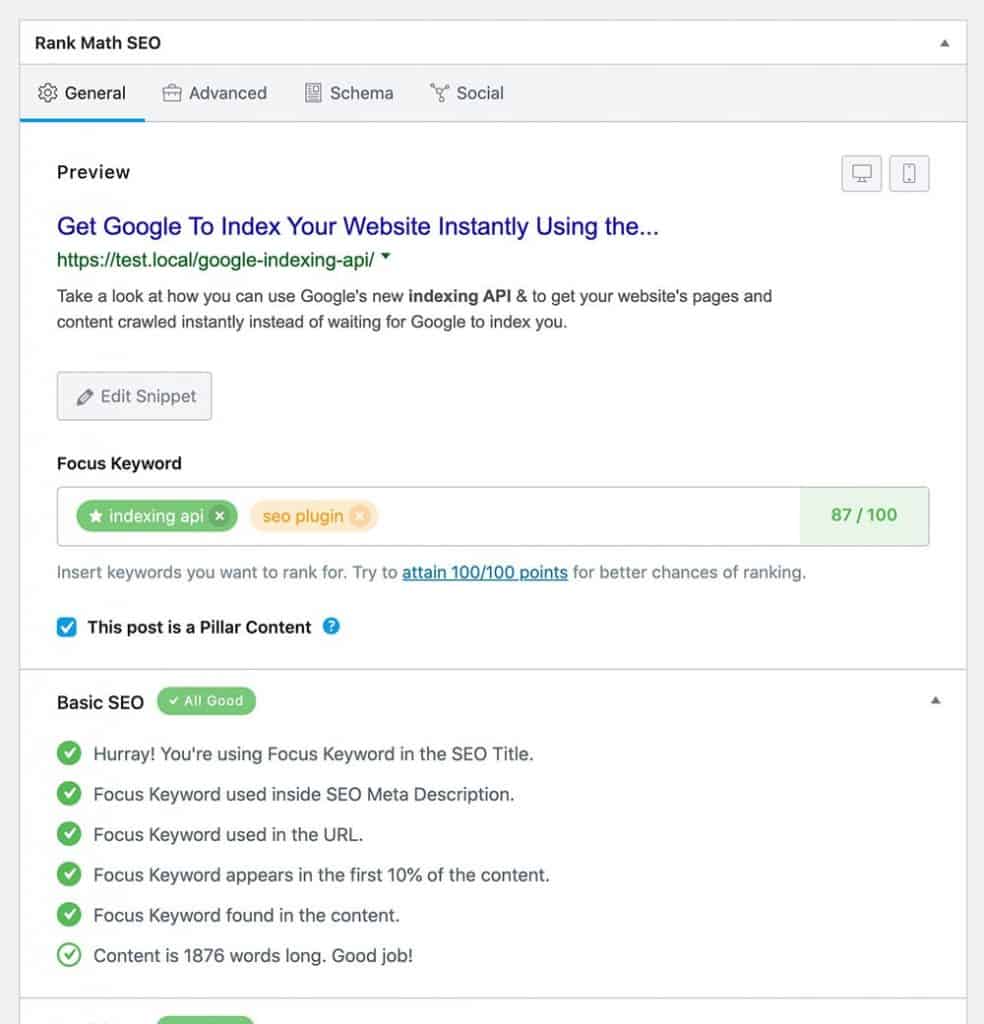 Installing the plugin is as easy as it gets, and once you activate it, Rank Math creates a new section on your WordPress dashboard.
The plugin requires you to create a Rank Math account and connect it with your website. It is also worth noting that a setup wizard will pop up automatically, familiarize you with the interface and ask you to configure some basic settings.
The UI looks modern and is very intuitive. It won't take long for you to learn to use the tool.
Rank Math is feature-rich, and in addition to offering you more keyword integrations for free, it also provides features like the external link management and redirect management.
These features make the plugin a more complete package and remove the need for you to rely on multiple plugins for SEO-related tasks.
The plugin is entirely free to use, and there is no premium version available as of the third quarter of 2020. The official website reports that the development of a "Pro" version is in progress.
Support is also free, and the company resolves issues using a ticket system. Solutions to known problems are available on their support page.
Overall, Rank Math offers the features, UI, and pricing that caters to the needs of a webmaster in 2020.
Yoast Overall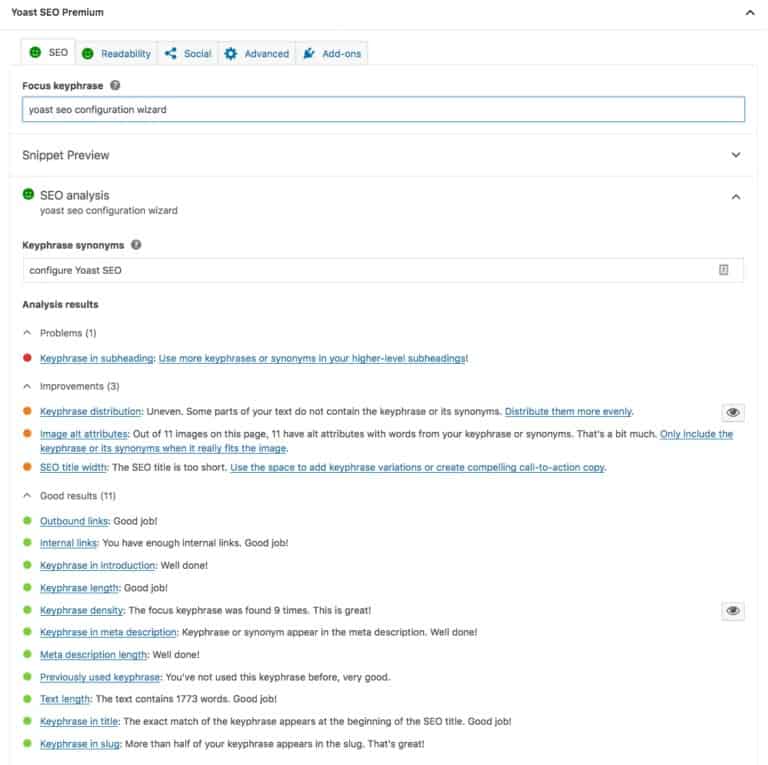 Yoast is equally easy to install, and will also create a new section on the WordPress dashboard. However, no sign-up is required to use the free version.
While a configuration wizard is available, you will need to trigger it manually. It won't pop up by itself and help you configure basic settings.
The plugin's UI looks dated and clunky, and its old-fashioned design feels less intuitive when compared to Rank Math's interface.
But when it comes to features, Yoast is anything but clunky. It continues to offer some of the best SEO analysis features in the industry. But, many of the best features are locked behind a paywall.
Also, even the premium version of Yoast lacks features like external link management and redirect management. Considering that Yoast has been in the industry for longer and Rank Math provides these features for free, it is clear that Yoast lags behind.
Like Rank Math, Yoast also offers support via a ticket system. But if you're looking to get assistance right from the plugin, or want to receive personalized support via email, you will need to buy the premium version of the plugin.
Overall, the Yoast plugin lacks the appeal and the power that marketers and bloggers need to make the most of every page and post.
---
User Interface
Rank Math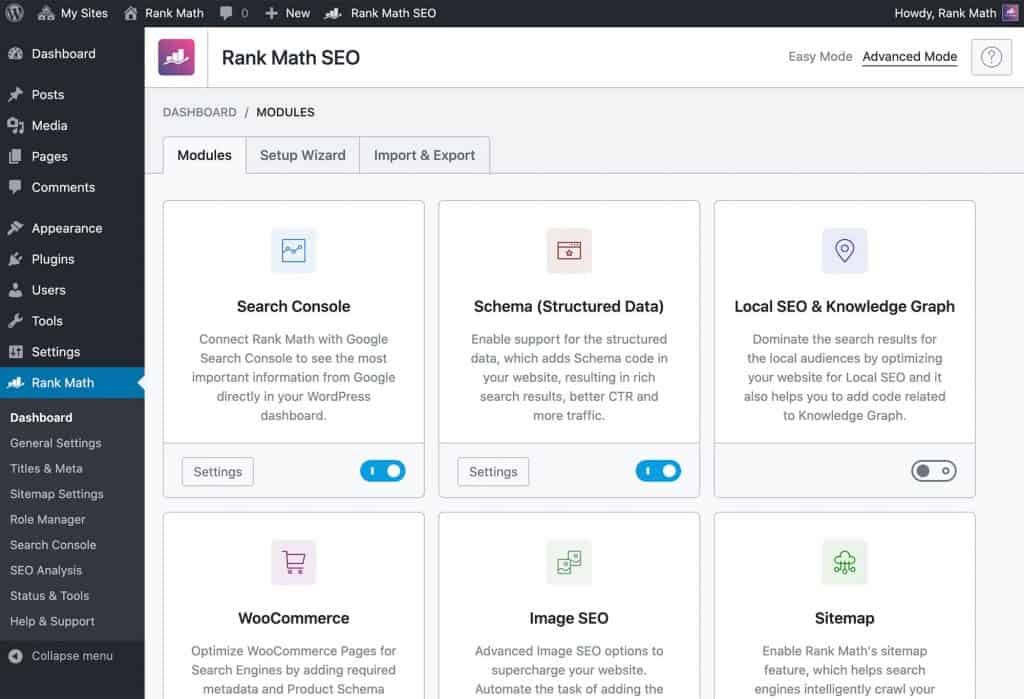 Rank Math boasts a beautiful-looking interface that is both easy to learn and navigate.
At first glance, it feels modern and makes the plugin feel like it's well-equipped to optimize a website for search engines – which it is.
The intuitiveness and ease of finding the right settings make it super convenient to use. It has a better interface out of the two plugins.
Yoast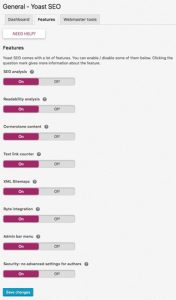 It is clear that Yoast does not pay much heed to aesthetics, and lays a lot more emphasis on functionality. While the settings and menus are organized neatly, the overall interface feels bland.
There is a silver lining – finding a setting is made easy owing to the plugin's well-defined categories.
But the lack of visual appeal only amplifies the effects of the lack of certain SEO features from the plugin.
---
SEO Features
Rank Math
Finding and using the right keywords is a big part of search engine optimization. Placing keywords in the right places and ensuring proper frequency and distribution of keywords is critical to ranking.
Rank Math allows you to set up to five different focus keywords/keyphrases – at no cost. The plugin makes itself very useful – if you only enter one focus keyword, the plugin will automatically begin to suggest keywords and keyphrases.
These recommendations are derived directly from Google's keyword suggestions, making them accurate, and helping your website rank first.
However, the plugin does not give you any details about metrics like competition or search volume. It's not a deal-breaker, but having these metrics available would make the service a lot more useful.
Adding a "no-follow" tag to sponsored/affiliate links is customary since search engines decrease rankings if they detect sponsored links in the content.
The plugin makes it possible to tag all the outbound links on your website as "no-follow." The feature is called the "External Link Manager," and makes boosting SERP rankings fast and easy.
Managing redirects is also a fundamental part of search engine optimization. The content across your website has several links – both internal and external. But often, these links can generate errors like the 404 error.
Broken links are among the top causes for increased bounce rates, and if you're affiliate marketing, broken links can negatively impact earnings from commissions.
Rank Math helps fix this problem – for free – by providing a redirect manager in the plugin. Finding broken links is easy, and making replacements is just as easy.
While the plugin does help with writing SEO-friendly meta descriptions, it also enables you to make the most of the media on your website.
It boasts several settings that help with optimizing images for better ranking. The plugin also offers the option to add rich snippets to your website, which are preview images of videos that help increase page ranking.
Rank Math enables you to optimize your content right from the WordPress post editor. Changes are recommended via a sleek-looking panel, and the plugin helps gauge optimization in the quantitative sense – via a score.
A proper XML sitemap ensures that search engine web crawlers index all of your pages and posts.
With the plugin, you can create an XML sitemap with a click of a button.
The plugin also enables you to conduct a site SEO audit and provides you with actionable insights that help improve your ranking.
If you run a WooCommerce website, optimizing your site for search engines enables you to get your products to appear on the front page directly. Good SEO can cause a massive increase in sales.
Rank Math offers SEO functionality for WooCommerce for free.
It also boasts a role management feature that enables you to operate a multi-author blog without any security risks. It also helps you ensure that all of the content on your website is optimized for search engines.
The richness in features of the plugin is apparent.
Yoast
Yoast is popular – about eight million people were using the plugin as of 2017, and a good fraction of them paying for the premium features.
But the plugin lags behind Rank Math – and the difference in features is surprizing.
The free version of Yoast allows you only to add one keyword or keyphrase as the focus keyword. You cannot set multiple focus keywords unless you buy the premium version.
But this is only the start.
Yoast does not have an external link management feature like Rank Math. The link tags are an essential signal to search engines, and the plugin does not include it even in the premium version.
However, the premium version of Yoast does include a redirect manager, allowing you to manage broken links with ease.
Yoast's premium version also offers image and video SEO features, enabling you to leverage graphical content to boost ranking on SERPs.
While the content analysis features are impressive, the plugin does not quantify SEO and supply rating via scores. Instead, content is only rated qualitatively – and GOOD and BAD are the only indicators you can rely on.
It lacks specificity.
When it comes to creating XML sitemaps, I have no complaints. Proper site indexing can be ensured in one button press.
There is no SEO auditing tool, and role management features also do not come with Yoast, which is disappointing.
But Yoast does offer WooCommerce SEO functionalities with the premium version.
Rank Math offers a lot of impressive features, a host of which are absent from Yoast completely. Considering that Rank Math is a newer plugin and is free to use, the contrast between the tools is startling.
---
Integrating with Third-Party Services
Rank Math
Schema.org time and again proves to be an invaluable tool for marketers looking to boost CTRs. It enables you to add rich snippets and star ratings to SERPs directly, and these characteristics make your page stand out.
Rank Math supports Schema.org seamlessly, and you will have no problem using it to enhance your content and improve ranking.
The plugin also allows you to keep track of your progress using the Google search console. The console is added to your WordPress dashboard right after the activation of the plugin – all you need to do is enter your Google account details and verify your account.
Yoast
Yoast does not support Schema.org, even in the premium version. You will need to rely on another plugin to enable Schema.org integration on your website.
Rank Math helps reduce the number of plugins you need to install – which is a massive advantage in terms of storage and convenience.
While Yoast does offer Google search console integration, you cannot monitor your data from the WordPress dashboard, making the integration less useful.
---
Premium Pricing
Rank Math
As mentioned, Rank Math is free to use, and the company does not currently offer a paid version. But on their website, they report that the development of a "Pro" version of the site is under progress.
The company also promises that all the features currently available on Rank Math will remain free to use. The Pro version of Rank Math will build on the already impressive offerings.
Yoast
Yoast offers a free version, but many of the plugin's best features are locked behind a paywall.
The pricing starts at $89/year for one site, but if you're looking to use the plugin on more sites, buying the plugin in bulk will reduce the total cost.
---
Support/Documentation
Rank Math
Rank Math support is free, and the company uses a ticket system to ensure that all users get their issues resolved.
The Knowledge Base on the official site is filled with articles and FAQs that can help you get started and resolve most basic issues by yourself.
But considering that there is only one channel of customer support, Rank Math falls behind in the support department.
Yoast
Yoast also uses a ticket system to resolve issues. If you get the premium version, you get access to premium email support that gives you personalized resolutions and priority support.
You can also use the beacon that comes with the plugin to contact support, which is super convenient.
---
Verdict: Which is Best?
Yoast may be more popular, but Rank Math offers an abundance of features that Yoast doesn't.
Email support is not available, and the plugin has a few bugs, but these issues will weed themselves out. In my opinion, Rank Math outclasses Yoast on all counts – design, features, and pricing.