Images are an essential part of content regardless of what niche your website or blog targets. The reason for their importance is more psychological than it first appears.
Regardless, rich visual media not only improves your content's appeal but also makes it more consumable. Studies indicate that articles with higher image-to-word ratios are consistently shared more.
While adding images to your website has excellent benefits, images can slow your site down drastically.
Top-notch image optimization is the need of the hour.
While there are several quality image optimizer plugins, finding the best of the best takes time and effort.
But I've got you covered.
In this post, I will review eight of the best image optimizer plugins available for WordPress, weigh out their pros and cons, and in the end, determine what the ultimate plugin is.
Best WordPress Image Optimizer Plugin: My Top Picks

You can find ShortPixel in the Plugins section of WordPress, and don't have to install using a zip file, which is convenient.
After you activate the plugin, ShortPixel requires you to get an API key to work, but since it is free to validate and gets delivered to your inbox, this isn't much of an issue.
The plugin appears under the Settings section of WordPress, and navigating to its menu gives you a host of different image settings.
You can pick from three different compression algorithms – lossy, glossy, and lossless. Lossy compresses images to small sizes, but the quality of the images is reduced.
Lossless is the complete opposite – the quality of images is reserved, but the image size is still substantial.
The "Glossy image compression algorithm" is built to improve your Google Insights score. While the images' quality is reserved, the larger file sizes can reduce the loading speed of your website.
The plugin enables you to optimize thumbnails, remove EXIF tags, resize images, and optimize PDFs in bulk.
It also offers image backup options, which can come in very handy if you don't back up your website manually.
You can use the plugin for free– ShortPixel provides 100 free image credits every month. One credit fetches one compression.
However, if you want to compress more images, you must either purchase a monthly plan or a one-time plan for more credits.
Pros
Excellent free version
Multiple different compression algorithms
Affordable paid version ($4.99/month)
Automatic compression
Cons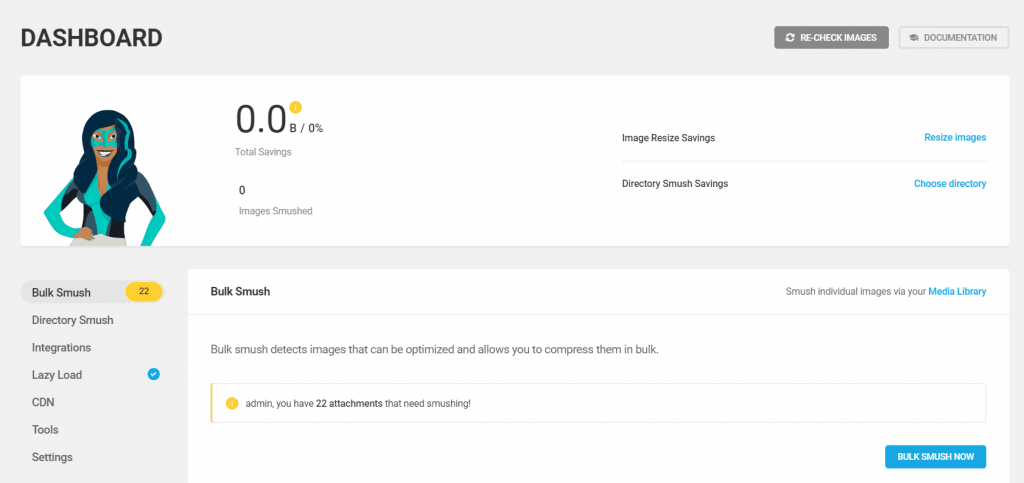 If you need a free image optimizer plugin for your WordPress site, Smush is among the best you can get.
Installation is easy and can be done right from the Plugins section. Smush appears on the navigation bar on the left.
The plugin will first run you through a quick setup, post which you get all the details about the attachments and images that the plugin can compress.
Smush has a polished dashboard that makes using all of its features super simple.
The plugin enables both lossless and lossy compression, but the free plan only lets you optimize images losslessly. Additionally, file sizes cannot be larger than 5MB.
To get access to lossy compression, you will need to get the Pro version of Smush.
But it's not all bad – the free version of the plugin gives you access to lazy loading features, which improve your website's loading speed. With lazy loading activated, images on your website will only load when the visitor scrolls over them.
You can bulk optimize up to 50 images in one go and configure the plugin to compress images on upload automatically.
The plugin is compatible with PNG, JPEG, and GIF file formats, and will compress all images without corrupting any data. Smush also enables you to convert images to the new WebP format.
Pros
Unlimited free optimizations
Auto-compress feature
Easy metadata removal
Cons
Expensive Pro version ($14/month)
API key required for use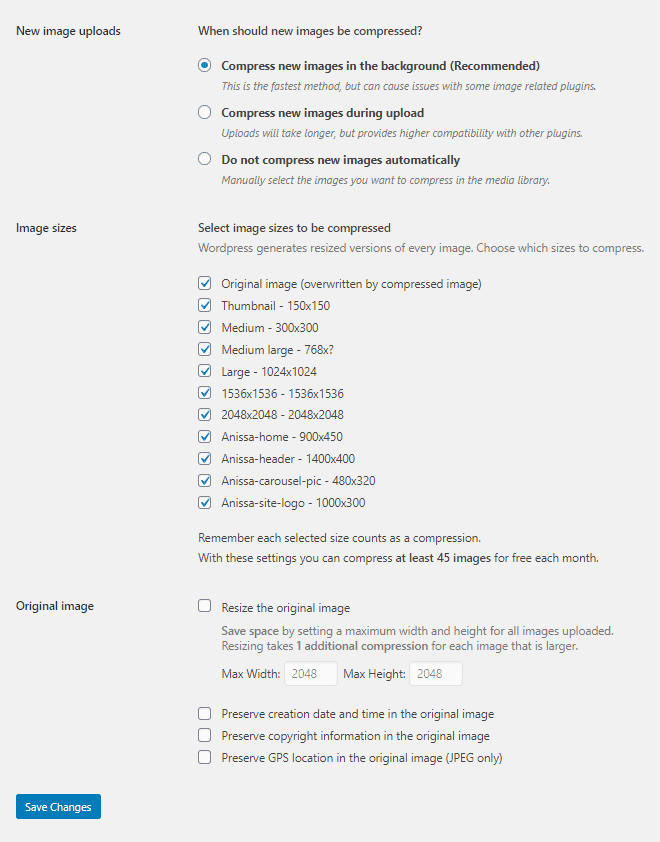 TinyPNG has a bare-bones interface, but that doesn't take away from its ability to compress images.
Post activation, you will need to create a Tinify account and get a free API from the official website to use the plugin.
The plugin appears under the Settings section, and first asks how you want to compress your images: in the background, during upload, or manually.
WordPress sizes images automatically, and TinyPNG has a checklist that enables you to configure which of these pictures you want to be compressed.
With TinyPNG, you can only use a lossy compression algorithm – there are no options to use other compression algorithms.
Additionally, the plugin's compression capability is restricted to PNGs.
However, resizing images is made easy, and the plugin automatically removes metadata from all images. Configuring the plugin to retain the metadata is as simple as checking the right box.
The plugin is free to download and use; however, compression of only 500 images is allowed.
To compress more images, you can use their flexible pricing plan that charges you $0.009 per image.
If you compress more than 10,000 images, the price drops to $0.002 per image.
Pros
Super-efficient compression
Very affordable pricing
Fast compression
Cons
No additional features
Lackluster interface
Doesn't work with many image formats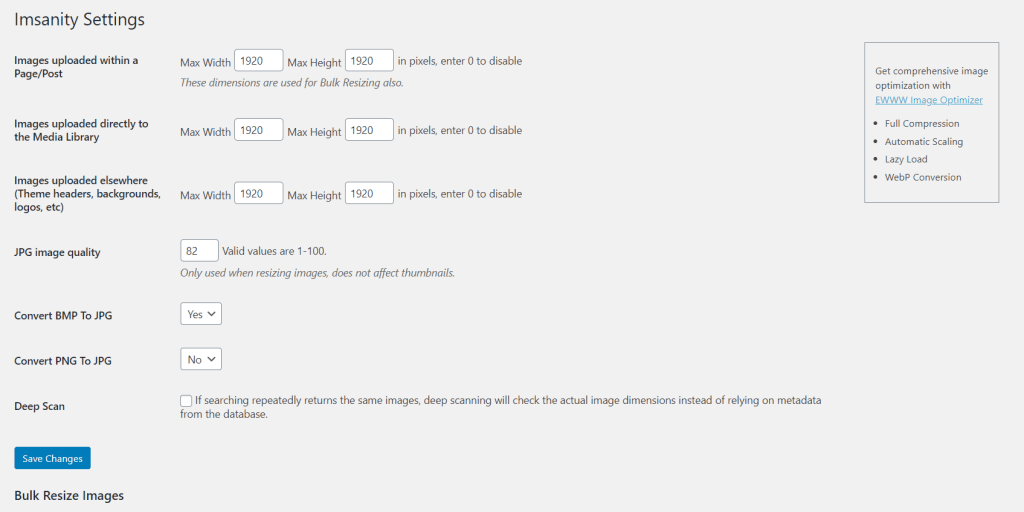 If you have less stringent image optimization requirements – you don't need backup features or fancy metadata removal, and just want your blog or website to load faster, you must try Imsanity.
It is a free tool that does not require an API key to work. You can install it from the Plugins section, and start using it right away.
The interface is simple, and you don't need a tutorial to learn to use it. You simply enter the resolutions you're looking to resize to and enter the image quality you want.
The plugin handles the rest automatically.
You can disable resizing if you don't need it, or use the bulk resize feature if your website is bloated with large images.
If you want better compression and lower loss of quality, the plugin enables you to convert your PNG and BMP images to JPG in one click.
Imsanity is free to use without any limits and does not have a pro version, but you must keep in mind that the images you compress replace the original images, and no backups are made.
Pros
Easy setup
No API key required
Straightforward interface
Best for new blogs
Cons
Compressed images replace original images
No backup or metadata removal features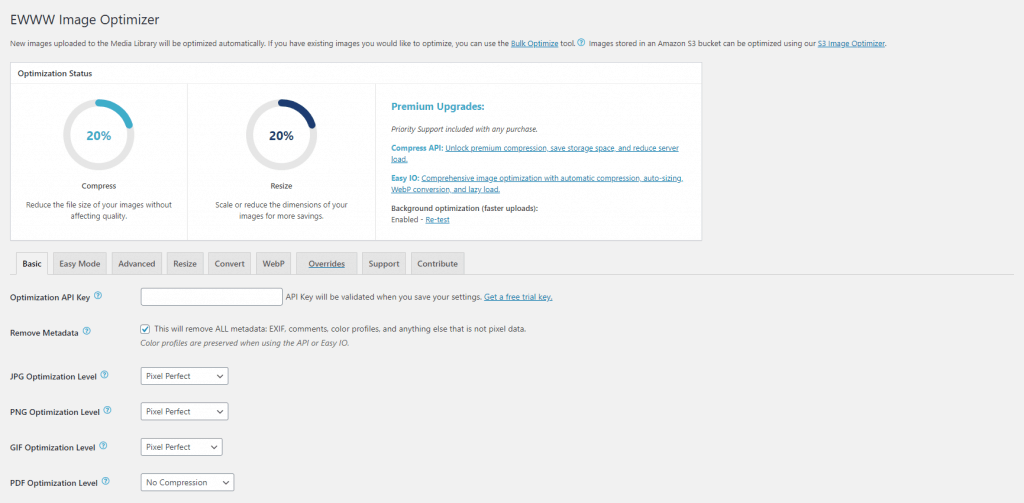 The core EWWW plugin is free to use, but it only allows you to compress 500 images every month.
However, it is worth installing because there are no speed limits or file size limits. The plugin can compress JPGs, PNGs, GIFs, and also PDFs without any hassle.
Every file type has a unique algorithm that enables the best compression for that specific file type. The plugin offers both lossy and lossless algorithms.
The interface can feel overwhelming to navigate at first; however, since features are intuitively spread across menus, learning to use it won't take long.
The plugin offers different optimization levels, gives an option to remove metadata, and also allows users to store a copy of original images on a secure server for 30 days.
It comes with advanced options such as parallel and scheduled optimization, JPG quality tuning, and selective optimization.
In addition to supplying options to resize images in bulk, EWWW also enables image format conversion.
Unlocking premium features like the different compression levels and the conversion features and enabling compression of more images requires you to either purchase their API key at $0.003/image or get the Easy IO subscription that starts at $5 a month.
Pros
Free 30-day backup
CDN supported
Smart compression
Cons
Very restricted free version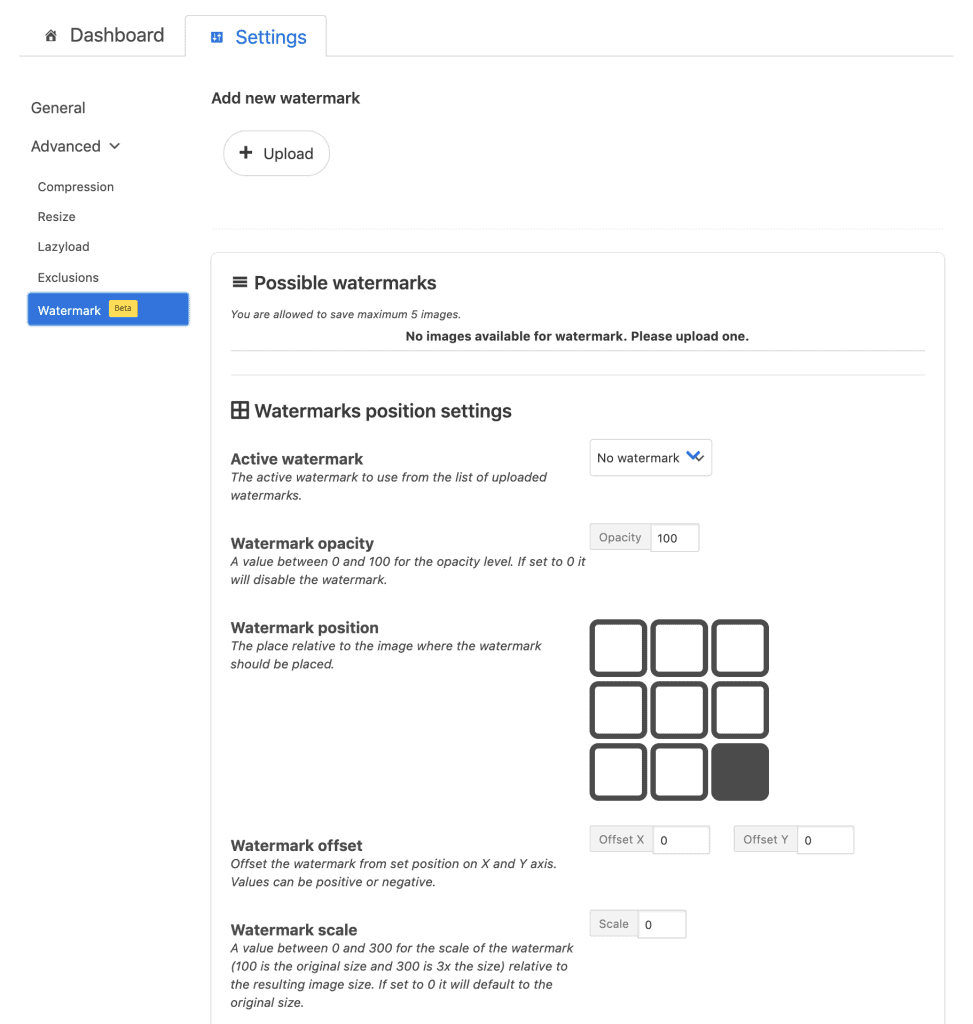 Optimole is your go-to if you're looking for a plugin that does all the legwork for you and doesn't require much configuration or constant maintenance.
You can get your hands on a global CDN that compresses all of your images, delivers responsively and uses lazy loading for free with Optimole.
It also supports WebP and Retina images, meaning you will have no trouble compatibility or quality issues.
The interface is super sleek and modern – exactly what you would expect from a contemporary compression service.
Since Optimole's cloud handles all the compression and the image delivery, your server will see no slowdowns.
Also, compression is done in the background on the fly, meaning you won't need to add images to compress or make any configurations separately.
Adding watermarks in bulk, and smart cropping is also made possible.
The free version is fully functional – but there is one catch. It will only work for up to 5000 visits. If your site gets more visits monthly, you will need to get one of their tiered plans.
Pros
Feature-loaded free tier
Automated compression
Cloud-based compression – no slowdowns
High-performance CDN delivery
Cons
Free plan not apt for high-traffic websites
Expensive plans (starting €19/month)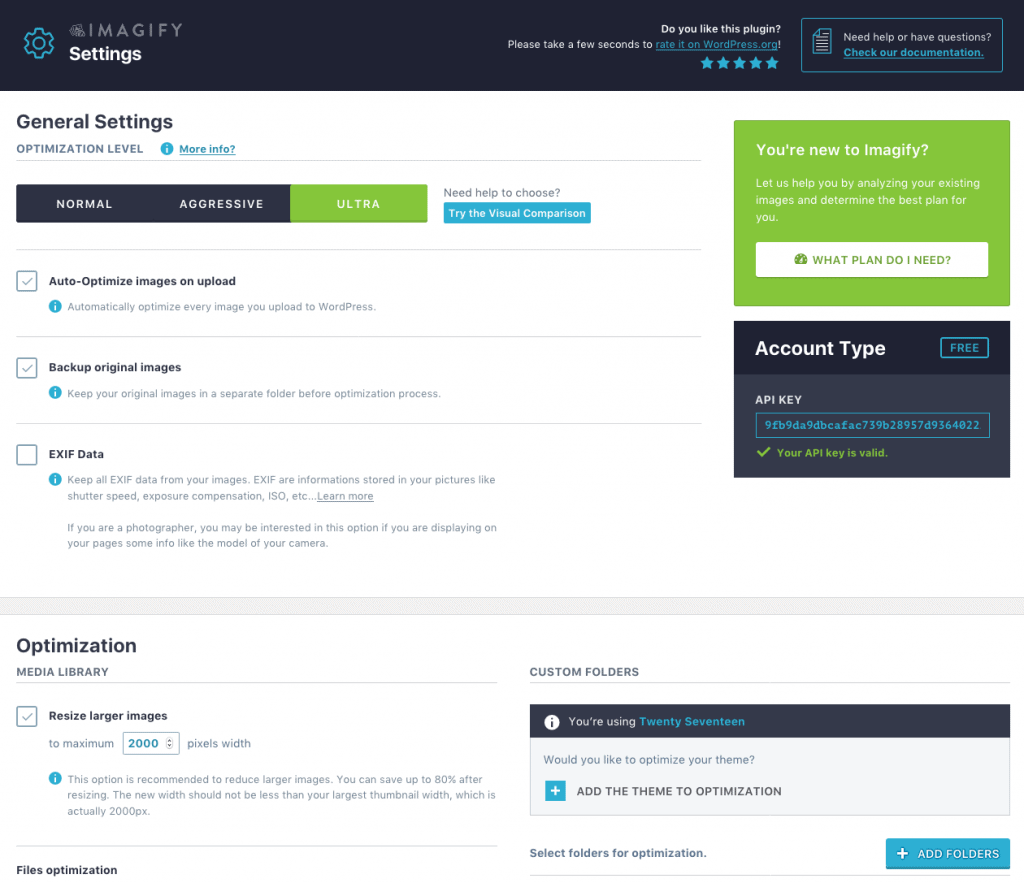 The creators of WP Rocket developed Imagify, a powerful image optimization plugin for WordPress.
It is undoubtedly the most polished image compression suite on this list. It comes with an attractive interface that is also easy to use and features three modes of compression.
Enabling the normal mode losslessly compresses images. The Aggressive mode enables lossy compression, and its algorithm strikes the right balance between quality and size.
The final mode is called Ultra, which is designed to compress images as much as possible. Image quality is a trade-off.
The plugin boasts a reliable backup option, and you can revert to the original version of an image and try another compression mode at any time.
Converting images to the WebP format is also possible, and if you have Retina images on your website, Imagify can compress them without affecting quality.
The tool is free to use, but the free plan is super restricted – you only get 25MB worth of compression power every month.
While that much is enough to get a taste of the software, the free version is virtually unusable in a practical scenario.
Pros
Polished interface
Excellent backup features
Powerful compression modes
Decent pricing (starting $4.99/month)
Cons
API key required
Unusable free plan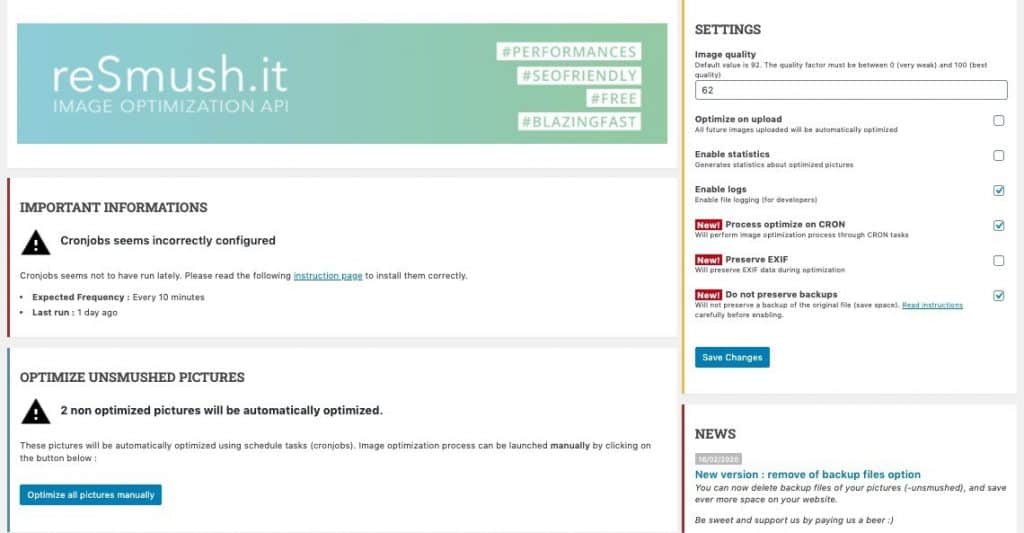 If simplicity is what you look for in your plugins, you will love reSmush.it. It comes with a super-simple interface and doesn't require an API key to function.
Optimizing images on your website is as simple as clicking on the "Optimize all images manually" button.
You can also configure the plugin to optimize images automatically on upload by checking one box.
Changing the compression power is as simple as changing the quality factor, and the plugin automatically makes a backup of the original images, which is super convenient.
Pros
Super easy to use
100% free
Cons
---
How To Choose An Image Optimization Plugin for WP
First, you must decide how much compression your images require. There are two main compression algorithms: lossy and lossless.
If you're looking for a minimal change in image quality and can make do with slightly larger file sizes, you must pick lossless compression.
On the other hand, if you require high compression and slight reductions in image quality aren't an issue, lossy compression is right for you.
While some plugins give users the flexibility to pick compression algorithms, other plugins either do not supply options or lock options behind paywalls.
Therefore, your next consideration must be price. While there are some excellent free and freemium plugins, you almost always end up paying for quality and convenience.
---
Verdict: Which Is Best Image Optimizer Plugin?
reSmush.it is hands down the best image optimizer plugin. It's super easy to use and doesn't require you to fuss with different settings and menus.
You get access to all its features – compression quality, metadata retention, and backup settings with one menu.
But that's not even the best part. The plugin is completely free to use with no locked features or hidden payments.
I can confidently recommend it to anyone point blank – without knowing what type of blog or website they have.