Community plugins that do both: look good on all themes and are also easy to set up are difficult to find.
But there are more factors to be considered. Online communities come in all shapes and sizes, can be open-access or closed to members only, and can be casual or professional. Therefore, good community plugins should be flexible and adaptable.
BuddyPress and bbPress are two of the most popular community WordPress plugins around – but which one is the best?
We will compare all of their offerings to help you find out in this head-to-head Buddypress vs bbPress review. We will discuss overall features, pricing, support, and much more. Let's get to it!
SERVICE

FEATURES

VISIT

#1

Community Plugin. Popular. Many Features. Powerful

#1

Community Plugin. Easy-to-Use. Many Features. Fast
BuddyPress vs bbPress: Overall Review
Ease of use, range of features, and quality of support make all the difference in your experience with a community plugin. Testing these out is the most reliable way to find the overall best plugin.
BuddyPress Overall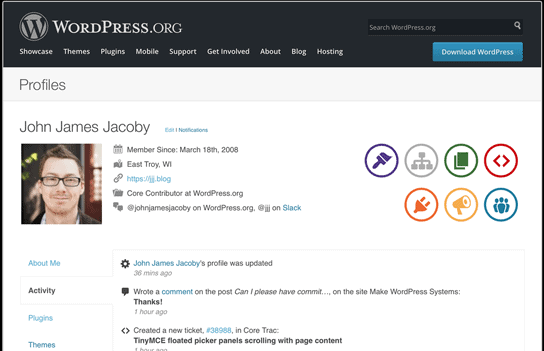 Although BuddyPress is loaded with features, it is not easy to use. Rather than providing a unified settings menu with all the options, the plugin complicates setup and configuration by spreading the controls across the WordPress dashboard.
Email support is not available, but you can use the support forum for free. Response times vary, and you may need to wait for up to a day for resolution.
BuddyPress is right for developers and those who like to tinker – it is not the right community plugin for beginners.
bbPress Overall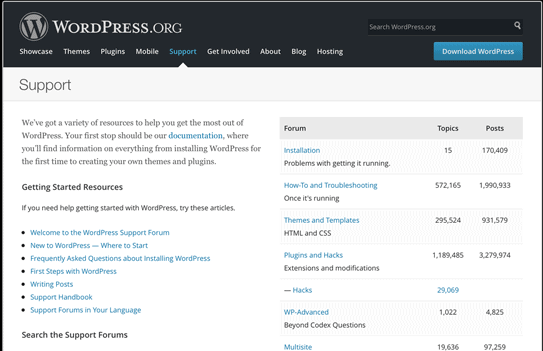 bbPress has a neat and straightforward interface, but it isn't as feature-rich as BuddyPress.
Email support is also not available for bbPress, but it has a free-to-use support forum. Support is equally unreliable, and you may need to way up to a day for a response.
Overall though, bbPress is easier to use and offers an adequate range of features, making it the superior plugin of the two.
---
Use Cases of The Plugins
Although both the plugins are community plugins, have been developed by the same team, and have similar names, the way they operate is fundamentally different.
BuddyPress
BuddyPress is a powerful plugin that can transform any WordPress setup into a social networking site.
It's meant to enhance the community aspect of blogs, but it need not be integrated into blogs only. It can act as a stand-alone plugin to create a social networking site using any theme.
BuddyPress can help create focused communities for products and services and niche social networks for groups with specific interests. The plugin can also be repurposed as an internal communication tool for a company or as a campus-wide social network for schools, colleges, and universities.
The plugin is flexible and uses a component-based approach – meaning you can turn off features that you don't want, and the plugin will adapt to your website accordingly.
BuddyPress enables the creation and management of user profiles, groups, activity streams, notification systems, and more. Making friends and private messaging is also possible.
You can also extend and enhance BuddyPress's functionalities by installing one of the hundreds of third-party BuddyPress components.
bbPress
bbPress is also a community plugin, but it does not take the social networking approach. Instead, it enables you to create a forum or a bulletin board site.
Most forum creation plugins for WordPress are either bloated or don't supply enough features. bbPress, on the other hand, is committed to providing users with as many features in as small and light a package as possible.
The plugin is simple, fast, and flexible, and can be used to create forums about virtually any subject. Users can discuss something as technical as programming or software and something as casual as gardening or knitting.
Forums can be used by blogs to improve engagement, by companies to help customers with their queries, and by niche enthusiasts to garner an audience and monetize traffic.
Much like BuddyPress, bbPress's functionalities can also be extended or enhanced by installing from the 200+ third-party plugins.
Forums are slowly becoming a thing of the past, making BuddyPress a more potent and contemporary solution for creating communities regardless of niche.
---
BuddyPress vs bbPress User Interface
The ideal plugin has a visually appealing interface with a neat layout of options. It should make creating a community as simple as possible.
BuddyPress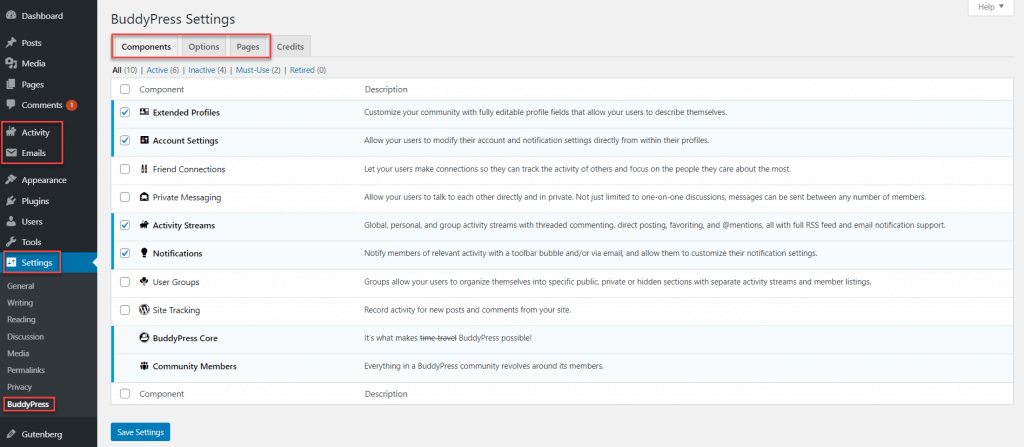 Installing BuddyPress is easy – you don't need to visit a specific site or get a .zip file. You can do it by searching for it in the Plugins menu on WordPress.
Post activation, two new tabs will appear on the WordPress sidebar: Activity and Emails. Also, new BuddyPress options will appear under the Tools and Settings tabs on WordPress.
Although creating a social network from scratch can be understandably complex, the unconventional spreading of the plugin's controls complicates setup.
The BuddyPress section under the Settings tab gives you the most control over your website. You can toggle different networking features on or off, enable profile syncing and activity auto-refresh, allow or disable account deletion, toggle the toolbar, and also switch template packs.
You can also set up registration options and a Member page from the same menu.
However, with the networking and toolbar settings available in the section, it would have been convenient to have the Menu Settings available in the same section.
But to create and configure a menu for your social networking site, you must navigate to the Menus section under the Appearance tab. Although this makes logical sense, plugins must aim to make configuration quick and straightforward. The spreading out of options complicates the process.
Nonetheless, the BuddyPress menu section is rich with features and enables you to set up a sophisticated menu for your site's visitors. Configuring display locations is also made easy.
The pre-built notification feature is available via the Emails tab. It uses pre-defined situations to deliver alerts to users under the notification panel.
You can edit the text of these alerts and also alter the existing situations to meet your requirements. Additionally, you can also create new situations altogether and use them to deliver customized alerts.
However, there is a pitfall – the notifications are configured using JSON, and you will need to take the guidance of the BuddyPress codex page to create new notifications.
As mentioned earlier, you can enhance the plugin's functionality by coupling it with third-party plugins. You will find all of the plugin-related enhancement settings in the Widgets section under the Appearance tab.
Almost every aspect of the social media website created using BuddyPress is extendable. You can customize everything from the search section to the primary navigation on your sidebar by adding and configuring the right widget.
With hundreds of widgets available, the possibilities for customization are limitless.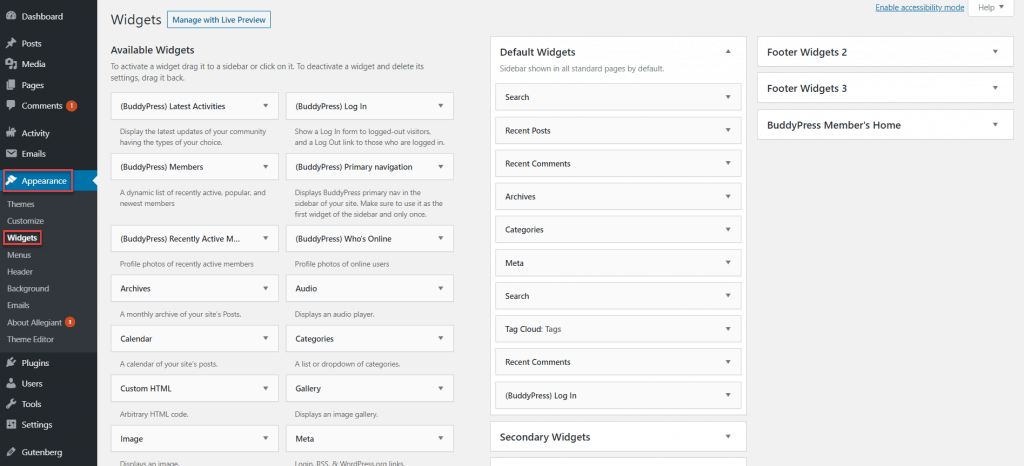 Although the plugin enables WordPress users to create full-fledged social media networks, the interface is dull with no visual charm, and the settings are spread across the WordPress dashboard, making configuration and customization very difficult.
You must also keep in mind that although the plugin will work with all WordPress themes, it won't look good on all of them. For best results, you must search for and use themes from the WordPress theme catalog and filter by BuddyPress compatibility.
bbPress

bbPress is also equally easy to install – you can get the plugin from the Plugins tab on WordPress.
After you activate bbPress, three tabs will appear on the WordPress sidebar – Forums, Topics, and Replies.
Creating a forum is straightforward when compared to creating a social media site. You don't need to configure hosts of settings, and creating a forum is as simple as going to the Forums tab and clicking on the "Add New" button.
Configuring the attributes gives you control over who can and cannot access the forum.
Integrating the forum is slightly tricky. You must either create a new page and paste the forum index shortcode that you can find on the bbPress website on the page.
Alternatively, you can also paste the shortcode on your website's sidebar.
Adding a login section for your users is made easy with the Widgets section. You can simply drag the Login Widget and place it on the sidebar section wherever you see fit.
However, the default login widget will show up on every page of your site – even after the user has signed in. You can download a widget like bbPress WP Tweaks to fix this problem.
There are more than 200 widgets available for bbPress that enhance its functionality in ways such as this.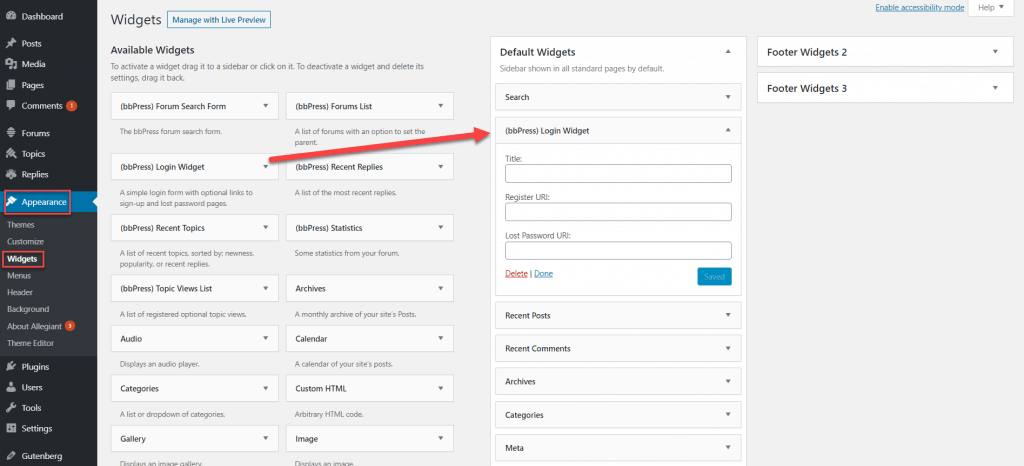 Although bbPress is not as feature-rich, its interface is a lot neater and makes creating a forum quick and simple.
However, you must keep in mind that just like BuddyPress, although bbPress works with every site, it won't look good on every website. You must either find a perfectly compatible theme or edit the site's CSS yourself to adjust and align the forum elements correctly.
Overall, bbPress is a lot easier to use and makes building a community much simpler.
---
Free vs Premium Differences
The cost can often be a deciding factor when getting community plugins.
BuddyPress
The plugin is a GPL licensed open-source project, which means it's completely free to use.
Modification and patching of the plugin and giving feedback is encouraged. Support is also free, and you don't need to pay a premium to get help with the plugin.
bbPress
bbPress is also GPL licensed and open source, making it another plugin you can use to build a community for free.
Much like BuddyPress, modification and patching of bbPress are encouraged. Support is free, and you can ask for help and get a response without needing to pay a premium.
Since both plugins are free to use, both are great options as far as pricing is concerned.
---
Support/Documentation
Community plugins can be finicky and require a lot of tweaking to get the job done correctly. For this reason, excellent support and documentation are bare necessities.
A good plugin is extensively documented and provides quality support quickly.
BuddyPress
BuddyPress does not offer any email support since it is an open-source project, and email is not an efficient way of helping multiple people.
The BuddyPress support forum is free to use for all users, and you are also allowed to search through the archives and find answers to previously answered questions.
You typically get a response within a day of asking a question, which is slow compared to industry standards.
In addition to the support forum, you also get access to BuddyPress's Documentation Codex, which is the plugin's online manual. It can help you get started if you're a complete beginner, and you can learn about all of the plugin's features and components.
The documentation also features BuddyPress theme and widget development guides, which can be super useful for developers looking to give BuddyPress a personal touch.
bbPress
bbPress also does not offer email support, since the plugin has a relatively small user base and it is a free project.
However, their support forum is open to all users with a bbPress account. You can ask as many questions as you like, but response times can be slow, and it may take up to a day for you to get an answer.
You don't always have to ask a question – you can search through previously answered questions and find clues about how you can resolve your issue from there.
In addition to the free support forum, you also get access to bbPress's Documentation Codex, which can help both beginners and developers alike learn about the features and components of the plugin.
Both the plugins supply decent support, but the response times are disappointing, especially considering the 24/7 support most companies provide users with.
Additionally, although both plugins document all of their features, the documentation isn't very extensive and only brushes over the features and components.
---
Verdict: Which is Best?
I hope you found this BuddyPress vs bbPress review helpful! Let's summarize:
BuddyPress has some severe lapses in structure – the settings are spread out, further convoluting the already complex plugin.
bbPress is easier to use and provides an adequate range of features that make it the better plugin overall.
If you're looking for a community plugin that strikes the right balance between feature-richness and ease of use, bbPress is perfect for you.