BuddyPress is the most popular social community plugin available for WordPress with over 200,000 installations. It is also super versatile and feature-rich, owing to its extensibility via the hundreds of plugins available for it.
It also works with almost every WordPress theme available, and the best part is that it is completely free to use!
However, upon digging a little deeper into WordPress's community-building aspect, I found that there are several other fantastic community plugins available.
Each plugin has at least one feature that sets it apart from the others and also from BuddyPress – but not all of them are worth your time.
Fortunately, you don't need to do the searching and testing – here is a list of the five best BuddyPress alternatives for WordPress.
SERVICE

FEATURES

VISIT

#1 BuddyPress Alternatives for WordPress. T

ons of Features. Customizable. Easy-to-Use
BuddyPress Alternatives: My Top 5 Picks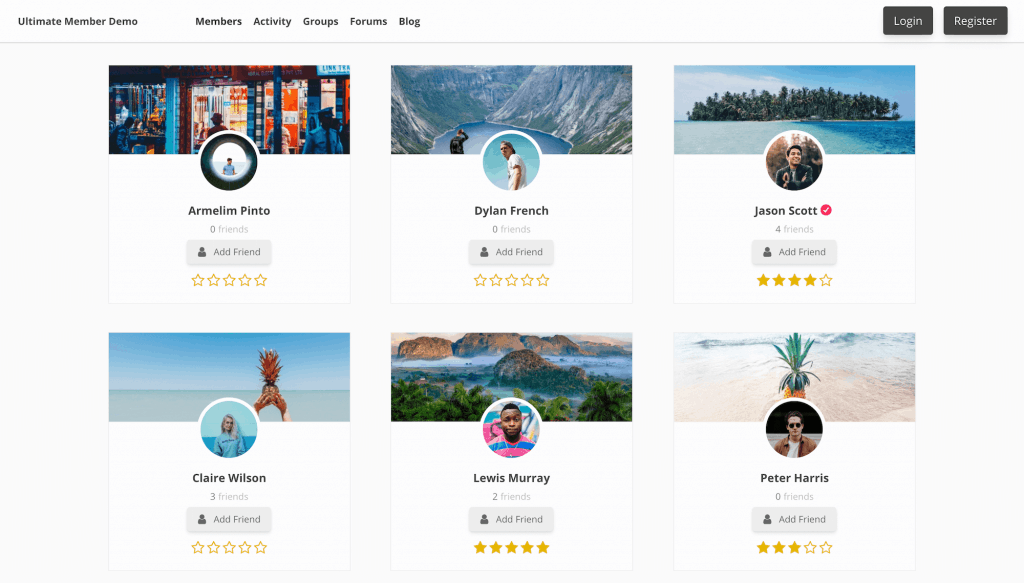 Ultimate Member is rich with features that enable you to create an online community or a membership website like an expert. No wonder it is the plugin of choice of over 100,000 users!
With the plugin, you can enable your visitors to create user profiles in the front-end using registration forms. The sleek login forms and member directories help deliver a rich experience to your users, and the user role editing features and content restriction features give you full control over your website.
You can also add custom fields and enable user emails, allow private messaging and user reviews, and restrict adding pages and posts to specific member roles.
There's more.
The plugin enables you to automate personalized emails, for example, account activation emails. Since email templates come integrated into the plugin, you can edit them to your liking once and leave the rest to Ultimate Member.
The Nav Menu visibility feature allows you to display different menu links to different users. For example, logged out users will see different menus than logged in users.
The plugin also comes with a host of integrations that enable you to market products or monetize your website.
The WooCommerce integration, social login feature, Google reCAPTCHA, and MailChimp integration are only some of the advanced features that come bundled with Ultimate Member that make it an excellent alternative to BuddyPress.
The plugin is expensive to get your hands on, with plans starting at $249 a year. However, your purchase is risk-free since the plugin has a 30-day full refund policy.
The excellent documentation and support make it all the more worth the money.
Pros
GDPR Compatible
Comes with Gutenberg blocks
Loaded with features and integrations
Cons
Expensive pricing
Sheer volume of settings can be overwhelming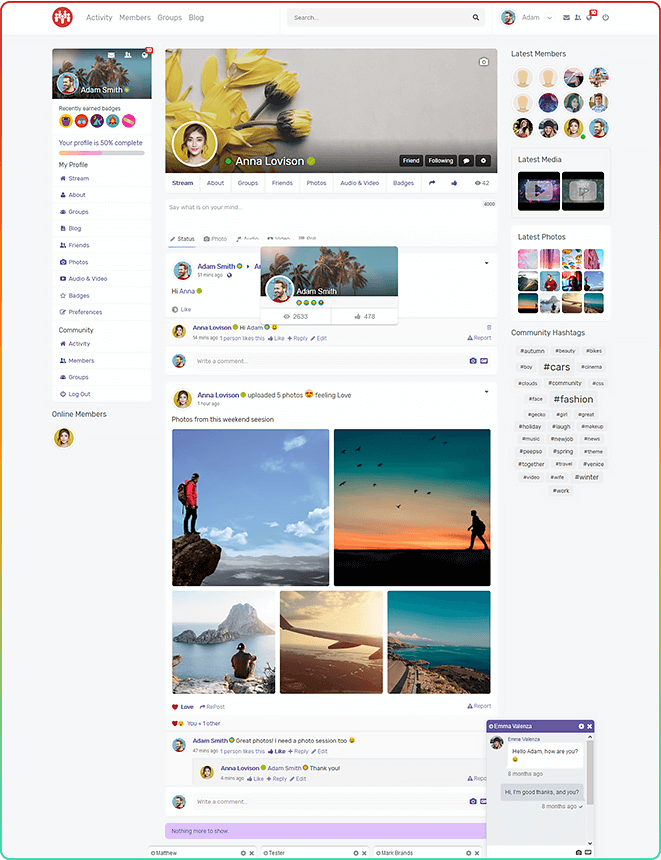 If you're looking for a plugin that continually gives you access to new features, you will love PeepSo.
PeepSo works with almost every theme in the market, and they also offer their own networking optimized themes for great prices. These can help lay an excellent foundation to build a community page on.
You don't have to pay to use PeepSo – PeepSo Foundation is completely free to use. You can install it on your WordPress site and begin building a community before taking a look at their premium offerings.
The plugin is super-light and enables you to create a social networking site quickly and effortlessly. The design is Facebook inspired, but since the theme is flexible, you can customize your site's look and feel to your liking.
Much like Facebook, PeepSo boasts features like private messaging, a friend system, a blocking system, and more. You can also couple your PeepSo plugin with widgets that enable users to add photos and videos to their profile.
But one standout feature that no other plugin offers is PeepSo's mood feature. Users can add moods to their profiles – similar to how users can update their status on Facebook.
The moods addon is free to use, and PeepSo also offers multiple other free addons that enable hash-tagging and location-tagging. The plugin is also mobile-ready, allowing users to use your site on the go.
The admin is given full control over the look and functionality of the website, which, coupled with its excellent features, makes it a fantastic BuddyPress alternative.
Pros
Excellent pricing
GDPR ready
Full Gutenberg support
Feature-loaded free version
Cons
No lifetime plan
Creating a custom login page takes more work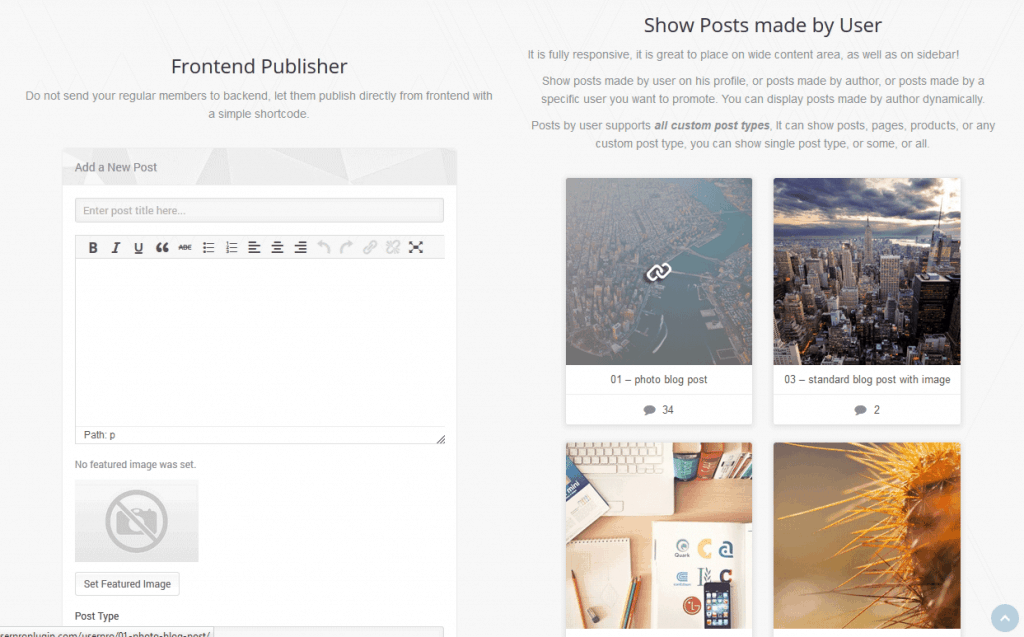 If customizability is your primary lookout, UserPro is right for you. It makes building a beautiful community website super easy.
You can customize the registration and login forms to meet your taste, and also enable social media connection and integration. It also comes with features like user badges and member list displays, thereby bringing the full online community experience to your WordPress site.
You can restrict content to specific users, enable the creation of public and private feeds, use viral marketing tactics for monetization, and do much, much more.
The plugin comes with shortcodes that enable the follow/unfollow feature, and five ready-to-use skins that help speed up the design process. Adding your own CSS to give your website a personal touch is also possible.
But adding custom CSS and adding the shortcodes for a few features are about the only times you will need to fiddle with any code. The intuitive drag and drop administration panel makes building your website extraordinarily easy.
The plugin supports responsiveness, which means your website will look perfect on screens of any size. The RTL language support enables you to translate your site and localize it if you're looking to target a specific audience. The auto-update feature ensures you always have the best security measures implemented on your website.
In addition to all this, it comes with 350+ FontAwesome icons and Google Fonts, making it one of the best BuddyPress alternatives in the market.
Pros
Multiple cheap addons
Excellent documentation and support
GDPR Compliant
Gutenberg optimized
Seamless integration with marketing services like MailChimp, AWeber, and Mailster
WooCommerce with auto-sync fields support
Can sync BuddyPress profiles with UserPro profiles
Cons
May be too complicated for beginners to cope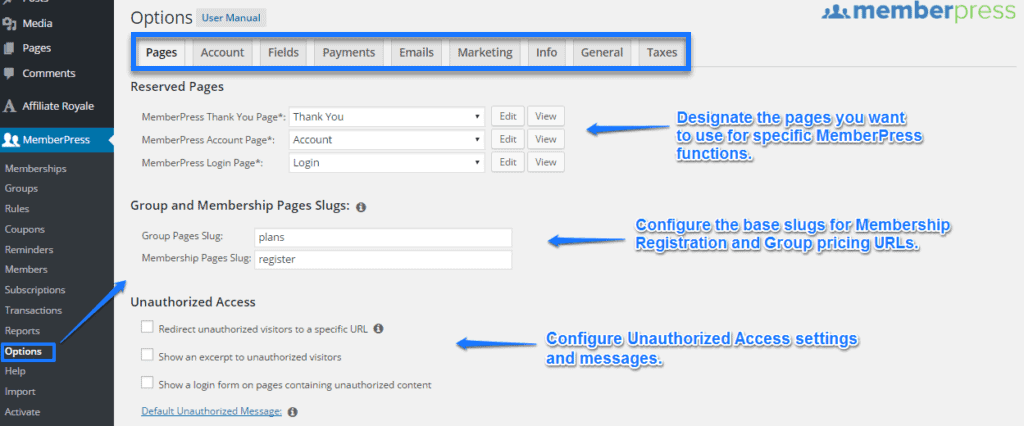 MemberPress makes creating a membership site super easy – all you will need to do post-installation is enter your payment gateway details and set up some integrations.
The plugin gives you fine-grained control over content access. Users will only be able to access content based on the membership or digital products they purchased.
Building an open or a password-protected community forum is made possible with its Community Forums addon.
The Coupons addon makes running promotions and giveaways simple. You can control when the coupons expire, the number of times they can be used, and also set up custom coupon codes.
In addition to enabling community building and marketing, the plugin also lets you build dynamic pricing pages for your products. You can change the copy or modify the look and feel of the pages with ease.
The plugin works perfectly with every theme, and also comes with content dripping and content access expiration features.
The reporting features give you an exact tally of how much money your products are bringing in and a good idea about which products are selling the most.
It is Gutenberg optimized, meaning you never have to fiddle with any code to build your membership site and forum. These features make it one of the best BuddyPress alternatives around.
Pros
GDPR complaint
Excellent Gutenberg blocks
Full-blown subscription management features
Fantastic support
Super extensible
Cons
Expensive, with plans starting at $250 a year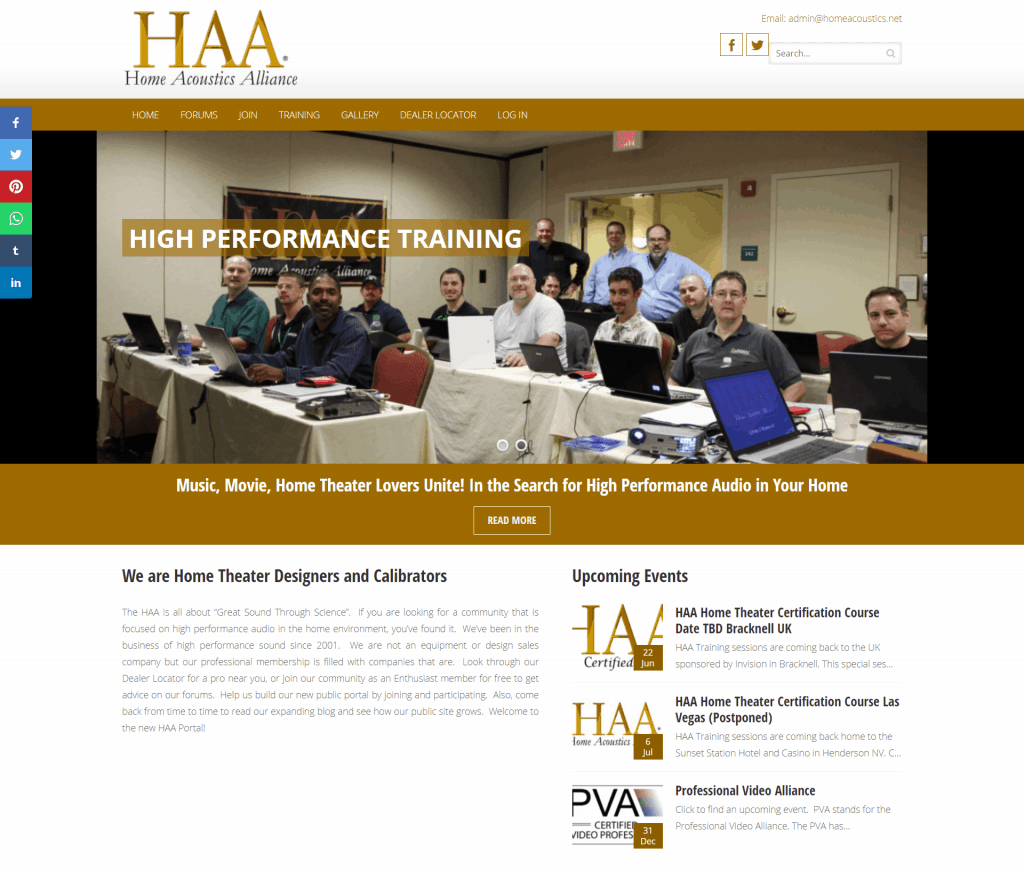 If you're looking for an affordable plugin that does not compromise on quality, WP Symposium Pro is perfect for you.
It offers all the features you would need to build a social networking website, and its excellent support system ensures that you're never stuck with an issue for more than a few minutes.
The plugin can be used to create community websites for businesses, schools, and also for clubs and support.
WP Symposium Pro's core is free to use, but you will need to purchase extensions if you're looking for better functionality.
Apart from being able to create a forum, the plugin can also help you build an activity wall, a private mail system, a notification bar, and even chat rooms of different groups.
Unlike BuddyPress, which only works on BuddyPress-specific themes, WP Symposium works perfectly on all WordPress themes. This feature makes it one of the best BuddyPress alternatives there are.
Pros
Excellent pricing
Extensive documentation
Reliable support
Several extension packs
Cons
The free version has very limited functionality
---
Verdict
PeepSo is undoubtedly the best BuddyPress alternative, since it's priced aggressively, boasts a ton of features, and can replace a more expensive plugin without making any compromises.
The free version gives you a taste of the plugin's capabilities, giving you access to everything you would need to create a Facebook-like networking site.
But you don't have to build a clone – the plugin is super customizable and also easy to use, making building your dream networking site simple.
The large selection of addons and integrations it has to offer only fortify its position as the best BuddyPress alternative available.