Finding interesting ideas to keep audiences engaged can get tedious even for experts, and in my experience, using plugins can help. But what kind of plugins help the most?
Google Analytics helps assess existing blog traffic, giving pointers on the type of content the audience prefers. However, if you want to try new content types, you need more than historical data. This is where WordPress voting plugins help.
You can pitch new content ideas and invite the blog visitors or subscribers to vote on them.
Here's a shortlist of the best WordPress voting plugins available right now.
Best WordPress Voting Plugin: My Top Picks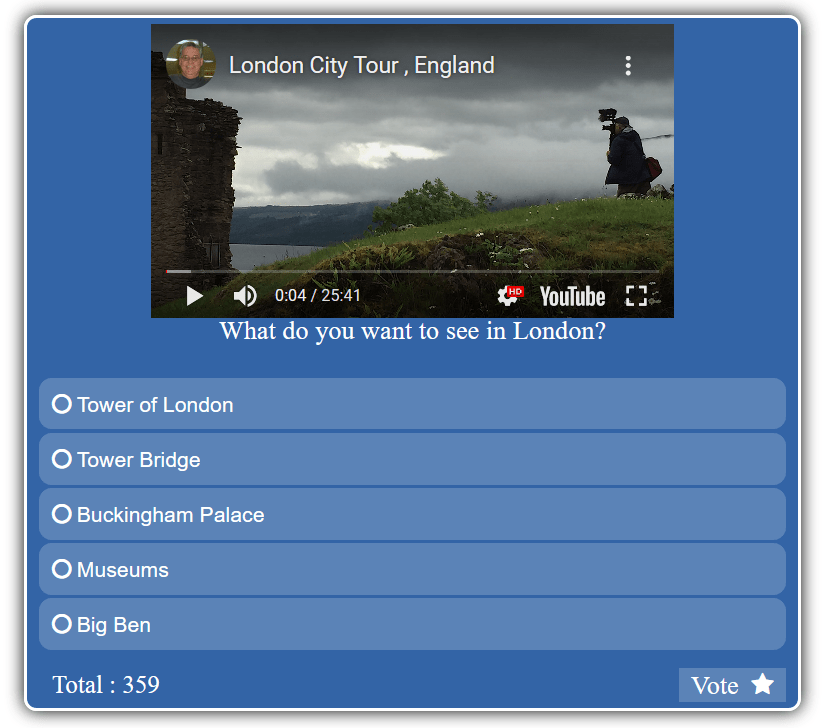 If you're looking to add vibrant and effective polls to your WordPress site, you should try Responsive Poll. The plugin is developed and maintained by Total Soft, which has been in the market since 2016.
Features
The plugin enables you to customize the look and feel of the polls on your site. From the background color to the font to the color of individual answers – everything is customizable.
There is no limit to how many polls you can add in one page – you could add a poll to every Widget section on your site if you wanted.
The polls feature a simplistic, professional design, making it right for a blog with a professional undertone. However, since it is customizable, you can tailor your polls to look as bubbly or as vibrant as you please.\

The poll results pop up in the WordPress dashboard, making tracking the results easy and convenient, and the nine different animation types make the polls more attractive and engaging. The enticing animations ensure that almost every visitor interacts with the poll.
The fully responsive design, plentiful reporting options, the drag and drop interface, and multi-language compatibility make it one of the most powerful voting plugins available.
Pricing
Responsive Poll is available for free, but the free version does not give you any customization options, and you can only use the pre-made themes.
Total Soft provides the premium version of the plugin on their official site. The personal plan comes in at $15 and gives you access to all of the plugins' customization features.
You also get access to features like cookie and IP address tracking and real-time result display, and you can even define a start and end date of your polls.
The Business plan enables you to install the plugin on up to five different sites, but if you're looking to install the plugin on more than five websites, you should get the $35 Developer plan.
Pros
Excellent customization features
Beautiful ready-to-use themes enable quick creation of polls
The free version gives access to all core functionality
Premium version provides excellent value for money
15 animation effects
Works well with Gutenberg
Re-voting blocking feature
Image and video polling possible
Cons
Personal plan only gives six months of support
The free version does not have customization options
Lackluster WordPress interface
No GDPR toggle
No survey (quiz) functionality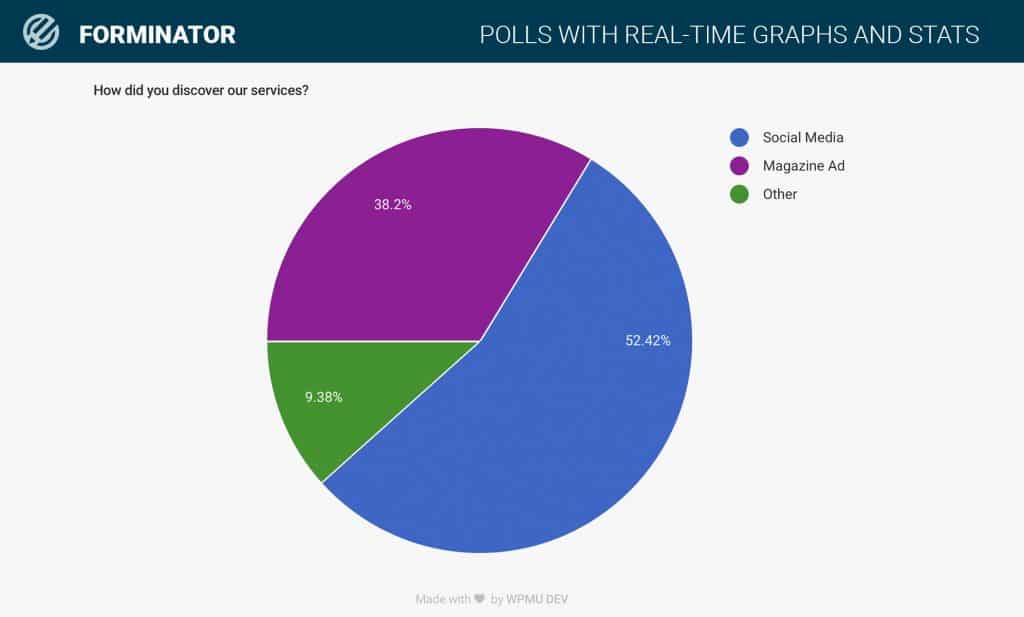 If you need an easy to use plugin that can help create attractive polls in minutes, Forminator is perfect for you. It is developed by WPMU DEV, who've been a WordPress member since 2010.
Features
Forminator is loaded with features and boasts a slew of customization options. You can add your questions and answers, pick from pre-made design styles, set form containers, and even configure rendering options from one clean interface.
With Forminator, you don't need to stick to the classic editor to make your polls. If you use Gutenberg to edit your website, you can use it to edit the polls too. No more shortcodes required!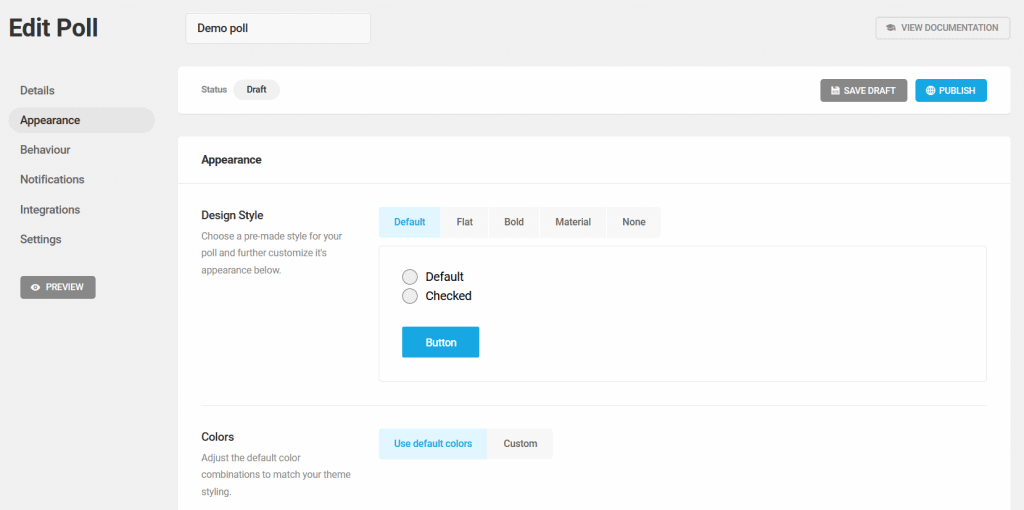 The plugin stores and organizes submissions automatically, enabling you to sort through, analyze, and manage responses with ease. All data collection is compliant with GDPR, meaning your visitors won't have any privacy issues.
User frontend submissions are one of Forminator's best features. You no longer need to give users access to the WordPress dashboard to share post submissions – they can directly submit post ideas from the front end of your site.
You can assign the post to default authors, save drafts of the posts, or even publish immediately if a post is ready to go.
Every poll you make gives you real-time feedback, and live stats are displayed in beautiful graphs and charts.
The plugin integrates with 1000+ apps, including Hubspot, Google Sheets, Trello, AWeber, and MailChimp, making tracking polls super convenient.
Pricing
Forminator has a free and a Pro version, but currently, there is no difference in features between the two versions.
You can enjoy all of Forminator's features free of cost.
Forminator Pro is available for $13 per month for three websites, which is slightly expensive for what you get.
Pros
Built-in design styles speed up poll creation
Tons of color options
Gutenberg compatible
Customization form containers
Custom CSS support
GDPR-Ready
Formidable visitor submission options
Free and Pro versions have the same features
Cons
No video integration in polls
Slightly expensive subscription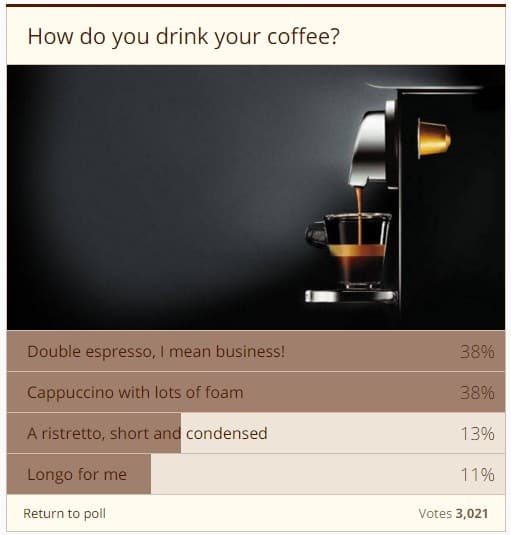 The Poll, Survey, Form & Quiz Maker by Opinion Stage is right for those looking to make polls quickly, but don't want to compromise on design. Opinion Stage has been a WordPress member since 2012, and has helped over 100,000 customers enhance their website.
Features
The plugin enables you to create and publish a poll quickly by giving you access to hundreds of beautiful-looking templates.
You can also design a poll from scratch if you like.
Integrating images and videos into your polls is simple, and you can also fully customize the look and feel of your poll and change its color, theme, font, and size.
If you're familiar with CSS, you will love the CSS override feature. It enables you to calibrate the design of the poll to match your site's style.
The white labeling feature enables you to add your logo to the poll, and the popup setting, coupled with the responsive design, allows you to display the poll when any visitor reaches your website.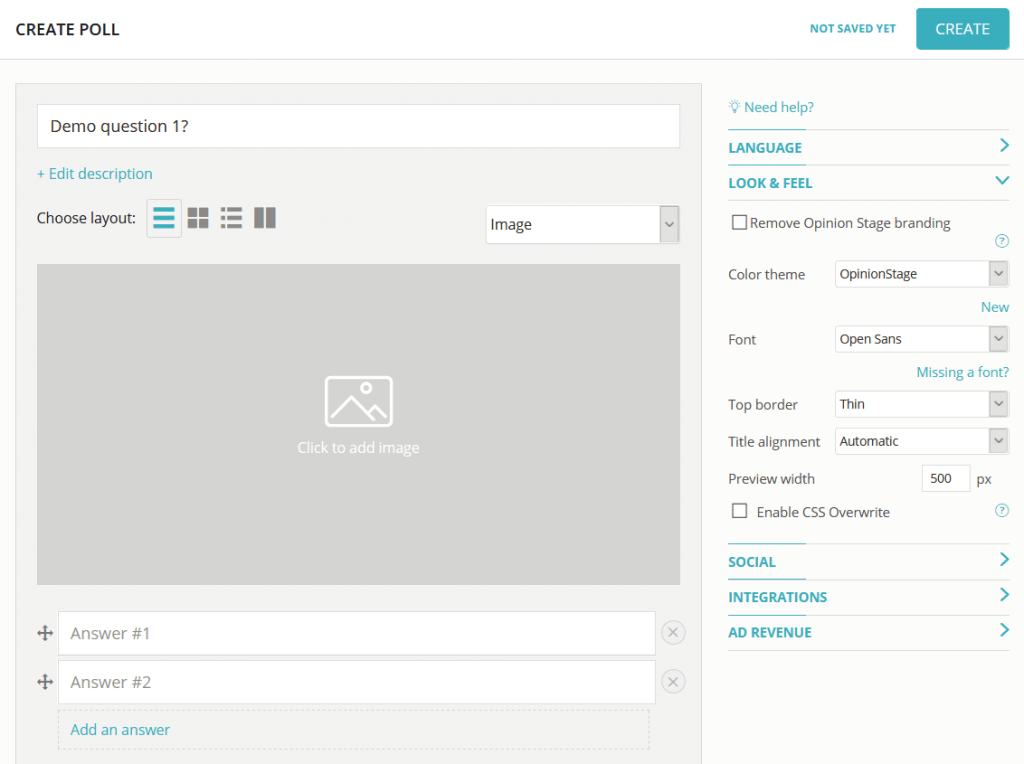 The plugin displays the poll results in real-time, and the advanced analytics dashboard helps gauge the results and gain actionable insights.
You can integrate your poll to the sidebar of your site, but if you're looking to create a more extensive poll, you can also use the plugin to embed polls on a full page.
It integrates with marketing automation tools natively and also supports Zapier integration and webhook integration.
The plugin complies with GDPR, ensuring that the privacy of your visitors is respected.
Pricing
The plugin is available for free, but the premium version unlocks more views per month and better reporting and lead collection options.
Their plans start at $19 a month, making it apt for users that need forms, surveys, and quizzes, and not just the polling feature.
Pros
GDPR compliant plugin
Tons of templates available
CSS override functionality
Image and video integration in the poll
Compatible with Gutenberg
Form, survey, and quiz features available
Marketing automation software integrated natively
Cons
Clunky WordPress interface
Must connect with Opinion Stage to use the plugin
Expensive pricing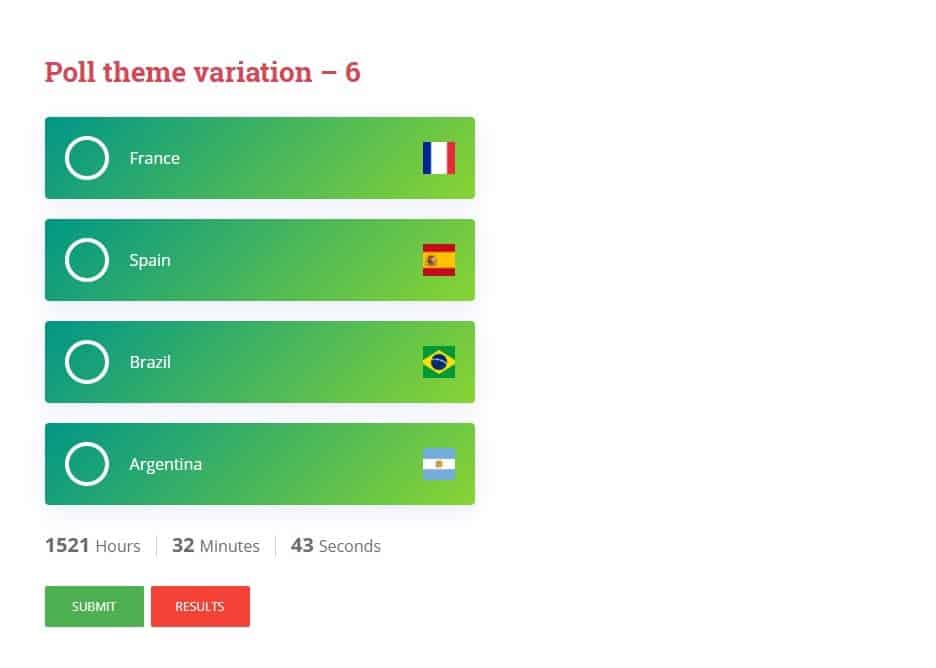 If you want stunning polls on your website, but don't want to build them from scratch, you will love WP Poll by Pluginbazar. The company entered the WordPress market in 2016 and has since helped thousands make their site better with their plugins.
Features
WP Poll makes creating both single- and multi-vote polls very easy. The plugin has a simple yet powerful interface that gives you access to over ten theme variations, five-timer styles, and seven animation styles.
The attractive design ensures maximum engagement.
You can create unlimited poll answers, and you can also give your visitors the ability to create new answer options on the frontend of your page.
Although you can mix and match the different themes and designs the plugin offers, and there are over a thousand variations in poll design, the polls are not customizable per se.
You cannot change the colors or shapes of the buttons or customize the poll's container. You can only use the pre-included designs.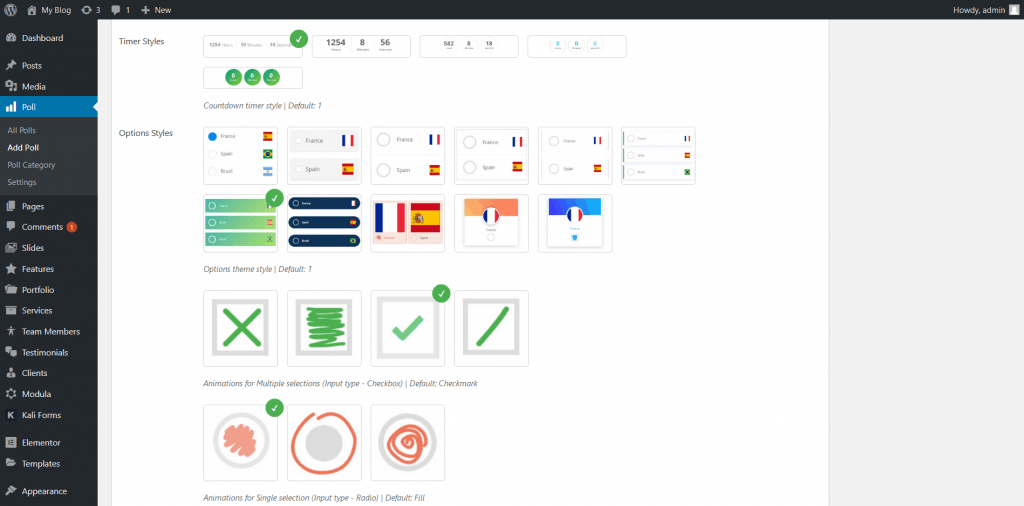 But that doesn't take away from the fact that the polls are clean and responsive, and the unique designs and the spam-free feature ensures that you get accurate data and maximum engagement.
It also has a unique pay-to-poll feature that you can use with WooCommerce.
You can set the poll to pop up, lock the poll content, reset the results, and gauge the results of your poll using the embedded graphical reporting feature.
The rich shortcode features enable you to display results of both: individual options and entire polls on your website.
Pricing
WP Poll is free to use, but Pluginbazar also offers a Pro version that comes in at $23.
The Pro version unlocks features like Popup Poll on Scroll, Duplicate Poll, Pay to Poll, Social sharing buttons, and much more.
Since it's a $23 one-time fee, getting WP Poll is an excellent idea for those on a budget.
However, if you're looking to have full control over the design of your polls, you must avoid WP Poll.
Pros
Attractive designs and themes
Unlimited answers in polls
Visitors can add their own answers
Excellent graphical reporting
Gutenberg compatible
Beautiful Scroll to Poll features
Affordable Pro version
Cons
No customization options
No GDPR settings
Relatively new plugin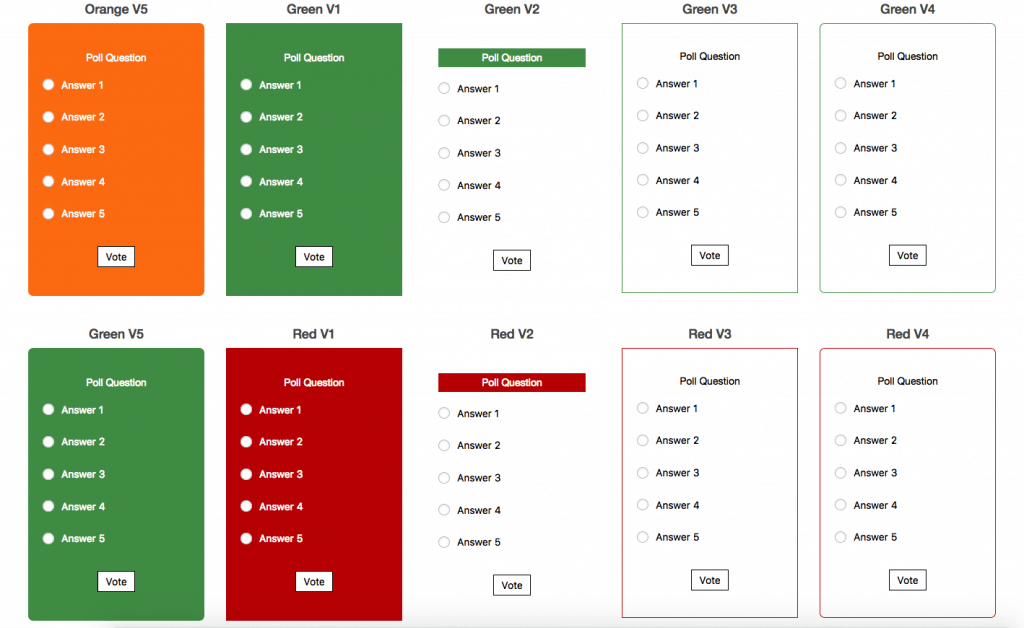 If you're looking for a versatile voting plugin that gives you extensive customization options, speeds up creation, and looks great on all websites, you should get YOP Poll.
Features
The plugin comes loaded with features.
You can create polls with single and multiple correct answers, use the slew of options to configure how poll information is sorted, manage results manually, customize what details are kept private and which are displayed, and even set voting permissions.
That's not all.
You can also schedule polls, run multiple polls, and switch between polls by switching the poll IDs.
The plugin also offers great flexibility when displaying the results of the poll. You can ask visitors for additional information and take their suggestions directly. Exporting this information is also made easy.
The plugin is also rich with customization options – you get access to dozens of templates that you can customize to your liking.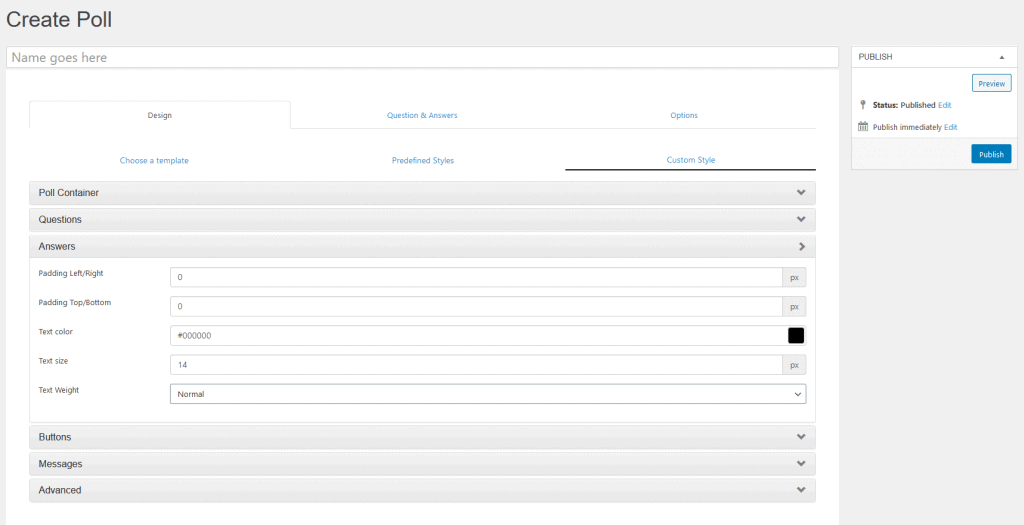 Although the interface is a little simplistic, it doesn't take away from its strengths.
Editing the colors and styles is super easy, and you can customize how the buttons look and also the background of the poll.
You can also customize your poll using CSS.
The advanced options enable your poll to load via AJAX, use the captcha to prevent spamming, auto-generate poll pages, set email notifications, and toggle GDPR options.
Pricing
YOP Poll is free to use, but if you want access to their templates, need Facebook and Google integration, want to create media questions, or track results using easy-to-read pie charts, you must purchase the Pro version.
Plans start at $17 (one-time fee), which is impressive considering the host of features you get access to.
Pros
Extensive customization options
Advanced scheduling and tracking features
Dozens of pretty templates
GDPR and CCPA Compliant
Works with Gutenberg
Affordable
Cons
Plain interface
Many features locked in free version
---
How to Choose A Voting Plugin for WordPress?
Setting your preferences before sifting through your options is the easiest and fastest way to find the right voting plugin.
The first thing you should look at is the design of the polls right out of the box. Make sure you ask yourself if a poll is attractive enough to use as is.
The second preference to set is customizability. Do you want a plugin that enables extensive customization, or are you looking to make polls quickly without customization?
Thirdly, you must look at the plugin's reporting features and make sure they are detailed, yet easy to understand.
Lastly, you must look at the pricing. Since all the voting plugins in this post have a free version, you can try them out and see if you like one.
---
Verdict: Which Is Best?
There is no one ultimate voting plugin, and your decision comes down to your preferences.
However, the YOP Poll plugin is the most versatile of the bunch.
It can help you customize polls to your liking and also create polls quickly using the templates. It's also priced aggressively, making it perfect for anybody to use.
If there were one plugin for us to recommend, we'd recommend YOP Poll.