With the significant surge in podcast audiences, the time is ripe for integrating your podcast with your WordPress site.
In my experience, the right podcast plugin can make a world of difference to both your and your visitor's experience with your WordPress site.
However, with dozens of excellent plugins available, narrowing down a shortlist and finding the right plugin can be a challenge of its own.
Here's a list of the best WordPress podcast plugins that I've handpicked to help you find the right one quickly.
SERVICE

FEATURES

VISIT

Simple

. Free to use. Gutenberg compatible. GDPR compliant
Fast. Built for Gutenberg. Easy to Use. GDPR-ready

Super affordable. Built for Gutenberg. Easy to Use. GDPR-ready

Fast. Customizable . Easy to Use. Mobile-friendly

GDPR ready. Gutenberg friendly. Free to use. Loaded with features

GDPR ready. Gutenberg friendly. Enticing design. Rich features

GDPR ready. Gutenberg friendly. Customizable. Works with CDNs
Best WordPress Podcast Plugin: My Top Picks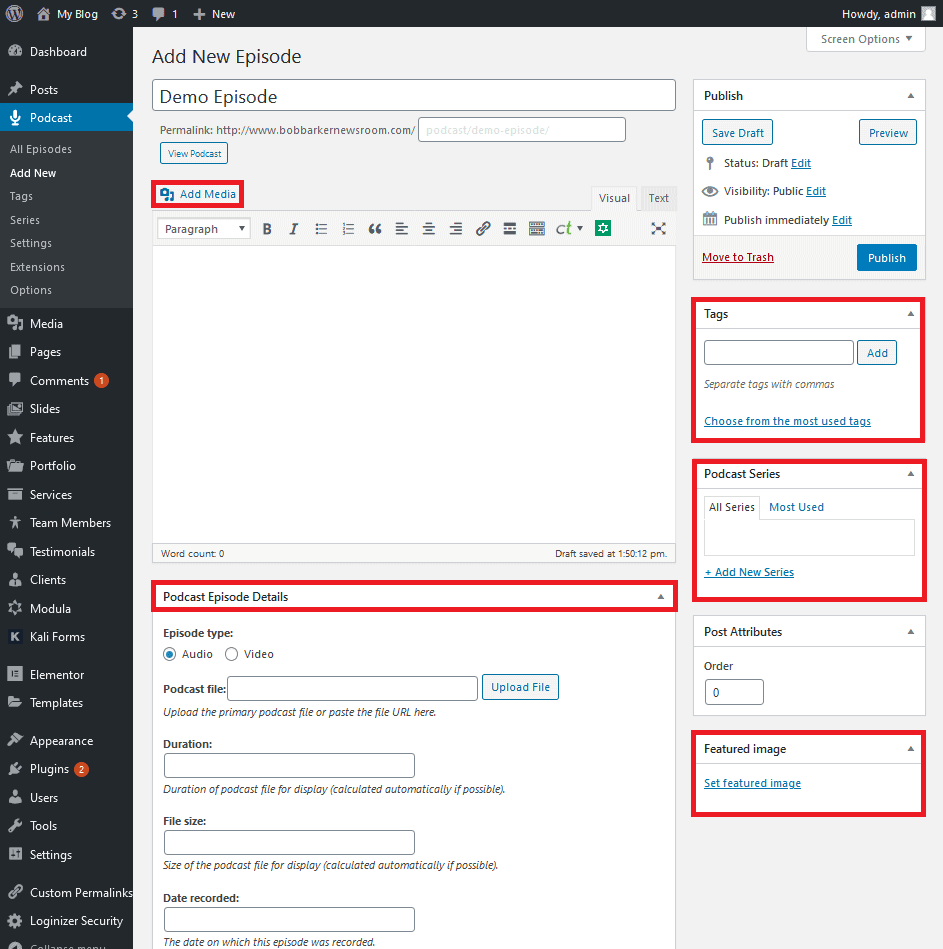 Easy to use podcasting plugins that also work well are hard to come by. But if that's exactly what you're looking for, Seriously Simple Podcasting by Castos is perfect for you.
The Castos team has 10+ years of podcasting experience, and their expertise reflects in their tool.
Features
The plugin strikes the right balance between simplicity and power, making it apt for beginners and veteran podcasters alike.
However, regardless of whether you're starting to podcast or have been podcasting for a while, the one-click import feature will help you get your content on your website with ease.
The plugin gives you tons of configurations that you can use to tailor the experience you want your listener to have.
The abundant selection of plugin settings includes general options, player settings, and extensions that give you full control over how your podcast looks and behaves.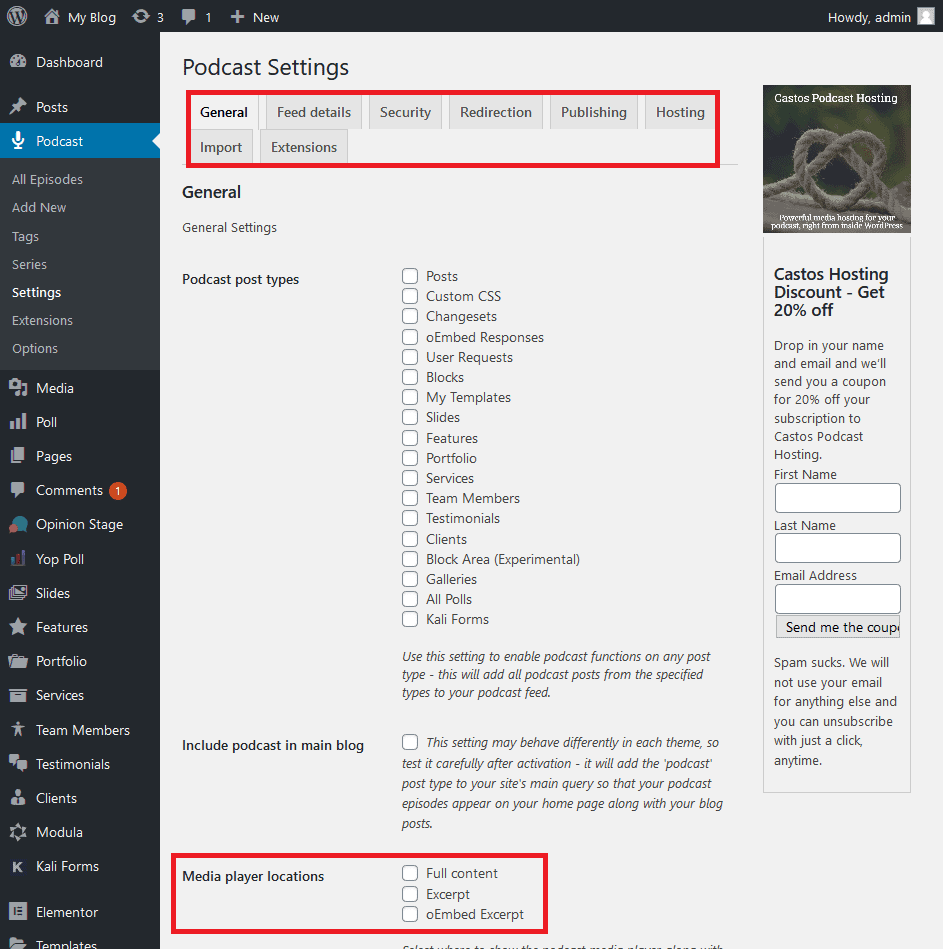 You can even embed Spotify podcasts using the new WordPress editor embed block.
The settings make managing multiple shows (each with their own feed!) possible with one WordPress site. You can even create your own podcast network with it.
Linking between podcasts is easy and improves SEO, and with the plugin handy, you won't need to manage multiple platforms – you can manage your podcast right from the WordPress dashboard.
The integrated statistics enable you to learn what content your audience enjoys the most, and since the plugin is extensible, features like embedded transcripts, media player customization, and Genesis theme support are available.
These features ensure that you have all you need to create a popular podcast.
Pricing
The plugin is available to use for free, but it is recommended that you use Castos's hosting for the best experience.
Their plans start at $19 a month, which is impressive, considering you get unlimited hosting.
Pros
Simple plugin with a host of options
Gutenberg compatible
GDPR compliant
Free to use
Cons
The interface is too plain

Coupling Buzzsprout's podcast hosting with their WordPress plugin is one of the best ways to integrate podcasts to your WordPress site. The company was founded in 2008 and has helped thousands of podcasters deliver content to high-intent audiences since.
Features
WordPress makes installing and activating the plugin possible in two clicks, and you can then use the plugin from the Settings section of the WordPress dashboard.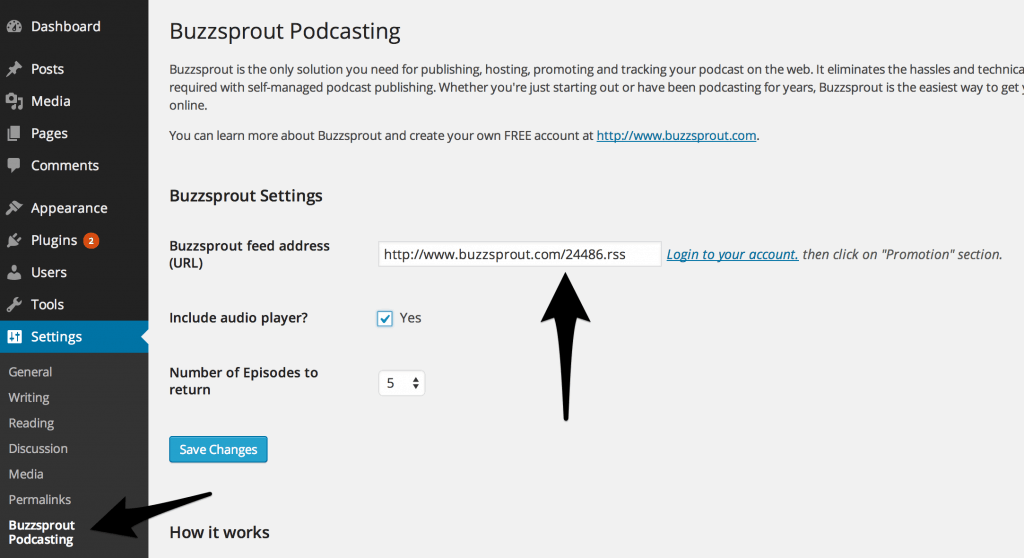 All you will need to do is enter the URL of your Buzzsprout RSS feed to make it work.
You can then head to the Pages section on WordPress and find the page you want to integrate the podcast to.
The plugin makes integration exceedingly simple – click on the Add Media button, then click the Buzzsprout Podcasting button, which is on the left of the menu that pops up.
Select the episode of your podcast that you want to integrate, and a shortcode will be generated. You can then click Publish to set the seal on your podcast post.
The audio player, the same as the one on your Buzzsprout dashboard, will seamlessly show up on your WordPress site.
The iTunes support, the podcast migration tool, the different podcast players, and the easy to understand statistics that Buzzsprout offers are an additional plus!
Pricing
The plugin is completely free to use, but its functionalities are unlocked only when you get a Buzzsprout subscription.
Buzzsprout has a free plan that you can use to see if the tool fits your production workflow well. Their plans start at $12 a month, which is super impressive considering the features you get.
Pros
Easy to use plugin
Quick podcast integration
Built for Gutenberg
GDPR-ready
Cons
Configurations can only be changed from the Buzzsprout dashboard
Fewer player customization options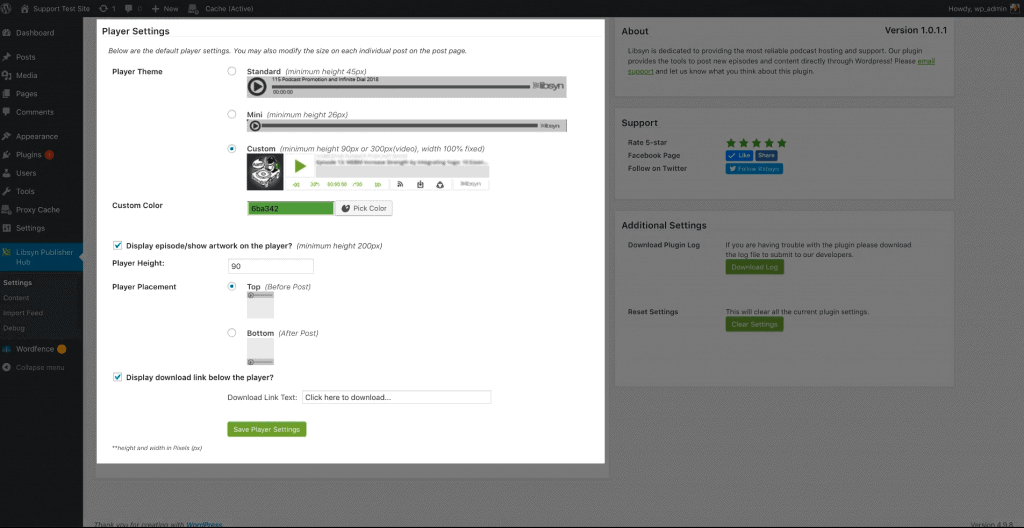 LibSyn is versatile, customizable, affordable, and extremely easy to use, making it the perfect podcast host for podcasting newbies. 
The company entered the market in 2004, and their experience with simplifying workflows is evident in the WordPress plugin.
Features
Much like the Buzzsprout plugin, LibSyn Publisher Hub requires setup post-install on WordPress. However, the setup is a little more extensive in comparison.
You must head to your LibSyn dashboard, connect your WordPress with LibSyn, and generate the Client ID and Client Secret to get the plugin to work.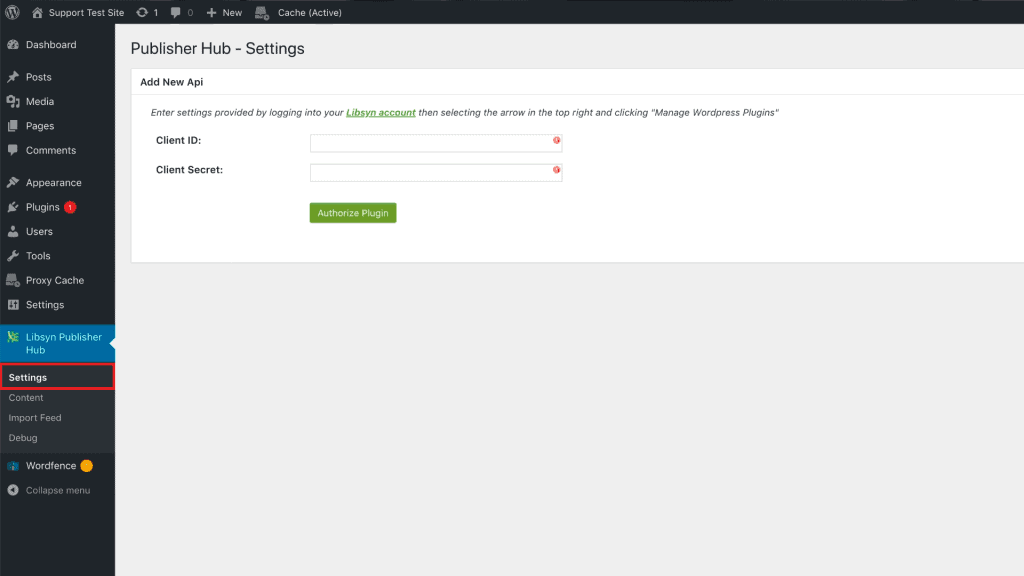 After you activate the plugin with the ID and Secret, you can use the plugin's settings to add your show to your website and configure the player for your WordPress site.
LibSyn's plugin has one the most customizable podcast player of all plugins. You can change its colors, edit its placement, and even modify the download link!
The detailed audience stats, ample monetization options, custom smartphone apps, and world-class support LibSyn offers makes it even more of a viable option for podcasters across the skill spectrum.
Pricing
In addition to being feature-rich, LibSyn is also aggressively priced, with plans starting at as little as $5, further fortifying its viability for newbies.
The plugin is free to use, but will not work if you do not use LibSyn as your podcast host.
Pros
Excellent customization options
Super affordable pricing
Easy to use plugin interface
A slew of world-class hosting functionalities
Comes with Gutenberg block
GDPR ready
Cons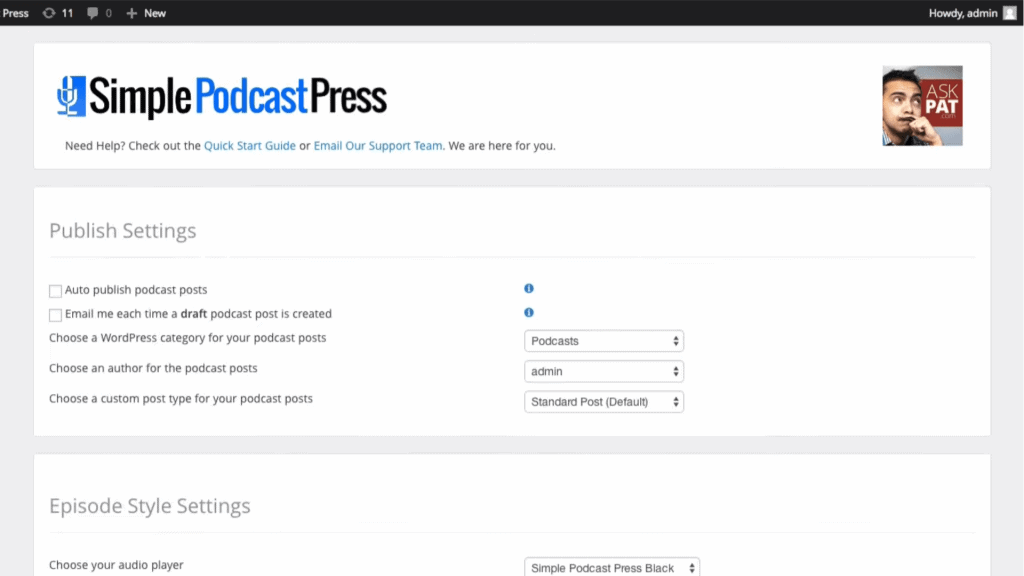 If you're looking for an easy solution that turns your podcast feed into beautiful looking WordPress posts automatically, you should get Simple Podcast Press.
After launch in 2014, the tool has enabled thousands of podcasters to automate their podcasting website.
Features
One of the most significant advantages of using Simple Podcast Press is that it works with any WordPress site, any theme, and any feed. It works with iTunes, LibSyn, SoundCloud, Spreaker, PodBean, Buzzsprout, and even with self-hosted podcasts.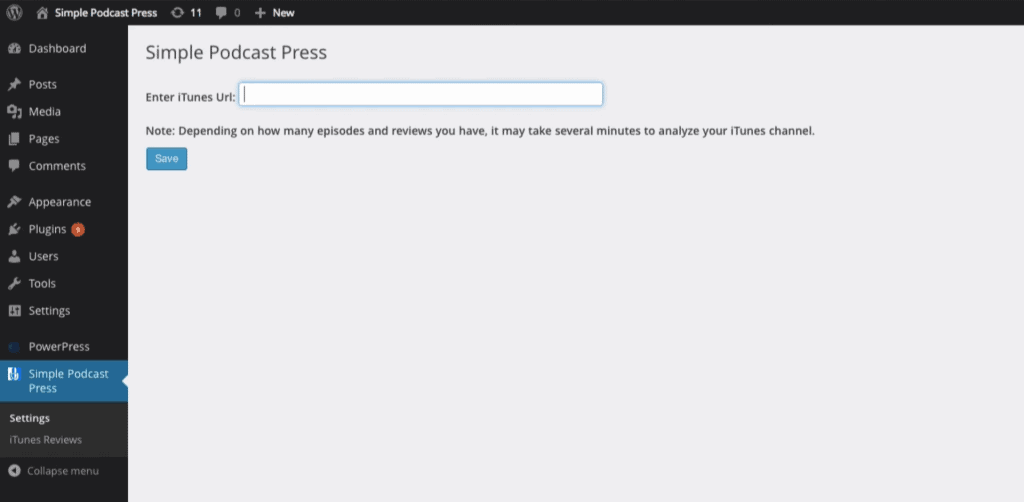 Integrating your feed to your WordPress site is as simple as adding its URL to the plugin.
The Settings page enables you to auto-publish posts, customize the look and placement of the audio player (or change it entirely), set up opt-in boxes and share buttons, and import your podcasts in one click.
When you first import your podcasts, you must remember that the posts aren't live and still draft. You can go ahead and edit your posts – add show notes, transcripts, and even schedule a publish date for individual posts.
The buttons and the player embedded in your posts are both touch-friendly and great to look at, and hence, your mobile visitors aren't neglected.
Pricing
The plugin is distributed on a yearly subscription model, with their single license starting at $67 annually.
You can still use the plugin after a year of purchase, but you will not receive support or updates if you don't renew the license.
The tool makes podcasting on WordPress easier, but it feels overpriced, considering that no hosting is provided.
Pros
One-click feed import
Customizable player
Easy to enable sharing buttons
Mobile-friendly player
Works perfectly with Gutenberg
Cons
No hosting
No GDPR options
Overpriced for what you get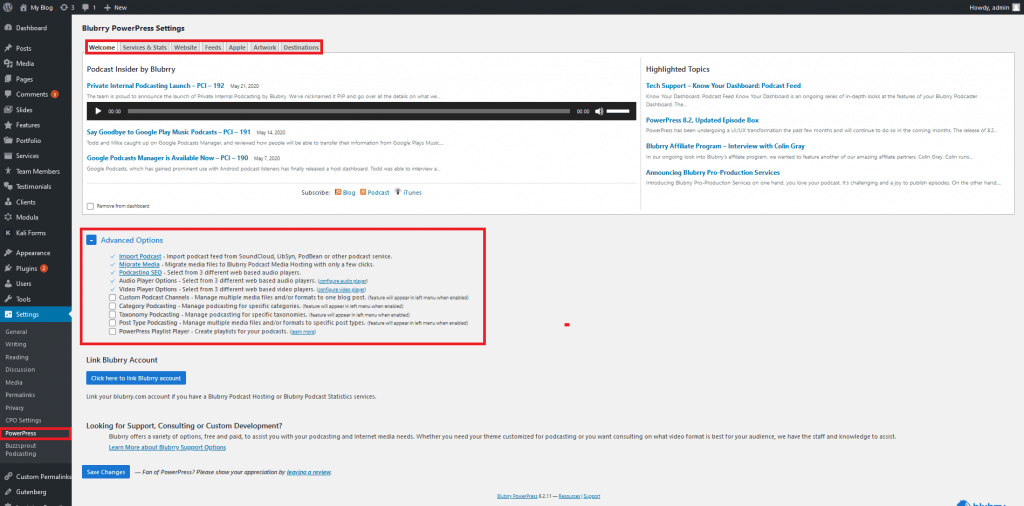 Blubrry's PowerPress plugin is as reliable and robust as its hosting services. The company has been powering podcasts since 2014. 
Features
Blubrry is perfect for beginners, novices, and as well as expert podcasters alike for multiple reasons.
Setting it up is easy – all you need to do is install the plugin and use the Import Podcast tab to integrate it with your WordPress.
You can use it with SoundCloud, iTunes, LibSyn, PodBean, Squarespace, and Anchor.fm. You can also import a self-hosted podcast. Of course, you can use it with Blubrry's hosting as well.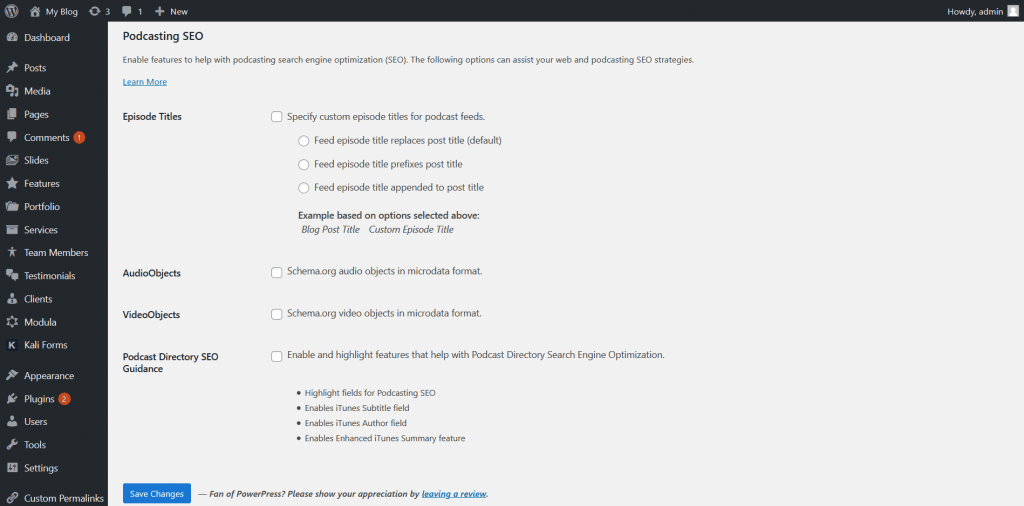 The Settings menu enables you to do everything from analyzing stats to customizing the player. Adding a playlist is made easy with shortcodes, enhancing feeds can be done in one click, and you can even set the parental rating of your podcast right from the plugin.
You can also optimize your site for search engines using their dedicated Podcasting SEO section.
The plugin also has a section just for Apple Podcast settings, giving you full control over how your podcast looks on the platform.
Pricing
The plugin is free to use with any hosting platform, but if you want access to Blubrry's advanced statistics features, you can get access to them for $5 a month.
If you buy their hosting, which starts at $12 a month, you get access to their statistics features at no additional cost.
Pros
Loaded with features
Free to use
Gutenberg friendly
GDPR ready
Affordable and powerful analytics features
Cons
Complicated Settings menu may be difficult to use for beginners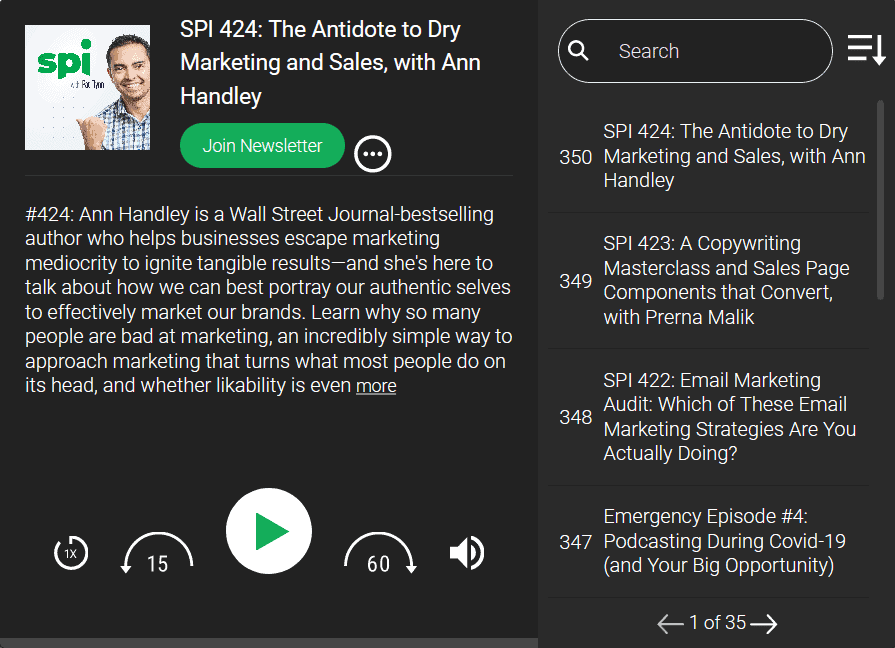 If richness in your podcast player's design is your primary concern, Fusebox (erstwhile Smart Podcast Player) is perfect for you. Pat Flynn and his team have helped podcasters create popular podcasts since 2015.
Features
Fusebox is right for podcasters that have their hosting, and their WordPress website design sorted.
To get the plugin, you must make an account on the Fusebox website and download it from there.
You can find its controls in the WordPress Settings section.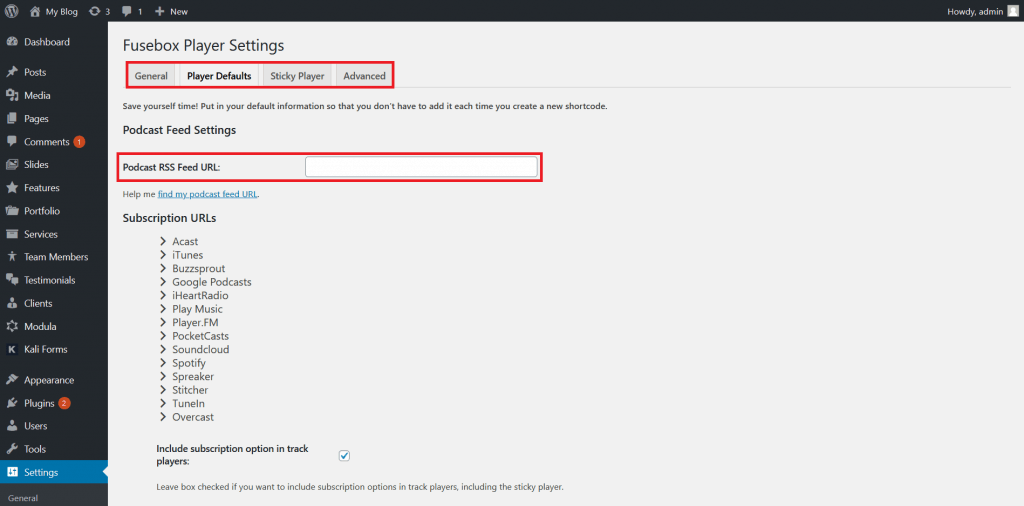 You can integrate any podcast feed to it, customize the player design to suit your taste and requirements, configure and customize download and sharing buttons, modify the sticky player, and do much more.
Pricing
The player is free to use, but the Pro version that's available for $8 a month enables advanced functionalities like email capture, speed control, future timestamps, and many more.
The excellent design makes the Pro version worth every cent.
Pros
Works well with Gutenberg
GDPR compliant
Enticing design
Free version rich with features
Cons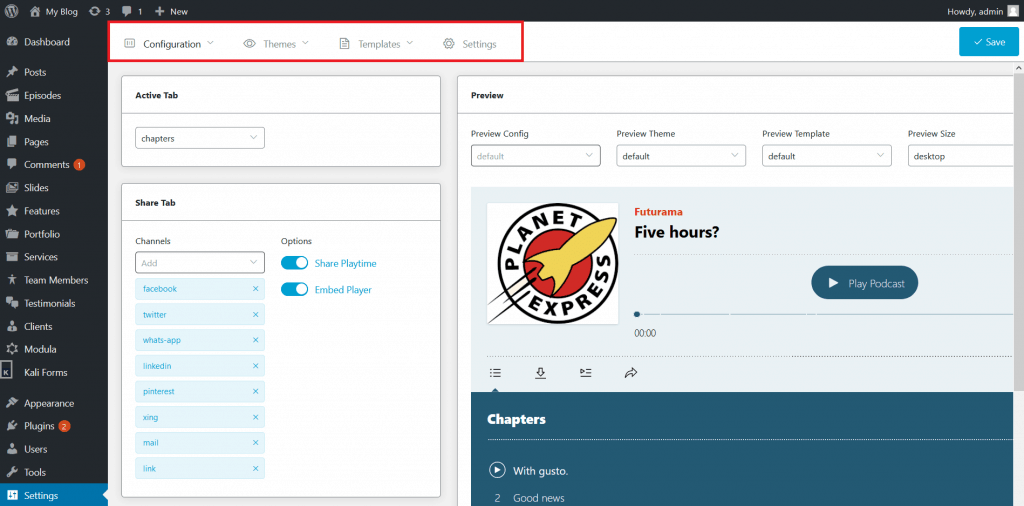 If you're starting out as a podcaster and are looking for a tool you can use with your to create pretty podcast pages using only the WordPress site and hosting you have, Podlove is perfect for you.
Features
You could use a CDN with it if you wanted, but you can also use your web hosting server to host your podcasts with Podlove. All you have to do is specify the directory where the podcast files are stored.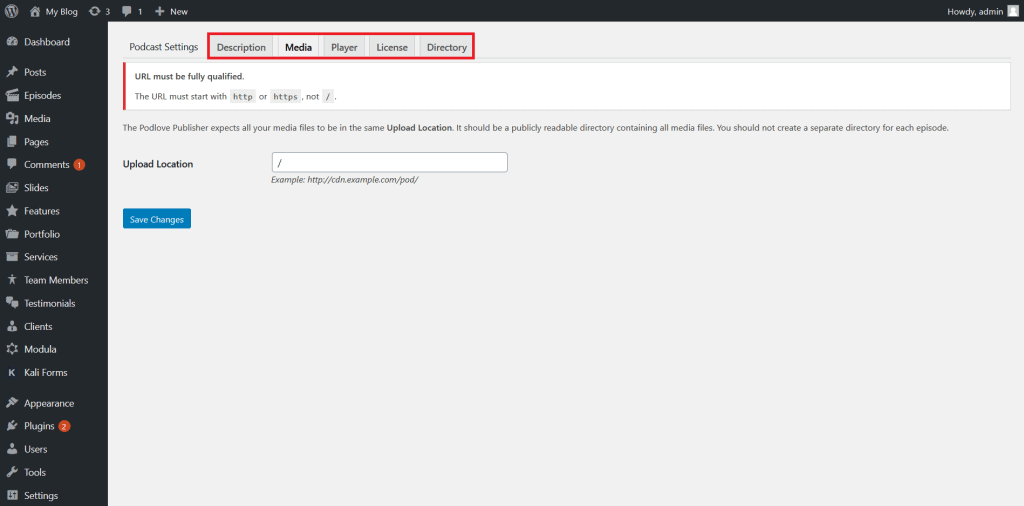 The player is customizable, and the settings enable you to use themes and templates and to modify buttons and colors.
Embedding it is easy using shortcodes, and since the plugin works with Gutenberg and is GDPR compliant, you won't have design or privacy issues.
Pricing
Podlove is completely free to use, but you must pay for support if you need it.
Pros
Works perfectly with Gutenberg
GDPR compliant
Customizable player
Works with CDNs and web hosts of all types
Free to use
Cons
---
How To Choose Podcast Plugin for WordPress
The first thing you should look for in a plugin is host/CDN compatibility. Some excellent plugins work only with one host.
Secondly, you must look at the player's design. Will it go well with your website? Is it customizable?
The budget is the final thing you must consider. If you already have good podcast hosting, you may be able to find a good-looking player for cheap or even for free.
If you don't have podcast hosting, you may be able to use your WordPress hosting (initially) to build your audience.
---
Verdict
Plugins can directly increase or decrease your workload – if you get your hosting and plugin from the same company, you may be able to automate your posts on your WordPress websites.
On the other hand, if you want a custom player and page, you will need to invest more time and resources into your podcast.
Either way – it all comes down to your preferences, and with this list handy, finding a plugin that matches your preferences should be easy.
SERVICE

FEATURES

VISIT

Simple

. Free to use. Gutenberg compatible. GDPR compliant
Fast. Built for Gutenberg. Easy to Use. GDPR-ready

Super affordable. Built for Gutenberg. Easy to Use. GDPR-ready

Fast. Customizable . Easy to Use. Mobile-friendly

GDPR ready. Gutenberg friendly. Free to use. Loaded with features

GDPR ready. Gutenberg friendly. Enticing design. Rich features

GDPR ready. Gutenberg friendly. Customizable. Works with CDNs