BackupBuddy is one of the most popular backup plugins available for WordPress, with over half a million active users. The plugin makes securing your website from hacker attacks and server crashes very easy.
The plugin works with every WordPress theme available, and its aggressive pricing makes it very accessible.
Although BackupBuddy is a robust backup plugin, it is not the only powerful backup plugin available for WordPress. Upon digging a little deeper into WordPress's backup-and-security aspect, I found several other feature-rich backup plugins available.
In this post, we will discuss the five best BackupBuddy alternatives, go over their key features, and also discuss what makes them a good alternative.
| SERVICE | FEATURES | VISIT |
| --- | --- | --- |
| | #1 BackupBuddy Alternatives for WordPress. Easy-to-Use. Neat Interface. Great Support | |
BackupBuddy Alternatives: My Top 5 Picks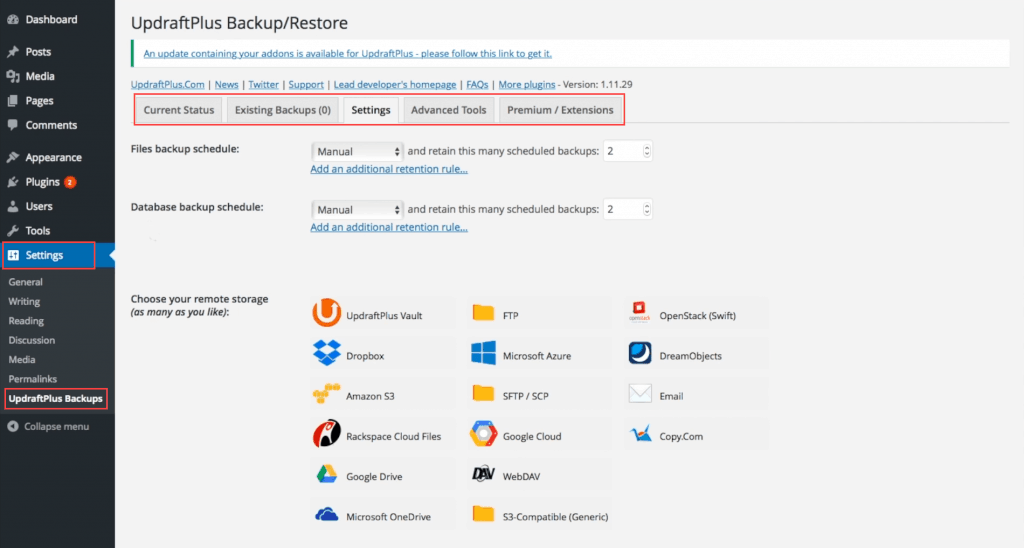 UpdraftPlus is one of the most trusted WordPress backup solutions available. It is actively used by over two million WordPress sites! 
The plugin allows you to store backups locally (on the hosting server), or on the cloud via services like Dropbox, Google Drive, and OneDrive.
With UpdraftPlus, you don't always need to back up your WordPress site manually. UpdraftPlus gives you the ability to schedule backups at set frequencies and also allows you to set specific dates and times to ensure that the backup process does not slow your site down at peak times.
Restoring backups is made equally easy – you do not need to fiddle with FTP tools, and will be able to restore your site from the WordPress backend directly.
The plugin can be set to update automatically even on the free version, and the plugin also gives you the ability to store backups on servers other than your hosting server.
If you have a home server, you can configure UpdraftPlus to upload a copy of your site's backup to it every day.
Customizing your automated backup frequency is super easy. You don't need to fiddle with any code and can set configure your plan right from the easy to use interface.
Getting the premium version of the plugin enables you to migrate or clone your website for testing purposes without any hassles.
It also enables you to send your backup files to multiple storage locations instead of the standard of one, and you also get access to priority support, in case you have any queries.
What's more impressive is that you can get access to all of these features for as little as $70 a year. The multiple remote storage feature makes it a superb alternative to BackupBuddy.
Pros
Excellent pricing
Feature-rich free version
Easy to use interface
Hassle-free migration and cloning
Cons
No lifetime updates
Some advanced features can be too complex to use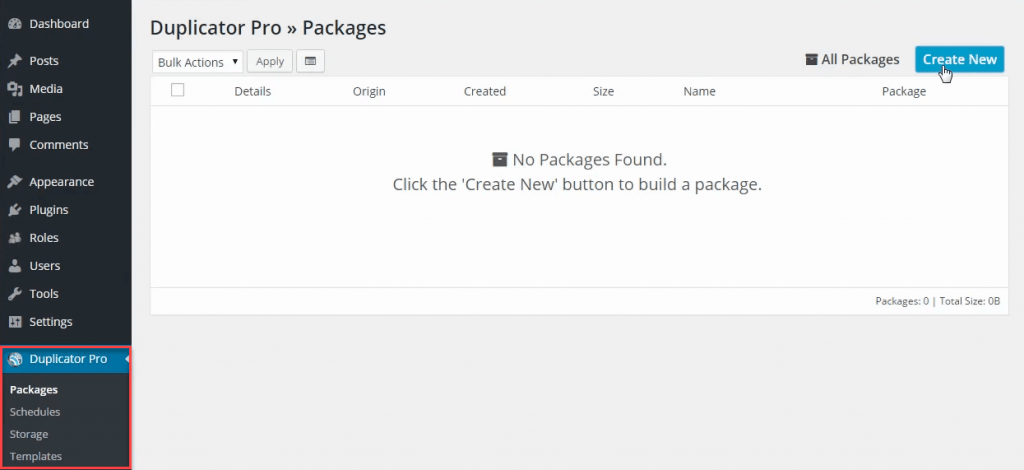 The Duplicator plugin's focus on migration features is evident right from the get-go. It is best known for its moving, migration, and cloning features. 
While it is a feature-loaded backup plugin – it does have a few pitfalls.
The free version of the plugin does not offer some of the solutions you would expect it to offer right out of the box. For instance, the plugin does not supply any scheduling options and cloud storage options.
Traits like this make Duplicator very difficult to integrate into your workflow. However, the premium version of the plugin, priced at $59 a year, offers scheduled backups, cloud storage options, and a lot more.
You get access to unlimited website licenses, power tools, and multi-site backup features if you get one of Duplicator's top-tier premium plans.
The premium version enables email backup notifications, which give you the relief of learning that your website is safe. The plan also gets you access to priority support.
Additionally, the plugin gives you the ability to create website bundles, which are essentially data packages that contain your website, database, and assets.
You can use these website bundles as templates and testing platforms for different plugins and settings.
Although the free version is only apt for testing, the premium version is loaded with all the features you would expect out of a top-notch BackupBuddy alternative.
Pros
Excellent website migration and cloning features
Multi-site backup support
Cons
Free users don't get support priority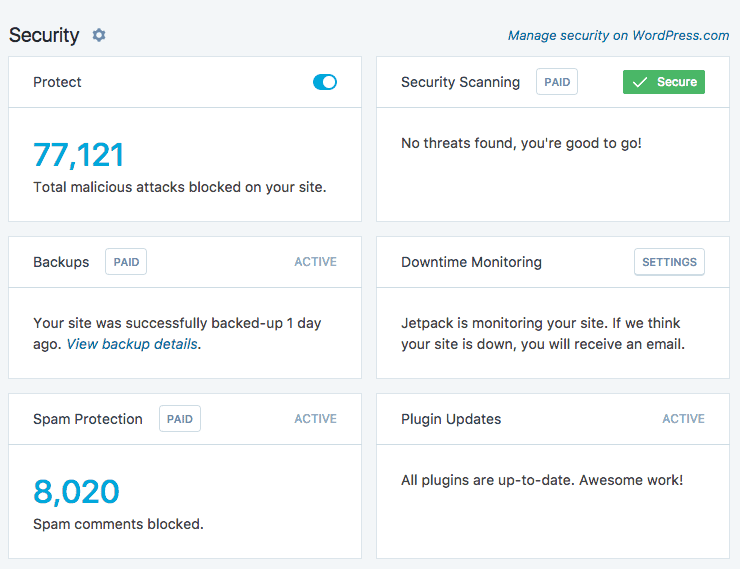 VaultPress has a rich history with WordPress since the tool was introduced by Matt Mullenweg, who is a co-founder of WordPress. He and the team at Automattic originally built it as a standalone plugin; however, the plugin is now part of a larger product called Jetpack.
This means, to use VaultPress, you will need to get a Jetpack subscription, which starts at $9 a month. 
The plugin supports both daily backups and real-time backups, which are backups created as and when you make changes to your website.
Its interface is modern and straightforward, enabling you to set up backups and restore them in just a few clicks.
Although the plugin is affordable, backups are only stored for 30-days on the lower-tier plans. If you're looking for an unlimited backup archive, you will need to pay more.
Overall, though, the plugin's features are well-aligned with industry standards, which, combined with the stellar brand value, make the plugin an excellent alternative to BackupBuddy.
Pros
Incremental backup feature
One-click restoration
Comes with other features like custom CSS editing
Cons
You must get the full Jetpack suite to use the backup feature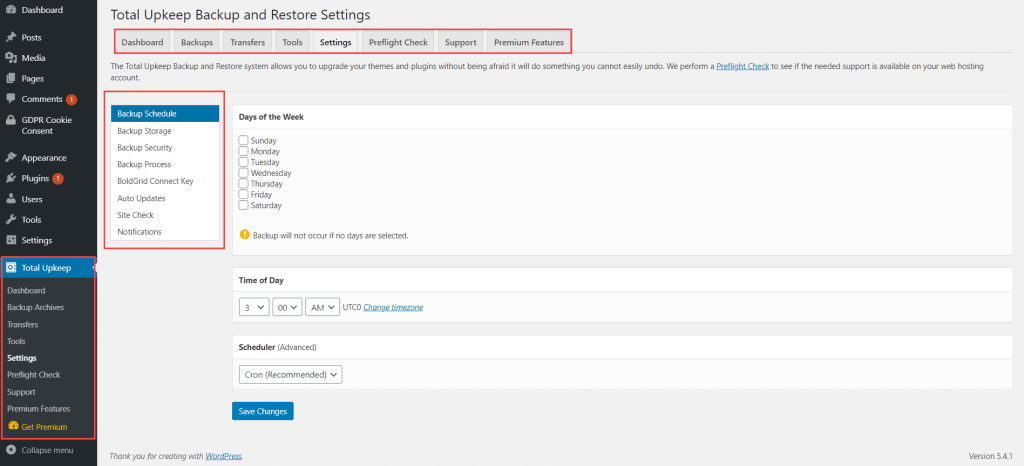 BoldGrid is primarily known for its popular website builder, but they also offer Total Upkeep as their website backup solution.
With BoldGrid, creating backups both automatically and manually is super easy, and you can use the plugin to restore your site if it crashes, or use it to move your website from one host to another.
The automatic fault protection feature comes in super handy – it creates a backup of your site before any plugins are updated. The backup can come in super handy if the update fails for any reason or if the update breaks your website – which is something WordPress is known for.
The plugin automatically detects if an update has failed, and automatically rolls your WordPress setup back to normal using the backup. Very impressive!
If you happen to misconfigure a plugin and want to go back to the older settings, you can simply restore that individual file using BoldGrid Total Upkeep. 
The plugin allows you to store up to ten backup archives right on your WordPress host, and also gives you the ability to store it in other locations like Amazon S3, Google Drive, and even your own servers.
BoldGrid Total Upkeep Premium is priced at only $2.50 a month, which is impressive considering all the plugin has to offer.
Its excellent pricing makes it a worthy BackupBuddy replacement.
Pros
Excellent pricing
Useful automatic fault protection feature
Cons
BackWPup is by far the most popular WordPress backup plugin, with over nine million downloads total. It makes creating a full backup of your setup and storing it on the cloud service of choice easy.
It is known for offering the biggest selection of cloud storage integrations of all backup plugins.
Although backing up your website is easy with BackWPup, restoration is a little more complicated – you will need to use a .zip file to get your WordPress back to function.
A free version of the plugin is available to download on WordPress.org. The free version is surprisingly rich with features, giving you access to the schedule backup feature, and also the multi-site support feature.
You can use the plugin to check, repair, and optimize a database, and also store your backup on Dropbox, FTP servers, S3 servers, Microsoft Azure, Google Drive, and more.
BackWPup can also send you copies of your backup via email!
Restoration features, however, are locked behind a paywall. Also, if you want access to the encrypted backup archives feature, you will need to get the Pro version.
The Pro version of the plugin offers a host of fantastic features like complete automatic restore and enables you to backup your site to multiple FTP servers. It also comes with multi-site support, and its excellent customer support and documentation ensure that you never get stuck using the plugin.
Their pricing plans start at $69 for one year (for one site) and go up to $349 for one year (for 100 installations). There is no difference in functionality between the different plans – the only difference is the number of websites you can install it on.
The rich selection of features and the aggressive pricing make it the perfect alternative to BackupBuddy.
Pros
Free version available to use
Large selection of backup options
Multi-site options
Cons
Restoring sites requires a different plugin
No cloning or migration tools whatsoever
---
Editor's Notes: Think About Off-Site Backups for Redundancy
Plugins are great but the issue is you do not have redundancy.
What I do with my sites is have an on-site backup plugin like UpdraftPlus, but also an offsite backup using a service like ManageWP. I've been using ManageWP for over 5 years now and they have a backup service, which takes a backup of the WP database and files on a periodic daily basis. You can pay a bit more to get more frequent backups like twice a day.
It works wonders for my sanity knowing my sites are always backed up from the worst case in two different locations.
ManageWP stores the backups for you. UpdraftPlus provides a local backup. Redundancy is key.
---
Verdict
UpdraftPlus is easy to use, has a neat interface, and supports over a dozen cloud backup options. No wonder it is used by over two million users!
The free version is rich with features, but the premium version is affordable and delivers a lot more value than expected.
If you're looking for a backup solution for your WordPress website that isn't too heavy on the wallet and doesn't make any compromises when it comes to features, UpdraftPlus is right for you.