Backing up your WordPress site is the ultimate insurance policy against all possible website failures. They protect you from attacks by hackers, corruption due to server crashes, and issues due to bad command lines and user errors.
However, with multiple seemingly perfect WordPress backup plugins available, finding the right one can be challenging.
BackupBuddy and UpdraftPlus are the two of the most popular WordPress backup plugins – but they each have their own strengths and weaknesses. 
Our comparison of the similarities and differences between BackupBuddy vs UpdraftPlus should help you find the best out of the two. We cover the features, pricing, importing/exporting backups, integrations, support, and more in this detailed review. Let's get to it, shall we?
SERVICE

FEATURES

VISIT

#1

WordPress Backup Plugin. Ease of use. Great for Enterprises

#1

WordPress Backup Plugin. Easy-to-Setup. Many Features. Good Price
BackupBuddy vs UpdraftPlus: Overall Review
Ease of use, remote storage integration, and pricing are the three significant factors that determine your experience with backup plugins.
BackupBuddy Overall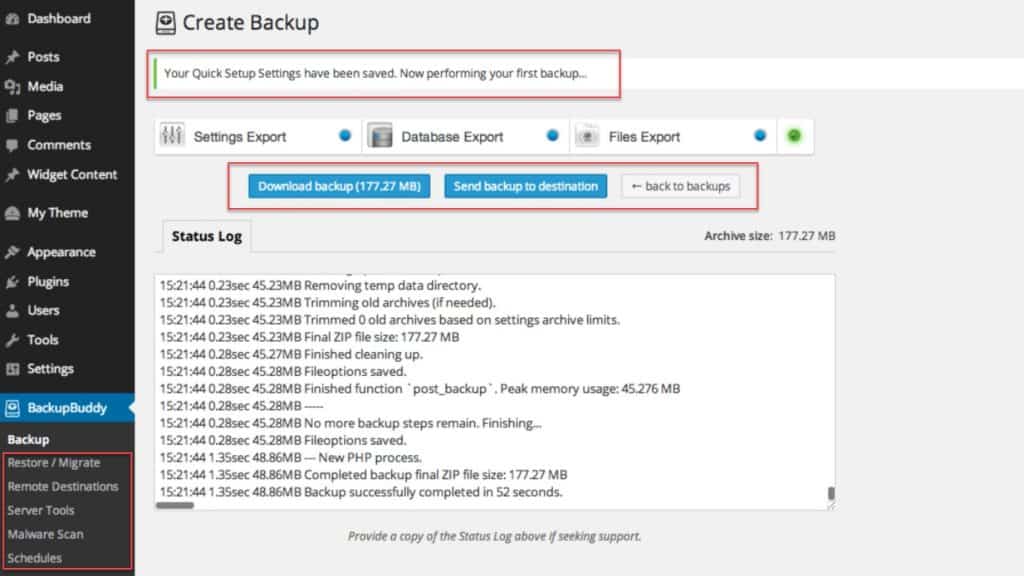 BackupBuddy by iThemes takes longer to set up, integrates with only a few remote storage services, and demands a high price.
It's not suitable for most users, but the Gold plan is right for enterprises.
UpdraftPlus Overall

UpdraftPlus is much easier to set up, integrates with over a dozen remote storage services, and is priced aggressively.
It strikes the right balance between the three factors and is the ultimate backup plugin for WordPress.
---
BackupBuddy vs UpdraftPlus: Exporting Backups
Making backups manually has always been possible. Hence, we will look at how easy these plugins make creating and exporting backups.
BackupBuddy
Many plugins in the market only backup databases and not the whole site – but not BackupBuddy.
The plugin backs up your entire WordPress installation, including all of the plugins, the theme, and the media library.
You can only install it after purchase via the .zip file iThemes supplies you with. You must install it using the Add New button in the Plugins menu.
After you first activate BackupBuddy, you will see a new BackupBuddy tab appear in the WordPress sidebar.
When you click on the tab, the quick setup will run on its own.
It will ask you to enter your email address and to create a password for when you restore or migrate your backups.
You must also select where you want to send your backups. Your options include Amazon S3, Google Drive, Rackspace Cloud, Dropbox, FTP, Email, and also BackupBuddy Stash, which is iTheme's specialized cloud hosting service built for WordPress backups.
Next, you must select how often you want your WordPress setup to be backed up. A few presets are available, but you can also customize your backup schedule later in the Schedules page.
After you hit the "Save Settings" button, BackupBuddy will automatically create the first backup.
Once the process is complete, you can download the backup and store it locally on your computer or send the backup to the destination – your selected offsite backup storage.
Post initial setup, you can run malware scans, alter your backup schedules, and customize BuddyBackup settings to backup only specific pieces of data.
The plugin can also help you migrate your website from one host to another and restore and rollback databases.
You only have to set the plugin up once – you will never have to worry about being affected by attacks by hackers or server crashes.
The overall experience is excellent since BackupBuddy is both quick and easy to set up and use.
UpdraftPlus
You can find and install the free version of UpdraftPlus from the WordPress Plugins menu. However, unlike BackupBuddy, there is no quick setup that asks you for your details.
You will be given a quick tour, but the first backup won't be made automatically. You must set up UpdraftPlus before you create your backup.
The Settings menu is baked into the plugin. Its neat interface enables you to quickly enter your preferences for your backup, connect one or multiple remote storages, and also set up a notification email.
You can store your backups on your cloud storage servers like Amazon S3, Dropbox, Google Drive, and more. You can also store them in the same WordPress server (if you want to) or on another server.
UpdraftPlus gives you an extensive array of options when it comes to scheduling your backups. You make schedule backups as frequently as you see fit, and you can also set the plugin to create multiple backups instead of the standard of one.
Additionally, you can also configure your backups to take place at specific times and create complex schedules depending on when your site receives the most traffic.
The Expert Settings section on the bottom gives you full control over the plugin's behavior.
After setup, you can backup your WordPress site in one click.
You can also create an incremental backup, which is a full backup of your site to which only changed files are added. In contrast, a regular backup creates a full copy of your website every time.
The Advanced Tool section lets you lock UpdraftPlus settings with a password, control the backups of your other WordPress sites, search and replace databases, measure site size precisely, export, and import UpdraftPlus settings, and more.
Migrating is made super easy, and you can also clone your WordPress site to test out changes and search for errors and issues like bugs before finalizing the changes officially.
UpdraftPlus packs significantly more features than BackupBuddy, and although set up may not be as quick, it is still effortless to carry out. The interface is also neat and clutter-free, simplifying the setup process.
---
Importing Backups
Importing backup files can be a challenge for beginners. A good backup plugin should make it as easy as possible.
BackupBuddy
BackupBuddy makes restoring backups easy – you don't have to fiddle with multiple files or pre-configure a server to make it work.
First, you need to download and extract the backup .zip file on your computer. Do not delete the .zip file after extraction, since it is required for the restoration process.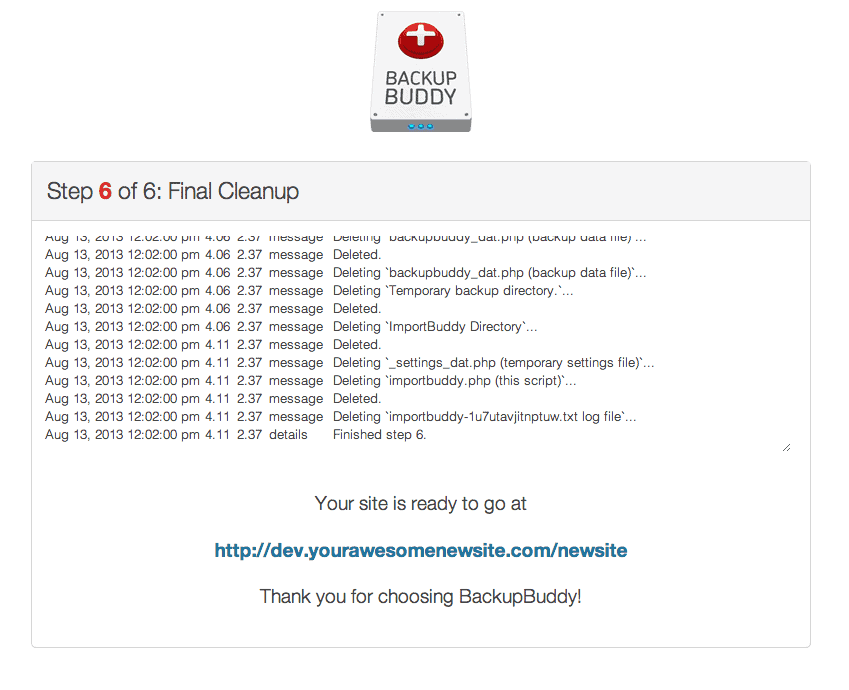 Next, you use your FTP tool of choice, or better yet, cPanel if you have it installed to copy the extracted files, the backup .zip file, and the importbuddy.php file onto your server.
Then, run the PHP script by entering its location on your browser's URL bar – for example: "www.example.com/home/importbuddy.php."
An "Authentication Required" page will appear. You must enter the password you set during the quick setup.
The script will then take you through a six-step process to restore your website. Follow the instructions, and your site will be restored.
UpdraftPlus
UpdraftPlus makes restoring your site much, much easier than BackupBuddy does.
There's a fundamental difference in how the two plugins handle the restoration process. BackupBuddy uses a PHP script that restores everything on your WordPress setup – including WordPress itself – on a blank server.
In contrast, UpdraftPlus backs up everything on your setup – except WordPress. This difference enables you to reinstall WordPress along with the UpdraftPlus plugin in case the server crashes or your website is attacked, and restore your setup from within the WordPress interface.
It makes the restoration process a lot less technical and a lot more pragmatic. Users don't have to fiddle with FTP tools and URLs.
However, these are not the only cases when you can use UpdraftPlus. For instance, if your plugins aren't behaving correctly, you can use the backup only to restore your plugins. Similarly, you can also use the backup only to restore your database and not the other data. 
You must use this feature carefully, and make sure that you only restore what you need to since it will overwrite the previous copy of the data completely.
To restore data, you must first make sure that your WordPress setup is connected to your remote storage. If it is not, connect to your remote storage and click on the "Rescan remote storage" button located right under the Existing backups section. It should bring up your backups.
Alternatively, if you have a copy of your backup on your computer, you can upload it manually to UpdraftPlus and restore it.
All you will need to do is navigate to the "Existing backups" section under the Backup/Restore tab on UpdraftPlus, find the right back up, and hit Restore.
From here, you can pick any (or all) of the data you want to restore. UpdraftPlus will ask you to confirm the restoration one more time before any data is altered.
Restoration typically takes around a minute, enabling you to get your site online quickly.
When we compare the two plugins, UpdraftPlus makes the restoration process both easier and faster.
---
Integrations with Third-Party Services
Different people use different remote storage services, and a good backup plugin should be compatible with every remote storage service natively.
BackupBuddy
BackupBuddy offers limited integration with remote services. It only supports OneDrive, Google Drive, Amazon S3, Remote Servers, backup by Email, and its own BackupBuddy Stash server.
Although every user gets access to BackupBuddy Stash, the small selection of supported remote services is disappointing.
UpdraftPlus
UpdraftPlus supports over a dozen remote storage services, which, coupled with the fact that you can send backup data to multiple services in one go, makes UpdraftPlus the clear superior.
In addition to the Amazon S3, Google Drive, OneDrive, Remote Servers, and backup by Email, you can also store backups on Dropbox, Google Cloud, Rackspace Cloud Files, WebDAV, Azure, DreamObjects, and OpenStack.
However, there is one drawback of using UpdraftPlus. BackupBuddy enables you to download a copy of a backup in one click, whereas UpdraftPlus forces you to select the different parts of the data to download separately.
Overall though, UpdraftPlus is more versatile since it supports more remote storage services, and also enables the use of multiple storage services.
---
BackupBuddy vs UpdraftPlus Pricing
The price is often the deciding factor when getting a backup plugin. Ideally, a service should offer a lot of features at a lower price.
BackupBuddy
BackupBuddy does not have a free version, and the only way to use it is by getting one of iTheme's three plans.
The $80 Blogger plan enables you to backup one site. You also get access to 1GB of BackupBuddy Stash remote storage.
The $127 Freelancer plan is right for the web designer that wants to ensure that their client's website is always safe. This plan also gives you access to 1GB of BackupBuddy Stash remote storage.
The $199 Gold plan is right for agencies that run multiple websites. The Gold plan gets you access to 5GB of BackupBuddy Stash remote storage.
All plans get one year of updates and ticketed support, along with a year's access to Stash Live, which is their live backup system.
UpdraftPlus
UpdraftPlus has a free version that enables you to backup a site to any of the major remote storage services. For the beginner marketer, the free solution proves more than sufficient in most cases.
Getting the premium version gets you access to the incremental backups feature, 1GB of UpdraftVault storage, migrating and cloning features, advanced reporting features, and much more.
In addition to unlocking backup storage on OneDrive and Google Cloud, premium plans also enable you to set up automatic live backups, fix backup time, and use database encryption.
Their plans start at $70 and go up to $399, and the only difference between plans is the number of websites it can backup.
On the pricing front, UpdraftPlus seems like a much better option.
---
Support/Documentation
Backups can be a lifeline if your website gets hacked – but setting plugins up correctly can be tricky at times. For this reason, excellent support is a bare minimum when purchasing backup plugins.
BackupBuddy
iThemes support is only available from Monday to Friday between 8 a.m. and 5 p.m. CST. Although the quality of support is excellent, you will need to wait to get help.
iThemes has extensively documented BackupBuddy, and you can find guides and instructions for every feature of the plugin.
UpdraftPlus
UpdraftPlus has no documentation per se, but they have a YouTube channel with dozens of guides that can help you get started. The setup tour guides you through almost every feature.
There is also no support ticket system. Paying customers can use the customer support forum, and the WordPress forum is available to free users.
BackupBuddy has a better approach to customer service, but UpdraftPlus's support forum makes for quicker resolutions.
---
Verdict: Which is Best?
UpdraftPlus is better on almost all counts – pricing, features, and ease of use.
If you're looking for a backup plugin you can rely on, UpdraftPlus is perfect for you.