While there is no shortage of reliable website hosting services in 2020, I'm sure you'll agree that finding the right hosting service for your website is a chore.
So, in this post, I'll try and make the task a tad bit easier for you by reviewing and comparing two of the top website hosting services: A2 Hosting and WPX Hosting.
A2 Hosting has a long-standing history – it was founded in 2001 and has dominated the web hosting market since. The company also added new plans and features to its service recently.
WPX Hosting, on the other hand, was founded more recently in 2013, but quickly became the host of choice for WordPress users worldwide.
There is a stark contrast between the two hosts – and one is DEFINITIVELY better than the other. Read on to find out which one comes out on top and why.
| SERVICE | FEATURES | VISIT |
| --- | --- | --- |
| | Fast. Impressive. Popular. Reliable | |
| | Affordable. More Fatures. Easy to Use. Flexible | |
WPX vs A2 Hosting: Overall Review
WPX Overall
If you're looking for a hosting service that does everything from security to CDN in-house, WPX is for you.

It offers DDoS protection and malware detection and removal services, stores backups automatically for 28 days, and the staging and CDN features improve your website's overall quality.
Pricing is decent, but not competitive, which is a significant drawback. Also, WPX only offers WordPress hosting, and there are no shared, VPS, or dedicated hosting plans.
The interface is vibrant, easy to use, and fast, making it the better interface of the two, and while speeds and uptime are up to 2020 standards, there is no line you can call for support. But you can rely on the ultra-fast live chat for resolving any issues.
One gripe I have with the service is that WordPress is not managed for you while they charge a hefty premium for their service.
If their plans were cheaper, I wouldn't consider it a dealbreaker. There's nothing wrong with the service – but the pricing is just too high.
A2 Hosting Overall
A2 Hosting takes the opposite approach – both website protection and CDN are outsourced to different companies.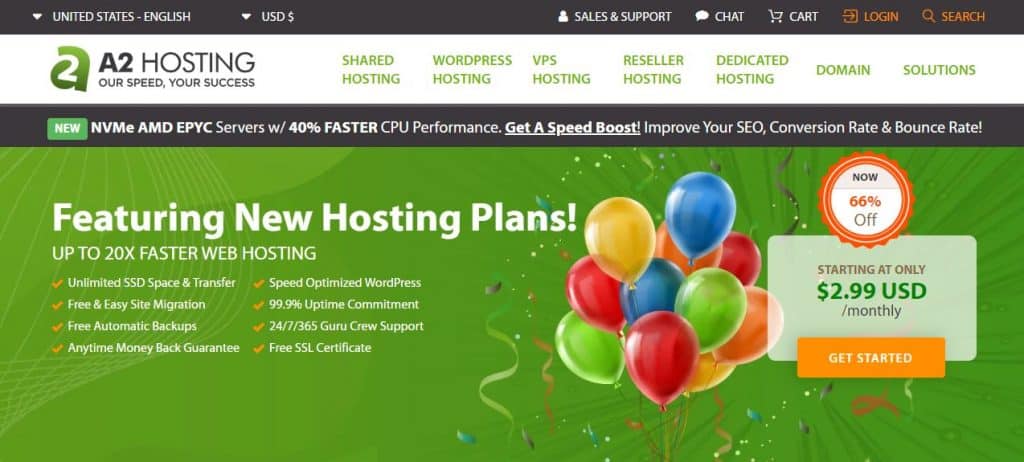 But I don't consider the approach faulty, since the pricing is super competitive, with Managed hosting starting at only $11.99/month.
You get all the features WPX offers – one-click site staging, automatic backups, easy migration, spam protection, and access to a CDN. The only catch is: CDN is not in-house and is delegated to the capable service Cloudflare, and security is supplied in the form of a free Jetpack Personal license.
The Plesk interface is certainly not as elegant as the custom WPX interface, but there is no functional difference.
Support, speed, and uptime are top-notch, and most importantly, WordPress updates and patches are managed for you.
But that's not all – A2 Hosting also offers shared, VPS, reseller, and dedicated server plans at competitive prices, making it the more versatile web host of the two.
---
Hosting Plans & Pricing
WPX
As mentioned earlier, WPX Hosting only offers WordPress hosting services. This makes for an inherently simple pricing structure. The company offers three plans: Business, Professional, and Elite.
You can pay for the plans monthly or annually, but paying annually will save you roughly 17%.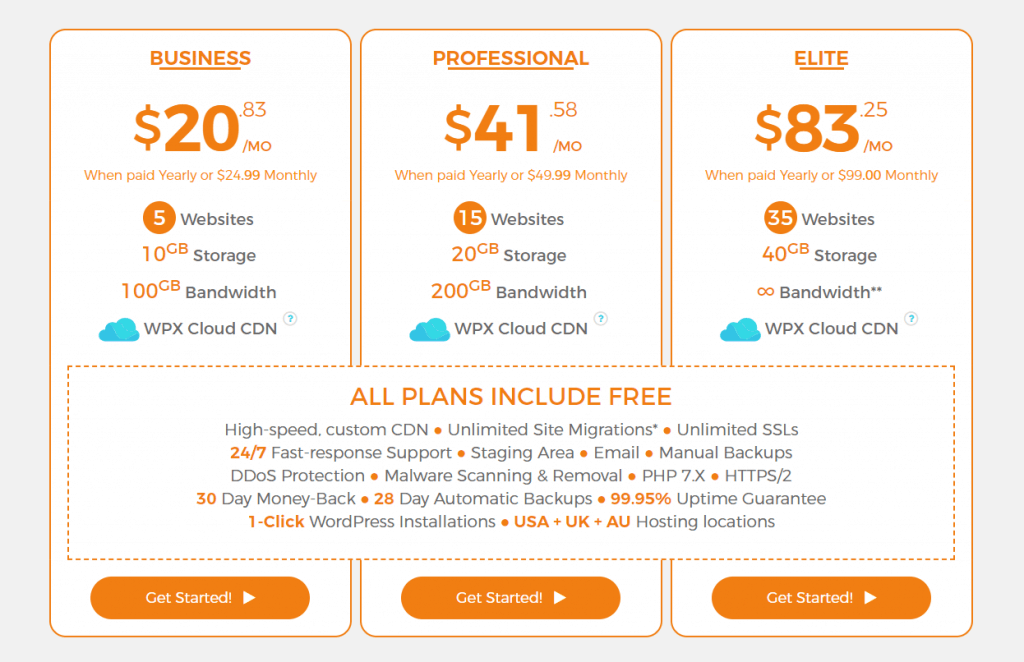 The only difference between the three plans is the number of websites you can host, the storage space you get, and the allowed bandwidth.
All other features remain consistent across plans, and there are no limitations in terms of visits/month. While that is excellent, I'm disappointed that there is no free trial.
However, there is a 30-day money-back guarantee, which is standard.
The discounted Business plan works out at $20.83/month and allows you to host up to five WordPress sites. 10GB of storage is allotted, and you're assigned a monthly bandwidth of 100GB.
The Professional plan is twice as expensive at $41.58/month, giving you access to 20GB of storage, a monthly bandwidth of 200GB, and a capacity of hosting 15 WordPress sites.
The Elite plan is priced at a hefty $83.25/month but gives you unlimited bandwidth for the 35 websites you're allowed to host. You get access to a healthy 40GB of storage space.
The pricing may seem competitive at first glance, but going over A2 Hosting's plans will give you a whole new perspective.
A2 Hosting
One of the biggest differences between the two hosting services is that WPX only offers WordPress hosting, whereas A2 Hosting provides an array of plans catering to all types of users.
In addition to WordPress hosting, the company offers Shared, Reseller, VPS, and Dedicated Server hosting, with prices ranging from $2.99/month to upwards of $99.59/month.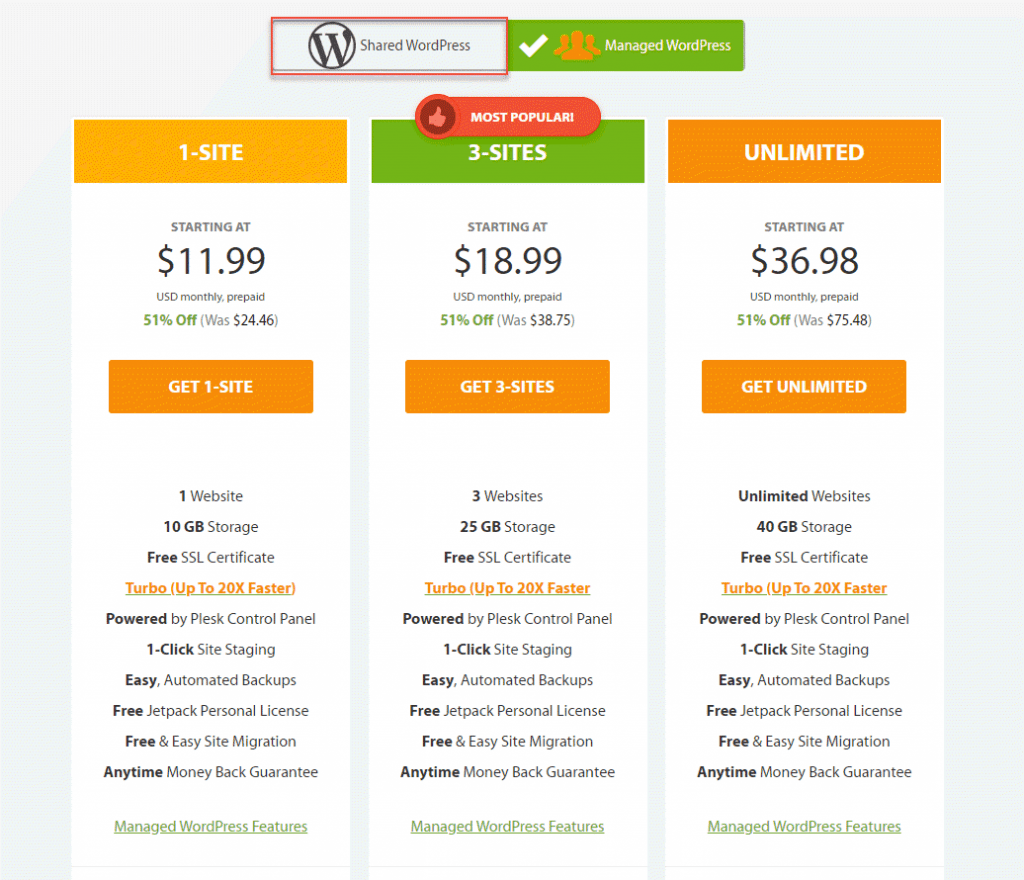 But what I find convenient is that they have two different plans for WordPress hosting: Shared and Managed.
Bandwidth isn't metered on either of these plans.
While the Shared hosting plans are significantly cheaper with the most expensive tier, costing $14.99 a month, you have to settle for slower speeds and the lack of automatic updates, site staging, and the Plesk control panel.
A2 Hosting's managed WordPress plans come in three tiers: 1-site, 3-sites, and Unlimited. Like WPX Hosting, all plans offer the same features, and while there is no free trial, the company does offer an anytime money-back guarantee.
For $11.99/month, you get access to 10GB of storage to host one WordPress site. At face value, it is already a better deal than WPX Hosting for WordPress beginners.
The 3-site plan comes in at $18.99/month, giving you access to a healthy 25GB of storage, and the Unlimited plan comes in at $36.98/month, but only gives you 40GB of storage for hosting your websites.
Considering that WPX's Elite plan costs almost twice as much as the Unlimited plan and offers the same features, A2 Hosting is the better option if you're on a budget.
---
Hosting Features
WPX
I had high expectations from WPX Hosting since the service charges hefty premiums for their services that at face value are the same as A2 Hosting.
I'm happy to report that they deliver good value for your money by supplying a well-rounded set of features.
You can request an unlimited amount of SSL certificates, and use the staging area to test an updated version of your website for errors and bugs.
Site migrations are free forever, making moving existing sites to their service super easy. WPX offers both manual and automatic backup features (with a 28-day buffer!), ensuring that you always have a copy of your website.
But you likely won't ever need to use the backups, because WPX Hosting has an impressive set of security features.
DDoS protection is active from the second you start hosting, and their top-notch malware scanning and removal features ensure that even if your website does get infected, the files and data on it are recovered damage-free.
But what impresses me the most about WPX Hosting is its custom-built high-speed CDN. Most website hosting companies that supply CDN features typically outsource it and don't manage it internally.
The company built the CDN from scratch and specifically designed it for ultra-fast WordPress hosting. Regardless of if your visitors are from Sweden or Tokyo, your website will load just as fast.
As far as features go, WPX is tough to beat, but one thing to keep in mind is that your WordPress is not managed for you.
WordPress, theme, and plugin updates are entirely your responsibility, which is disappointing.
A2 Hosting
A2 Hosting offers a lot of the features WPX Hosting provides.
Site migration is free and easy to do, backups are made for you automatically, and SSL certificates are also free for your websites.
The Managed WordPress plans give you access to features like one-click staging, which can help find website glitches before changes are pushed to your live site.
The Cloudflare CDN is free to use with the Managed WordPress plan, which ensures that the visitors you attract from around the world have an equal chance of advancing down a sales funnel you may have created.
Of course, as the name of the plan implies, WordPress updates and patching is done for you – but you must remember to use a child theme, so your website doesn't break.
Expert WordPress users will appreciate the WP-CLI access, but most regular users won't need this feature.
The web host helps protect your WordPress website by giving you a Jetpack personal license free of cost. It fortifies website security and enables spam protection, which is something websites need more and more of.
For the money, it's hard to find a website hosting service that offers so much value.
There is a difference in the feature set of the two services, but it isn't massive. In my view, the pitfalls and advantages balance out, making both equally impressive in terms of features.
---
User Interface
WPX
While most web hosts supply a copy of cPanel for use as the dashboard, many of the best website hosting services make use of a custom interface.
WPX is one of them.
The intuitive custom interface that WPX Hosting supplies makes navigation a lot less intimidating. Settings are easy to find, and it also enables you to track the usage of your website.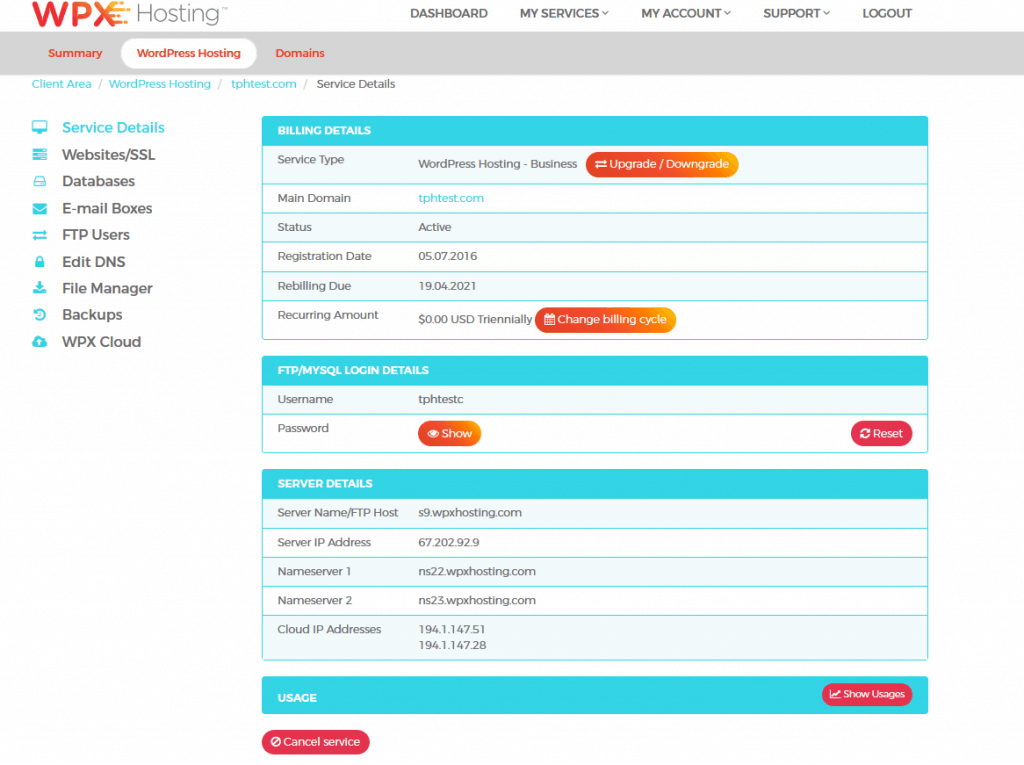 You can upgrade or downgrade your plans right from the interface without needing to log in to their main website, and you can also change your billing cycle.
You can set up an email for your website right from the first menu, and configuring a catch-all email is as simple as checking the right option.
Nifty features like these make managing your website a lot easier, which, coupled with the UI's vibrant look, make the interface commendable.
A2 Hosting
cPanel is known as the best interface for do-it-yourself WordPress management, which is what A2 Hosting gives users access to if they get Shared WordPress hosting.
But Managed WordPress users get access to the Plesk control panel, which is loaded with the one-click staging feature and the WordPress backup feature that cPanel lacks.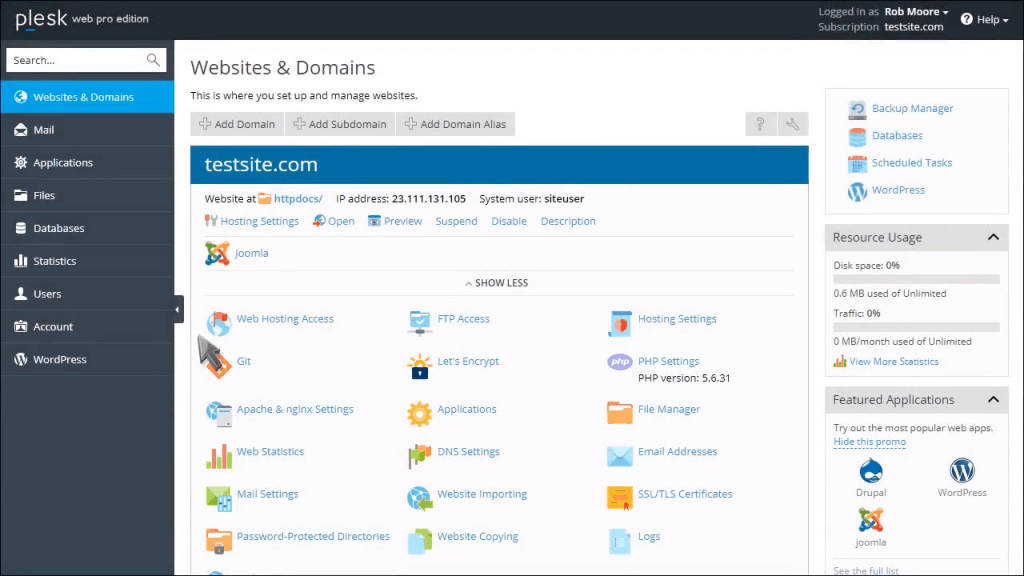 WP-CLI also comes pre-installed, and while setting up email requires you to navigate the interface for a little longer, it's just as easy to do when compared to the WPX interface.
Functionally, there is little to no difference between the WPX and the Plesk interfaces, but the custom interface used certainly makes WPX easier to recommend.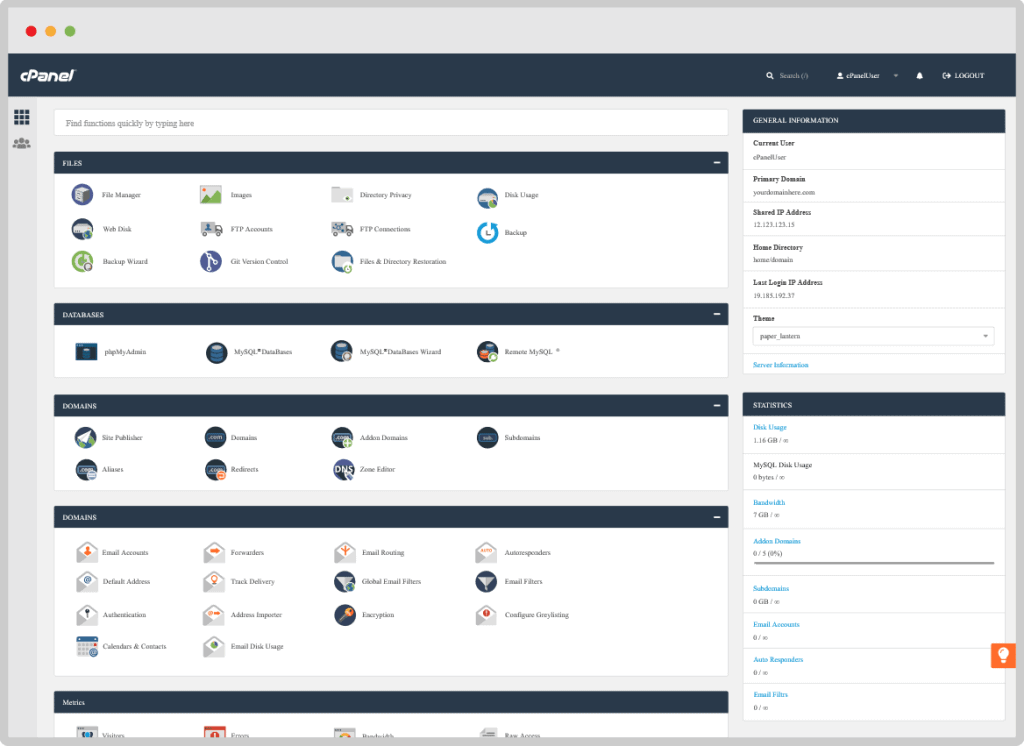 ---
Ease of Setup, Speed, Uptime
WPX
You don't have to lift a finger to move your WordPress sites to WPX – their in-house WordPress experts will transfer your websites within 24 hours. Setting up a new site is just as easy with a polished and vibrant interface.
Getting your website to load under two seconds should be a breeze since WPX uses SSDs for hosting and offers a custom CDN.
The company commits to 99.95% uptime, which is lower than what A2 Hosting commits to, but it is definitely not a dealbreaker.
A2 Hosting
Uptime won't be an issue with A2 Hosting, and customers report that their sites rarely ever go down. Even so, the company guarantees 99.99% uptime, which is excellent.
Alike WPX, A2 Hosting, also offers to migrate your WordPress site for free and hosts websites on their turbo servers, which are 20 times faster than regular servers.
Even the heaviest of websites will load under three seconds when hosting with A2 Hosting.
---
Support/Documentation
WPX
The company's 24/7 live chat service is super reliable, and they commit to a 37-second response on their homepage – which is a promise they tend to keep.
WPX has a ticket system in place and also supplies an email address for resolving issues, and their in-depth documentation covers all of its features.
A2 Hosting
In addition to the live chat and ticket system, you can also call A2 Hosting to request resolutions or get your questions answered in seconds.
It is also possible to contact the sales and billing departments directly if you have any sales or billing-related queries.
---
Verdict: Which is Best?
The better support and better prices coupled with the fact that no features are compromised make A2 Hosting the overall better web hosting service.
Sure, not every feature is built and maintained in-house, but it doesn't make a functional difference. The interface is beginner-friendly, and the speeds are world-class. WordPress is managed for you, which makes A2 Hosting's plans worth every penny.