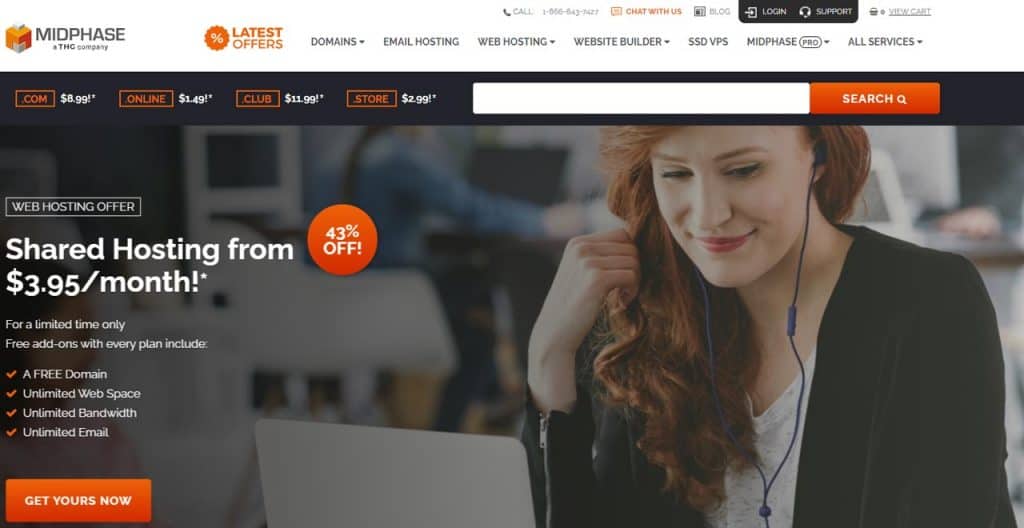 If it is too good to be true, it probably isn't.
I'm sure you've heard the saying time and time again. And Midphase hosting is too cheap to be any good.
At least that's what most think before they try it.
The company has been in the industry for over two decades, and the only reason they've stood the test of time is because of the high quality of their services.
In this Midphase hosting review, I will discuss everything there is to know about the company's services and break down whether it's the right hosting service to go for to host your WordPress website.
Midphase Hosting Plans & Pricing

Midphase offers some excellent value for low prices on all of its WordPress plans. The Starter plan gives you access to 5GB of SSD storage, up to 10,000 monthly visits, five 10GB emails, Cloudflare CDN, automatic backups, and malware renewal.
It's priced at just $2/month for your first term. Per-month pricing then goes up to $4.99/month.
The value you're getting for your money is excellent.
If you need more storage or your website drives more visitors per month, you can get the Primary plan.
It comes in at $4/month for the initial term, with the cost increasing to $9.99/month later. It gives you access to 10GB of SSD space and offers increased bandwidth, allowing up to 25,000 visitors per month.
The same CDN, backup, and malware removal features are offered. But with the Primary plan, you get access to 25 email accounts instead of just five.
The most expensive WordPress hosting plan is called the Pro plan, coming in at $5.20/month, and bumping up to $12.99/month after your first term.
Storage is increased to 20GB, and the plan allows you enough bandwidth for 100,000 visits/month, which is excellent value.
All other features are the same as the other plans, but you can make up to 50 10GB email accounts on your domain instead of 25.
You can only pay annually, and since the company does not offer discounts after your initial term, the best way to make the most of the plans is to purchase them for two years.
Other Important Details
Your primary domain name will come in for free regardless of which WordPress hosting plan you get.
All WordPress hosting plans come with FTP access enabled, and you also get instant access to 50 free themes optimized for speed on Midphase.
Sure, Midphase is cheap. But it's not "feels like a scam" cheap – HostGator has plans priced at $1.42, and the company is as popular as ever!
Midphase's "too good to be true" reputation is completely blown out of proportion. The services are cheap, and the value offered is excellent.
And every WordPress hosting plan also comes with a 30-day money-back guarantee. Your purchase will be risk-free for the first month, and you can get a full refund if you don't like the service.
Midphase doesn't only offer WordPress hosting. There are some regular web hosting plans, SSD VPS plans, VPS Cloud plans, managed hosting plans, and dedicated servers also available. Prices range from as little as $3.95/month to upwards of $400/month.
But, since this post is about Midphase's viability for WordPress hosting, I won't discuss those in detail.
Pricing-wise, Midphase is one of the best WordPress hosting providers. I'll discuss how good the features are next.
Midphase Hosting Features
Templates and Transfers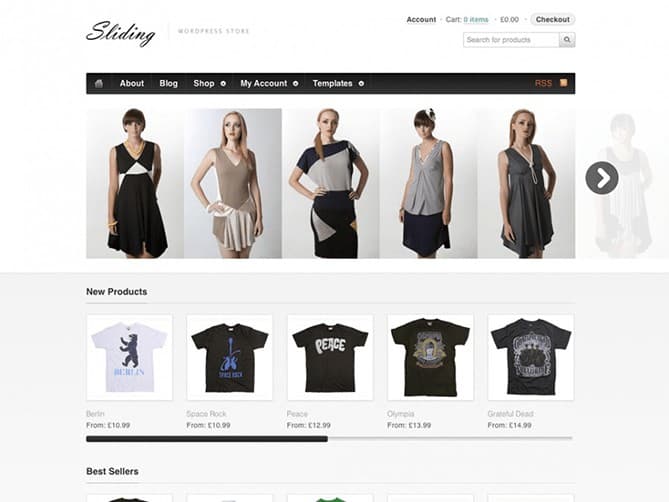 One of the best features that Midphase offers is its three-step WordPress installation wizard. You can get your brand online faster than ever.
Another benefit that Midphase offers to all of its customers is the free website migration service. Some companies charge over $150 for this!
The company won't nickel-and-dime you for transferring multiple sites either – transfer charges will still be zero.
However, there's a catch. Website transfers are free only if they use cPanel. If your previous website host used a custom interface, you're on your own.
But most web hosting companies use cPanel or at least a custom version of it. So, you're likely in the clear.
As mentioned earlier in the post, Midphase gives you access to over four dozen optimized templates.
The selection of templates includes WooCommerce themes, business themes, creative themes, app themes, magazine themes, and even digest themes.
If you are a WordPress beginner, picking from the pre-optimized themes is a great way to ensure that your website loads fast.
Emails, CDN, and Other Features
Midphase also gives you access to email accounts, which many companies don't do or charge you extra for. Having email addresses associated with your domain is critical regardless of if you're a blogger or run a business.
FTP access is enabled, allowing you to add, edit, and delete files and code directly without needing to navigate through your dashboard. If you're an advanced user or developer, the feature can be very helpful.
All of Midphase's WordPress plans come with Cloudflare CDN, ensuring that your website is accessible quickly regardless of where your blog's readers or your business's customers are.
What's more, you can set up Midphase to automatically apply non-core updates to your WordPress. Meaning, you can set the plugins on your WordPress to update automatically with WordPress, which makes site maintenance less of a hassle.
Additionally, security features like automatic-malware removal and the backup feature come with every WordPress plan at no extra charge.
You won't need to pay another company for their plugin and add to the running cost of your website to keep your website secure.
Midphase offers a rich set of features for low prices, which makes it super easy to recommend.
Midphase User Interface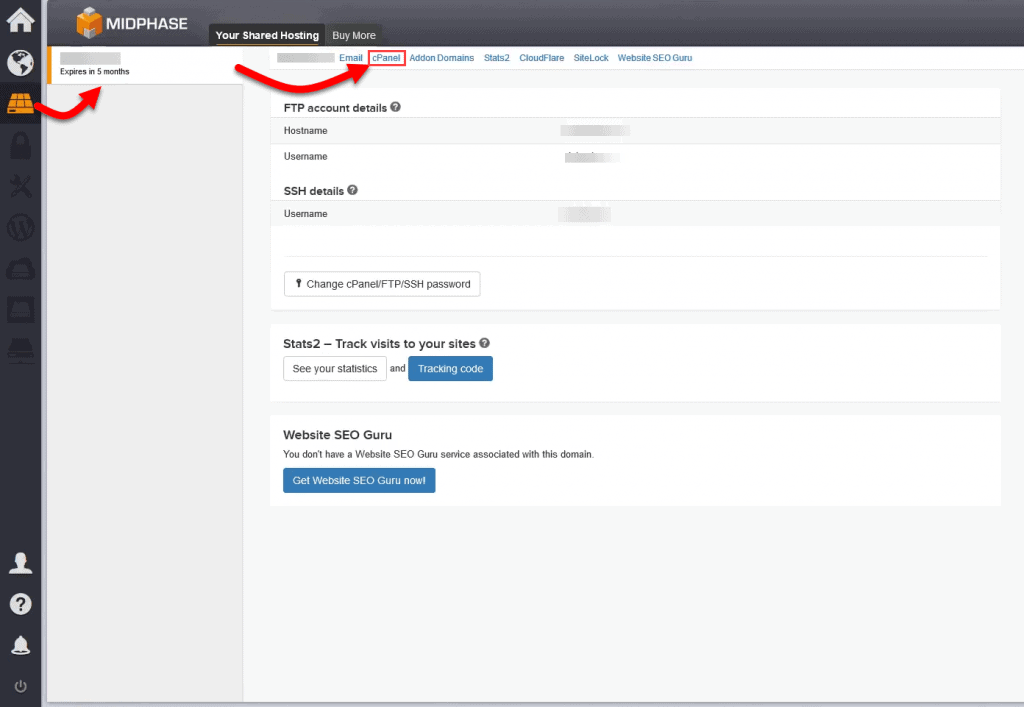 Midphase makes managing your account and customizing your website's settings seamless in its custom interface dubbed the Client Hosting Interface (CHI).
The CHI is essentially your dashboard that enables you to do things like register domains, manage DNS, pay invoices, add more services to your hosting, and more.
However, what makes it different from most interfaces that other web hosting providers supply is that it incorporates the cPanel into it.
You don't need to use separate credentials to log in to your cPanel, and since the option is nested neatly and intuitively, it shouldn't be tough to find.
Another benefit of the custom interface is that if you ever encounter any issues or get stuck in any way, you can create a support ticket using the same interface in only a few clicks.
You can also access the searchable knowledgebase from within CHI and use the company's SEO, software, and security tools right from the interface.
The streamlined interface ties together the overall website management experience nicely – no setting will ever be too complex or tedious to access!
Midphase Speed and Uptime
Since the company employs SSDs instead of regular hard drives, you can expect your website to load quickly.
However, some users complain that while their site never goes down, the hosting speeds are inconsistent.
You can expect the average WordPress site to load in under three seconds with Midphase almost every time.
However, if you're hosting a graphics-heavy site or run a site that has the potential for sudden traffic increases, then it's best if you look into hosting with a cloud web hosting service.
For all other intents and purposes, though, even if you experience slight inconsistencies in speed, it shouldn't make a big difference to the overall experience your visitors have.
Additionally, the company has a 99.9% uptime guarantee. The majority of the users report that their website rarely ever goes down.
However, if there's an outage above the guarantee, you will receive a 5% reimbursement every hour that your website is down (up to 100%).
The bottom line is, you don't have to worry about the speed or the uptime when hosting with Midphase.
Midphase Support/Documentation

Around-the-clock support is another excellent feature that makes Midphase an exceptional hosting provider.
You can get in touch with a customer service agent at any time via the live chat option. It takes them roughly five minutes to respond, which is excellent.
You can also open a support ticket or connect with customer service representatives via email and get your issues resolved.
However, it's important to note that there is no phone line that you can call for support. While this is not a dealbreaker, it may be the deciding factor for some.
Visiting the Support Center on their website or CHI is one of the best ways to solve a problem.
The Support Center has a knowledgebase filled with dozens of articles that will guide you through everything from the basics of hosting to more advanced concepts like setting up FTPs.
Verdict: Worth it?
Midphase supplies some of the most feature-loaded WordPress hosting plans in the industry. You don't have to worry about security or worry about your plugin's updates, and website transfers are also free.
Speeds can sometimes be slow, but that happens with every web host. You can be sure that your website won't go down, though.
The low pricing and high value
supplied make it a host you cannot go wrong with – especially if you're a beginner.