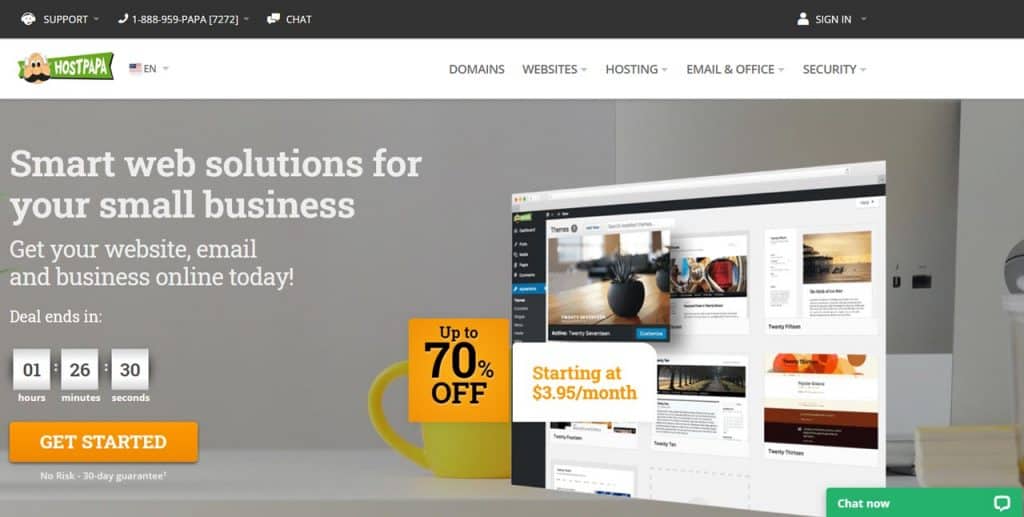 Lunarpages (now HostPapa) is one of the oldest web hosting providers in the industry. The company has been around since 1998 and has since garnered a respectable userbase of over 150,00 webmasters.
The company is known best for the intuitive page builder and the plethora of apps it provides customers with at no extra charge.
While all that sounds great, do the company's services stand up to customers' demands in 2020?
More importantly, with companies like A2 Hosting, Bluehost, and HostGator providing excellent value at low prices, is hosting with Lunarpages worth your money?
Let's find out in this Lunarpages review.
| SERVICE | FEATURES | VISIT |
| --- | --- | --- |
| | Secured. Lite. Beautiful. High Performance | |
Lunarpages Review: Hosting Plans & Pricing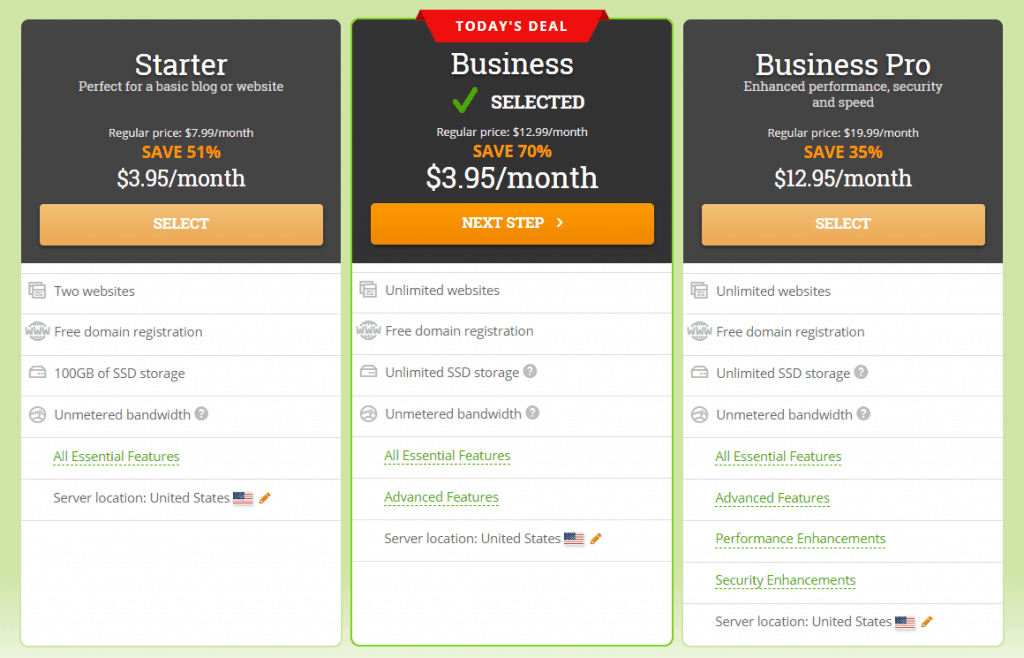 The company offers some of the cheapest web hosting plans to its new customers. There are three basic plans for regular web hosting: Starter, Business, and Business Pro.
The $3.95/month Starter plan allows you to host two websites and gives you access to 100GB of SSD storage along with all essential features (more on this later).
The Business plan also costs $3.95/month for your first term with the company. But, while it offers unlimited storage, access to essential and advanced features, and unlimited websites, it renews at $12.99/month and not $7.99/month.
The Business Pro plan comes in at $12.95/month for the first term and renews at $19.99/month. But access to the added performance and security enhancements make it worth the price for businesses.
You can only pay for plans annually, and if you want to make the most of the exceptionally low initial prices, it's best you buy hosting for three years.
The lack of post-initial-term discounts and higher renewal rates is common in the industry, so it's nothing I can complain about.
It's important to note that regardless of which plan you get, hosting will always be unmetered.
Other Plans
Lunarpages also offers Managed Shared Hosting plans for $39.95/month, perfect for entrepreneurs and bloggers trying to set their brand's footing online.
WordPress hosting plans are also available, with initial term pricing ranging from $3.95/month to $12.95/month. Jetpack comes installed on WordPress, and email accounts are ubiquitous across plans, which is excellent.
While Lunarpages' page builder is available for free with almost every plan, most plans restrict you to making only two webpages with the builder.
You can get a website builder plan to increase the limits to a 1000 pages. These plans also give you access to features like inventory tracking and header/footer code injection.
The company also has a set of enterprise-grade VPS plans and reseller plans, which offer some excellent value for the prices.
Regardless of which plan you buy, you are secured by the company's 30-day money-back guarantee. Your purchase will be risk-free!
Hosting Features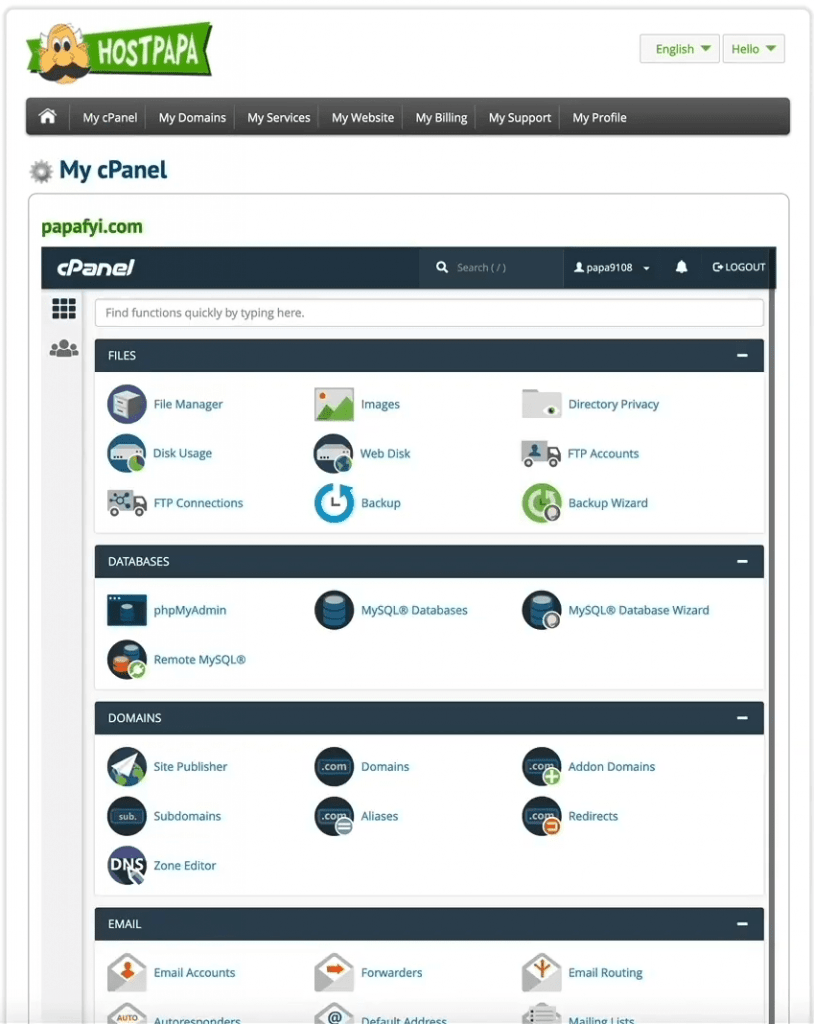 Lunarpages has two feature sets that it supplies to customers that buy different plans. The essential feature set gives you access to free SSL certificates, cPanel, Starter Website Builder, CloudLinux servers, and 400+ free apps.
Website transfers are free for all customers, and you also get access to Cloudflare CDN at no extra charge.
But what I like the most is that the company offers free domain registration services to all its customers regardless of what plan they get.
The Advanced Feature Set
The advanced feature set supplies eligible customers with a ton of benefits.
If you get a plan that gives you access to advanced features, you can:
Add unlimited add-on domains to your site.
Use unlimited email accounts.
Create and manage unlimited MySQL databases.
Use two times the usual CPU and MySQL resources.
Some plans, like the Business Pro plan, give you access to Lunarpages' performance enhancements. 
The performance of the server is tuned to be up to 300% faster. One of the reasons behind the massive performance boost is that the company allocates fewer accounts per server if you get a top-tier plan like the Business Pro plan.
The full version of the website builder also comes included with the performance enhancements, allowing you to build up to a 1000 pages with the builder.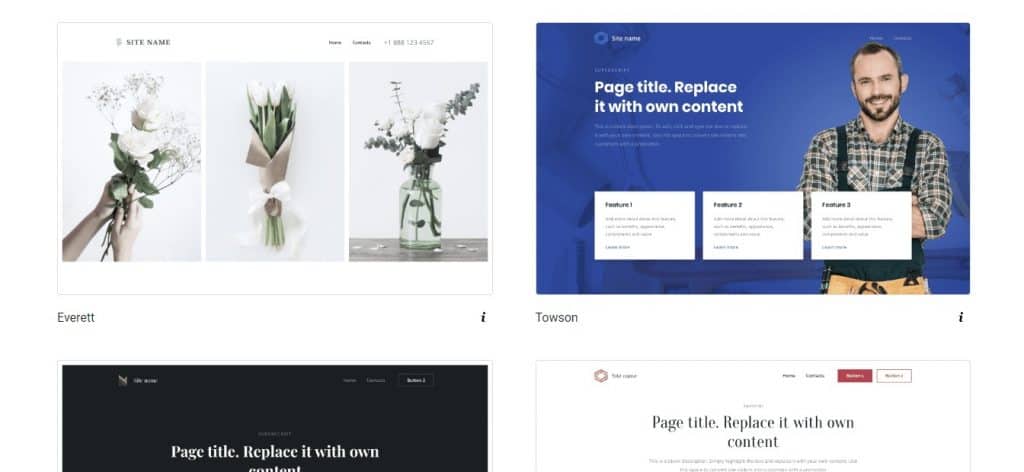 The builder also supplies several beautiful templates that will help you create a website faster.
Furthermore, customers using plans with performance enhancements get access to four times the usual CPU and MySQL resources.
The Business Pro plan, among some other plans, also comes with security enhancements. You will get access to premium wildcard SSL for your website, and also to SiteLock Detect security, which will fend off hackers and malware attacks.
Security enhancements also include automated website backups, which I find a little disappointing since automated backups should be free for all customers in 2020.
But since many other companies also sell backup functionalities as a premium feature, I don't consider it a dealbreaker.
The company makes up for it by supplying robust security features for every customer that hosts with them.
Panda Cloud antispam protection comes enabled for all users, and every Lunarpages customer has a server firewall with monitoring and intrusion detection enabled.
You never have to worry about your website's security when hosting with Lunarpages. However, you will need to make your own backups if you're not using the top-tier plans.
User Interface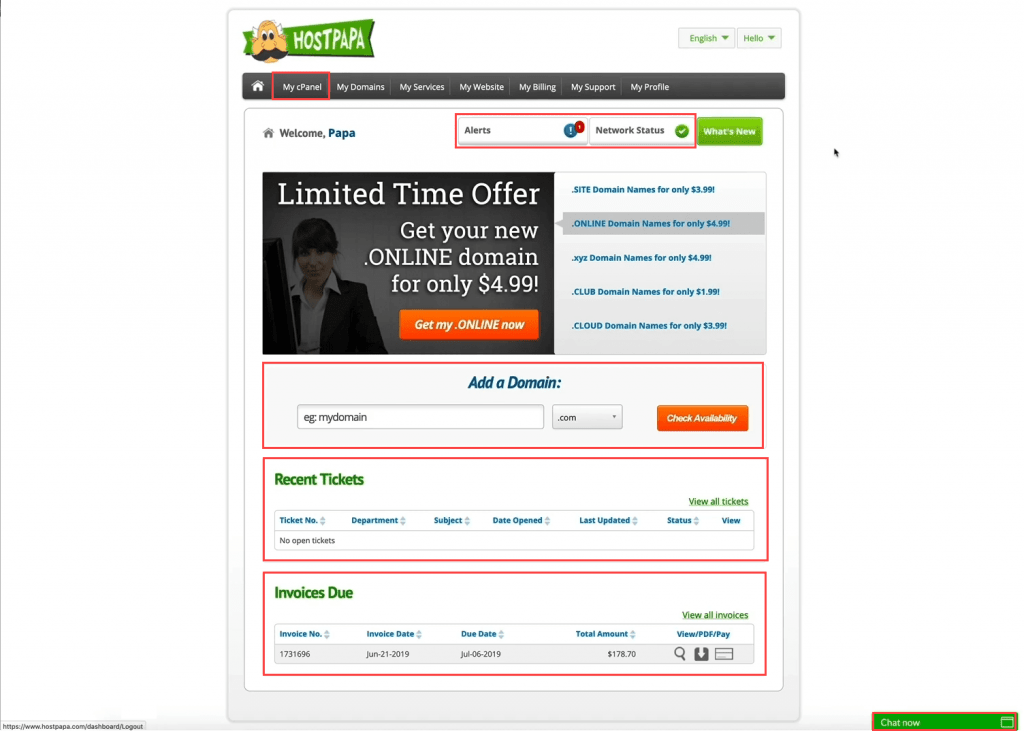 The dashboard makes managing your account, connecting to the support team, and adding domains to your account super easy.
The dashboard also has an "Alerts" section that will notify you if something needs your attention – like an unpaid invoice.
There's also a "Network Status" section, enabling you to find out if your website is down quickly.
If the website is down, you can contact support with ease using the chatbox on the bottom right.
cPanel is integrated into the dashboard, and you can access it by clicking on the "My cPanel" link that's on the top of the dashboard.
You get access to a standard copy of cPanel, giving you access to every feature that you'd expect out of a premium hosting company.
I find it a little disappointing because, in my opinion, a custom interface supplying the same features as cPanel makes the whole experience with the host richer.
However, since many other webmasters prefer using cPanel because they're used to it, I can't complain.
But I do find the fact that customers can access their site's cPanel without any extra credentials super convenient.
Speed and Uptime
Lunarpages offers a 99.9% uptime guarantee, and users report that their website rarely goes down.
However, it's important to note that you will not get a discount or a refund if your website goes down.
Speed-wise, Lunarpages outperforms several other hosting companies and is one of the fastest web hosts out there.
Light WordPress pages load in under one second, which is super impressive. Even if you have a graphics-heavy website, it should load in under three seconds.
You don't have to worry about people leaving your blog or eCommerce site just because it didn't load fast enough with Lunarpages.
Support
The extensive set of support options is one of the primary reasons business owners from the world over prefer hosting with Lunarpages.
You can chat with a customer support agent at any time right from the dashboard, ask the team for help via email, open support tickets from the dashboard, and even speak to the team over the phone.
A fax support option is also available, which is extraordinary.
Phone support is available in 18 countries, and you can connect to an agent that speaks English, French, Spanish, and German – whichever you're most comfortable with.
Of course, multi-language support is also available for customers that contact the support team via email, chat, or ticket.
I like the live chat support option the best since you can connect to a support agent in less than a minute and have your query answered or your issue looked into.
The company also gives all of its customers the option to have a one-on-one session with support agents for a complete walkthrough of the dashboard and features company offers.
Documentation
The Lunarpages knowledge base has over 2600 articles covering everything from hosting, email, domains, applications, products, and your account.
While the support options are excellent, searching the knowledge base will give you the answer you're looking for nine times out of ten.
The company also has a blog that they post helpful articles on every week. Following the blog will help you use the hosting better.
Unfortunately, there is no forum you can post or search on. It would have been great to have a community to interact with.
Overall, though, Lunarpages offers some of the best documentation and support options in the industry.
Verdict: Worth it?
It's hard not to recommend Lunarpages. Their prices are competitive, the feature-set is extensive, and the support is top-notch.
However, their renewal prices are way too high and can be hard to stomach if you're running a personal blog or a portfolio page.
For businesses that require high-speed hosting and excellent support, though, Lunarpages is one of the best options in the market.
You cannot go wrong with Lunarpages.