Whether you're a busy creative, a popular blogger, or a business owner with your hands full, getting managed WordPress hosting for your website is the way to go.
But here's where things get complicated – which managed WordPress hosting company should you let handle your site?
WP Engine is one of the biggest names in the web hosting industry, earning its excellent reputation with fast loading speeds and labor-saving features.
Flywheel, on the other hand, is much more pocket-friendly and offers identical features – because it's a subsidiary of WP Engine.
Picking between them without extensive research could lead you to waste your money on the wrong host.
Don't worry, though – I've got you covered.
In this post, I'll review both the service's features and compare every aspect to find out which is DEFINITIVELY better than the other.
| SERVICE | FEATURES | VISIT |
| --- | --- | --- |
| | Fast. Impressive. Popular. Reliable | |
| | Affordable. More Fatures. Easy to Use. Flexible | |
Flywheel vs WP Engine: Overall Review
Flywheel Overall
Flywheel boasts a beginner-friendly pricing structure, and even its cheapest plan includes all the security, caching, and CDN features.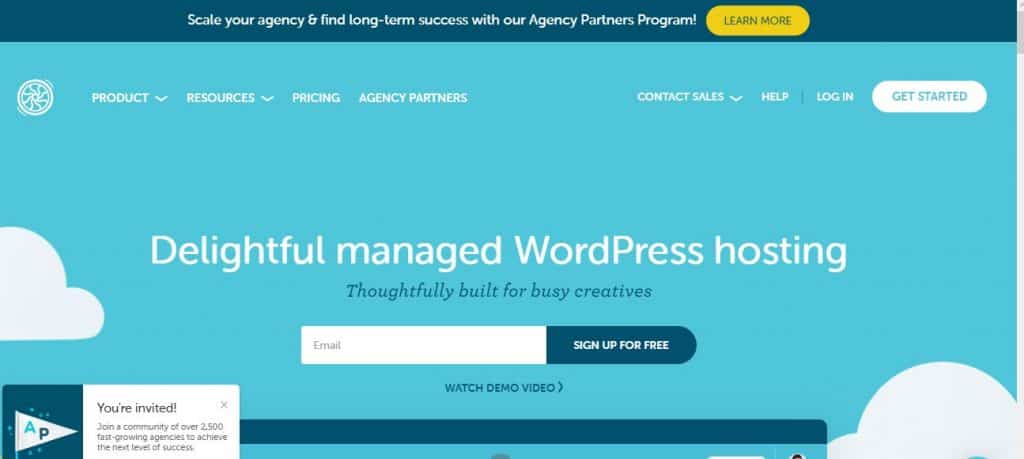 Its staging and backup features are pretty straightforward, which, coupled with the vibrant and easy-to-navigate dashboard, makes it apt for first-time website owners.
It lags in the speed department, but not by much, and while support is excellent, the documentation is a little lackluster.
Overall, it's a solid option for those on a budget or running a less popular website.
WP Engine Overall
WP Engine offers one of the best feature sets in the industry and boasts fast speeds and fantastic support.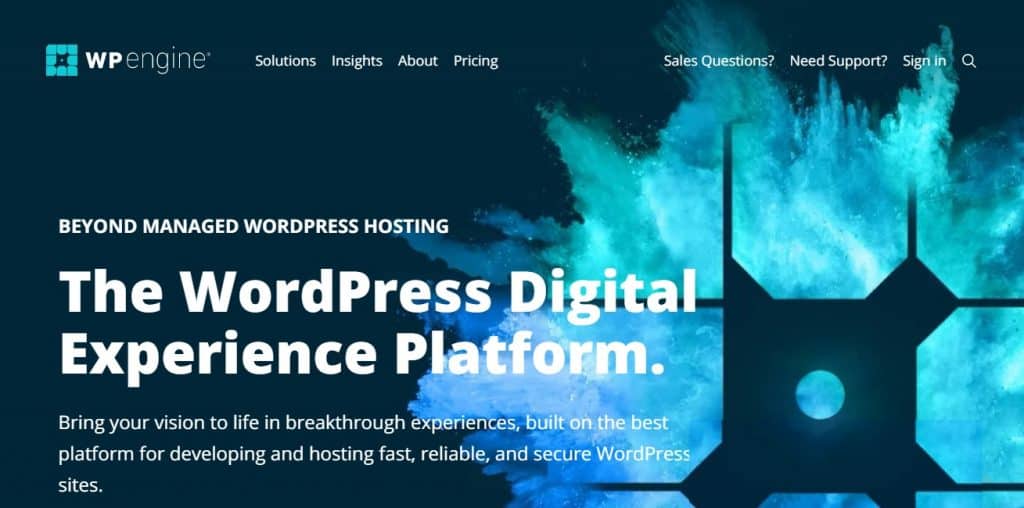 Security features are excellent, but you have to pay separately for some of them, and the CDN and caching features ensure speedy access to websites globally.
The dashboard is a little congested, but still easy to use, and the world-class staging and backup features offer a lot of flexibility.
The pricing structure is a little off-putting, but overall, its services are worth every penny.
---
Hosting Plans & Pricing
Flywheel
Flywheel's pricing structure boasts the rare characteristic of being beginner-friendly.
For $13/month (when billed annually), WordPress beginners can launch their website on a cloud platform and not worry about downtime due to increased traffic or slow loading speeds in other regions.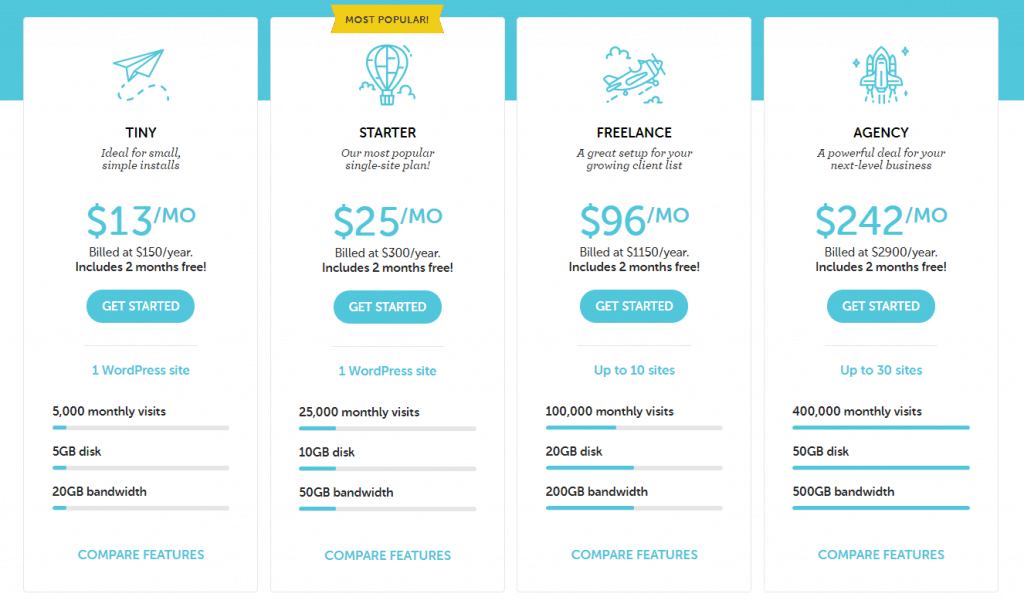 The Tiny plan gives users access to 5GB of disk space, 20GB of bandwidth, and limits monthly visits to 5,000, making it the perfect plan if you're looking to host a snappy portfolio website.
The $25/month Starter plan bumps up disk space to 10GB, and bandwidth to 50GB, while monthly visits are capped at 25,000. But the fact that only one WordPress installation is allowed is a little disappointing.
The Freelance plan is popular amongst bloggers and high-profile creatives, since it allows up to 100,000 visits/month, 10 WordPress installations, and gives access to 20GB of disk space. The bandwidth is capped at 200GB, which is respectable. Priced at $96/month, it competes directly with WP Engine's Growth plan.
The $242/month Agency plan is identical to WP Engine's Scale plan, offering 50GB of disk space, 500GB bandwidth, and a 400,000 visitor/month limit.
Flywheel also supplies a customizable plan to agencies with websites that require more bandwidth and space.
I like that Flywheel offers low-budget plans, but don't like that their otherwise 30-day money-back guarantee is reduced to 72 hours if you choose to pay monthly.
There is no free trial, either.
Overage charges are fair: $1 per 1000 extra visits and $1 for every additional GB of disk space used. There are no overage charges for exceeding bandwidth limits, except for extreme cases.
Flywheel also offers three paid add-ons: Performance Insights, Managed Plugin Updates, and White Label, that allow you to track visits, upgrade plugins, and accept payments, respectively.
Overall, I think Flywheel has less aggressive plans and offers better value for those with low bandwidth needs.
WP Engine
WP Engine offers only four plans, whereas Flywheel provides five.
I find lapses in the pricing structure, the first of which is the lack of an ultra-low-budget plan for entirely new websites. But since WP Engine is positioned as a premium, high-performance cloud hosting service, this is understandable.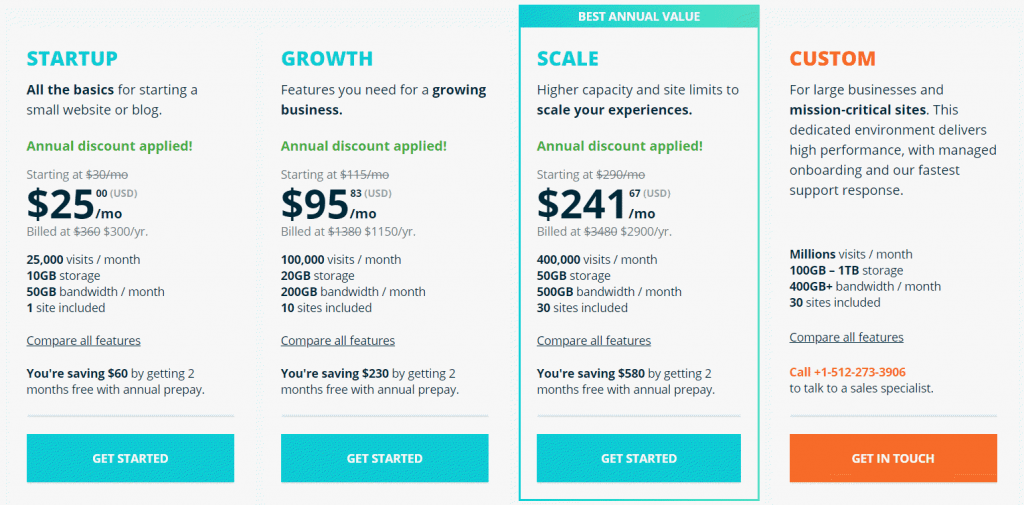 But there are no plans for growing websites that drive ~50,000 visitors/month.
You see, the $25/month Startup plan allows 25,000 visitors/month, gives access to 10GB of storage, and offers 50GB bandwidth every month.
But the Growth plan is almost thrice as expensive at $95/month and escalates limits right to 100,000/month. The growing blog site owner will need to pay more and let the bandwidth go unused.
Sure, one could not upgrade to Growth and pay for the traffic in the form of overages. But paying $2 per 1,000 visitors works out at $50/month for 25,000 visitors extra, driving monthly costs up to $75.
But for $20 more, the Growth plan gives users 20GB of additional storage and 200GB bandwidth – which coerces most customers to upgrade.
The pricing structure is clever, but as I see it, customers with growing websites often end up overpaying for bandwidth and features they won't use.
As I mentioned earlier, WP Engine's Scale plan and Flywheel's Agency plan are identical, allowing 400,000 visitors/month, giving access to 50GB of storage, offering a 500GB bandwidth to run up to 30 websites.
WP Engine's Scale plan works out about a dollar cheaper, which isn't much, but it is something. Like Flywheel, WP Engine also offers a Custom plan to agencies with advanced bandwidth and storage needs.
There is no free trial, but the healthy 60-day money-back guarantee is reassuring, and the selection of add-ons is also quite impressive.
But one gripe I have with WP Engine is that customers must pay for an add-on to receive DDoS protection and malware cleanup – which are features Flywheel offers for free.
---
Hosting Features
Flywheel
SSL certificates are free for all your websites, and users can update their DNS without much hassle. Flywheel partners with Google Cloud Platform, making it very reliable.
The company automatically creates a backup of your website every night, and every backup is stored for 30 days. Downloading a copy of the backup is as simple as clicking on the right option, and restoring from the backup is just as easy.
But one feature that Flywheel offers that gives it an edge over WP Engine is the ownership and billing transfer feature.
You can create a free demo site for 14 days, and after the project is complete, transfer ownership and billing to the client.
While this feature is available on WP Engine, they do not offer the 14-day free hosting period.
The integrated CDN ensures that your website loads fast no matter where it is accessed from, and it offers an advantage over WP Engine's CDN by caching both static and dynamic content.
The staging area is easy to navigate and allows you to test updates and changes made to your website in a non-public and secure environment. No need to take your site down!
WordPress updates are managed for you, and Flywheel users get access to dozens of StudioPress premium themes, making it an all-around excellent package.
WP Engine
While WP Engine primarily powers its hosting via the Google Cloud Platform, customers who opt for their most expensive plans can choose to host with Amazon Web Services.
AWS has data centers in many more locations, which makes hosting with them faster in some instances.
MaxCDN ensures that your website can be accessed in seconds regardless of where your visitors are.
But one way in which WP Engine bests Flywheel is the selection of premium themes it offers. WP Engine customers get access to an extended selection of StudioPress themes, making it a more enticing option for both new and expert WordPress users.
Another benefit WP Engine offers is the longer backup storage time. Your daily backups are stored for 40 days (as opposed to Flywheel's 30 days), and users also get the option of downloading partial backups.
WP Engine's staging feature is among the best in the industry. The company makes staging a lot more sophisticated by supplying users with three environments instead of two.
The development environment is where you work on your website's design, and when you finish, you can move it to the staging environment, where clients and coworkers can access the site and make changes.
When the design is finalized, pushing it to a live site is as easy as moving it to the production environment.
The "transferable sites" feature is different from the transfer of ownership and billing feature; in that, it protects your website with a password that you can change at any time.
You have complete control over your website and can make it public after the client is ready to move forward with the sale.
The two hosting providers share many features, but in the end, WP Engine comes out on top with its richer feature set.
---
User Interface
Flywheel
The company doesn't stick it to customers by supplying a bland copy of cPanel and uses a custom interface dubbed the Site Dashboard that makes navigation easy.
Flywheel's dashboard looks vibrant and spacious, and the handy search option enables you to find the right setting in seconds.
While you don't see stats about your website and its usage right after logging in, the "Stats" tab is easy to access right after logging in, so I can't complain.
One of the primary differences between Flywheel and WP Engine is in the navigation: Flywheel's tabs are arranged horizontally, which, in my opinion, makes them a lot easier to spot and navigate to.
Adding Collaborators to your site is as easy as scrolling under the Overview tab and clicking on the large "Add Collaborators" button.
But Flywheel lacks the different user roles that WP Engine supplies, which can be a significant downside if you run a business and have many employees.
The "Privacy Mode" toggle is also available under the Overview tab, enabling you to password protect your website, which is a nice plus.
I like Flywheel's bubbly interface better, but the lack of well-defined user roles can be a dealbreaker for some.
WP Engine
WP Engine also employs a custom interface, but it looks somewhat congested compared to Flywheel's dashboard.
The dashboard gives you a glance at your website's usage stats and overages (if any) right after you log in, which I find really handy.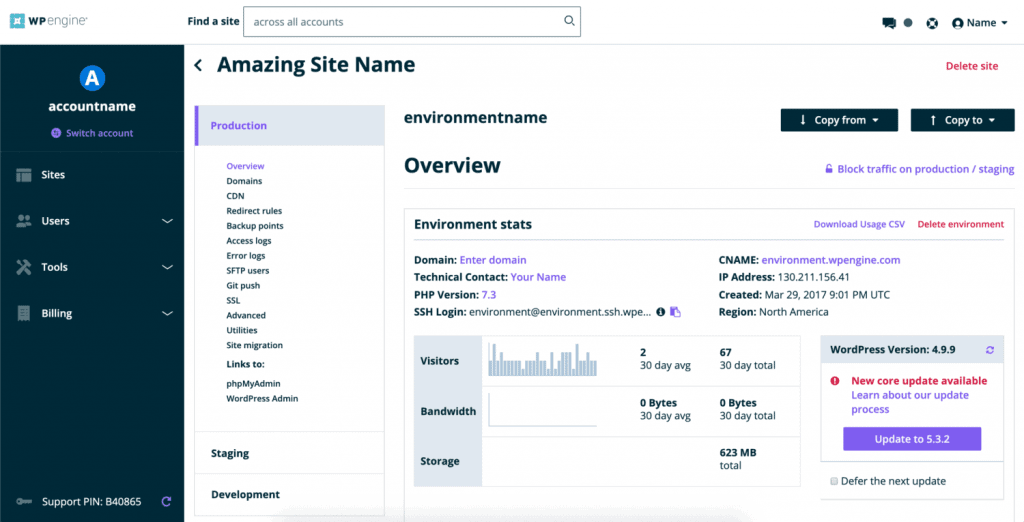 WP Engine has more defined user roles, but they're not the clearest in the industry.
One of the best things about signing up with WP Engine is that the WordPress install comes tweaked for convenience.
A CDN toggle, staging area controls, and support and documentation area come built-in, making website management a lot easier.
---
Ease of Setup, Speed, Uptime
Flywheel
Setting up your website is easy with the intuitive interface, and if you sign up with Flywheel, they will migrate any of your sites to their service free of charge.
Flywheel is faster than the average web host but slightly slow for a cloud host. Your site will still load under 3 seconds, but if superfast loading speeds are your top priority, then WP Engine will serve you better.
The company does not supply any uptime guarantee, and no compensations are issued for downtime, which is something to look out for.
WP Engine
Setting up a website is equally easy with WP Engine, but they will not migrate your site unless you get their most expensive plans. However, a free, easy-to-use migration tool is provided, so I can't complain.
Speeds are excellent, and heavy multi-purpose themes load in about a second, making it one of the fastest hosts in the industry.
The 99.95% uptime guarantee gives WP Engine a massive edge over Flywheel.
---
Support/Documentation
Flywheel
Flywheel offers fast live chat, ticket, and email support to all users, but phone support is limited to Agency plan users.
The documentation only grazes over main concepts, which is a little disappointing.
WP Engine
Phone support is available to all customers except Startup plan users, and the live chat response time is instantaneous. Ticket support is limited to Custom plan users.
The in-depth documentation is very impressive and will help you solve most problems in minutes.
---
Verdict: Which is Best?
WP Engine beats Flywheel by a long shot. It's faster, loaded with a more polished set of features, and offers excellent documentation.
The dashboard supplies all the data you need at a glance, and the WordPress install comes tweaked for convenience, saving you time. Uptime is never a problem, and it feels underpriced for what you get. It strikes the right balance between convenience and feature complexity, which earns it my full recommendation.